Installation:  How many years have you being attending Burning Man?
David Altair Karave:  2013 was my third year, the first two years I just wondered in absolute Alice in Wonderland amazement.  You can walk without sleeping for a week straight and not see the same thing twice.  One of the beautiful things about the Man is that you go out there and are completely removed from objects and commodities, your money can pretty much only buy you coffee or ice.  There is no cell signal either.  It gives you the opportunity to let go of the objects in your life and see yourself reflected in the eyes of other human beings just for a week without a device in between the two of you.
How does Psychokinetic Child (2013) relate to this vast landscape that Burning Man takes place in?
I created Psychokinetic Child to give back to this alternate world who is just so wonderful, it was envisioned almost as a giant ironic shrine to objects and to the objectification of life.  More and more people are interfacing with objects, consumer objects.  Objects of all kind are smilingly taking over our world whether we are interfacing with a computer or phone, or a credit card and social, even on the most basic label.  For instance, we are sitting on chairs all day long, chairs turn our bodies into the number 5 which in turn has resulted in massive back problems throughout Western countries, yet we still see the chair as a symbol of relaxation.  To me is like the chair is working us over, it has pushed its way into our culture. It had one function and now is changing our anatomy a bit. It has also enable the further use of other objects.  I think of these objects as autonomous beings, as do some Asian cultures in particular the Japanese culture, they see the spirit within every object.  I started to see these objects as being in competition for our attention.  So many people spend their days looking for lost items or interfacing with all their 'stuff' rather than doing something that truly resonates with them.  All their 'stuff' gets on the way of us understanding who we are as human beings on a basic level.
It looked like a mirage often times when there was a dust storm or during the night.  At night it was lid up with LEDs programmed with an LED system making the eyes and the mouth very visible.  The child's head represents the journey we encounter from the moment of birth were we're almost forced to interact with many empty objects.  The idea was to put all these objects that I spoke off in the interior of the head because the mind of a child is so malleable.  We built ironic shrines to various objects, these collages were 8' x 3' each.  There was a shrine to chairs, so we deconstructed a dozen chairs, we mashed them up and flattened them all out to create a shrine. We also did a shrine of cards and a shrine of phones.  This one was a lot of fun, for months we when around stores picking up phones, we had a few smart phones that were donated.  Even good smart phones (with a tear in the eye) were smashed and added into the collage. These objects were broken down to their components, in such a way that you can see yourself praying to them, that is the reality of these objects.  Often times they have more control over us than bisceversa.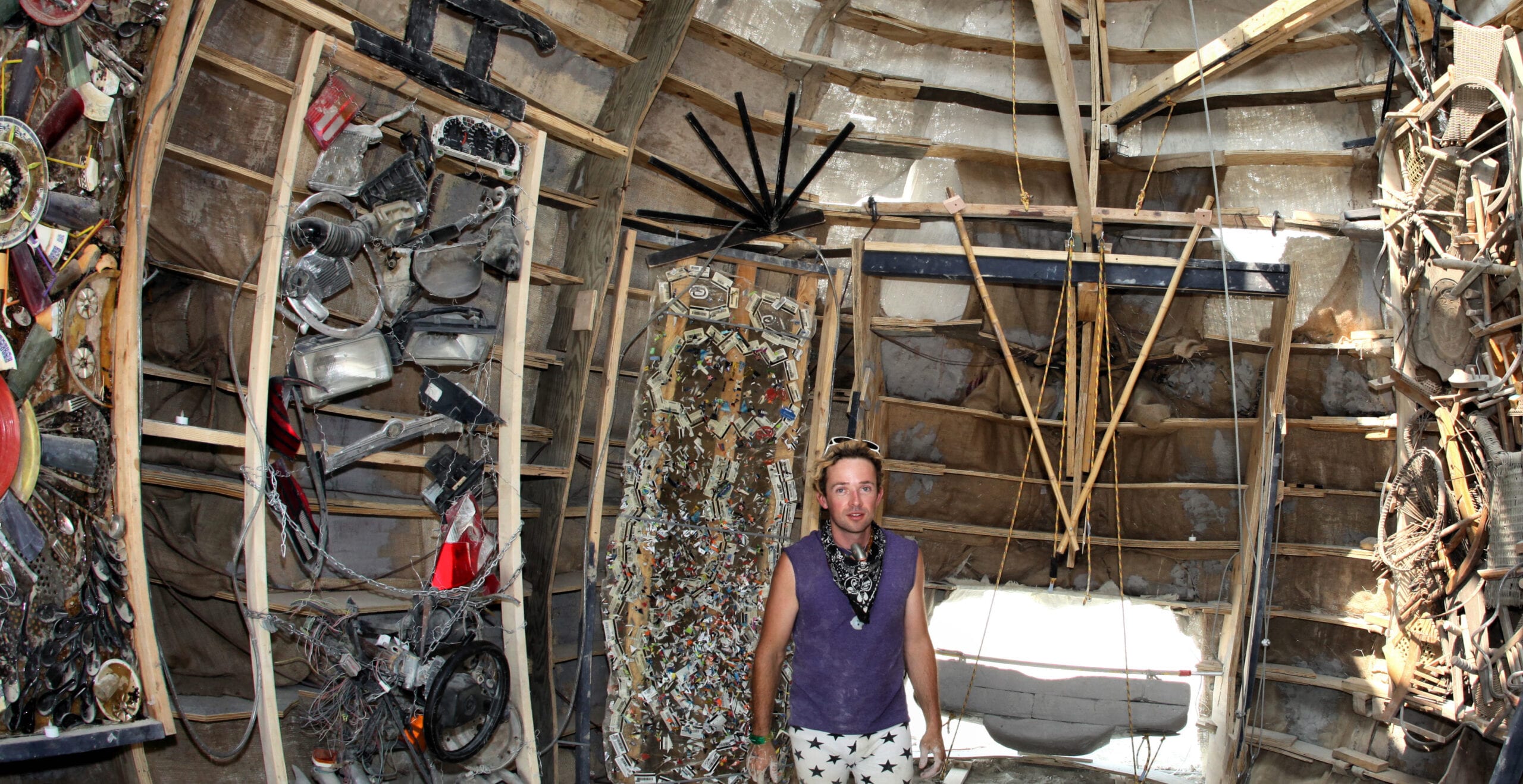 You could enter into this environment of object shrines and also puppeteer the child's head from the interior.  The head was bout 25' tall and the interior room was 10' x 12'.  The very top of the head had a small opening so the light would shine down during the day.  A pulling system was created for the mouth and the eyes were created from giant umbrellas with a reed system.   That's what I wanted people to reflect on.  That is the project in essence.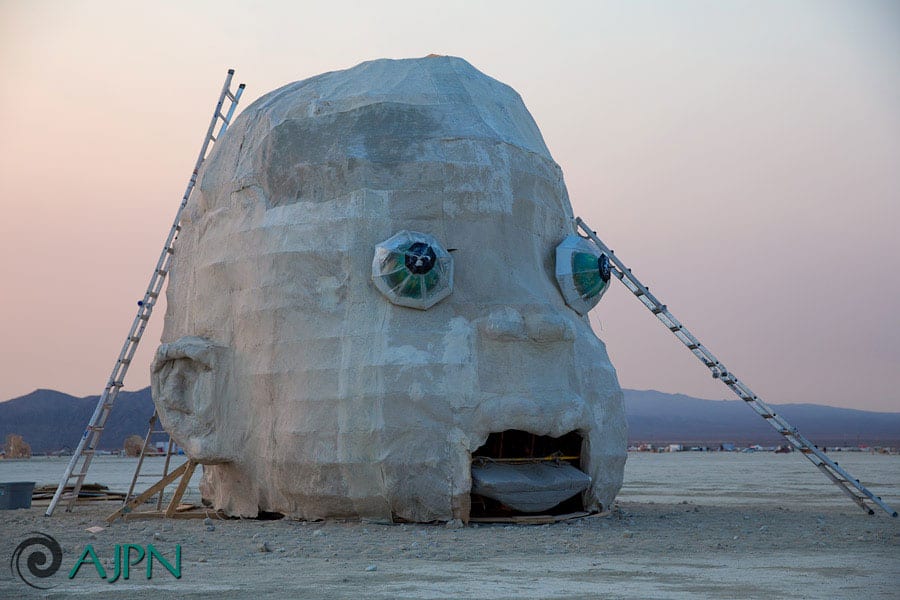 How long did the construction process take?
If you piece the construction together beginning in the warehouse, the preliminary planning of the 3D printing of the wood and then doing the final assembly out on the playa it was quite a long time.  I basically had to take four months off from work to do it, quite sincerely many many days I was pulling an all nighters just to make sure we made it to the finish line.  It was basically like building a house.
Kinetic Child was a very complete 3D printing mission.  I have an architect friend and he put together some designs with me and then we added the designs into Auto-cad and Rhinostros and then we output them as a 3D printing project in wood.  We basically got many halos made out of consecutive curved pieces of plywood.  To make the skin we used a burlap paper mache method which is basically soaking huge burlap pieces in a glue and plaster mixture.  The head was built inside of a warehouse and then we couldn't get it out of the warehouse so we had to slice it up into several pieces.  We were very lucky that Shipping Wars picked up the project and got it out there, it was a total blessing.  Once on site, we were lucky not to get hit with any big rainstorms that have hit the playa in the past. The reconstruction was quite easy, the dry environment was very conducive.  We had to work fairly quickly to put up those burlap pieces up there but they harden right onto the structure of the piece.  We ended up attaching metal lines into various parts of the interior of the head and then anchored them into the playa.  Because the head was fairly tall compared to the base, we had to make extra certain that the structure was sound and safe.  We had several wind storms out there and everything went down without a hitch thanks to some members of my team that focused on safety, working with the rangers and the art department at Burning Man.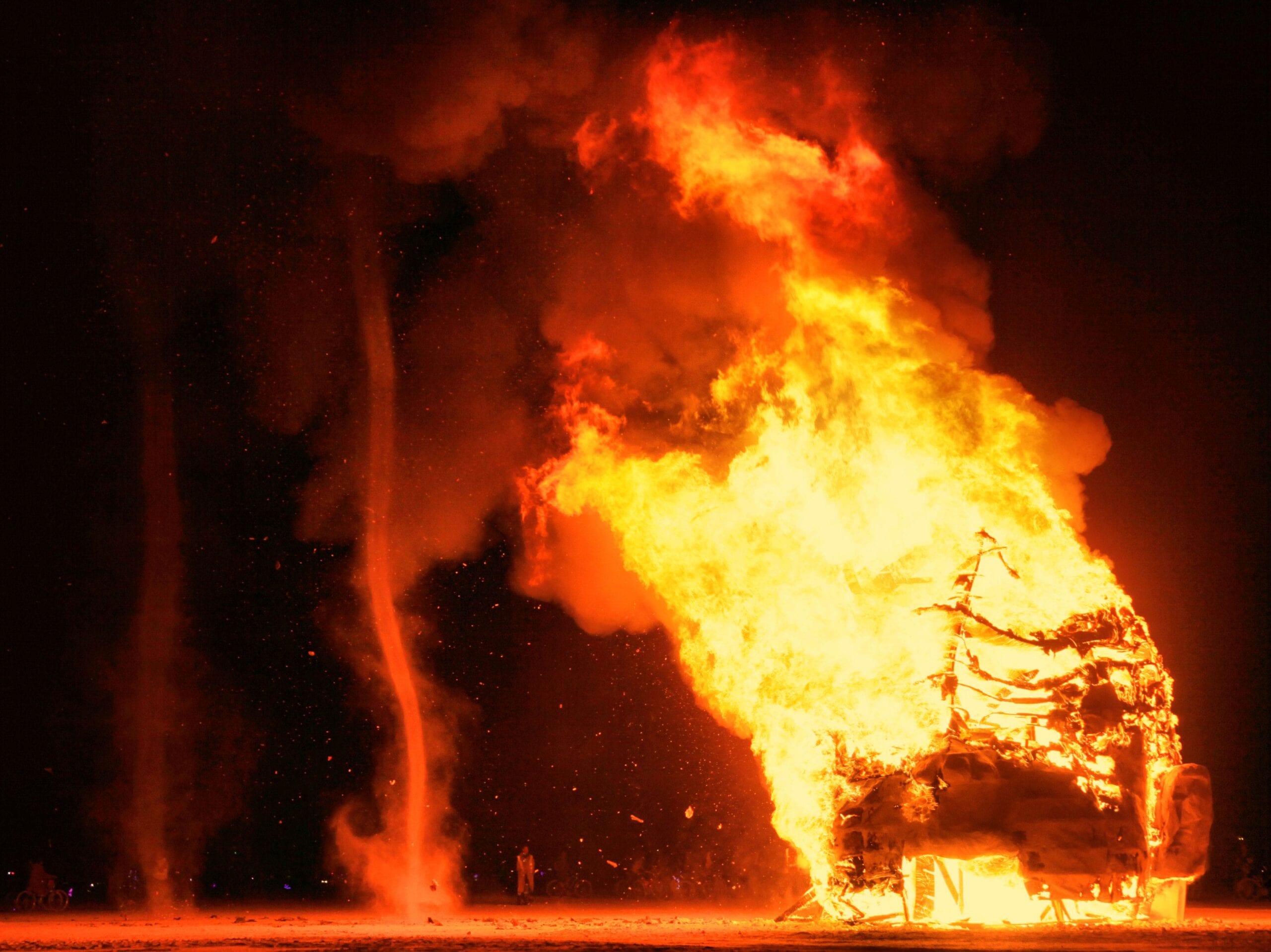 Part of the tradition at Burning Man is to let go so it just made so much sense for us to set Psychokinetic Child on fire.  We had to pull out the shrines that would cause too much toxicity but we left a few shrines in there, the shrine of chairs and clothes.  After cutting the bottom of the head to get a good draft system I had a crew member who is a pyro expect set the fire.  He brought in a firewood and detonation system and took care of the whole thing.  The fire started to flame inside the eyes first and then the flames shot out to the top of the head and eventually the whole piece was immersed in flames.  We were lucky enough to have dust devils appear, mini tornados were flying all around the head while it was burning, it was amazing!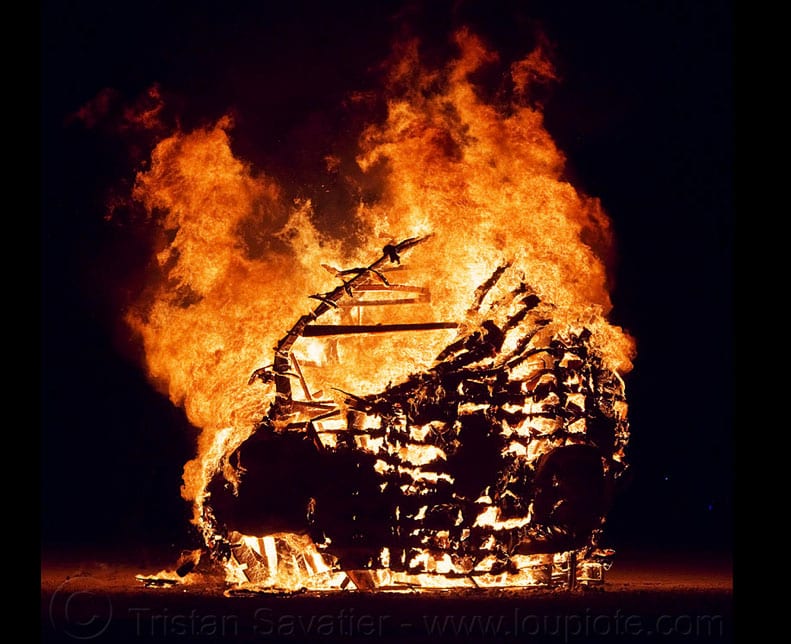 I'm actually continuing the project on, to some degree, I'm using the video captured as a trailer for a film I'm working on, called Chair Mountain. I will finish that trailer soon.  It is going to include footage of a couple of actresses interacting with the head, kind of an Alice in Wonderland storyline.  I would also like to rebuild the head one day, I would like to create a giant mountain of chairs with a face and eyes, it will be part of the storyline of this futuristic children's movie.