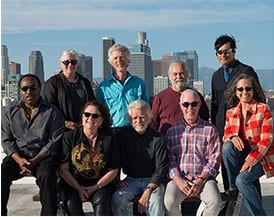 LOS ANGELES, Aug., 2014 – In celebration of the 30th anniversary of the 1984 Olympic Freeway Murals, the Mural Conservancy of Los Angeles (MCLA) brought together, for the first time since 1984, the original artists who created these iconic murals.  On August 24, the MCLA hosted an afternoon of art, coversation and music at Pico House in downtown Los Angeles to honor these muralists.  A contingent of former Olympic athletes, including Paul Gonzalez, Danny Harris, Pam Marquez, John Naber, Patricia Spratlen Etem, Anita DeFrantz and Bob Larsen will also be present to highlight the connection between art and sport that the Olympic ideal represents. Special guests from the community such as Cheech Marin, among others will also join in recognizing the achievement of the Olympic muralists. Featured speakers include Kent Twitchell, John Naber, Paul Gonzales and John Humble.
"The proceeds from this set are a crucial step toward fueling the continued work of MCLA throughout Los Angeles," said Bill Lasarow, president and co-founder of MCLA. "We want to ensure that the art of the past, present and future remains accessible for all generations to enjoy."
Discover the limited boxed edition of The Olympic Freeway Murals: 30th Anniversary Edition, produced for MCLA by The Lapis Press.
Images courtesy of the Mural Conservancy of Los Angeles