Every picture tells a story.  For collectors Sirje Helder Gold and Michael O. Gold, each work basks in its own magnificence and curiosity on display in their Southern California home.  Designed to showcase their growing collection.  Every work has a personality so palpable it vibrates off the walls.  Similar to the young narrator in Proust's Swann's Way who dips the madeleine in green tea, which transports him back to his childhood, every piece in Gold's collection, activates a flood of memories.  Inspired by work that captures their imagination, the Golds collect for the sheer adoration of art rather than adopting a checklist of artists that "should" be a part of a fine art collection.  The couple champions emerging artists and have purchased many works while the artists were still unknown and in school.  Both veterans of the creative advertising world, Sirje and Michael learned to see art through the prism they adopted during their careers.
"The common thread is really that the pieces have ideas," Sirje says.  "They are all strong because they have good ideas in theme and there's an individuality, the being of the artist is part of the piece and it's really the strength of the idea that carries the piece." Sirje explains that the couple's experience in advertising leant itself to the inner thinking of the artist and who they are as a person.  The artists' ideas are booming in the Gold's home, which was constructed around their growing collection so that every sculpture, photograph, painting, and installation is featured in its own space.
When Installation Magazine visited the Golds' home to speak about their collection, pieces from the exhibition GOLDMINE at University Art Museum, California State University Long Beach (February 5-April 10, 2011), had just arrived in crates and were in the process of being reinstalled.  Sirje admitted to feeling a bit anxious with the return of the pieces.  She felt that the house was neutral when the works were out for exhibition.  Now that they were back she sensed they were competing for attention and needed to settle into their previous space.
While the collection is diverse, a common thread connects them all and that is the celebration of the artist's hand.  "The hand of the artist in the work is very much a part of the idea," Sirje explains.  "Lots of conceptual art is not executed by the hand of the artist, for my personal taste I really like to see the hand of it."
Kevin Appel
Michael O. Gold:
I came out in 1995 and Bergamot Station had just opened up.  I had known Wayne Blank who was one of the developers of that, and he said 'come out.' And a short while later the 1995 UCLA Masters Program had their Masters thesis show in one of the empty galleries at Bergamot.  I went there- and I really didn't know any of the artists- but I saw Kevin's work.  I wrote down his name and I found out his phone number.  I called him and made a studio visit and the following Christmas I bought that piece from the studio.  He didn't have a gallery, he was making work, and then Angles Gallery was interested in Kevin.  David McAuliffe (Angles gallery owner) was a friend of mine and he came over and saw that piece in our house.  He was going to the Chicago Art Fair and he got Kevin to give him some pieces to take there.  He asked my permission and Kevin's to use a photograph of that piece as the page in the Art Chicago catalogue. And from that time Kevin and I have been friends.
Selected Biography
Born in Los Angeles, California
Lives and works in Los Angeles, California
Education
1995: MFA – University of California, Los Angeles, California
1990: BFA – Parsons School of Design, New York City, New York
One Person Exhibitions
2009: Drawings, Acme, Los Angeles, California
2008: The Suburban, Chicago, Illinois
2008: Two Rooms Gallery, Aukland, New Zealand
2007: Marianne Boesky Gallery, New York City, New York
2006: Wilkinson Gallery, London, England
2006: Angles Gallery, Santa Monica, California
2004: Angles Gallery, Santa Monica, California
2004: Marianne Boesky Gallery, New York City, New York
2003: Descripcion sin lugar: Una seleccion de obras de Kevin Appel, Museo Rufino Tamayo, Mexico City, Mexico (catalogue & brochure)
2002: Angles Gallery, Santa Monica, California
2001: Marianne Boesky Gallery, New York City, New York
1999: Museum of Contemporary Art, Los Angeles, California (catalogue)
1999: Citibank Private Bank Emerging Artist Award
1999: Angles Gallery, Santa Monica, California
1998: Angles Gallery, Santa Monica, California
Martin Kersels
Whirling Patty, Whirling Mara, Whirling Mr. Keedy, Whirling Caryn, cibachrome, 30.75″ x 46″ each, edition 3/10, 1999
MG:
Yes, we're friends with Martin.  During the time I came out here, Martin was showing with Dan Bernier Gallery at a space that was about two blocks away from Bergamot Station, at that time it was called Little Bergamot.  The first works that I saw of Martin were photographs, a triptych of him falling.  So he would trip, fall and land.  And he would do this on a sidewalk or on a glen or something and you got a sense of his bulk and then I met him in real life and I could see the bulk.  He was about 6'6'' and about 350.  He used his body in performances.  He did another series; I guess he was throwing friends.  He would pick them up, taxing, the take off, the flight and the landing. When we became friendly, he did another series, which is the one that we have – Whirling Friends.  Since then the Fellows of Contemporary Art awarded him one of our fellowship grants.  This is something that we do every other year.  We award three mid-career artist an unencumbered $10,000 in grants.  There's a whole selection process, art industry people are the judges, not the fellows- Our mission is to aid emerging and mid-career artists in California.  The awards are given on the basis of the artist's contribution to the California art scene, so it also encompasses some political work they do.
Sean Duffy
MG:
Again Sean Duffy is one of the early artists.  The first piece I bought of his was wrapped in basically a clear shower curtain and underneath it there was fake fur.  It was part of an alien invasion series that he did.
SHG:
Sean Duffy is a soul out of the 1970s I would say.  He's conceptual.  He's like a young old-fashioned.  Some wonderful nostalgic things about him that is hard to explain.  The vitrolla piece was in Susanne Vielmetter's space.
MG:
He's cool, but from another era.
SHG:
Sean would wear brown and avocado plaid suits.
Iva Gueorguieva
SHG:
We went to Carl Berg [Gallery] on a regular visit on a Saturday.  He said 'I had this artist walk in with slides and she asked if I would like to see them,' and he said 'she was moving to Los Angeles.' She at that point was living and working in New Orleans and had to leave because of the humidity was bothering her physically. Her husband is a musician and academic.  We went to visit family and visited her studio.  At the same time she had a show in Tulane.  I saw the piece at Carl Berg's and subsequently we went to New Orleans and visited her studio in this huge rams chalked building with huge paintings.  She's tall and slim.  She's always painted but she didn't paint [like this ]until she went to graduate school.  She's a natural, profusely talented painter.  The stuff really flows out of her.
MG:
Iva always wants Sirje to look at new work before it goes out.
SHG:
She is constantly evolving and it's just over four years that her work – it's not changing, it's constantly turning into another phase.  Part of it I think is that I'm European born and she's Eastern European.  There is a sympathetic mental state between us, so we sort of talk in the same kind of emotional language.  And she relies on us for art world guidance in some ways.  She's an absolutely wonderful person.
John Baldessari
MG:
Both of us always liked John Baldessari.  He's a funny guy, we see him all over.  What's great about John is he still supports artists and still teaches.  He's a major part of the art scene, he's very supportive of young artists but his work has always been great.  We just thought that his time was going to come because his prices were always low in comparison.  He's a gentleman not too much older than us and we just really felt we wanted a piece of his work.  So went to Gemini GEL [graphics editions limited) where they made a number of new editions.  We decided that editions aren't a bad thing and they're affordable, so we got three of them.  It's wonderful workmanship.
SHG:
It's a really wonderful place for prints.
John Baldessari was born in National City, California in 1931, he attended San Diego State University and did post-graduate work at Otis Art Institute, Chouinard Art Institute and the University of California at Berkeley. He taught at the California Institute of the Arts in Valencia, CA from 1970 to 1988 and the University of California at Los Angeles from 1996 to 2007. John Baldessari lives and works in Santa Monica, CA.
Raffi Kalenderian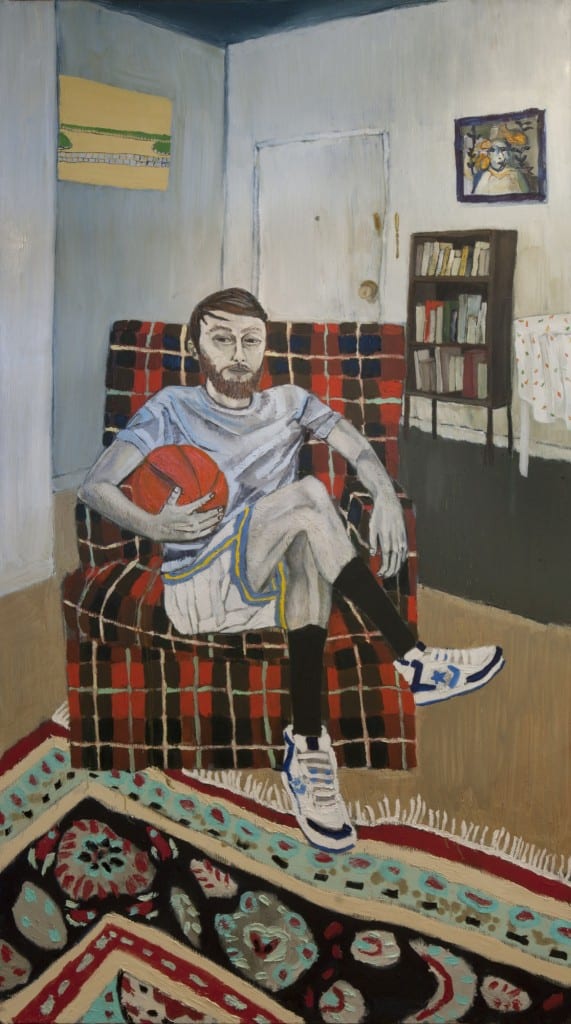 MG:
We both saw his work at Black Dragon in Chinatown.  It was a group show of undergraduates from UCLA because two of the owners of the gallery are artists; one is the head of the painting department.  They originally opened the gallery to showcase the art of the students and their own work.
SHG:
I think Rafi is just like Iva [Gueorguieva].  He's a fully formed artist who has found his personal way of doing things and I think that's what I like about him.  He's truer to himself than the influence of his teachers.
MG:
He gave up going to Yale for graduate school.  He was advised not to go because they probably felt it would undo him.  He had already found his hand in painting and it would change because it is so strong.  The backgrounds are so great, wallpaper, bad carpets and paintings of his friend on the wall.
SHG:
What's interesting is Black Dragon closed shop about two years ago, I don't think he has an LA gallery but he has a Swiss Gallery in Zurich.  It's really strange speaking of… Iva hasn't had an easy time in LA because her painting is very complex, it's very dense and in some ways Raffi's is also quite raw and those things don't necessarily go over that well in LA.
Tia Pulitzer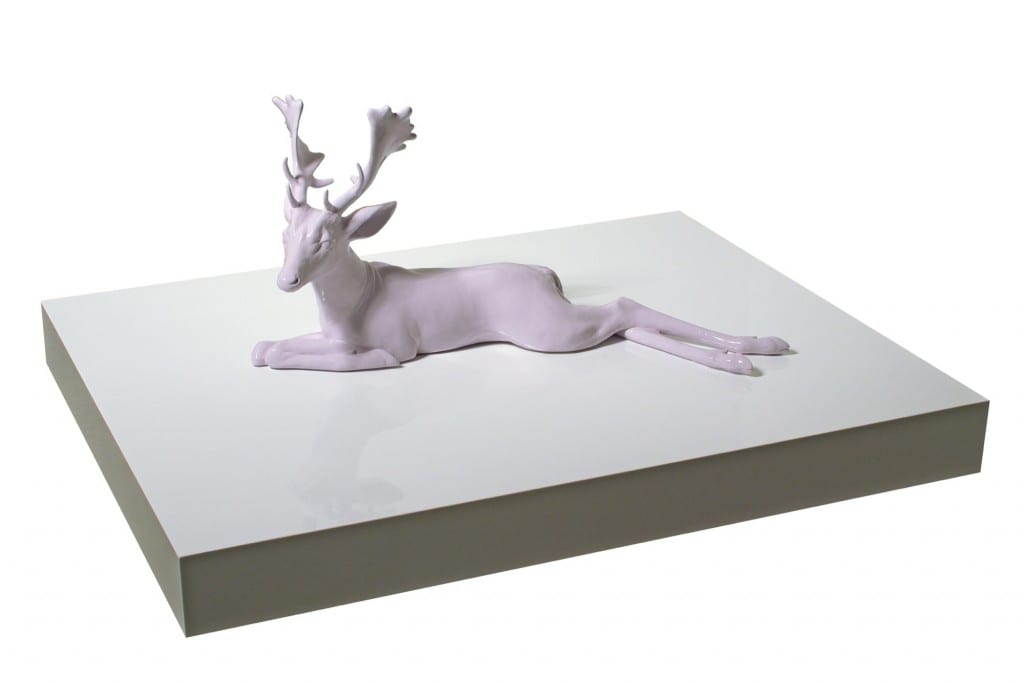 MG:
Tia was again a UCLA student.  She had her first one person show at Black Dragon and I went down there and I just loved the show.  So I brought Sirje down and I was saying 'it's got to be sold out,' and we went down and I had in my head it was a piece that was a little fantastical, it was a male deer with prong antlers that curled around.  It was made from two pieces and you could see where the joint was and the one that we have is really beautiful.
Don Suggs

MG:
Every other year, the Fellows had a selection of West Coast curators, who presented their ideas for prospective shows.  One show presented to us was Don Suggs and we didn't know who he was.  One of the curators wanted to have a Don Suggs retrospective.  In the work that he gave us to see, it looked like he was ten different artists.  And almost everything was really considered, intelligent and well accomplished.  I said 'if this is one person, than he's one hell of an artist and he's his own group show.' Linda Stark, who is a friend of ours, had an opening at Angles Gallery.  Sirje and I were invited to a dinner afterwards at a restaurant and Linda, unbeknownst to us, was going out with Don Suggs and he was at this event.
SHG:
I sat next to him.
MG:
And for the first time I met Don Suggs.  I had to tell him, 'I just saw your work and I had never even heard of you before.  You're amazing doing all these different bodies of work.  You're a real hero.' And then we were always kind of friendly with Don Suggs basically.  He had a one person show at Otis; and LA Louver had a show of his work at the same time and that's when we bought a small piece and the Feast Pole.  We also promised Don that we would donate that piece eventually to a Los Angeles museum.
Selected Biography
Born in Fort Worth Texas, 1945
Resided in San Diego, California 1952-62
Residing in Los Angeles, California 1962-present
Education
1962-1969: B.A. at University of California, Los Angeles (psychology, film, art)
1969-1972: M.A and M.F.A at University of California, Los Angeles in Art
Awards
1996, 1997: Artist-in-Residence (National Park Service), Yosemite National Park
1991: National Endowment for the Arts, Visual Artists Fellowship in Painting
1973: National Endowment for the Arts, Group Projects Grant
1971: Michael J. Connell Award
1970: UCLA Art Council Award in Sculpture
Tony de los Reyes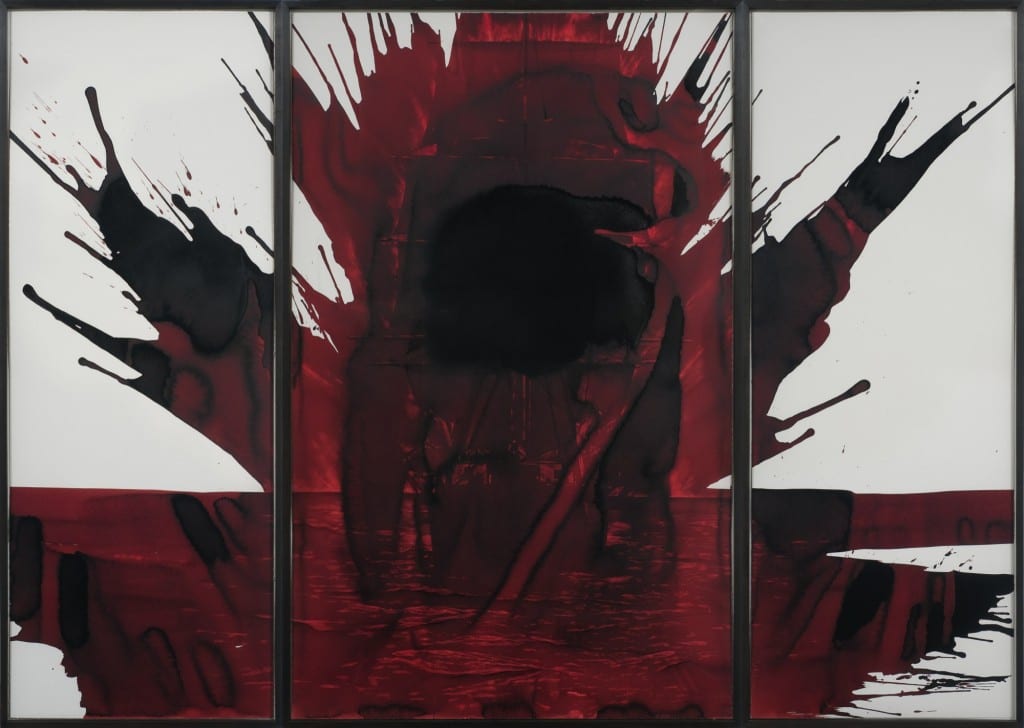 SHG:
Tony teaches history at a private school and he's probably in his 40s. He's a natural artist.  I mean he draws incredibly.  He's a natural born artist aside from being a history teacher.
MG:
His family has a long history in LA.  That piece was in Carl Berg [Gallery], the same one as Iva [Gueorguieva].  We walked in and it was just a series of stunning, huge pieces all in the red.  He had been working for a number of years dealing with the theme of Moby Dick.  I thought I had walked into a Chelsea Gallery, so stunning.  And the prices were nowhere near Chelsea galleries, let's put it that way.  He doesn't have a gallery at this point but he had a show at Santa Barbara Museum of Art before Christmas.  Absolutely incredible.  It's conceptual and it's executed with an incredible hand.  They're just pieces that a few people can deliver.
Selected Biography
Education
BFA California State University, Northridge
MFA San Francisco Art Institute
Solo Exhibitions
2009 The Prophet, Howard House, Seattle, WA
2008 Ahab's America, Carl Berg Gallery, Los Angeles, CA
2007 American Baroque: Ruminations on Moby-Dick,RHC Art Gallery, Rio Hondo College, Whittier, CA
2006 Or The Whale, Carl Berg Gallery, Los Angeles, CA
The Imago Sea, Bentley Gallery, Scottsdale, AZ
2005 The Sea is the Ghost of the World, Howard House, Seattle, WA
The Last Archipelago, Carl Berg Gallery, Los Angeles, CA
2004 The Strange Tale of Near and Far, DCKT Contemporary, New York, NY Studying the Strange Tale of Near and Far, Michael's, Santa Monica, CA