"Sophistafunk, aristocrats
Distinguished stars, clean up your acts
Pull up your pants, ladies and gents
Please, act like you got some sense"
-Outkast, Behold A Lady (2003)
 Rare is the moment when a musician (specifically within the realms of Pop, Rap, R&B, and Rock) effectively crosses over into the wilds of Contemporary art without either diluting their own material or concocting an inane set of gestures designed to draw attention to greater album sales. Then again, André "3000" Benjamin (one half of the Grammy Award-winning, influential rap duo Outkast) is a bit more curious than most in his industry. Like other musicians who have ventured into acting, technology, and/or fashion design successfully (will.i.am of The Black Eyed Peas is one of the few in this class), Benjamin gracefully moves in and out of different disciplines as a humble student, testing the waters and only splashing about once his motives are firmly established.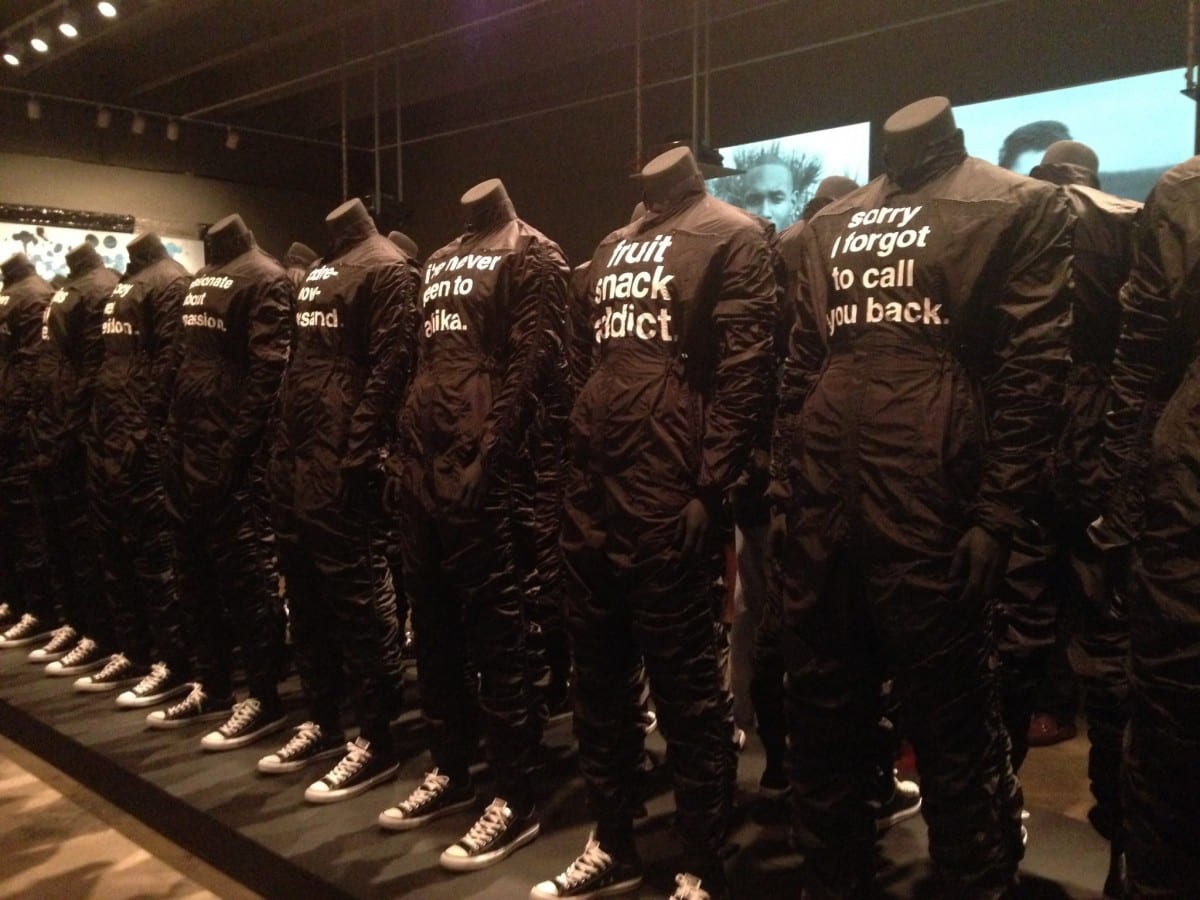 For his project entitled i feel ya with the Savannah College of Art and Design (SCAD), Benjamin designed a series of black jumpsuits bearing snippets of song lyrics (printed in white) penned over the course of Outkast's career, now exceeding two decades.  Mana Studios in Miami's Wynwood Arts District served as the gallery space: a cavernous warehouse that operates as a filming studio, storage and event space, and soundstage. On a raised platform, 47 jumpsuits were fitted on mannequins standing side-by-side in two rows (one row faced the back of the other) with military precision. At the far wall were three hanging projectors, each displaying a different image of a man, woman, or child wearing a blank black jumpsuit; the various phrases printed on the physical uniforms in the space were projected back onto the actors, where no phrase ever appeared twice. Flanking the platform were large abstract paintings by artist Jimmy O'Neal, which seemed like little more than a gestural accoutrement to the primary installation/film projection.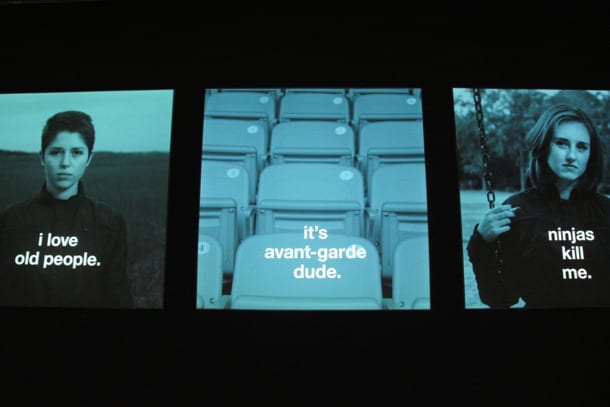 Benjamin worked alongside filmmaker Greg Brunkalla and painter Jimmy O'Neal to build an immersive structure for viewers. The film projections were, arguably, the exhibition's most successful element. Elderly women, small children, young men, mothers, Latino, Black, White, Asian: seemingly every sector of American life was sampled to relay messages of hope, of waiting, of distress, of observation.  The rustle of winds in trees or the blinking of eyes was the viewers' only indication that the films were recording living subjects.  Their structured jumpsuits resembled a kind of post-apocalyptic vision from The Giver or Kurt Wimmer's Equilibrium.  Juxtaposing truisms against stable, but living or lively, backdrops would invite comparisons to seasoned conceptual artists such as Jenny Holzer, Alfredo Jaar, Christopher Wool, or Gillian Wearing; Benjamin and Brunkalla's inception, however, accelerates textual art into the moving image.  It is difficult not to experience a hint of ethos with these people, masking their backgrounds and personal stories to act as placards pleading for universal understanding and compassion.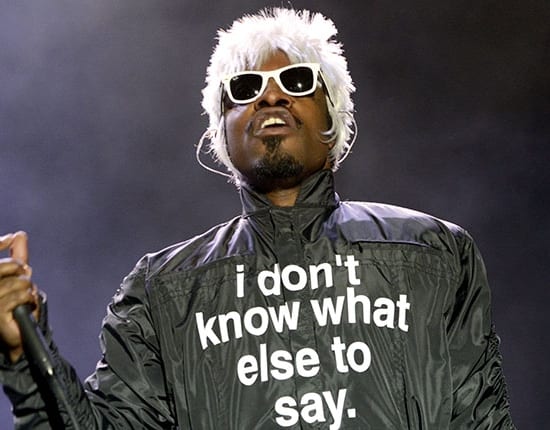 Overall, an impressive freshman effort from Benjamin, who could certainly capitalize on this project as he has taken the correct path in working closely with professionals already active in visual art…as a career.  Are you listening, James Franco?
i feel ya: André "3000" Benjamin + SCAD opened with a private reception during Art Basel Miami on Tuesday, December 2 and runs through December 16 at Mana Miami in the Wynwood Arts District.