A large table sits in the middle of Richard Kraft's Los Angeles based studio covered with a labyrinth of miniature pieces of paper, each perfectly cut and arranged in a systematic configuration that only the artist understands.  The pieces are so fragile they seem to require surgical tools to manipulate.  Kraft looks on to the sprawling  sea of paper and juxtapositions the images and verbal lexica to create a message that will communicate from the front and the back until he arrives at the perfect match.  No two "Walkers" are the same.  They are nameless but they are identified by the images that they wear.  A grid of 100 miniature models donning dark suits and Bowler hats stand at attention wearing miniature sandwich boards that will soon become fully realized in Kraft's public art performance 100 Walkers, West Hollywood taking place on Saturday, April 18.  For one day the streets of West Hollywood will become fertile ground for a public performance unlike anything the city and its pedestrians have ever seen.  100 volunteers will participate in the unscripted performance, bringing art to the city of West Hollywood and celebrating the 30th anniversary of its cityhood.  The "Walkers" will travel in pairs following pre-determinined routes throughout the entire city from from approximately 2:00-5:30PM.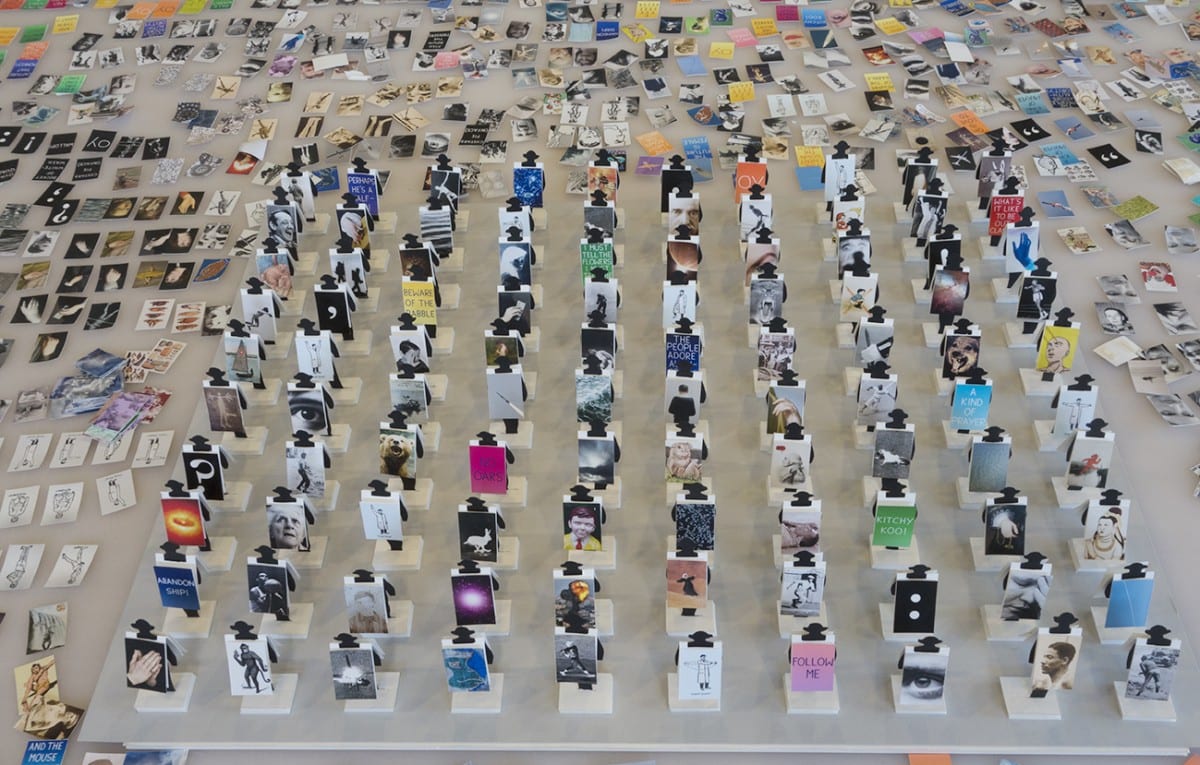 A view of the work station inside Richard Kraft's Los Angeles studio. Photo courtesy of the artist.
The reliquary of images took months of careful consideration and Kraft eventually started from scratch with only a few months before the performance.  "There are some images that survived from the earlier incarnation," he explains in a calm British accent.  "I would break down into several different taxonomies.  Some of them you may recognize- there are what I call 'aphorisms', animals, are a series of images from the Hubble telescope and the elemental in the forms of water and fire."  Kraft also considered how the sandwich boards would reflect the urban environment and considered that the population of West Hollywood has a large gay and Russian community.  He realized the the diversity of the city is "united in ways that they may not possibly know, but both communities have had struggles against oppression.  There are a number of gay rights activists in the piece, there are some Russian dissidents in the piece.  There's Andrei Sakharov, a man named Bayard Rustin who was a civil rights activists and gay rights activists, Vito Russo one of the founding members of Act Up, Harvey Milk and Chelsea Manning."



The sandwich boards have a lyrical harmony.  Kraft continues that "there are some things that might be recognized but other things that are quite surprising like the clowns for instance and there's a whole series of hand gestures that recur.  There's a war theme from Gaza, missiles exploding in various different places.  I would say that it's a combination of things that will really resonate with West Hollywood and other things that are surprising."

100 walkers will form a grid at the El Tovar parking lot, beneath Shepard Fairey's Peace Elephant mural on the West Hollywood Library.  Starting at approximately, 2PM, poetry scholar/arts critic Marjorie Perloff, the walk's honorary "starter," will individually release them by calling out a phrase singular to each.  As each "Walker" is called they will follow a pre-determined route.  If you happen to encounter them on their journey, you will likely have many questions but they will remain silent and distribute "calling cards" to curious bystanders.  The event is presented through the Arts and Cultural Affairs Commission and is also a project of the program "Art on the Outside" which brings art into the public sector and embraces the pedestrian-friendly culture of the city of West Hollywood.
Explore the route and witness a historical art performance this weekend!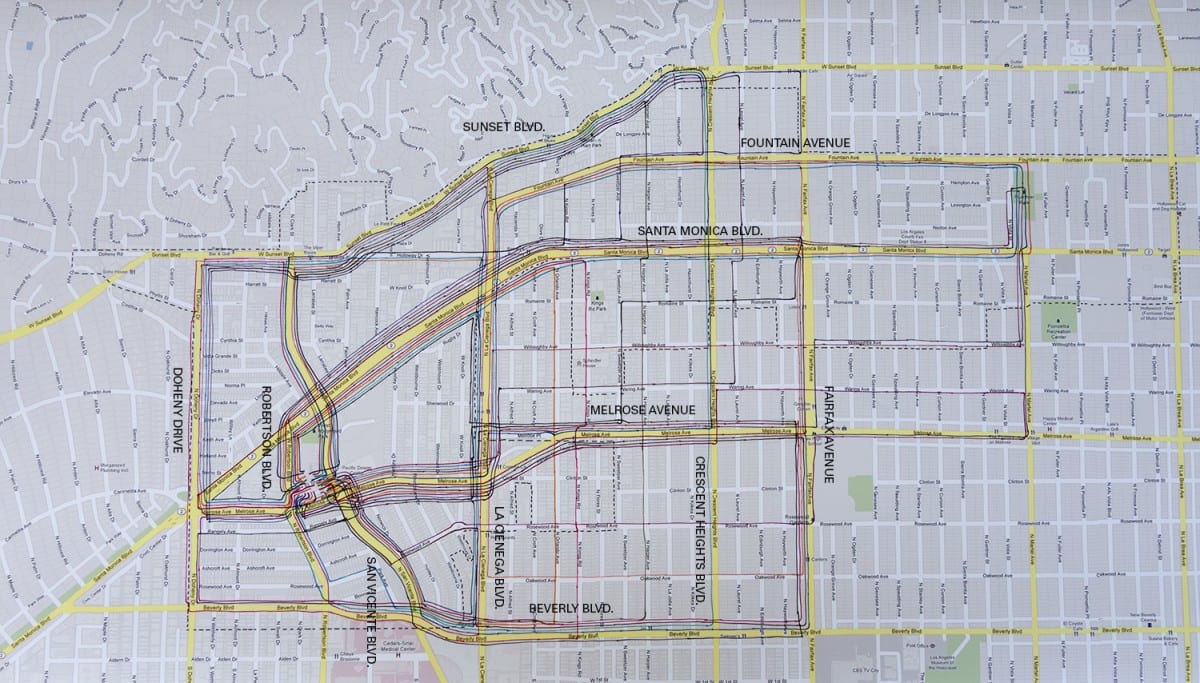 All images courtesy of Richard Kraft