When Gray Malin isn't at home in Southern California, he is out traveling creating new work; his adventures are often his greatest inspiration.
To purchase the works in this collection visit Maison Gray.
Prada Marfa series
When I first went to the small town of Marfa, Texas and shot some images of the illusive Prada Store on the side of the highway, I knew I had to return.  Dreaming up concepts to photograph at the store for months, this series of work is nothing more than glimpses of my imagination and wit.
Marfa is famous for many reasons but notably for its 'New York chic' meets 'cowboy cool' art scene that has been written up all over the world.
Back in 2005 two artists named Elmgreen and Dragset came to Marfa to find the perfect location for their hyper-commercialism vision of a free standing Prada store in the middle of nowhere.  The store was built from the ground up using minimal materials and a very exclusive 2005 line of Prada purses and shoes were placed in the installation.  The door was sealed after the store was completed- never to be reopened.
Though the purpose of the store can be argued, I chose to believe that it is an attempt to challenge the viewer to think outside the box and should insight all of us to continue to question what exactly art is all about.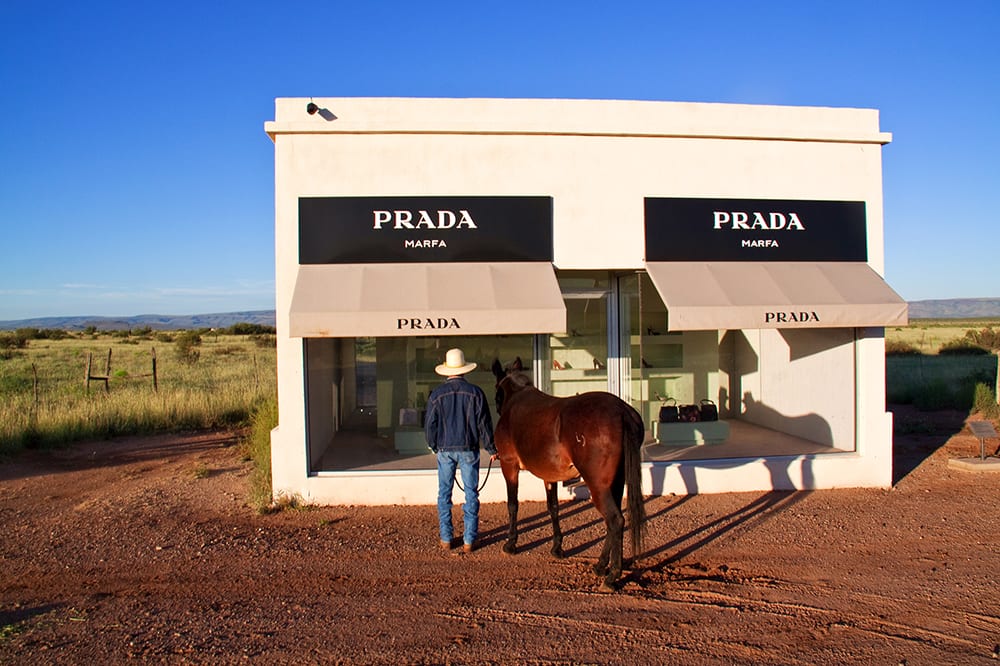 Á LA MONTAGNE series
Shooting from door-less helicopters, this series captures the world of luxury ski resorts from above.  Carpeted by the white snow, the majestic geographical surroundings of ski-slopes create a beautiful canvas for the skiers, chairlifts, and other objects to appear as a pattern below.  This series is a visual celebration of natural form, color, repetition— and winter joy.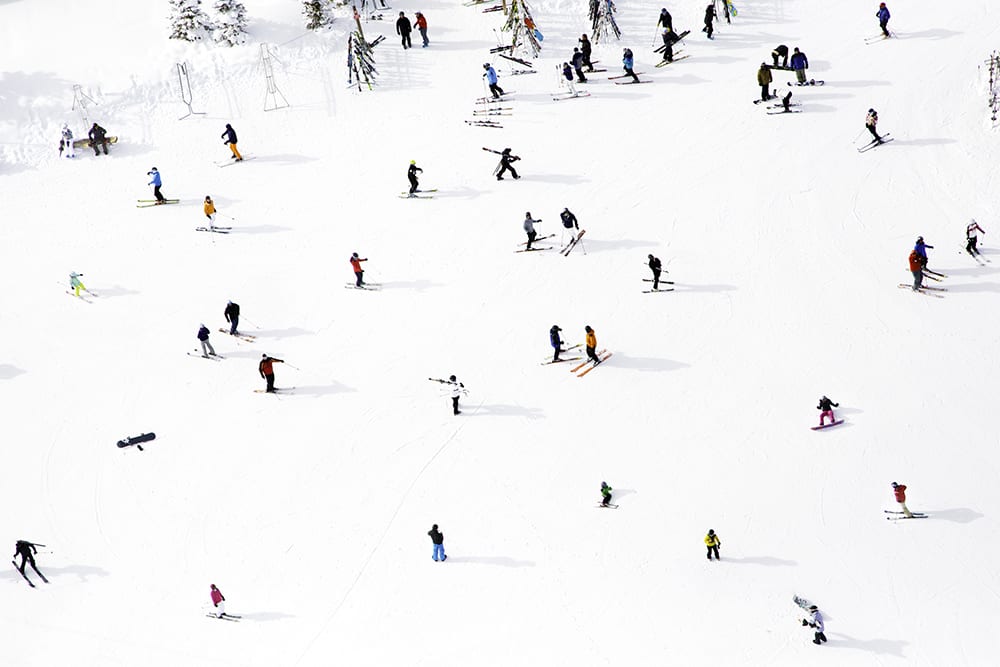 Á LA PLAGE series
Shooting from door-less helicopters, this series has been photographed in six continents around the world.  "From above, a simple beach or pool becomes a blank canvas that allows me to start seeing the world as art.  People and objects become patterns creating repetition, shape and form.  Each geographic location has revealed that the love of water is a universe experience, an activity that offers people a sense of freedom and joy.  Seeing the world from the seat of a helicopter makes me appreciate the beauty of our planet."  These photographs are a visual celebration of color, light, shape— and summer bliss.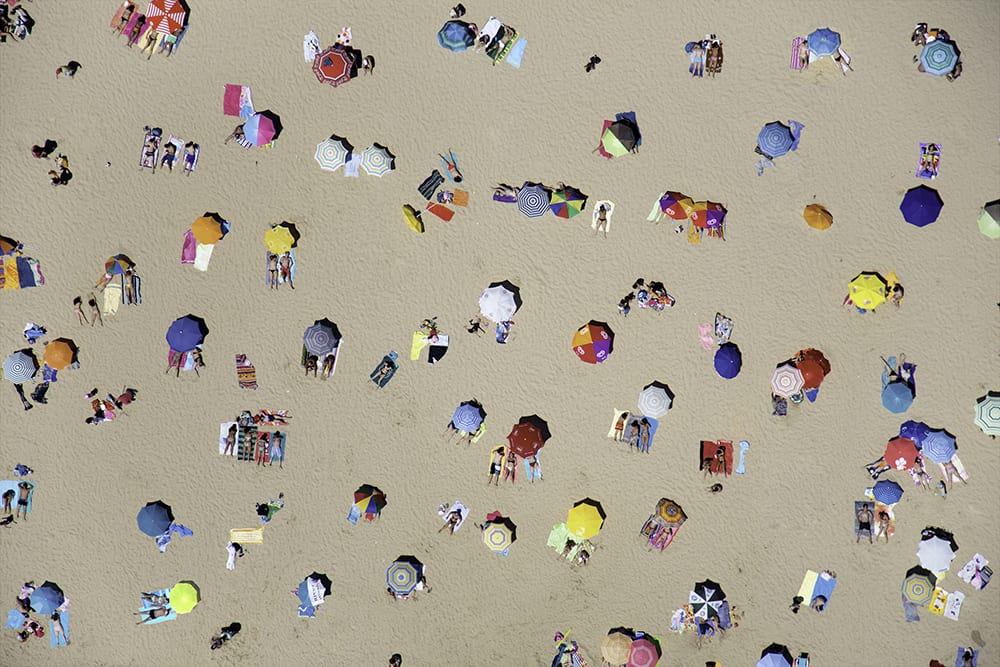 LA DOLCE VITA series
Documenting many of Italy's most famous beaches on a 2000-kilometer road trip, this series was inspired by the glamorous Italian Riviera lifestyle that mesmerized the world during the 1950s and 60's.  Focusing on the retro-vintage beach umbrellas that seem to have stood still in time, this series is meant to evoke nostalgia for the opulence of what the Italian Riviera once represented.
FAR FAR AWAY series
Mentored by famous Bolivian photographer Gastón Ugalde, Gray shot this series in the largest salt flat in the world, Salar de Uyuni, which expands nearly 5,000 square miles and sits at 12,000 feet in elevation.  Here the color temperature reaches an intense 7,000 kelvins, making all objects appear brighter than the eye normally sees.
Each image is presented in its raw form, with no editing except for the removal of the ropes used to corral the sheep and llamas.  This body of work is left up to the viewer to interpret; for Gray it's all about capturing the whimsical happiness of a place unknown.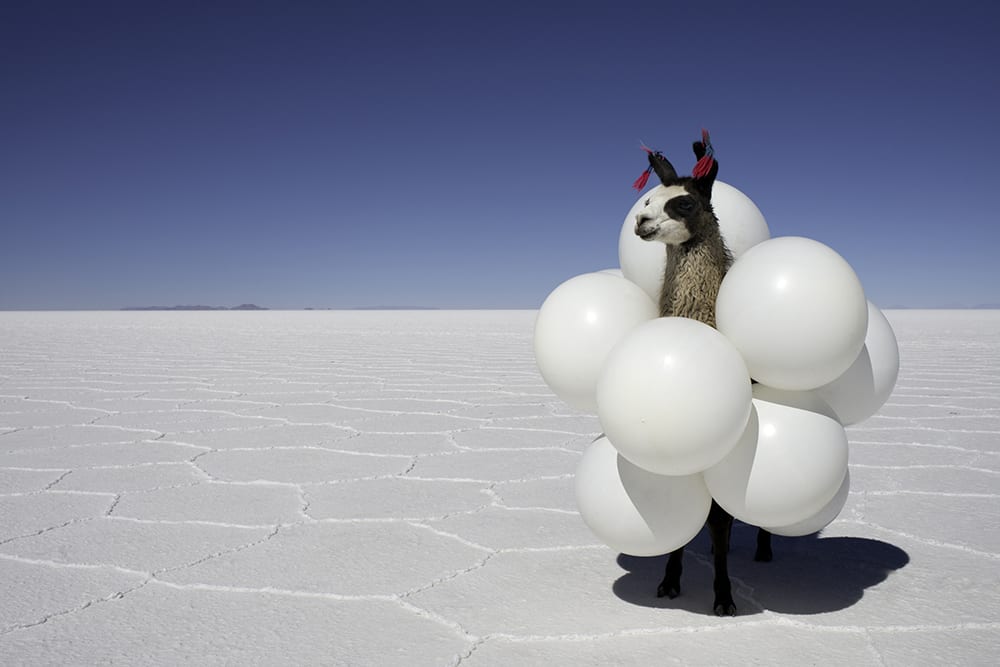 UP AND AWAY series
Balloons are a universal symbol of celebration, happiness and joy.  "This series came to me in 2009 when I was standing under the Eiffel Tower holding a dozen red balloons during a photo shoot in Paris.  Everyone was staring at me with a smile and the pure joy inspired me to create a new body of work using balloons as the focal point."
Shot around the world, this typology series explores using Mylar balloons in unnatural environments creating humor and joy through the words/letters in each image.  Gray is currently shooting new pieces for this series during his various travels.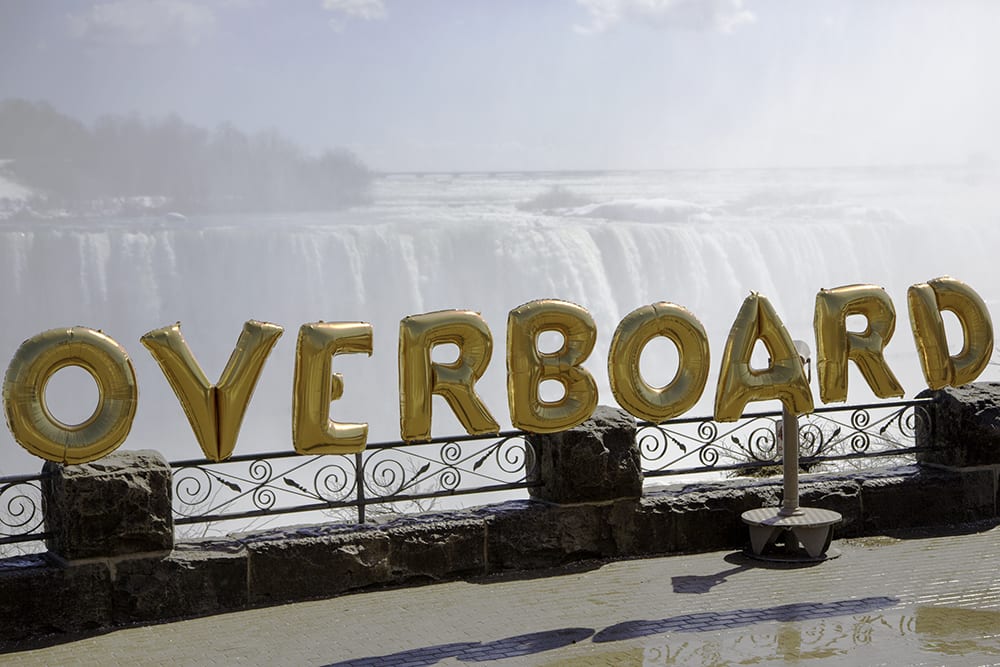 Featured image: Gray Malin, Cowboy and Mule from Prada Marfa series, 2010, print on archival luster paper ©Gray Malin 2013
All images ©Gray Malin 2013