Away from the piers, and over from the water, VOLTA NY is centered in the heart of downtown, surrounded by individually laid cobble stones that have served as the foundation for arts and culture for centuries. While most exhibitors in the fair circuit may focus on gallery wide curations, VOLTA NY offers an invitational show of emerging solo artists' projects. The boutique-like presentation is not so small, but rather specific, which allows for deeper conversations and observations.
True to Installation Magazine's philosophy, a fair like this can make art more accessible to younger collectors and act as a catalyst for new ideas and practices. Intriguing offerings range from deeply psychological paintings by Paweł Śliwiński (Beers Contemporary, London), lush, melted-fabric compositions of traditional Korean shamanistic imagery by Hyon Gyon (Shin Gallery, New York), monumental photography by Mohau Modisakeng (BRUNDYN+, Cape Town), and a site-specific installation by New York-based Armenian painter Anna Navasardian (Galerie Andreas Binder, Munich).
If you're in New York or may be visiting during the fairs, we encourage you to visit VOLTA NY. You can even skip a subway, taxi and pricy UBER with a free shuttle to and from The Armory Show!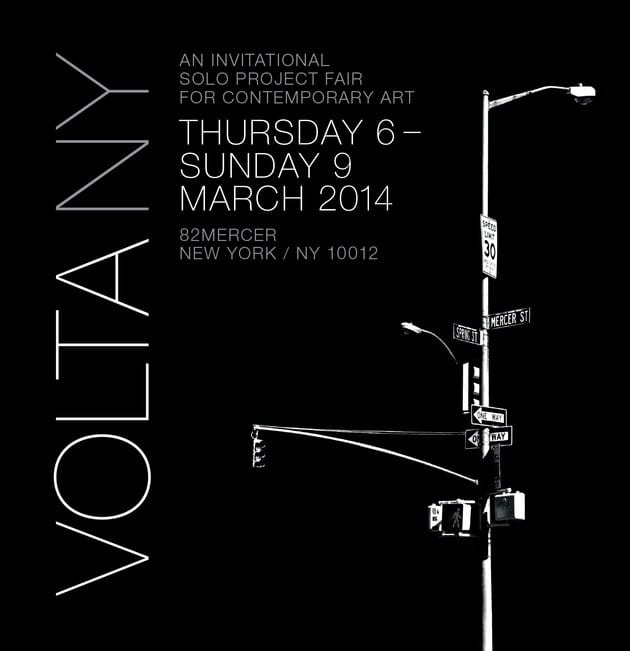 VOLTA NY embraces the city's foodie culture and supports local culinary talent. With all of this cultural inspiration, we'll be enjoying these exclusive and delicious VOLTA offerings:
RUSTIC FARE
Local all-stars Sara Jenkins and Tamara Reynolds team up as Er Baretto, serving rustic New Italian fare at the ground floor lounge.
BREWED GOODS
The fair's second floor fortifies with a coffee and pastries bar! Sam Penix and the Everyman Espresso team feature two varietals from Counter Culture Coffee, the sustainable roasters and distributors, in a hand-crafted filter coffee service with Chemex brewers. Brewing at VOLTA NY are Buziraguhindwa natural sundried (a naturally processed coffee from Buziraguhindwa washing station in Burundi, featuring strong aromatics and flavors of strawberry cream, dates, and spice) and Remera (a traditionally washed Rwandan coffee, featuring crisp citrus and fruit notes, with a juicy body and a clean, sweet aftertaste).
SWEET BITES
Traditional sephardic sweets will be served by Ron Arazi (chef and baker) and Leetal Arazi (pastry chef, food stylist and photographer) of NYSHUK. The husband-and-wife team introduced their love of multilayered Jewish Middle Eastern cuisine to Brooklyn's Smorgasburg. Their VOLTA menu includes hamantaschen (poppyseed and raisin filled-pocket pastries enjoyed during the Jewish holiday of Purim), oat and tanzeya squares (utilizing the couple's homemade dried fruit and spice tanzeya preserves), and semolina cake (in rose-scented syrup with pistachios).
SERIOUS LIBATIONS
Averna will serve two special cocktails showcasing the iconic Italian spirit's nuanced, bittersweet profile, poured by expert mixologist Tad Carducci, one half of New York's The Tippling Bros.
ALSO, DON'T MISS!
After tasting savory and sweet bites with rich coffee and cocktails, be sure to jump back into the VOLTA happenings:
Pose (Jonathan LeVine Gallery, New York) will create a unique public mural, through the support of The L.I.S.A. Project NYC, at 188 Lafayette (between Broome and Grand Streets), a few blocks from VOLTA NY. The wide thoroughfare provides clear visibility for the five-story tall mural, which will be based on Pose's central painting in his gallery booth. Pose has painted murals all over the world, most recently in Johannesburg for the 2013 City of Gold Urban Art Festival, as well as the illustrious Houston/Bowery wall last summer with kindred Los Angeles-based Mad Society Kings artist REVOK.
Critically acclaimed artist-run podcast Bad At Sports coordinates Bedside Chats, a dynamic installation and interview snuggle-fest. Co-founders and hosts Amanda Browder, Richard Holland, and Duncan MacKenzie transport Browder's Brooklyn bedroom to 82MERCER, inviting guest artists, critics, and curators to converse under the covers, and fair visitors are welcome to partake in some pillow-talk as well.
Culture Shock presents ULTRA VOLTA: The Spectrum of Ultra Violet, a curated environment honoring the cultural icon's transmedia spectrum: from film and music works, to Ultra Violet's memoir Famous for 15 Minutes: My Years with Andy Warhol and her Instagram-able baroque mirror series Self Portrait and Selfie.
Concurrent with their selection in this year's Whitney Biennial, New York's Critical Practices Inc. host an unmoderated conversation prompted by Curator Omar Lopez-Chahoud on the death (and future) of the gallery show. CPI's Public Interface: LaTableRonde format brings together 30 participants (some invited, some not) to engage in a public discussion concerning contemporary cultural conditions.
Do not miss all of the incredible experiences you can have at VOLTA and we'll look forward to seeing you there! Stay tuned here on InstallationMag.com for up to date, live and ongoing coverage! Join the conversation on Twitter and Instagram with #VOLTANY2014 #InstallationMag