Hailing from the Bay Area, Mathew Zefeldt's current exhibition at the Santa Monica Museum of Art titled Forms Forming Forms presents a riotous exploration of color and repetition that seeks to wholly immerse the viewer in a multidimensional experience.
Installation Magazine: Your exhibition Forms Forming Forms is currently on view at the Santa Monica Museum of Art.  How did the museum environment influence the works chosen for this installation?
Mathew Zefeldt: For this exhibition I wanted to create an immersive environment for the paintings to inhabit, as if you are walking into one of my paintings when you enter the space.  In my work I think a lot about figure and ground relationships.  It seemed like an interesting experiment to extend that idea of ground onto the wall, so the painting as a whole becomes the figure.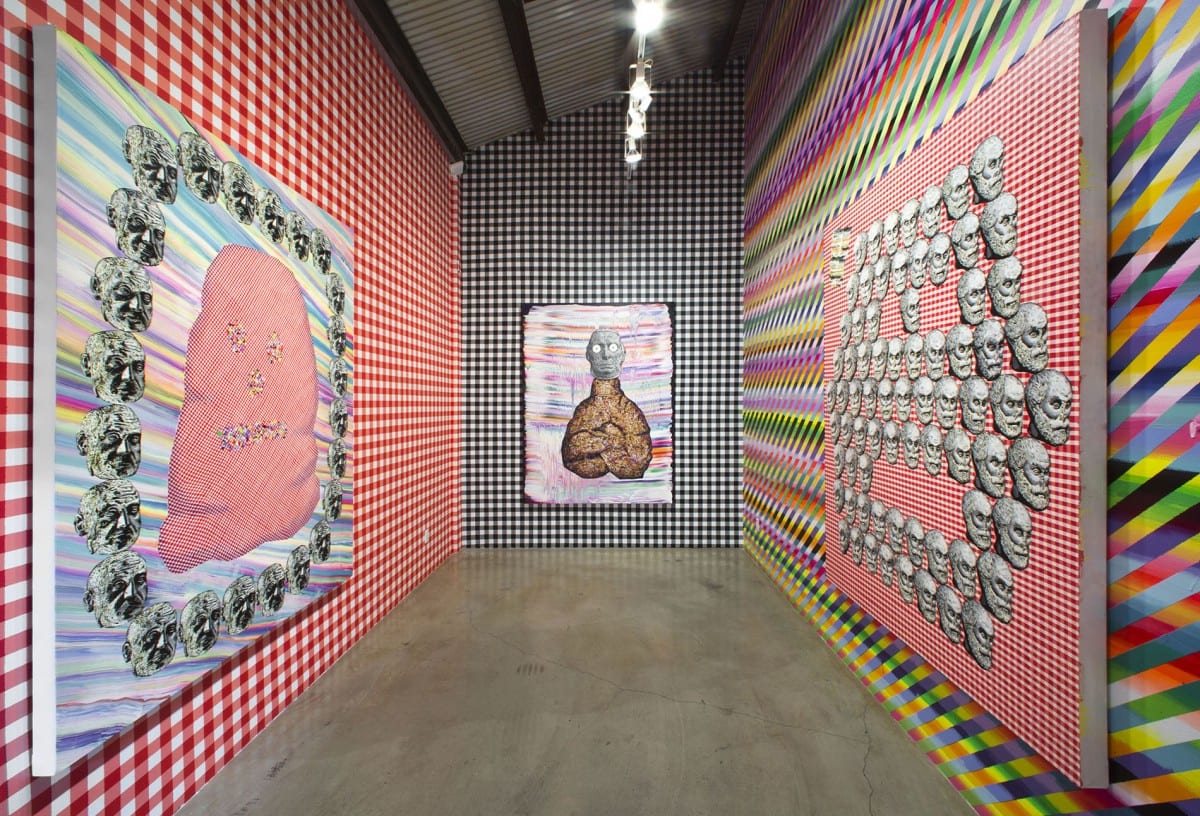 Are there any interactive elements you wanted to prompt upon the viewer with each work?
I was really excited about the idea of putting large paintings in a small room.  This will either make the room look smaller or the paintings look bigger.  I thought painting the walls would really exaggerate this illusion, the wall would serve as an optically noisy backdrop for the paintings. The paintings' ground would be extended onto the wall, but the pattern or palette would shift in the process.  I think that when you walk into the room there is a sense of being overwhelmed, not in a positive or a negative way, but there is a lot to look at and your eye travels everywhere.  It's like you are walking into one of these really spatially shallow paintings, but in the gallery space the experience different; it's dimensional.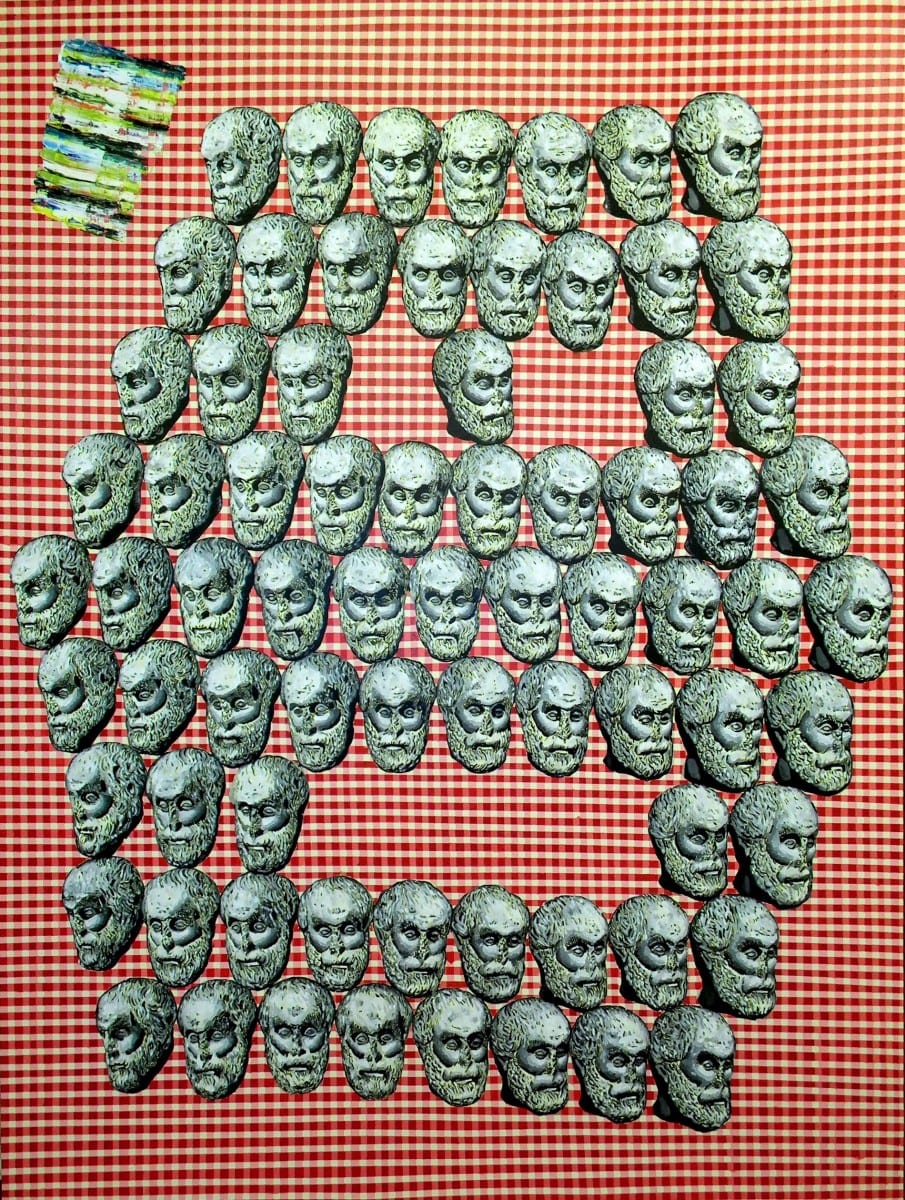 What role does repetition play in your work? 
I tend to paint the same image over and over again, in the case of Head-Face, I recreated an antique Roman statue head.  These statue heads are far removed from the original, they go through different filters of technology and time: a painting of a painting of a xerox copy of a photo of a statue of a person who has been dead for two millennia.  Through repetition, the statue heads serve as individual marks, like a brushstroke, that form a macro image, a large smiley face emoticon.  These still life objects are hand painted individually. At a close look, every statue head has unique flaws due to the fact that they are painted with a clumsy human hand.  At a farther glance, the heads look identical, almost like a digital collage using software like Photoshop, even though I prefer to investigate these ideas in the analog world.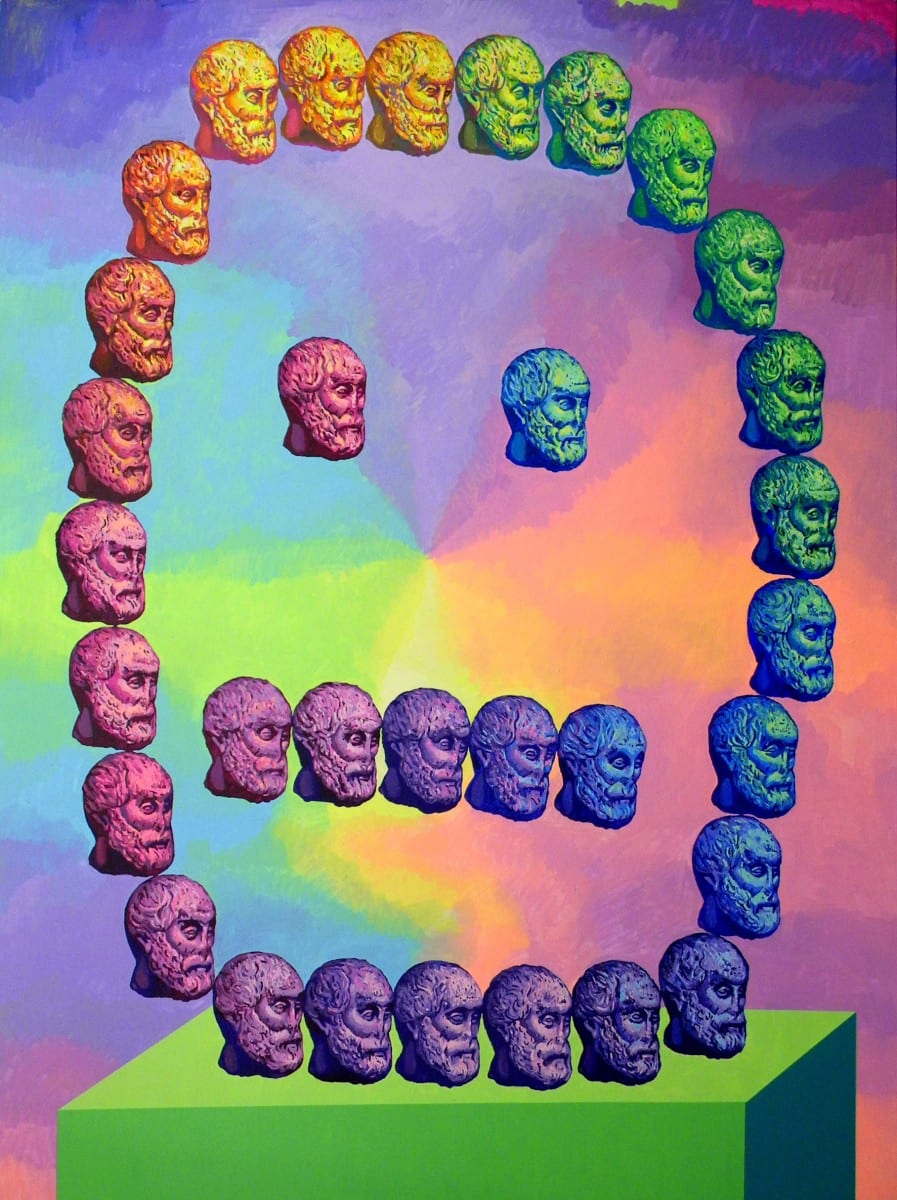 During the making of the piece Forms Forming Forms, I noticed that studio detritus often turns out to be more interesting than the idea you went to the studio to execute.  I found a gingham rag amongst other rags on a "free corner." I took the rags back to my studio to use them to clean brushes, wipe up spills, etc.  The red gingham rag, however was too interesting to saturate with paint, I was too enthralled with it.  It reminded me of picnics, Italian restaurants and also the process of cross hatching.  There are things you see that tend to be loaded with possible readings, and when you look at them you think of how you might paint them.  This was one of those objects.
I was thinking a lot about abstraction, gesture and mark, so I wanted to make a painting of a rag with paint on it.  The rag is painted as a cartoony pile as if it had either been discarded or staged.  The drippy cacophony of marks that appear on painter's rags can serve as a sort of Rorschach test.  What do you make out? I often think of objects in paintings as characters with shape-shifting abilities, like Clayface from the Batman comics.  In this case the rag has rearranged its marks to create a face, to turn itself into something recognizable, during which  ancient statue heads swirl around it, like a bird does to a cartoon character who has just been hit on the head.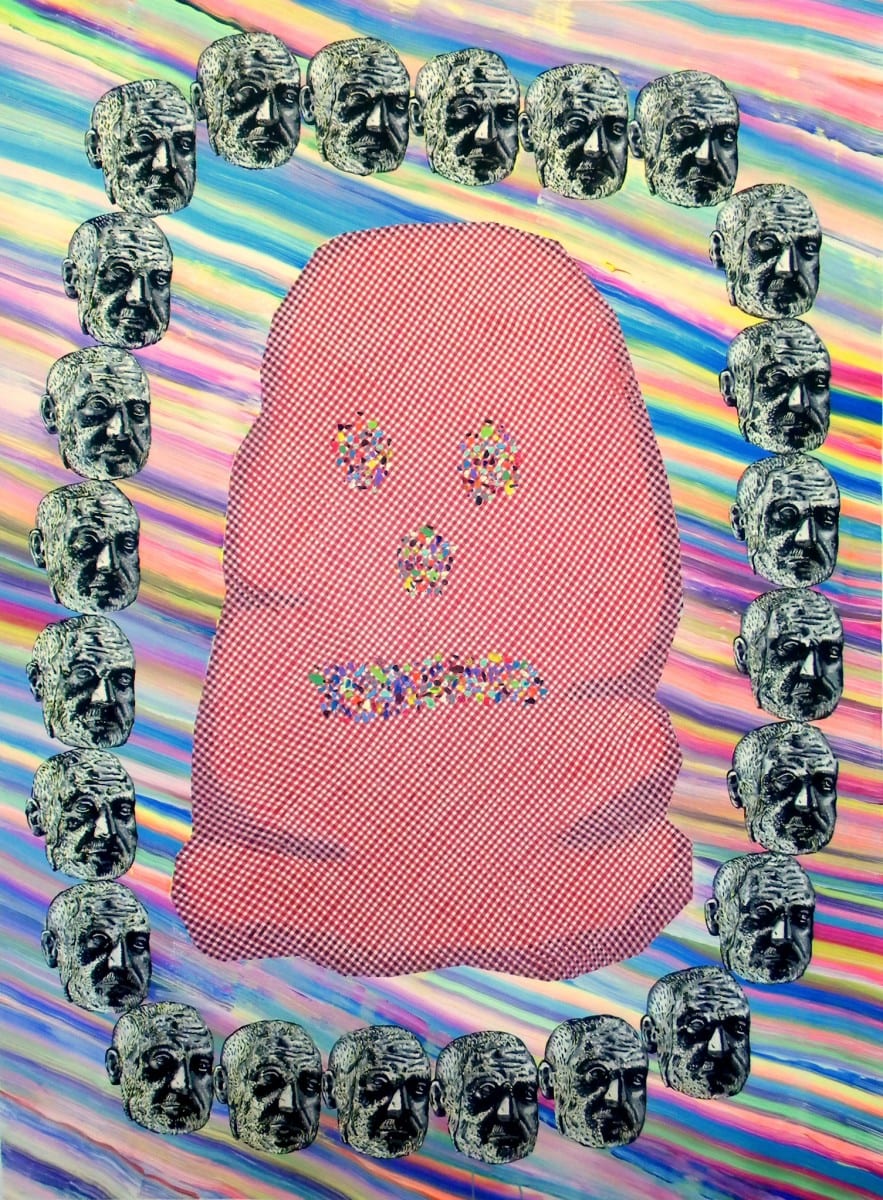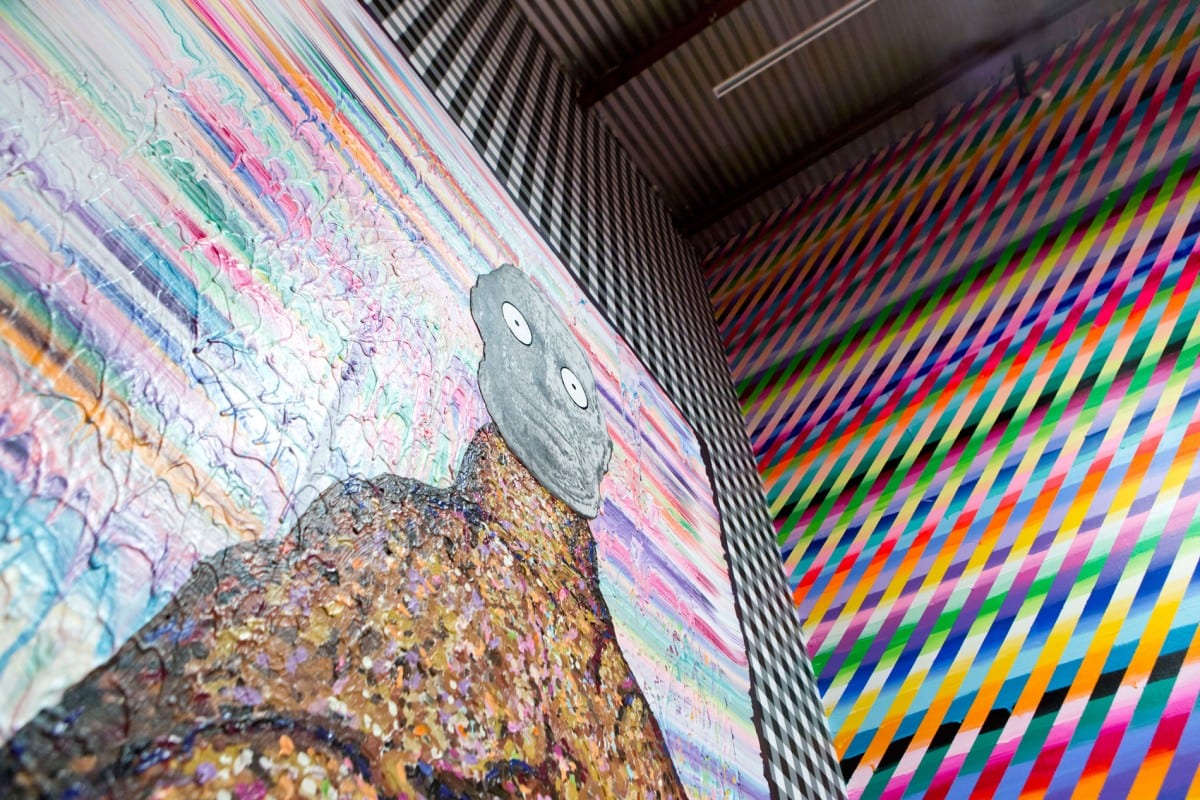 How have you addressed themes such as texture and repetition in works not shown in Forms Forming Forms?
I often think of my paintings as still-life arrangements that take place in my head.  In paintings like Imagined Object #4, I painted entirely from imagination.  Sometimes I need to change my subject, the works with repeated objects are both physically exhausting and very premeditated.  These paintings have no plan, and when I finish them I am usually surprised.  My relationship to painting is complicated; I am constantly asking myself if painting is an image or an object.  With work being viewed online as JPEG images, it seems interesting to explore painting both as a fictional world seen through a window, and a material object covered in colorful goo.  Imagined Object #4 is a little bit of both.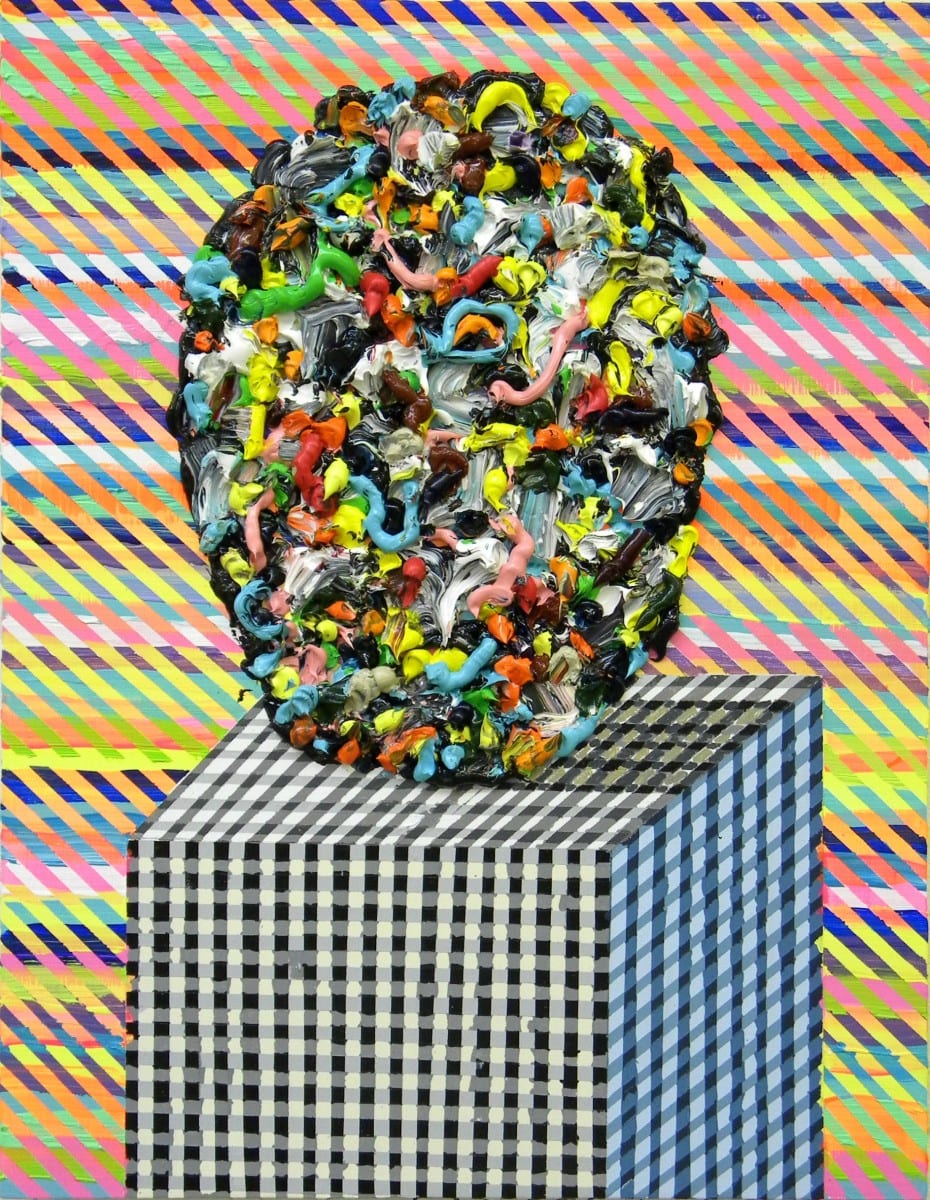 I am always making sequels of paintings.  There are heads repeated within each piece, but also motifs repeat from painting to painting.  In Head-Face many small things make a larger version of itself in a different kind of representation.  I wanted to make a painting that extended that idea further.  In the painting, Consistency Consistency #2, a head-face exists on a table in a circle of more of the same heads at a different orientation. The larger circle acts as a window into the smaller, more distant figure, or figures.  This window exists inside of the window that the illusionistic painting exists in.  The head-face is in a deeper space, but the rainbow gingham pattern that serves as a ground does not recede into space, it remains the same scale in shallow space or deep space, or perhaps no space at all, on the surface.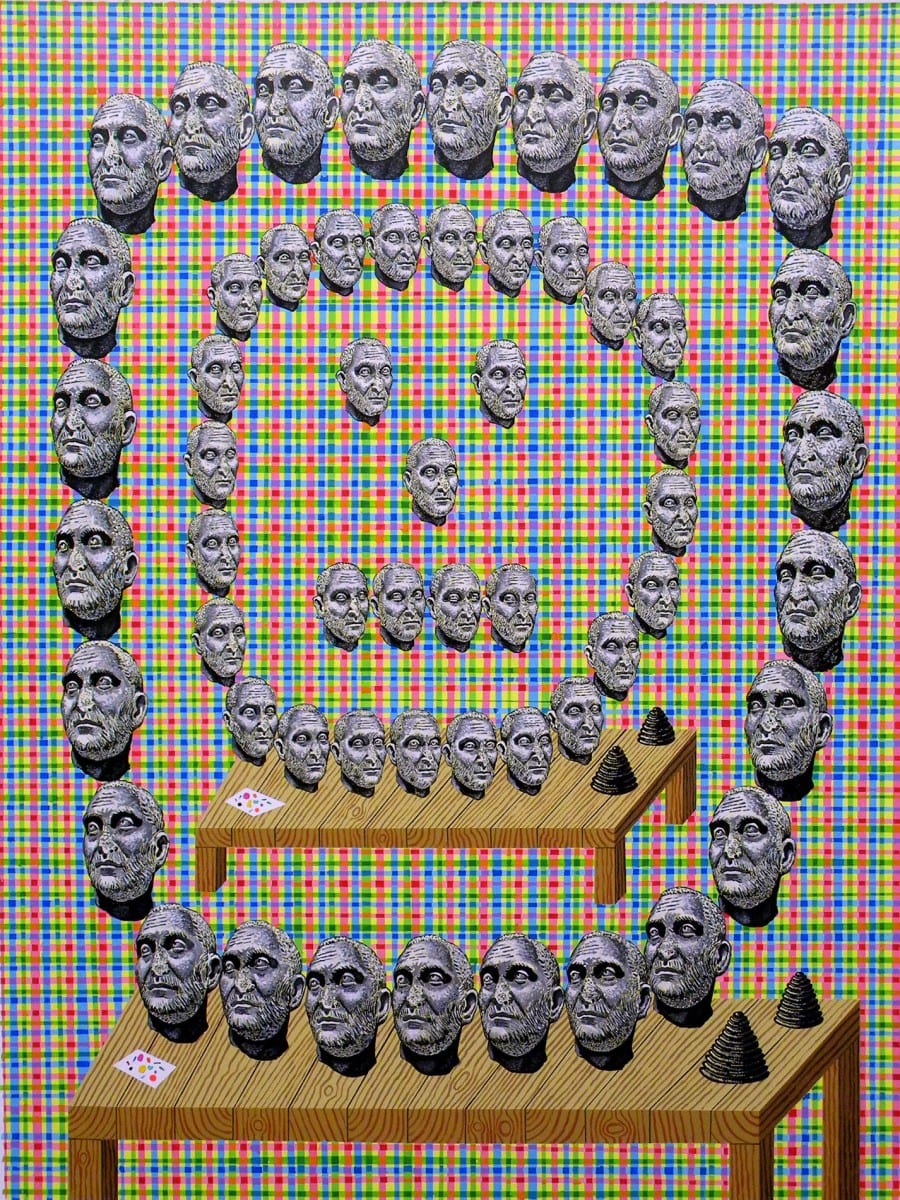 I am always thinking about painting different languages.  In Days of Future Past I approached painting as a digital collage that brings different subjects from several sources, and forces them to inhabit the same space or surface.  My interest in the aesthetics of digital collage address the multiple visual languages of painting and bring them into one plane.  I want to create a myriad of styles and gestures that echo the fragmented, heterogeneous nature of contemporary reality.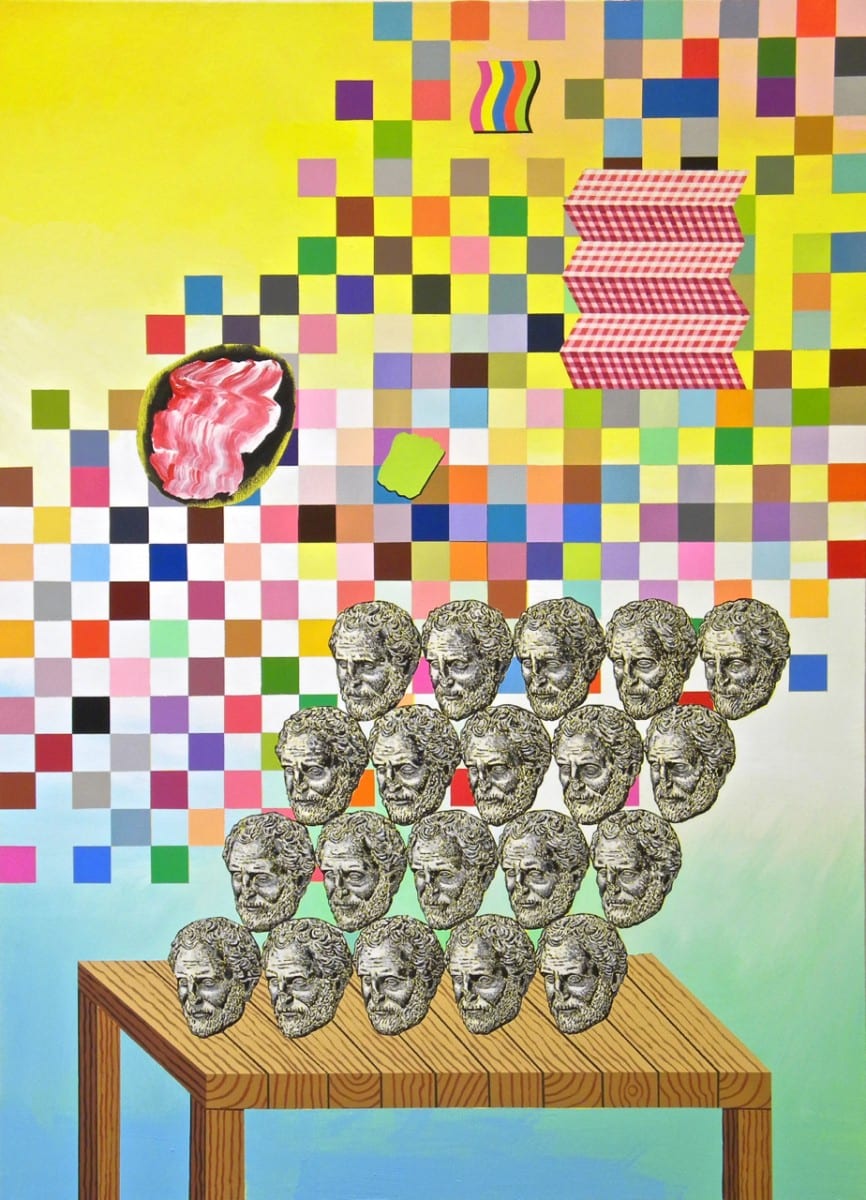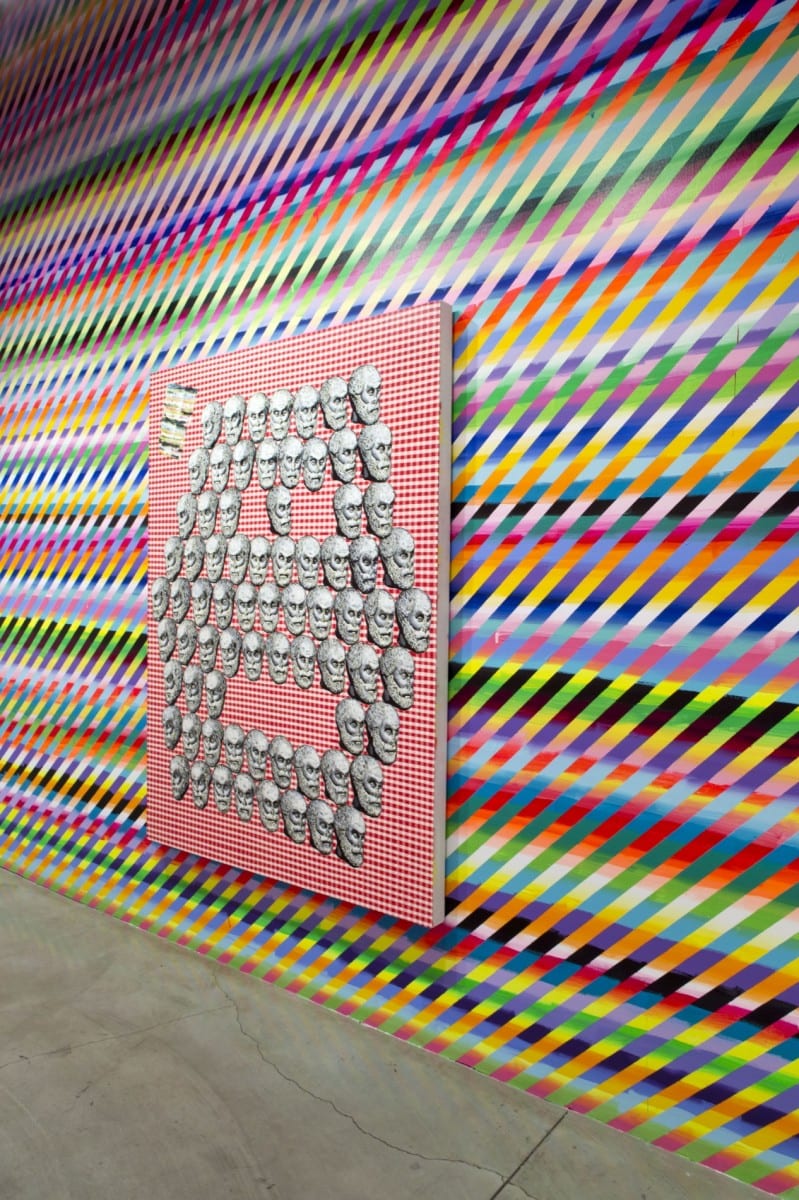 Featured video: Mathew Zefeldt: Forms Forming Forms ©Santa Monica Museum of Art
All images ©Mathew Zefeldt and Santa Monica Museum of Art