Installation first featured the multi-media collective Squidsoup when they installed their immersive light installation Submergence in Oslo Norway at the beginning of the year.  The installation has been rebuilt and is making its UK premiere.  Anthony Rowe, founder and creative describes Squidsoup as a slightly amorphous and fluid entity, and our roles overlap and are also fluid.  We are all involved to a greater or lesser degree in most aspects of project development, conceptual and physical, but our main members and primary functions are: Gaz Bushell (software), Chris Bennewith (design) and Liam Birtles (hardware, physical design).  We regularly work with Ollie Bown, who created the sounds for Submergence.
An interview with Squidsoup
Installation Magazine:  In layman's terms, what technical components are involved in the installation of Submergence in the UK?
Squidsoup: The piece consists of 384 strings of lights, housed in silicone spheres.  Each string has 21 spheres, creating a 16 x 24 x 21 grid, or 8,064 full colour RGB LED lights suspended in space.  Each string is connected to power and a system of DMX controllers that receive their signals from a single laptop.  The LEDs and electronics are suspended from a structure that is itself suspended from four chain lifts– this was because ceiling height was at a premium, and when hoisted into place there was no room above the structure for us to go in and work with the electronics.  With the chain lifts, we worked at ground level, then hoisted the finished structure into place.  The digital 'interactions' in the piece – as it does respond to people's presence and movement, but in a fairly non-intrusive way – are captured using three Kinect sensors that constantly scan the space for physical presence and movement.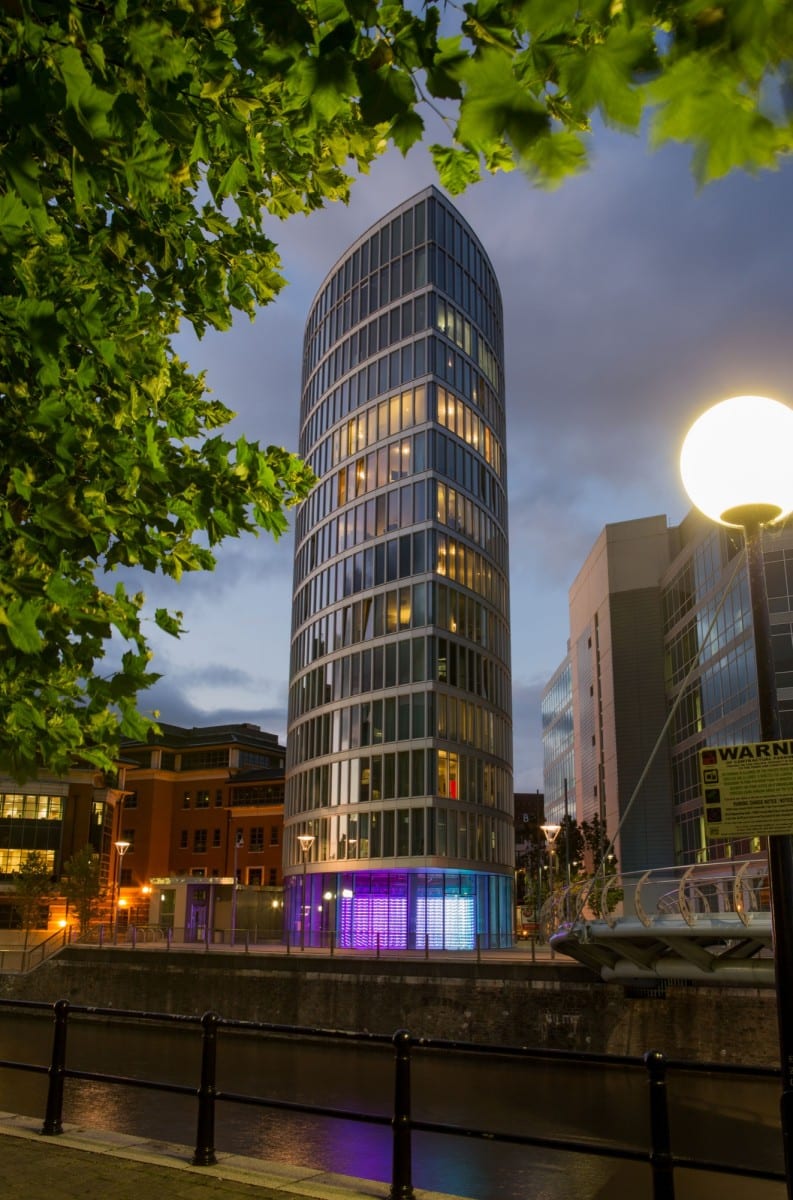 In what ways has the immersive light installation changed since it was first created in Norway? Are there more interactive elements? If so, what are they? Were any changes made after receiving feedback from participants?
It has not changed much at a technical level; we have refined the software and altered a few details.  The interactions are a little less disguised and more obvious.  We also now use three Kinect sensors, whereas we have only used two on previous occasions.  This is the third time we have put on Submergence– it was also shown at Mapping Festival in Geneva this June.  At a physical level, the installation is different every time.  It needs to respond to the local space, the features (or not) of the environment it is within.  In Bristol it is housed in an empty retail space, surrounded by glass in a beautiful building, the Eye.  Sunlight was a bit of an issue, so we have drapes that can be pulled across on very bright days to enhance the experience within, but pulled back otherwise to let the piece illuminate and breathe in its architecturally impressive surroundings.  This time, we have also set the lights against a predominantly black background, in order to increase the dominance of the lights, and reduce the reflections and bouncing of light off the walls.  It makes for a stronger and slightly more disorientating experience, as the usual spatial cues (walls, etc) are much less apparent.
What did the team learn in re-creating the installation from scratch? Did they discover that some features were more effective than others?
It reminded us (again) of how many cables there are to be manually plugged in! And also how much we rely on the support of others when installing the project.  The ceiling support structure was also built to a more refined standard this time, and was movable on chain lifts.  The structure was much lighter than before, which is encouraging for building future incarnations that are even lighter and more unobtrusive.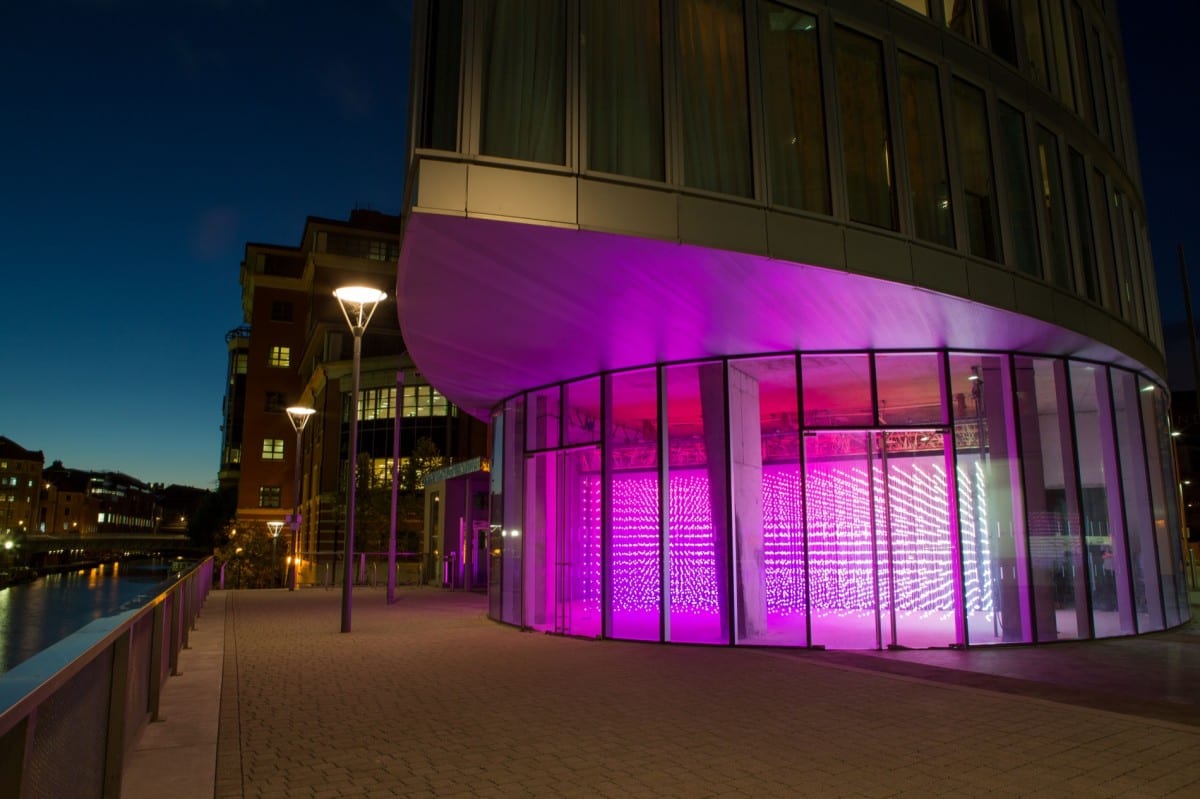 How long did the installation take to complete?
It took about three weeks to install, but this is because we took our time, we played around with the software, one of our team was not able to come, and so on.  In Geneva, the whole thing was erected in three days– but that was a tight deadline.  Here in Bristol, we allowed ourselves to go with the flow a little more, to get into a more trance-like flow state from the repetitive physical setup work.  It was enjoyable, and we'd like to thank the people at Watershed and the other organisations involved for being so supportive and such a pleasure to work with.  Watershed appointed Vanessa Bellaar Spruijt as producer for the project– this, more than anything I think, made for a smooth and pleasant installation process.  So a huge thanks to her! We had an original intention to work on some more significant changes or additions to the project, but felt that the structure of the piece would be damaged by adding new sections.
Do you plan to continue traveling with Submergence, throughout Europe? Do you have any plans to bring the installation to the US?
We'd love to bring it to the US, there is interest, but nothing is confirmed yet.  The next stop for Submergence is St Petersburg, Russia in November.  At least that is the plan!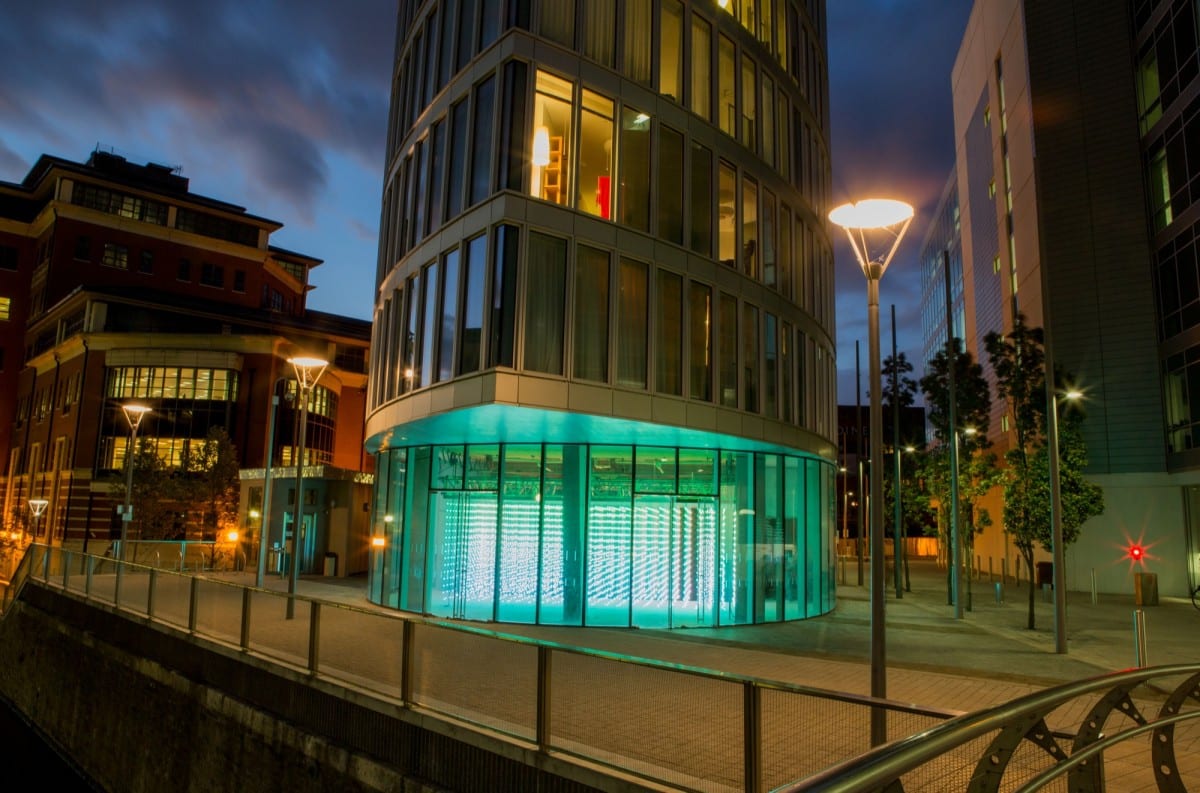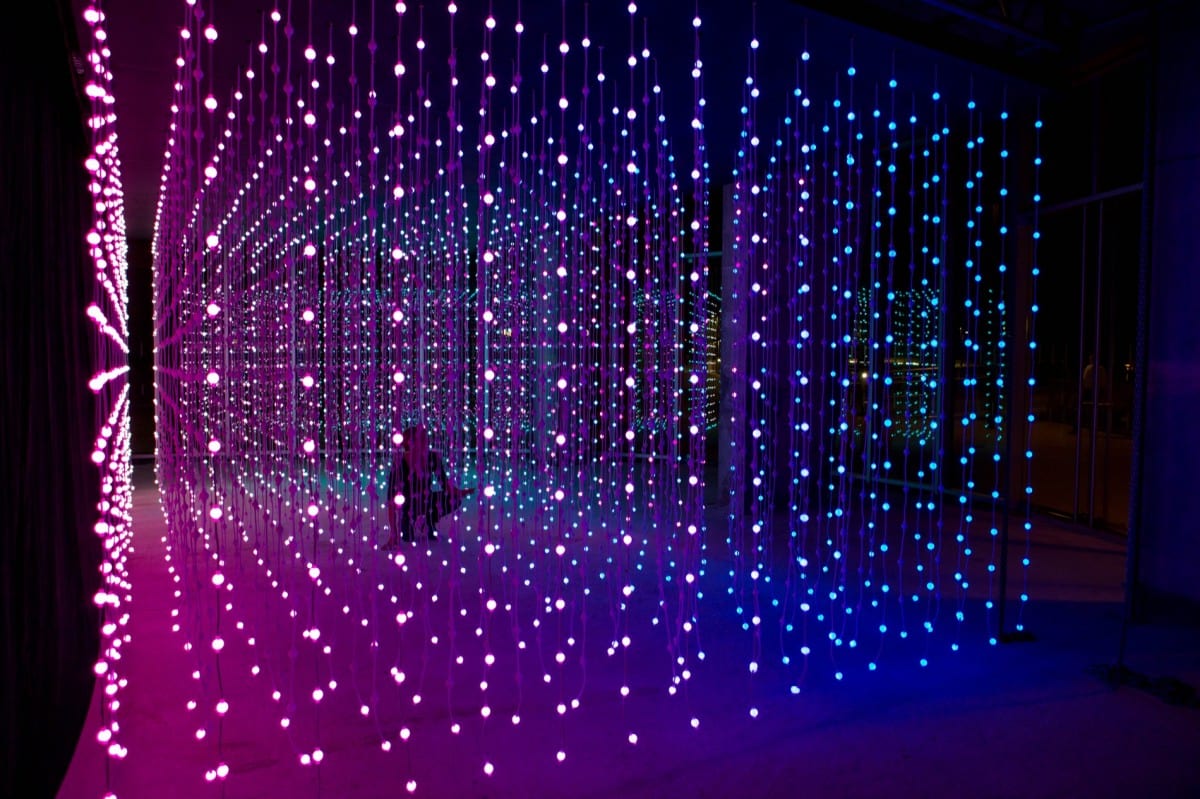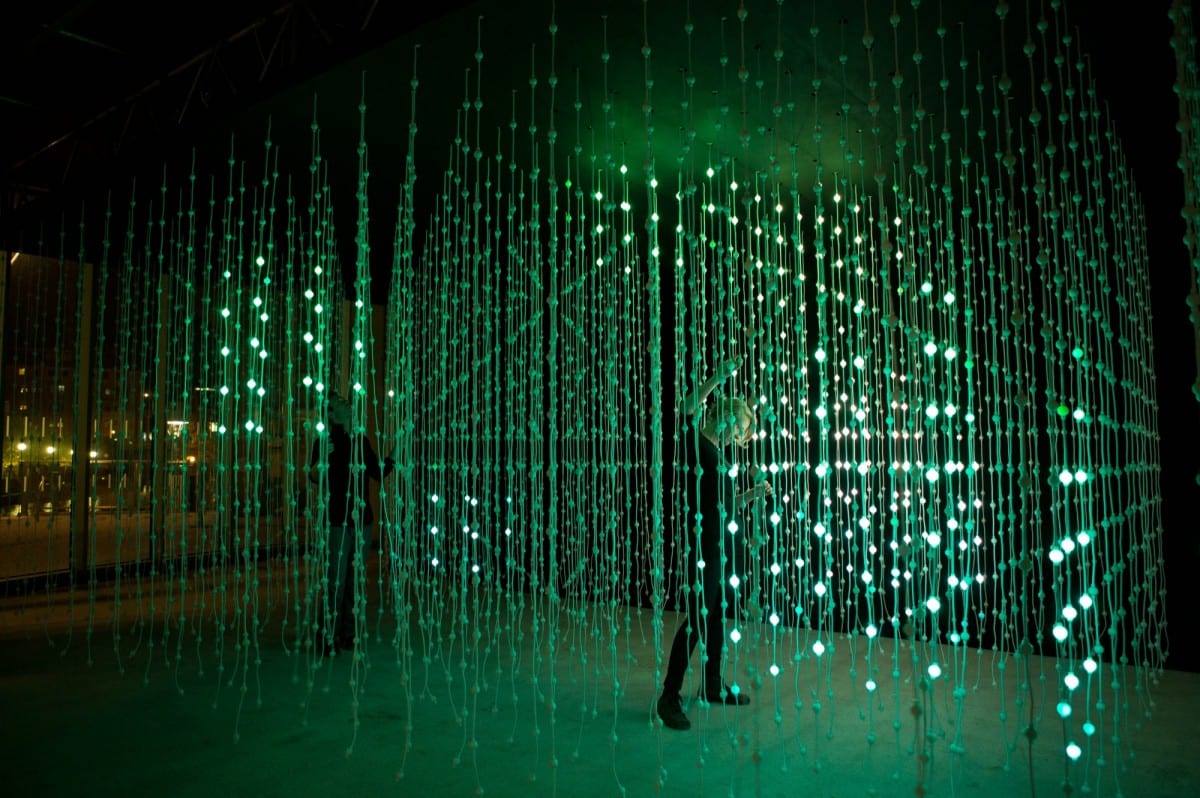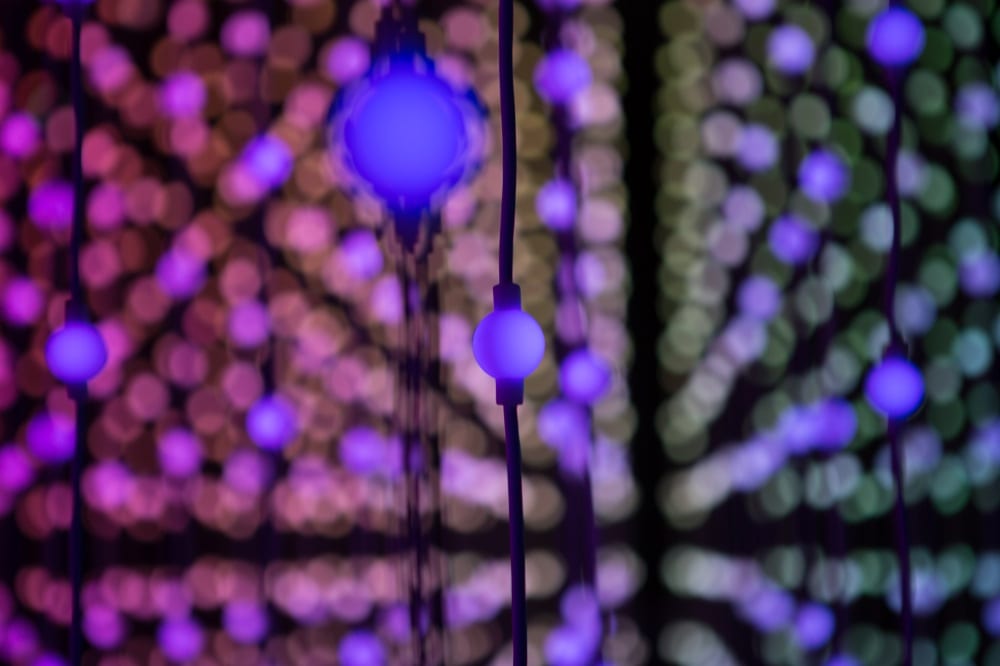 Featured image: Submergence, Bristol UK September 2013, photo by Paul Blakemore
All images © of the artist