In the increasingly competitive field of Installation art, having a booth at one of the three incarnations of the Frieze Art Fair (be it Frieze London, Frieze NY, or Frieze Masters) becomes a game of consistent reinvention.  Galleries are faced with the challenge of presenting dynamic, elevated pieces without showing the same work twice.  There were both hits and misses at this year's Frieze London and Frieze Masters.
Frieze London has become an enterprise, which has, ironically, supported the magazine that started it all in 1991.    Installations at Frieze have transformed into giant playgrounds.  Navigating the space within the booths themselves is like moving through an obstacle course.  This notion manifested, quite literally, in Carsten Höller's installation entitled Gartenkinder (which translates from German as "garden for children,")  at Gagosian Gallery's booth.  For all intensive purposes, Höller's installation was an oversized kid's course, complete with giant Scrabble tiles on the floor and brightly dressed aides to supervise the action.  It felt as contrived and corporatized as the spirit of the gallery itself.  Towards the rear of the pavilion, the Workplace Gallery (based jointly in Gateshead and London) presented towering sculptures by Eric Bainbridge, covered in the sort of fur best suited to stuffed animals.  At first blush, the scenario looks ludicrous, but there is a degree of charm in how each structure behaves differently, possessing innocence and approachability.  Istanbul-based Rampa Art Gallery showed a cross-section of Gülsün Karamustafa's multidisciplinary, two-decade practice.  The line between children's playroom and elements of the canonized Art Naïf movement is razor-thin here.  It is easy to be seduced by the blocks of color playing around the booth as textile collages and oversized candlestick-shaped towers, but Karamustafa infuses heavy memory and complex metaphors of migration and displacement into this whimsical scenario.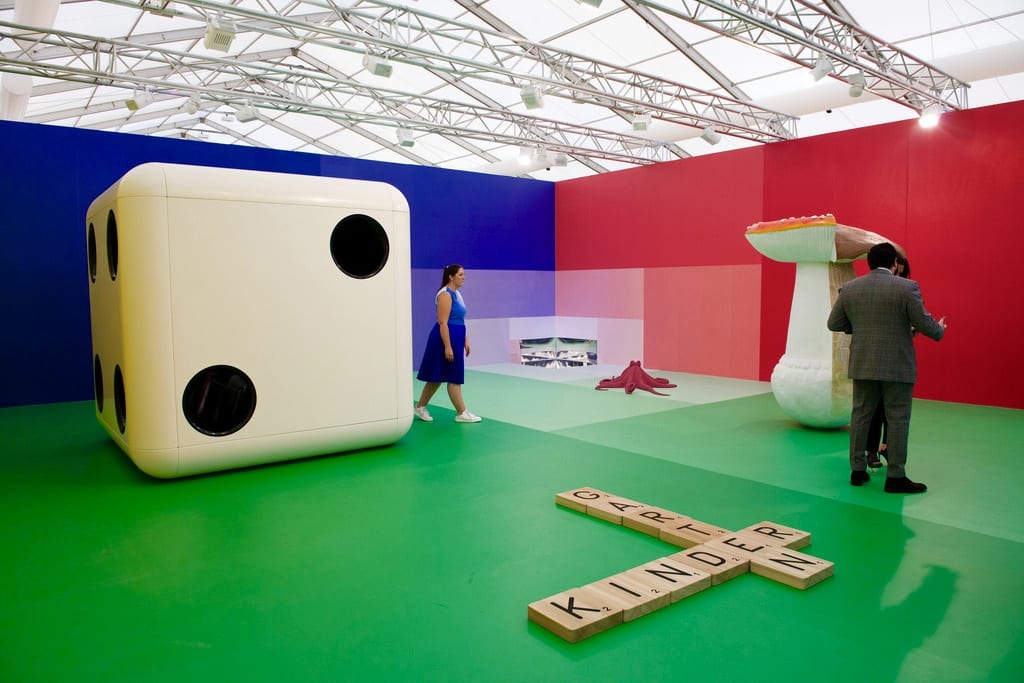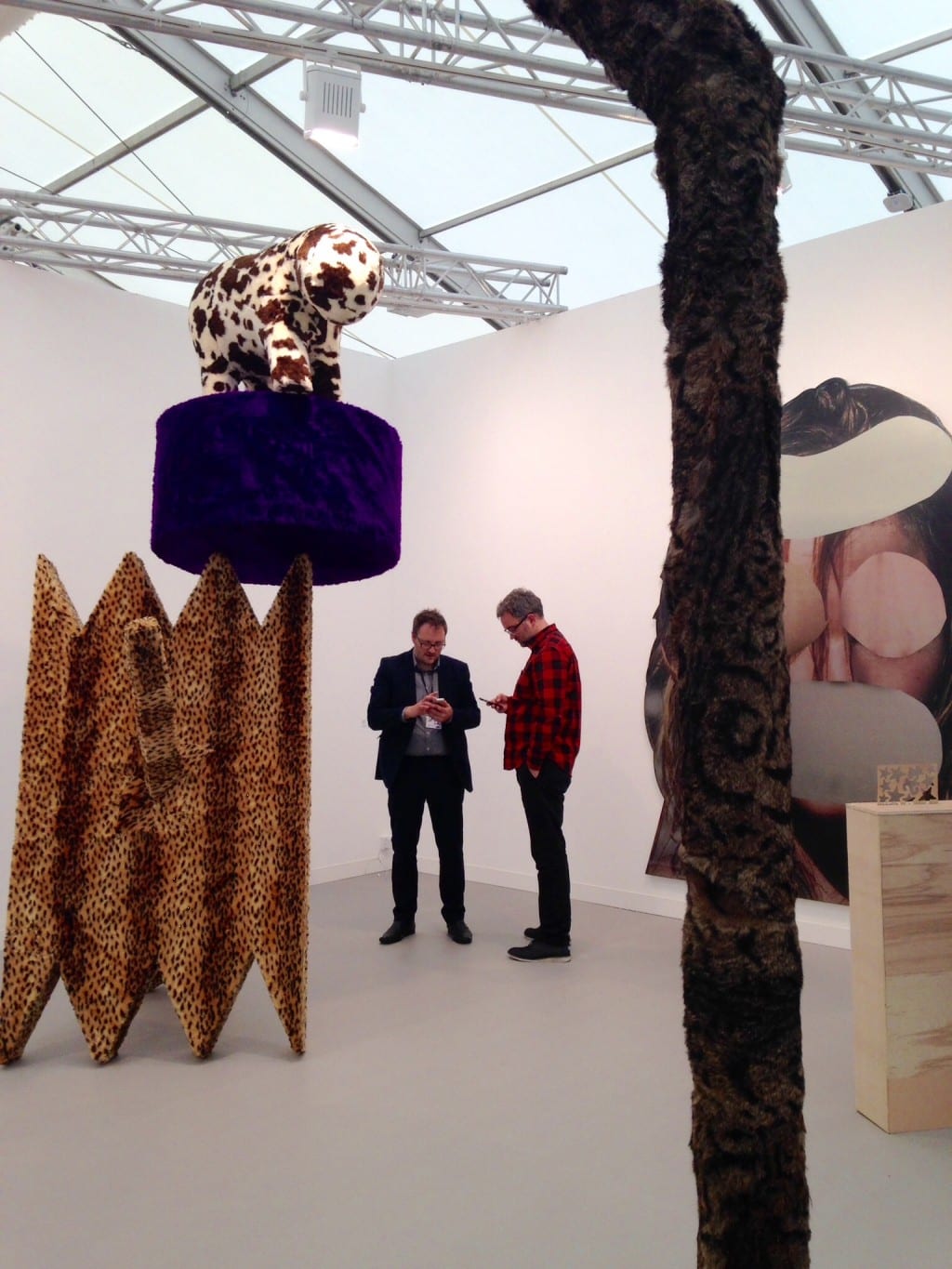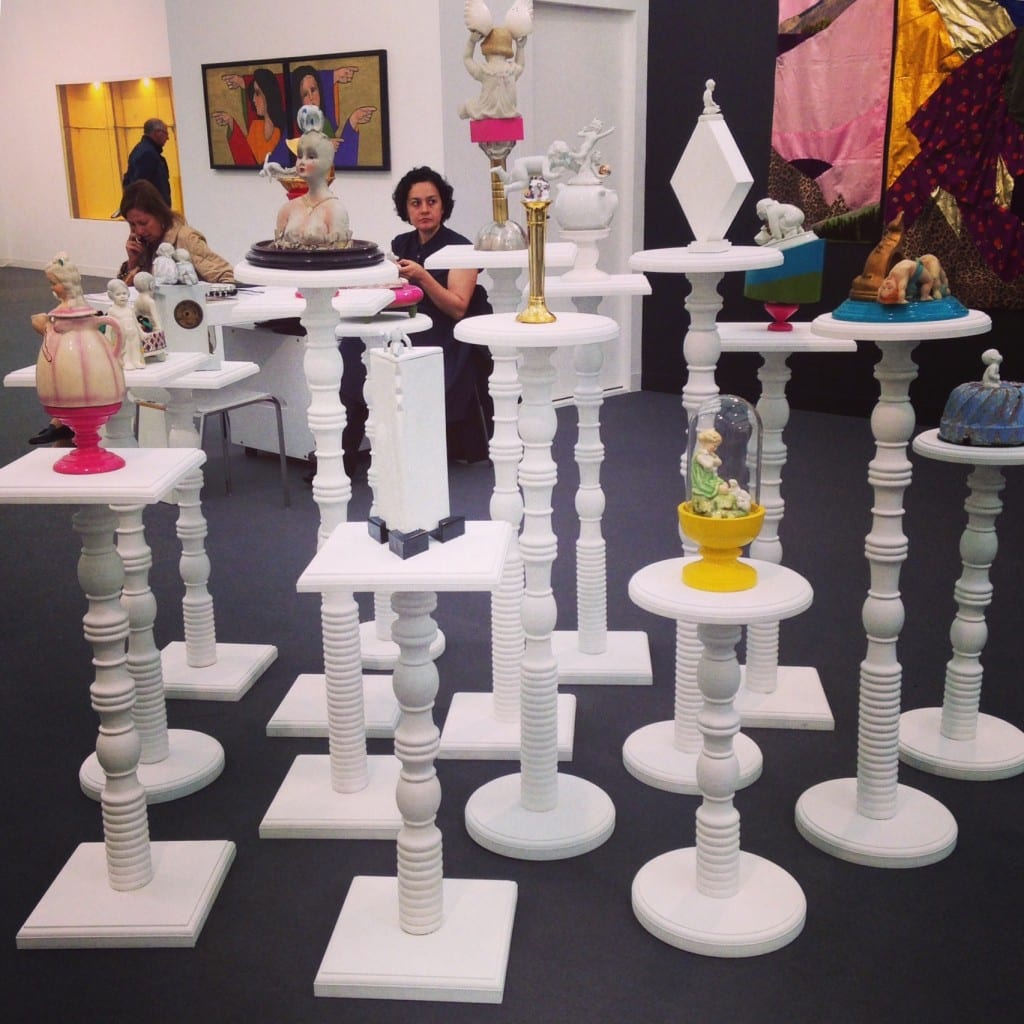 At Frieze Masters, a gathering of programs dedicated to showing works made before the year 2000 were presented, one project stood head and shoulders above the rest.  It is called The Collector, curated by the Helly Nahmad Gallery (London), produced by Anna Pank, and accompanied by an essay from venerated architect Sir Norman Rosenthal.  This is a fictional image of the sophisticated French collector: not only artworks are gathered into his space (it has a distinct sensation of being a man's apartment), but LPs, books, travel souvenirs from around the world, and piles of wrapped manuscripts.  It is an enviable situation for those playing spectator to genuine works by Fontana, Matisse, Giacometti, and Miró.  Miles Davis tunes are interspersed with original recordings of the 1968 Winter Olympics in Grenoble and the Paris race riots.  Every element of the installation serves to establish this invisible person as the pinnacle of the Modern intellectual yet, still, it is clear that this person does not and never did exist in this way.  The project encapsulates what is genuinely fulfilling and invigorating about Installation art as a practice: showing what is possible, while reminding its viewers that it is invention.