"Did we forget? Life is a thrill!" The studio echoes with the unmistakable charismatic voice of Gregory Siff. The proclamation is accentuated by the cadence of his Brooklyn accent and while much of his face is covered by a cloth mask bearing the official logo of the Major League Baseball commission there are traces of a smile and a light in his eyes.  Navigating across the studio, he traces a kaleidoscopic myriad of tools at his feet creating a three-dimensional collage on the concrete floor.  An overturned box of Crayola crayons melts into a rainbow, reminiscent of the very first time we met nearly ten years ago. 
There are metallic and fluorescent markers of varying thickness, bottles of liquid watercolor, paintbrushes coated in fingerprints bearing traces of past paintings and are differentiated only by the colors stained on their dried fibers.  A white plastic palette looks more like a magical baking sheet with hollow cups separating bright pinks from electric blues and 7 Up green while traces of gold and black line the perimeter.  A spray bottle lies overturned nearby to reactivate the colors before drying permanently.  He takes a seat on a Modernica fiberglass shell chair with black hairpin legs.  It is treated to look like Jackson Pollock's blotter but instead integrates seamlessly into the textured environment.  Crossing his legs and catching a glimpse of his sneakers,  it's hard to know where the calculated colored checkerboard of his MOMA x Vans collaboration shoes start and where the artist's splatters and drips begin.  Despite the physical distance between us, something is comforting about returning to a familiar space.  What remains in the studio are works that the art handlers who visited only hours before didn't pack. Over thirty works were shipped to Miami for Siff's forthcoming solo exhibition, "The Thrill Series," presented by ArtLife and 4AM Gallery.  What remains on the walls are the works that harken to past shows and are a vital part of Siff's artistic evolution. 
Despite the uncertainty that has characterized much of this year, you have continued to create several new bodies of work.  As there were no shows to look forward to or attend, our connection with art has been primarily digital. Just knowing that you were still working served as a personal beacon of hope.  I often found myself in a state of fear, questioning the creative process, and feeling like nothing was worthy of starting.  How did you focus on remaining true to your own voice despite the noise outside of the studio walls?
Whenever something tumultuous is happening in your life, there are epic moments for you to look inside yourself and turn that into a piece and turn that into a smile.  We're supposed to find that common bond between each other in life and the things that made us excited and bring us together.  Whether it's going on a roller coaster and how that feels going all the way to the top and then the drop.  Or walking around Washington Square Park at night and kissing a stranger and the exhilaration and the thrill of being a human being is what connects us.  We're in a time that's very much about a lot of separation and a lot of ripping apart and when I was making this show, "The Thrill Series," I wanted to remind everybody about those things that weave us together and sharing those experiences through the canvas, through songs, through us getting together or communicating and being there for each other in these very wild and trying times.  I was destined to paint these things because not only did they remind me of the fact that there is still beauty in the world even though we are living through ugly times, but when you paint it, it comes true.  So let's paint something that's brighter and that's where the show was born.  If you decide to French kiss the demon and face it head-on, you're going to find things that bring you to some beautiful places.
Looking at images from "The Thrill Series," I have noticed the presence of a lot of new symbols interwoven with familiar ones such as the ice cream, the bull, and the self-portrait.  How has your visual language expanded?
There are so many new images! And they are inspired by so many people and important people.  When my dad passed, my dad's best friend Joey Rinaldo became my best friend.  He would always check in on me.  He loves life and we talked about the art and the idea of "what about the thrills? what about the thrills of life?" He reminded me that when I was two years old I went on the Concorde traveling from New York to Paris in two hours.  When you took off at 80,000 machs, you reach speeds of 1,350 miles per hour.  You could see the circumference of the Earth and you could see that we're on this globe and that we're part of this huge universe.  My mom was telling me about the experiences and going there [to Paris] and you'll find these things from the trip on there.  The thrills were those types of things- travel, experience, adventure, culture, meeting people.  There's a lot of new symbology and also a lot of stuff that I feel now comfortable painting in a different way.  So that's where it really all began.  I painted this at my breakfast table with my mom and we were talking about a new show and talking about thrills.  And she was telling me about this little hat that I got as a baby.  Everybody was topless in Cannes and in Monte Carlo at the beach.  There was Lalique crystal which they served on the plane with the lobster and the never-ending champagne that she talked about.  And you also have Coney Island and Brooklyn where I'm born and those thrills and it goes into concerts and music and what it's like to lose yourself at a concert.  And musically we've been living through our computers a lot more now because we can't go to concerts, we can't travel as much, we can't have those chance meetings with strangers in the world.  We've had to develop a new format of experience.  These canvases try to weave that in.  I also have been using screenprinting.  I wanted to blend them and find the abstract and then lose the symbology and then bring it back.  A lot of the new symbols that I created I didn't even know they were there because I braided them together to find these overlaps and layers.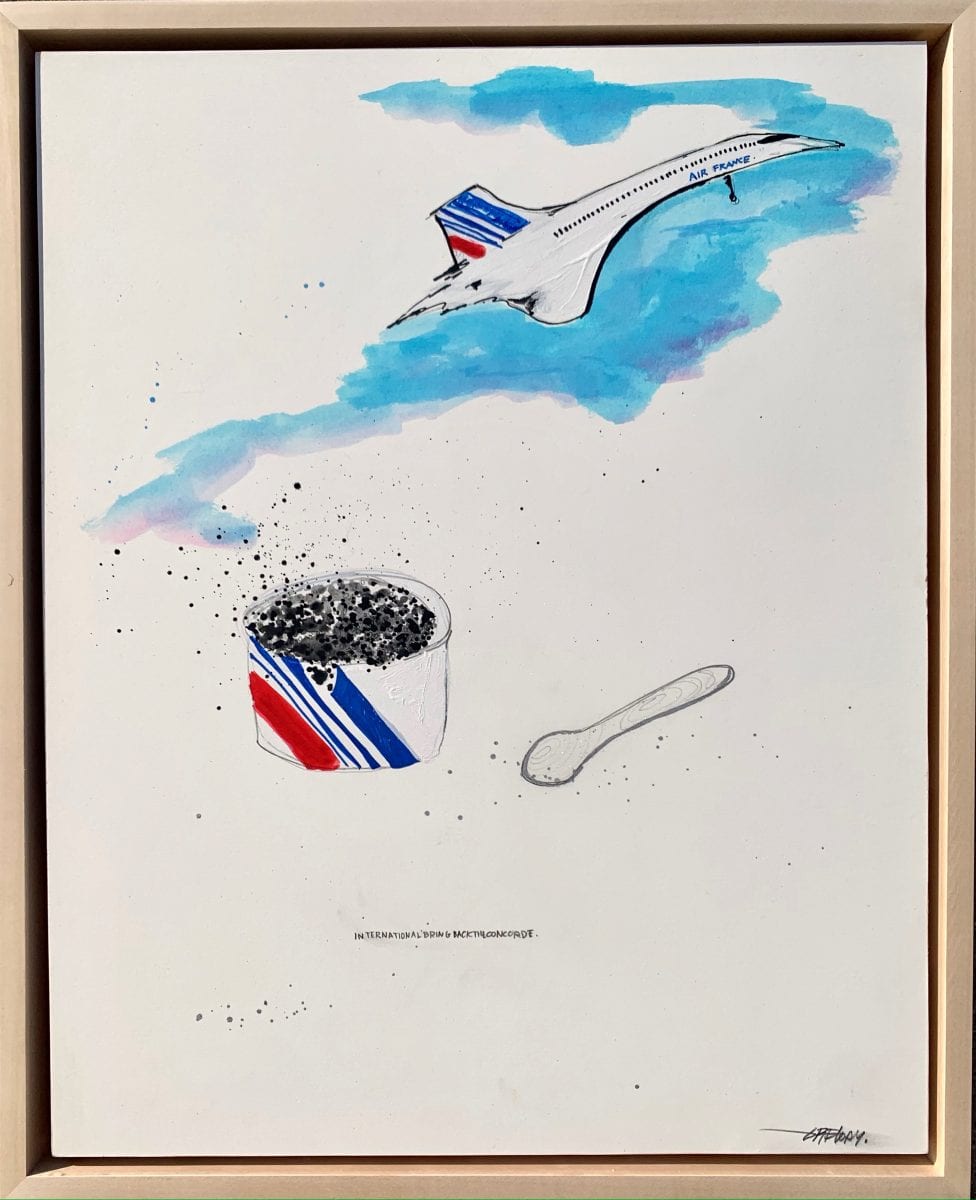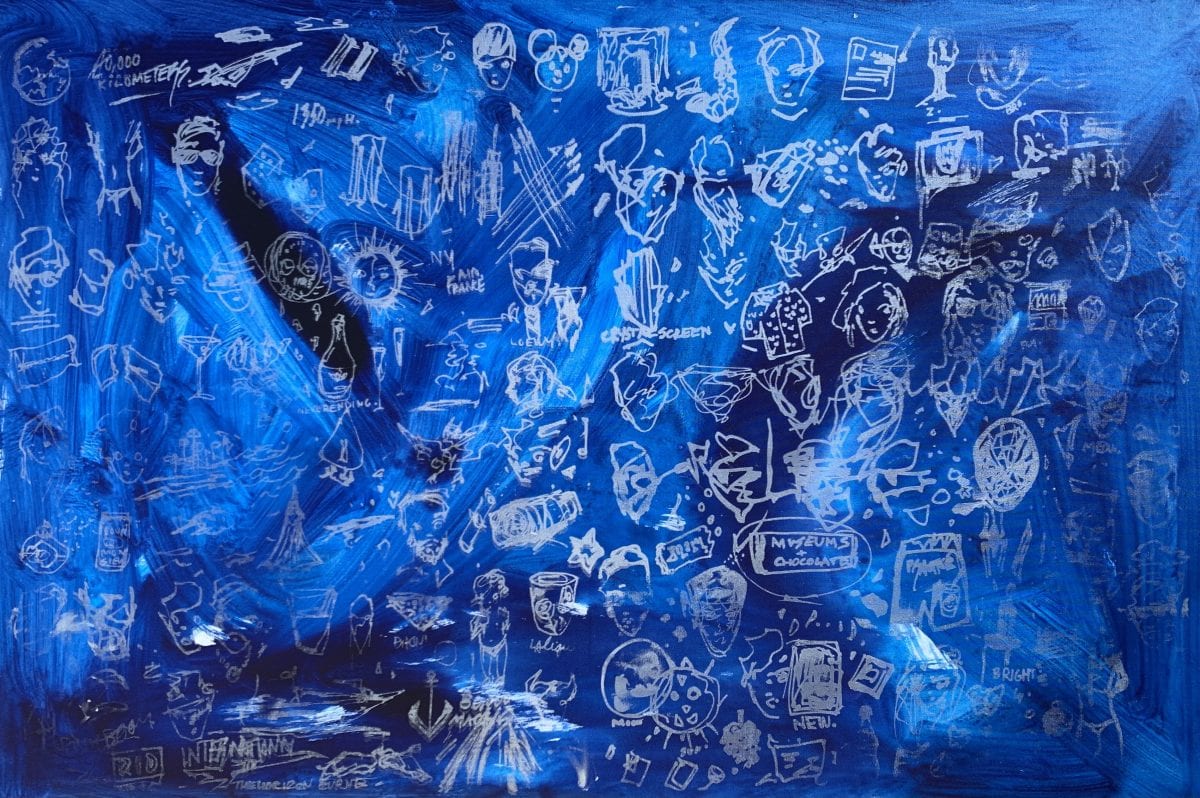 (Gregory has now opened his laptop and retrieved files reflecting three new works of acrylic on paper pointing to bikinis, champagne, and the speed of the Concorde).
The new symbols that you are adding to your arsenal feel like they are inspired by memories and give form to moments in your childhood.  The reference to the Slurpee and treats is both playful in its subject and integration of materials- actually mixing sweet elements like the Slurpee syrup with watercolor to create the work.  You transport us to times that were filled with sweetness and characterized by a sense of innocence.  Those symbols were familiar to you so I am curious how you integrated the new symbols to make them equally familiar?
Think of it like this- you know when you imagine something in your head and wonder what it would look like? Sometimes your imagination isn't as tactile as it could be until you really create it.  You have a little idea of it.  You know what you need to implement, and then when you do it and then bring these things together, things start to fill in other pieces and you really can't imagine them any other way.  So I feel like doing this gets me closer to the intention.  I wanted to do things that were traditional to my work so people could recognize it, but I also wanted to go to a place where I hadn't gone in my head and I always wanted to.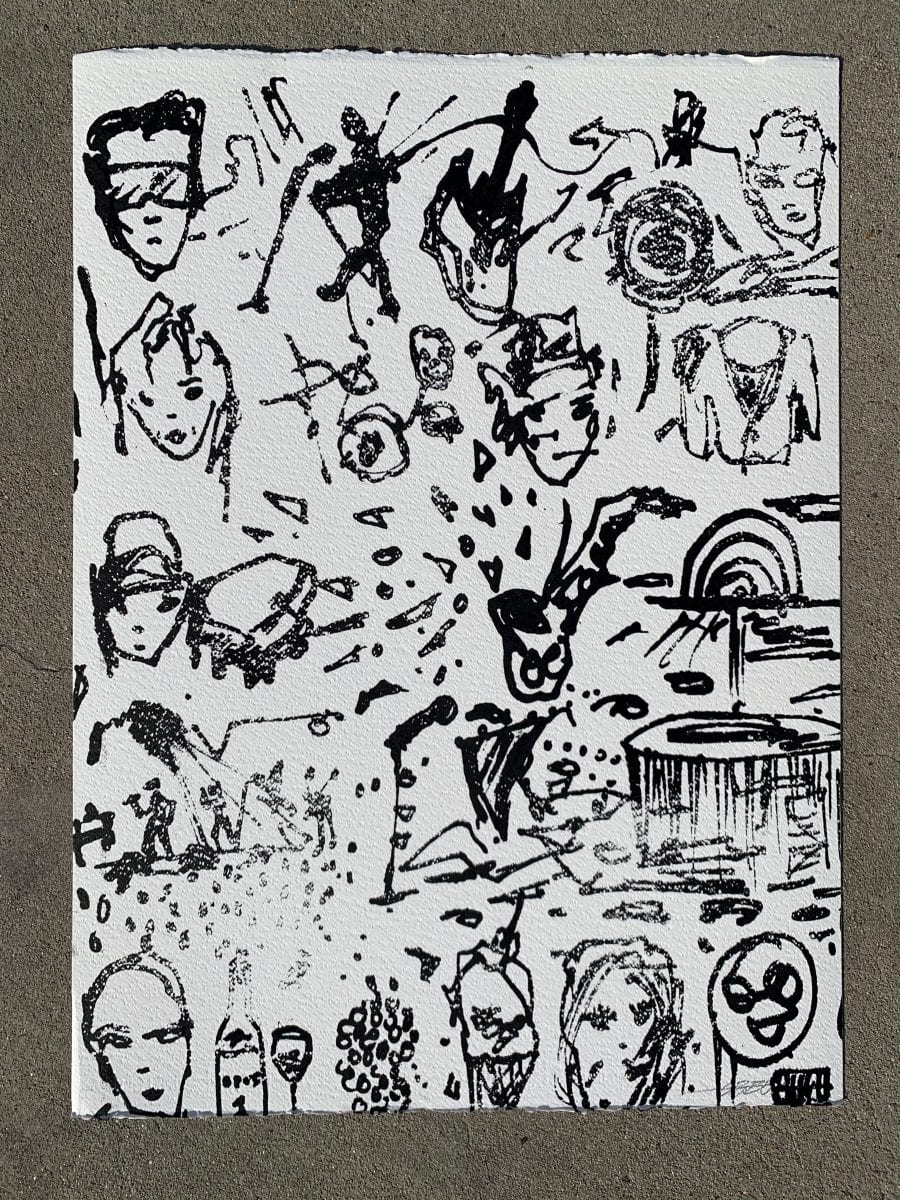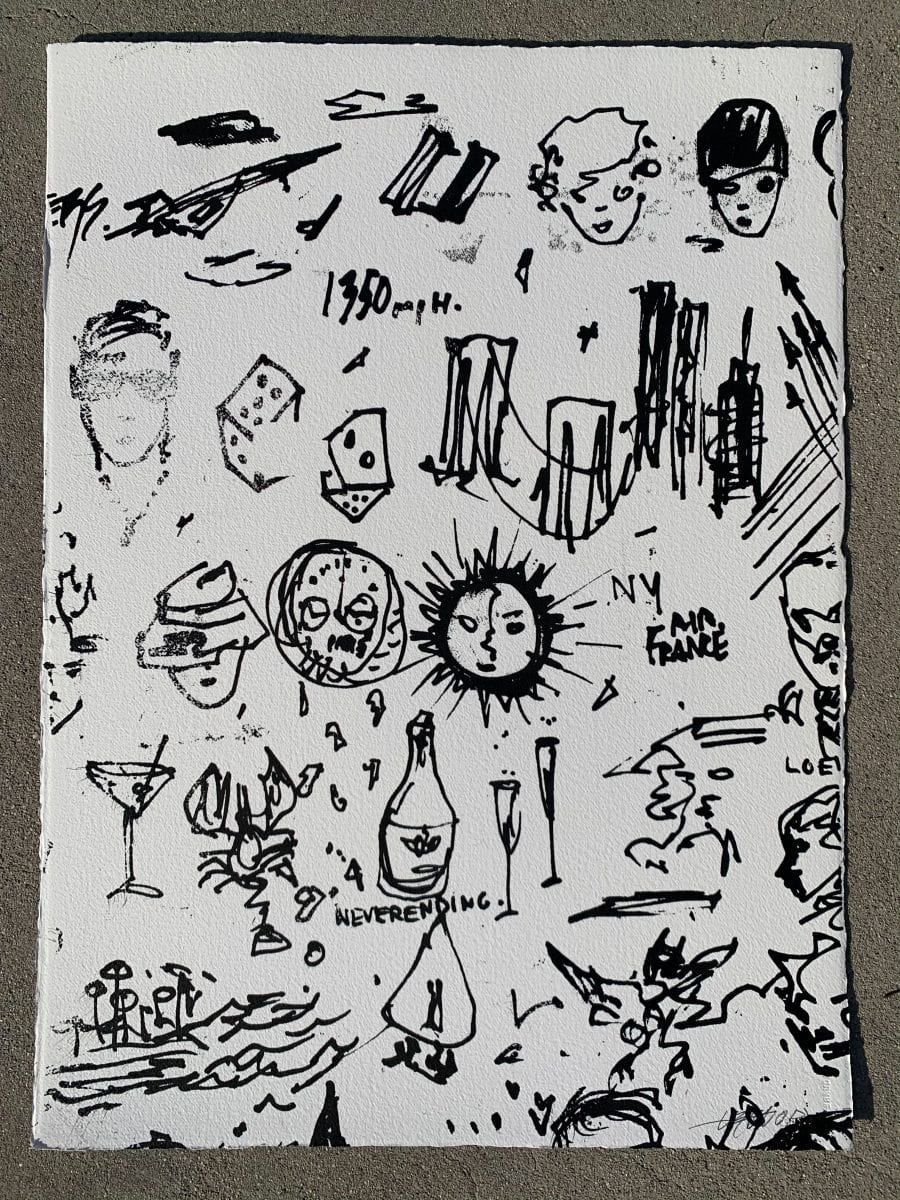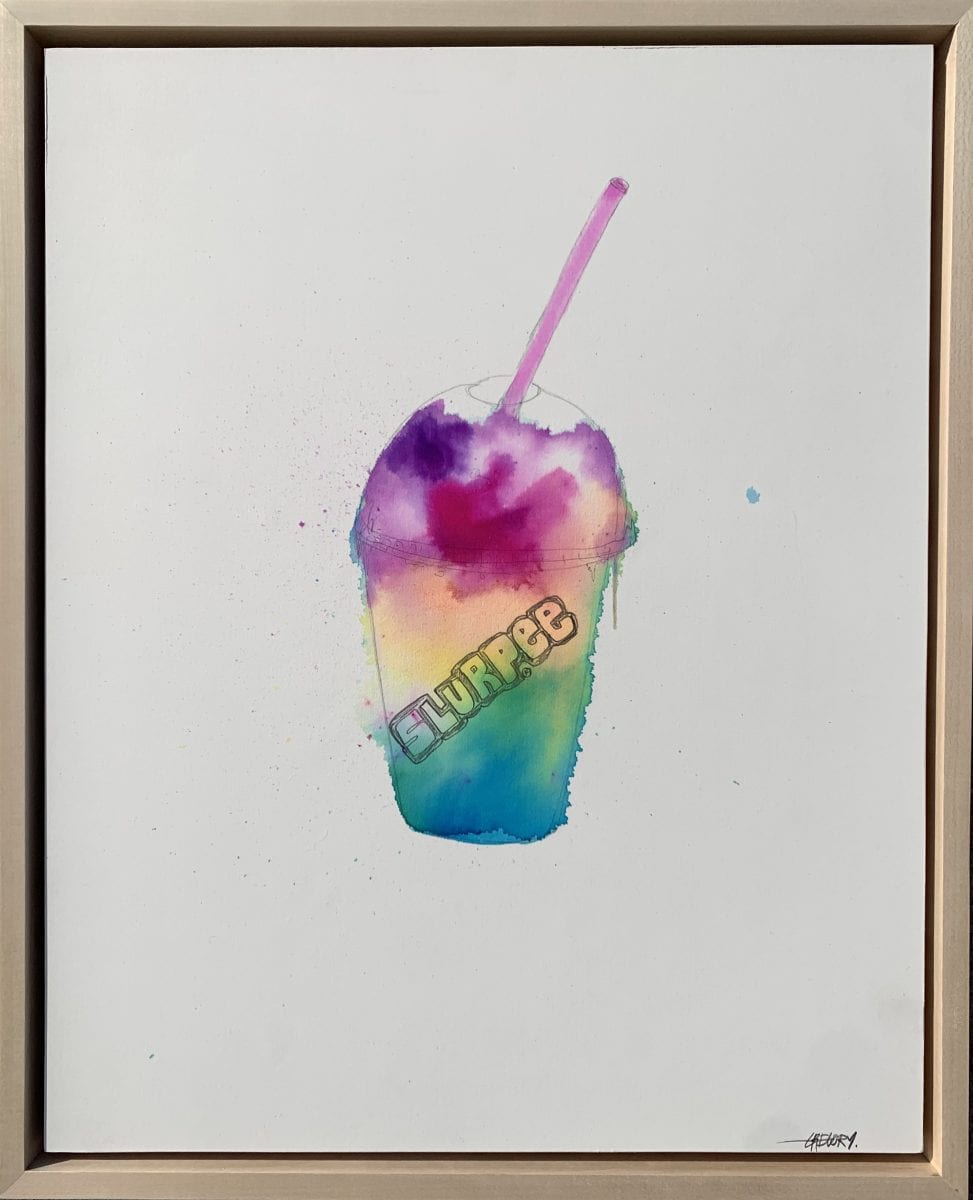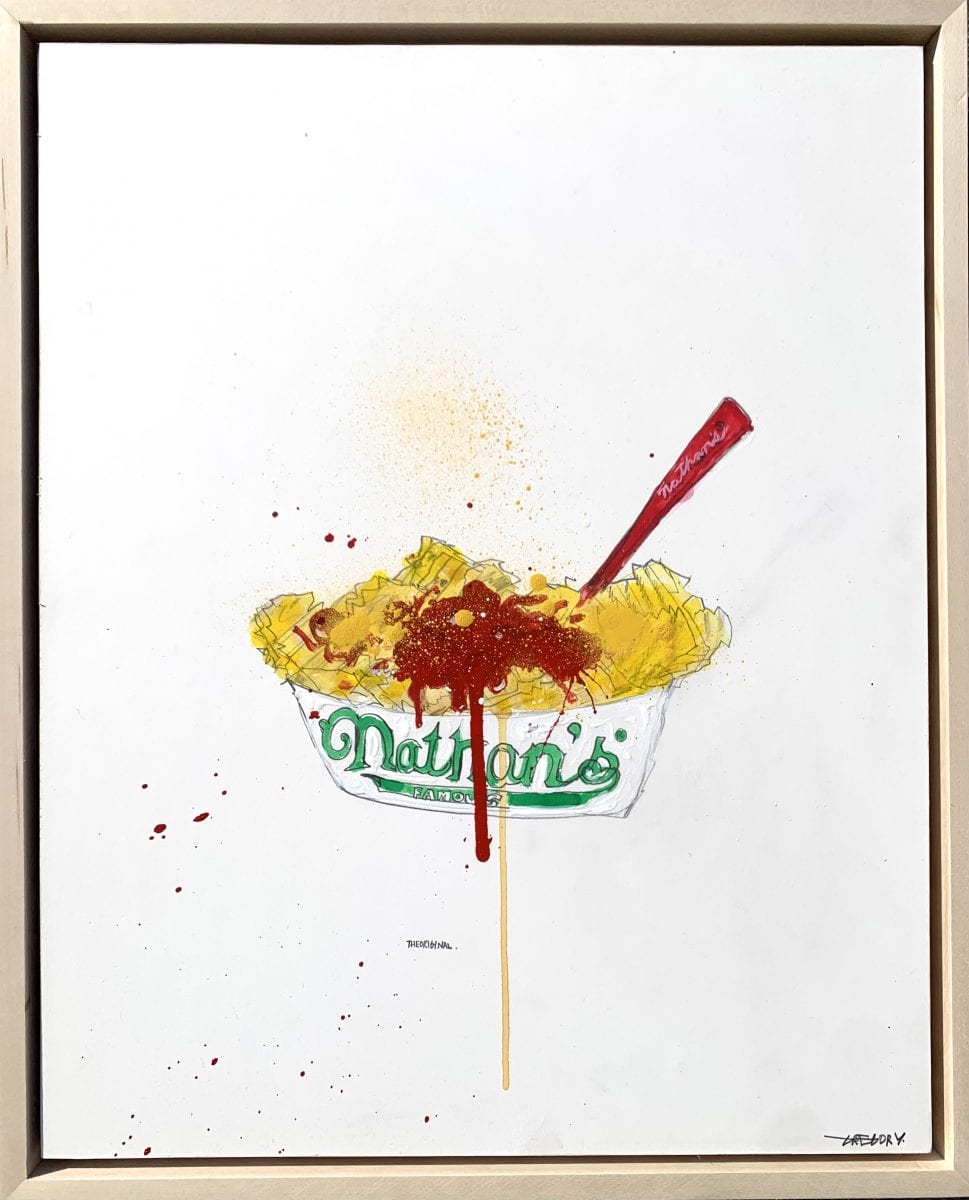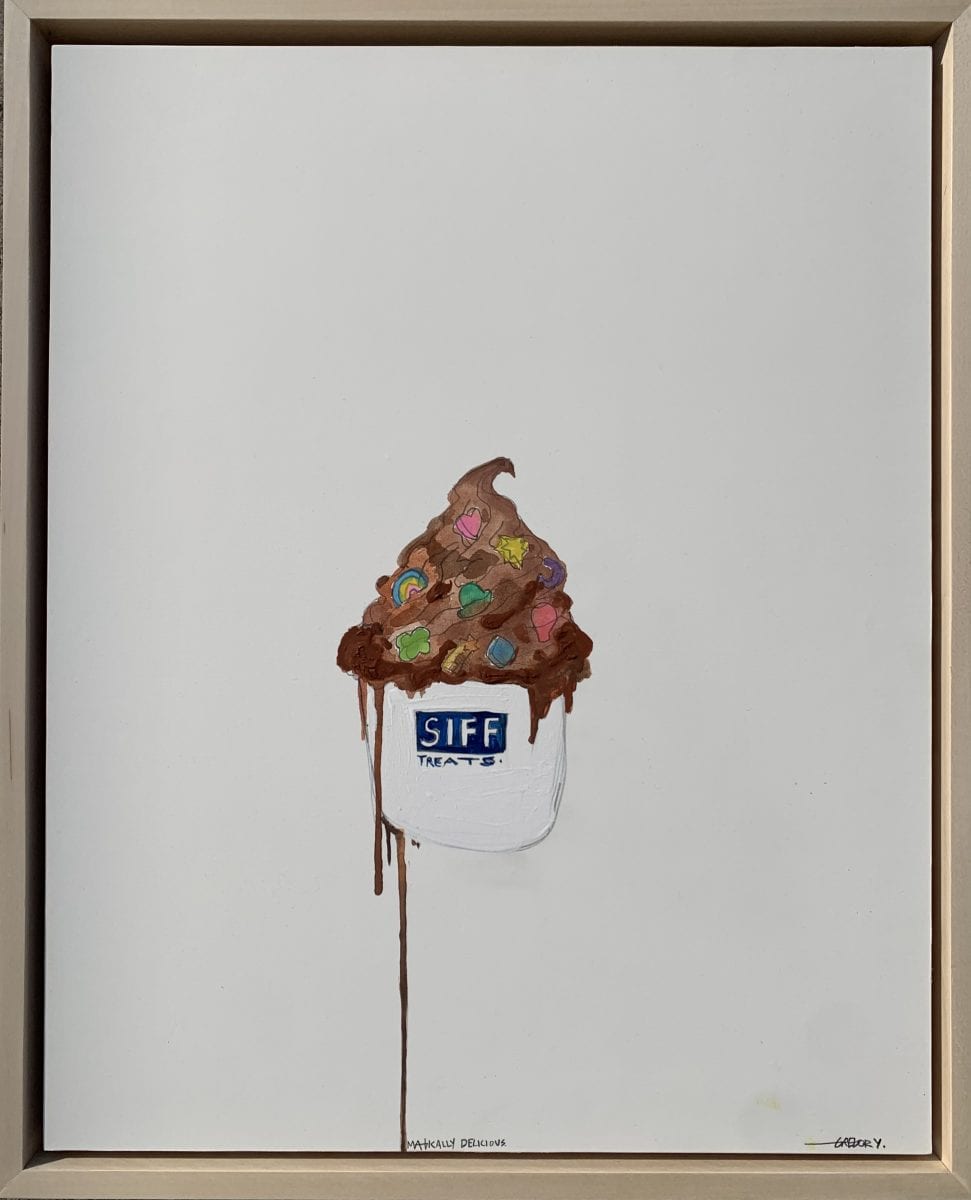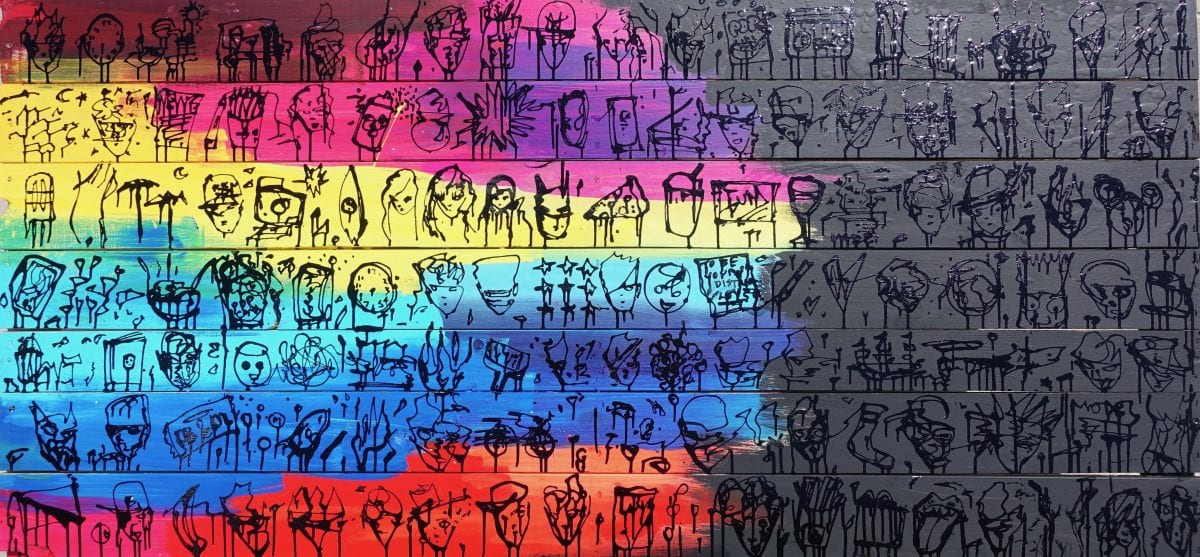 This work, "Studies in Rainbows and Darkness," feels like a letterpress with the symbols aligned like metal plates ready to be printed.
Yes, I love how you said that! It's an ethnographic journal entry and as I see that there are things that make me feel safe in the symbols there are also things that bring me to new places.  So some of them are recognizable, some of them are abstract, and some of them are something I can always count on. I like how you said it's like a typeset. It's like the typeset of my heart.
If we take that notion one step further and examine the symbology as "the typeset of your heart," do you find that you start each entry with a similar symbol?
There was an interview with Jean-Michel Basquiat where they asked him, "What do you paint usually first? What is your first inclination to paint?' And he said, "I usually go straight to a skull or a head."  For me, it would be an outline of the self-portrait/handsome face or an ice cream cone.  What makes me feel safe?  Making art makes you feel rewarded and justified and I feel that's why during this period of time when the world is in the chaos of a virus and a pandemic, I feel like people can count on art to make them feel better and that everything is going to be ok.  The artist and the people that absorb it.  The makers and the people that are in turn experiencing it.  What I love about my work is that people think about their own travels and their own journeys.  I have very vivid magic memories of going to Disneyworld with my father.  It doesn't have to do with conglomerates or money, it's a memory that's burned into a 1970's Polaroid film that my eyes go back to because there's a lot of reflection in the work.  In these new symbols, I'm reflecting on these moments and these thrills and these experiences.  I want to let people know there are more thrills to come.  That we don't have to think it's over.  This isn't the end.  In these tight, hard spots is where artists dig in and find their gold.  That's where you find the stuff and that's the stuff that lives on in paintings.  This isn't easy.  This hasn't been an easy year.  What's made this year is the more I've worked, the more I assuaged and soothed my own being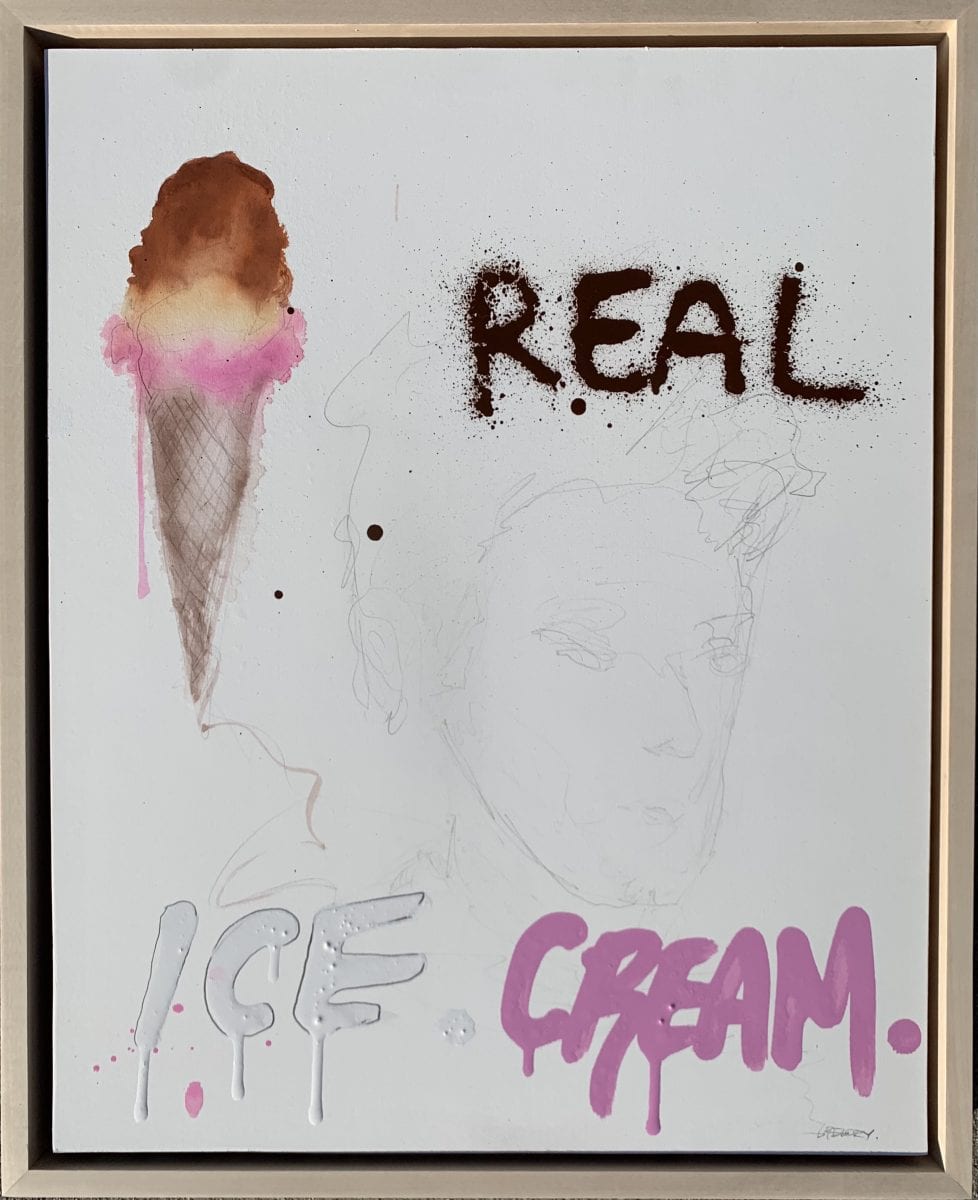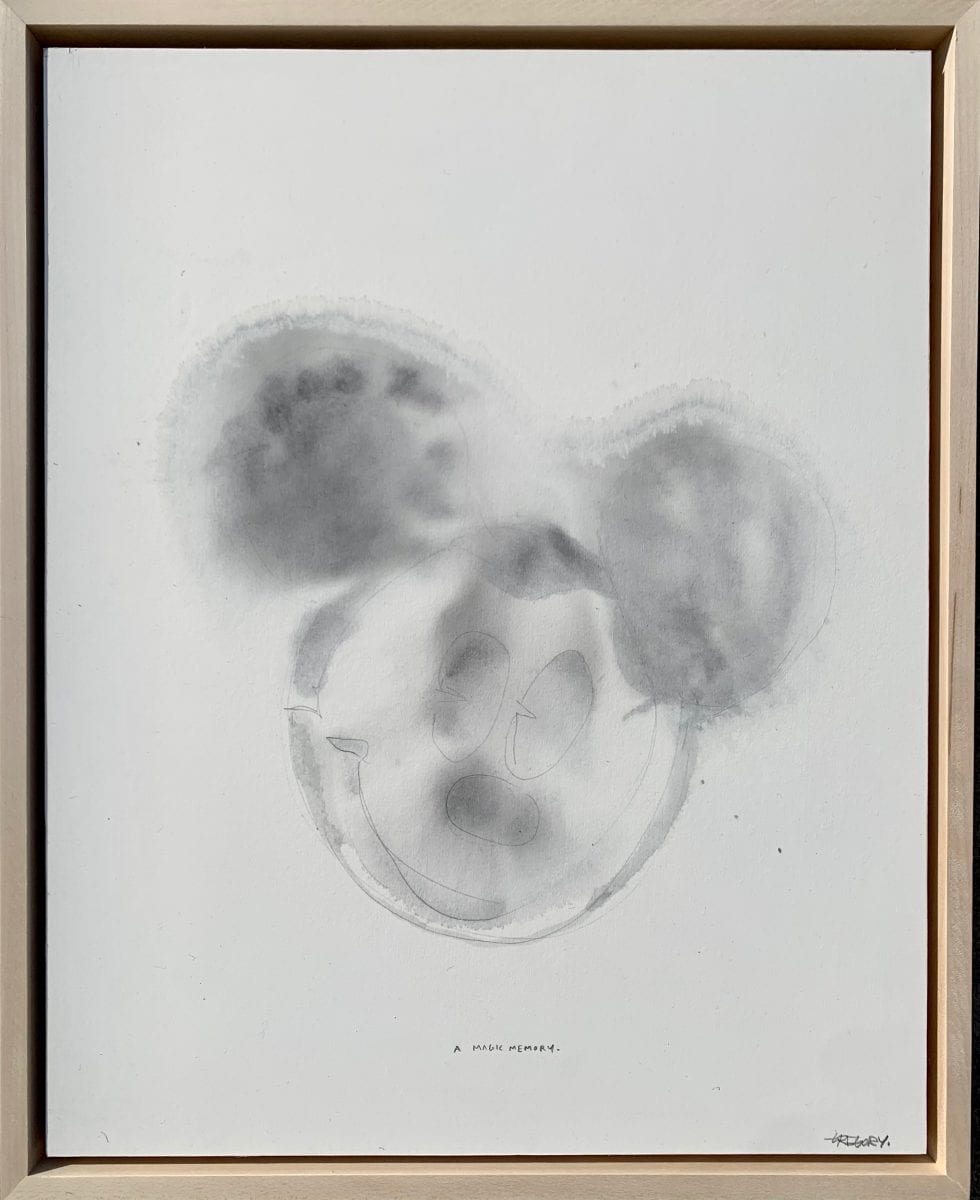 One project that stood out this year was your collaboration with Topps. Baseball cards not only commemorate a player and list their statistics but they are collected and treasured by fans.  What was your approach to adding your own style to the cards?
Siff now holds an outstretched hand around the Don Mattingly and Bob Gibson Topps cards that he embellished.  Incredibly, both players got to see Siff's version of their cards and signed them. 
This is a token.  This is an archive.  You turn that little 2.5 by 3.5" inch of cardboard into a time capsule that's going to live on when you're not here anymore.  It's going to say something about the person who played on and off the field and I think that Topps has done a great job at making cards freezing the memory and saving it forever.  Those are legends that live in the palm of your hand.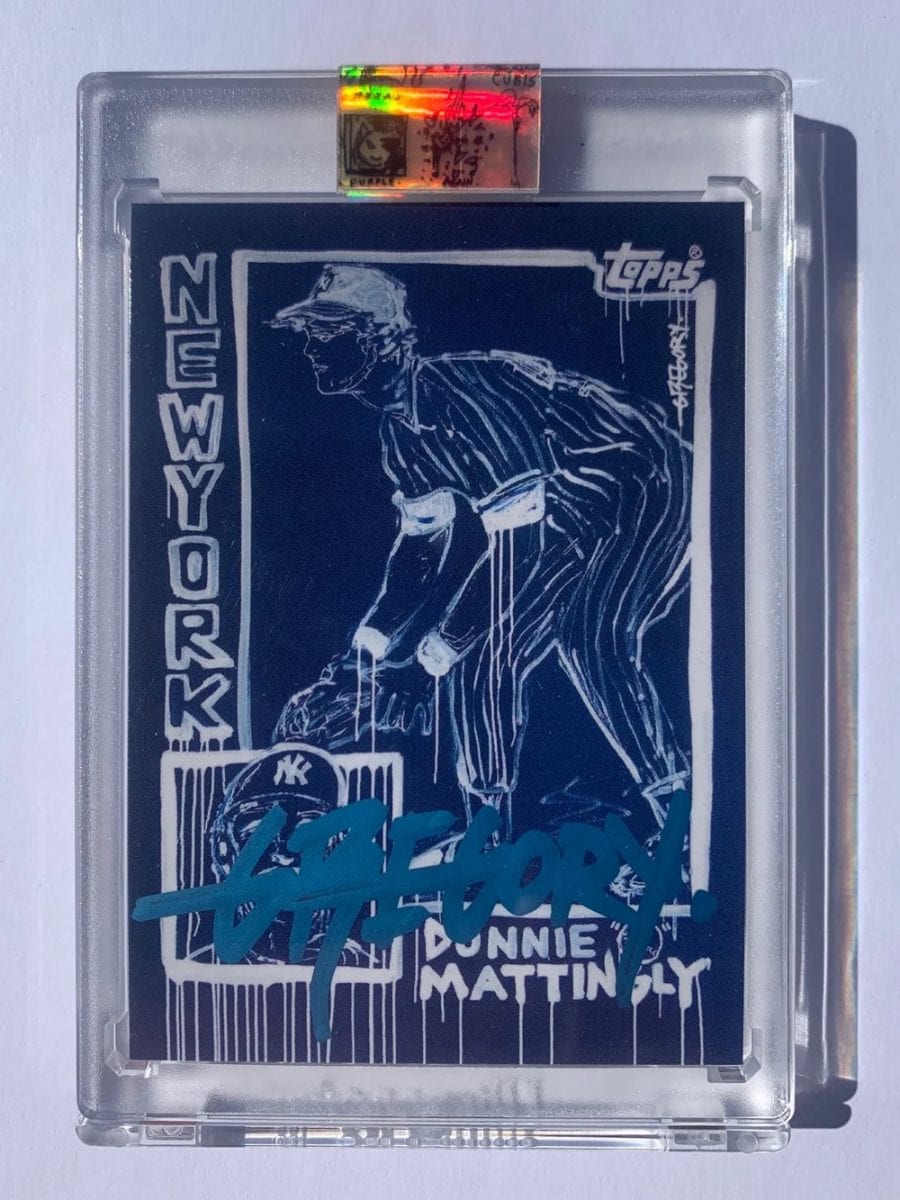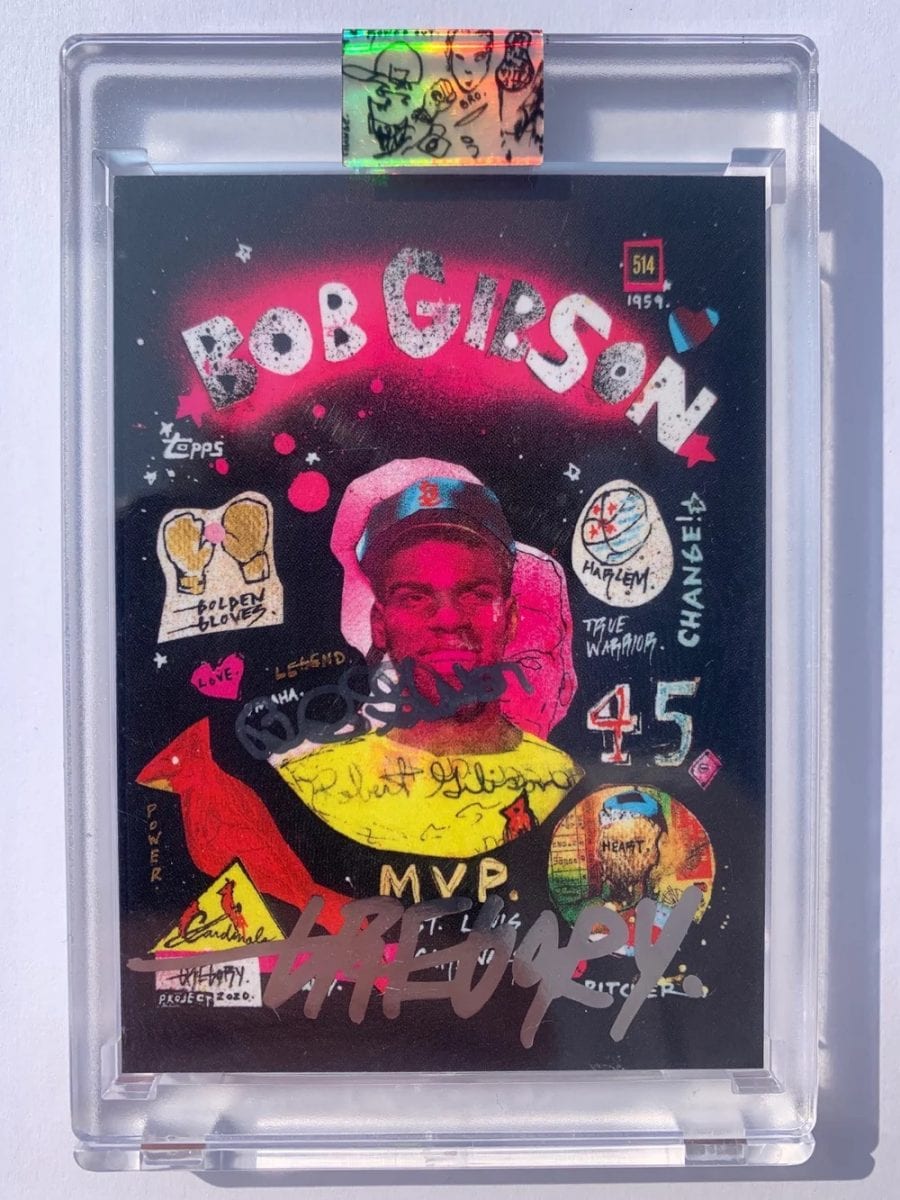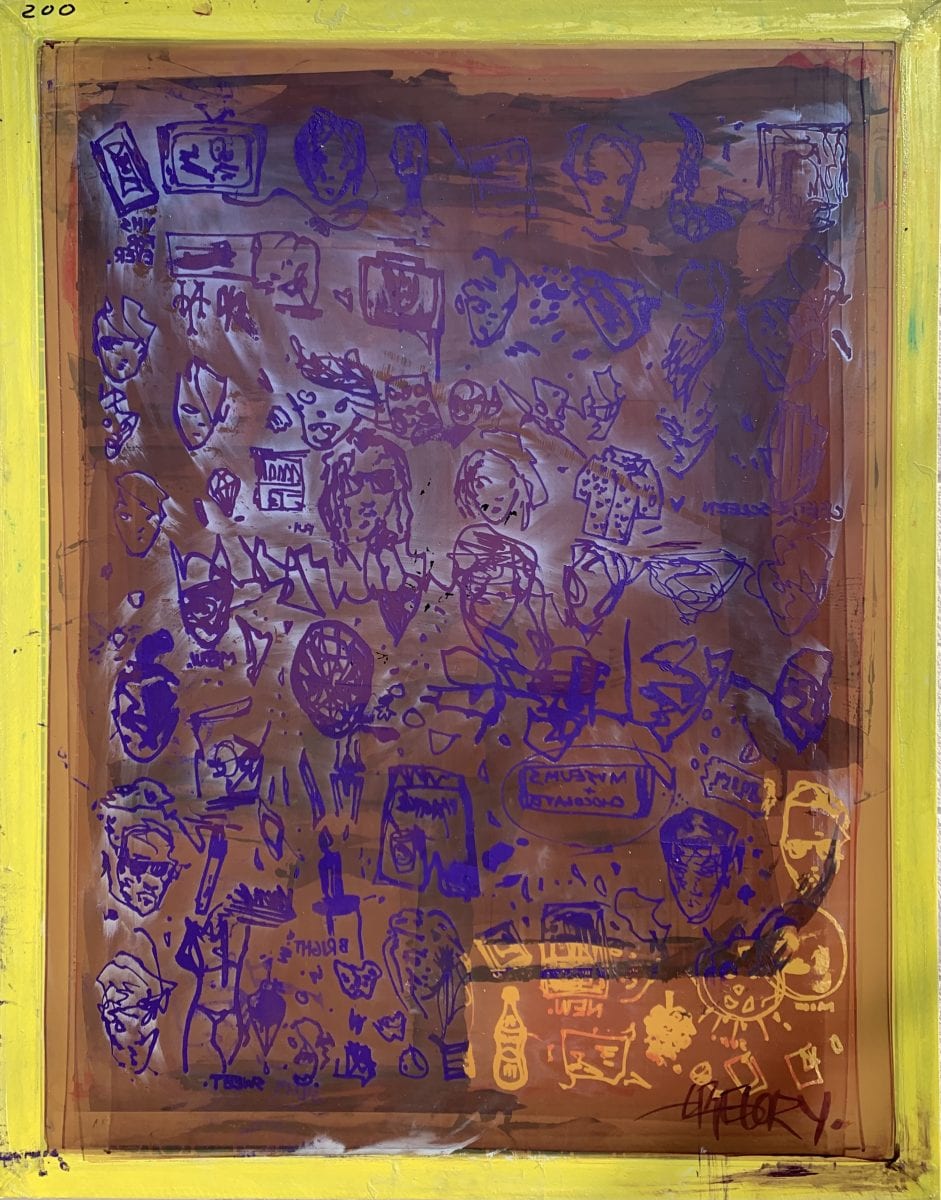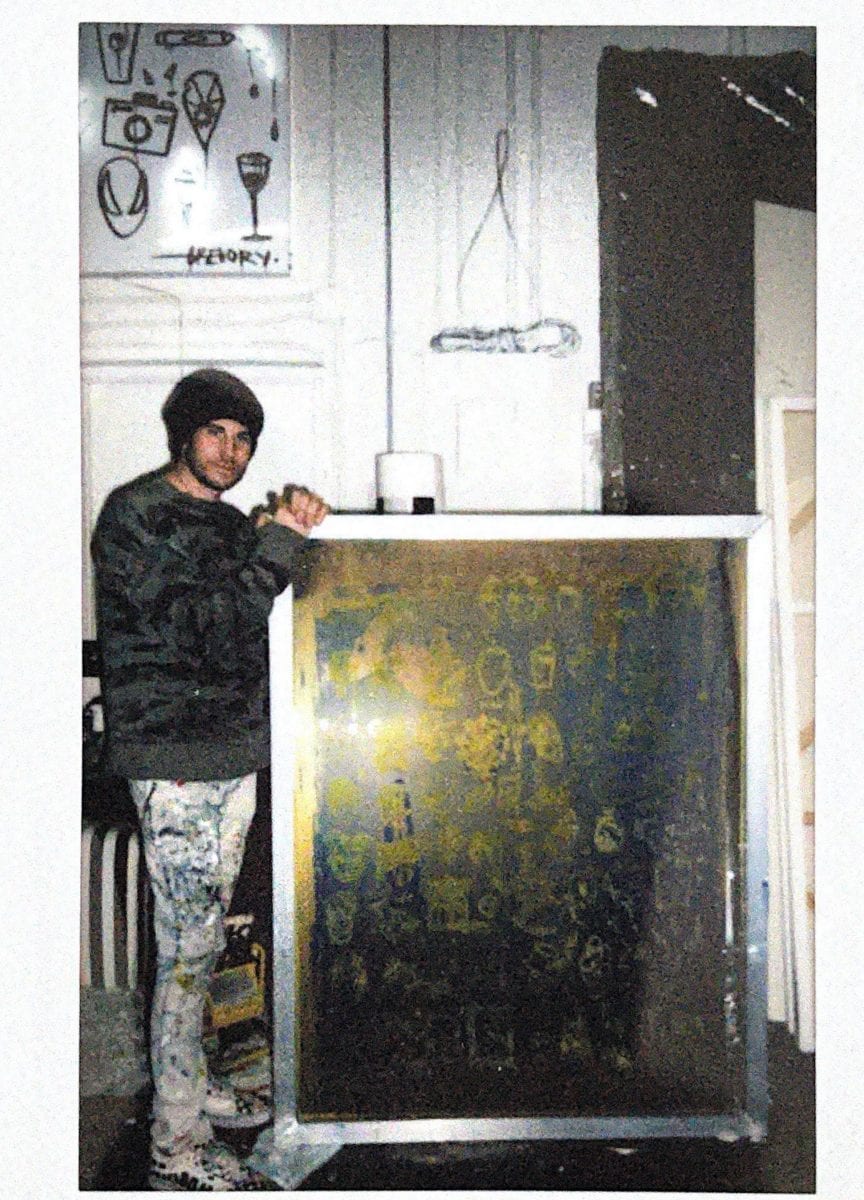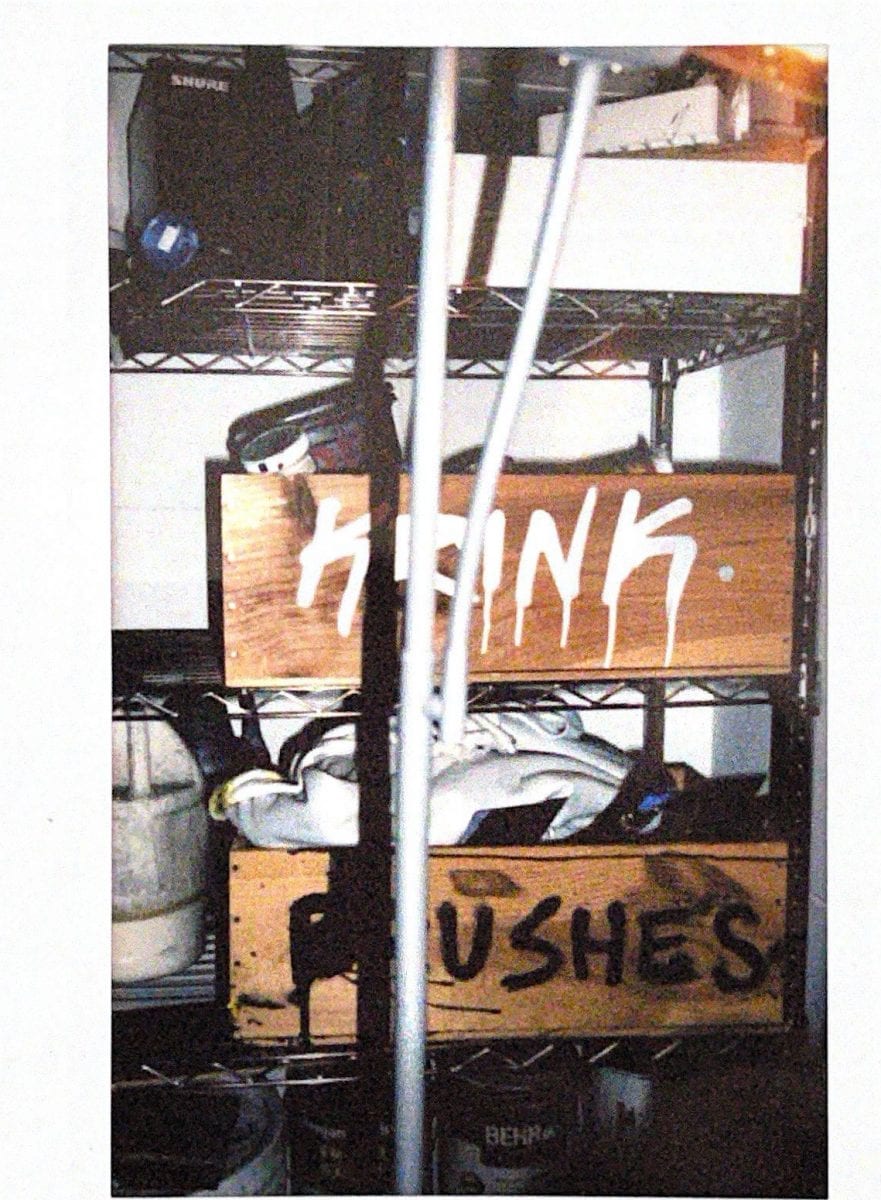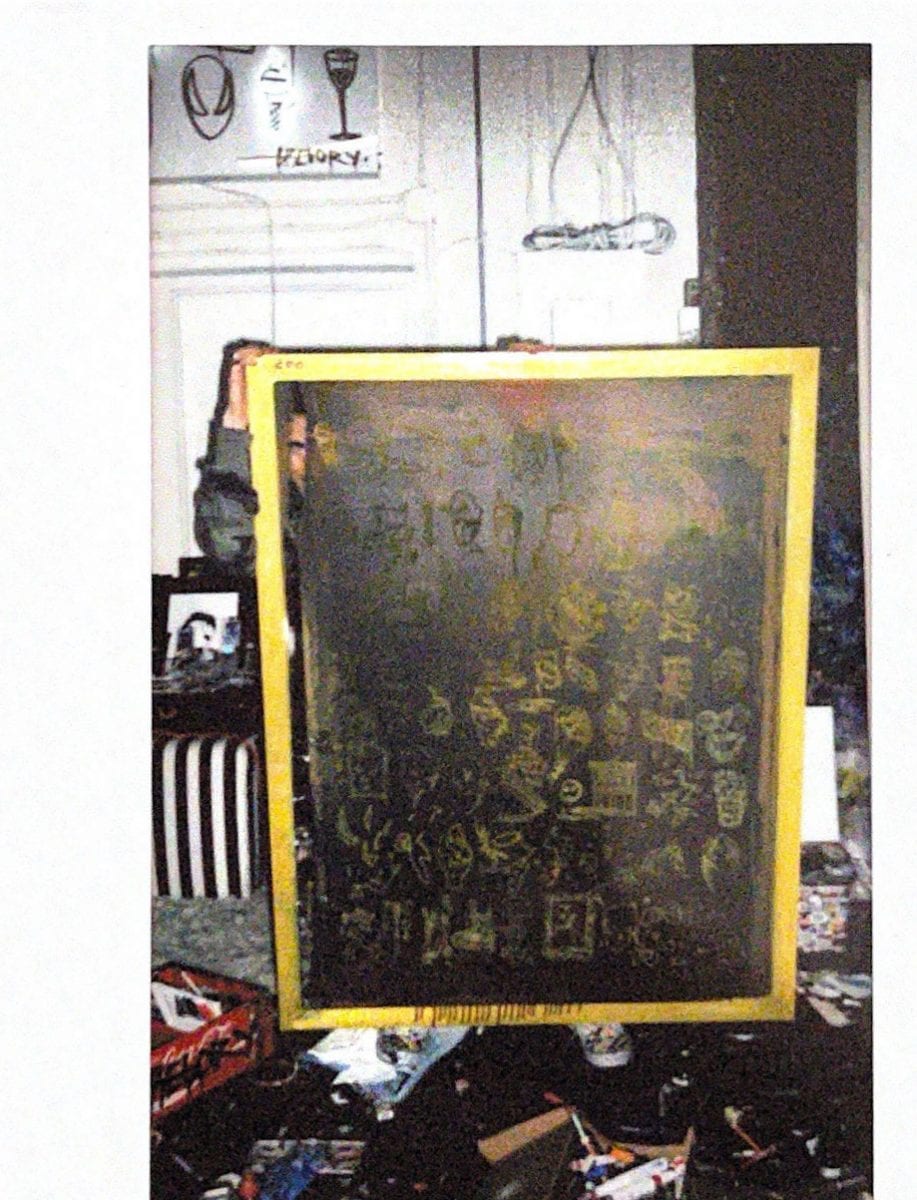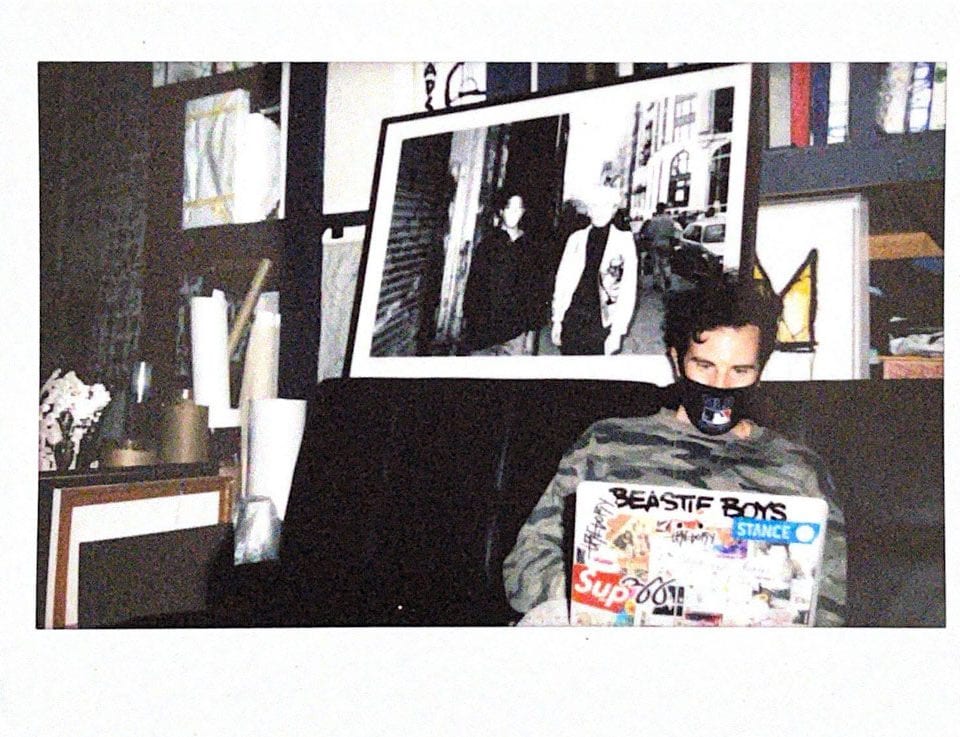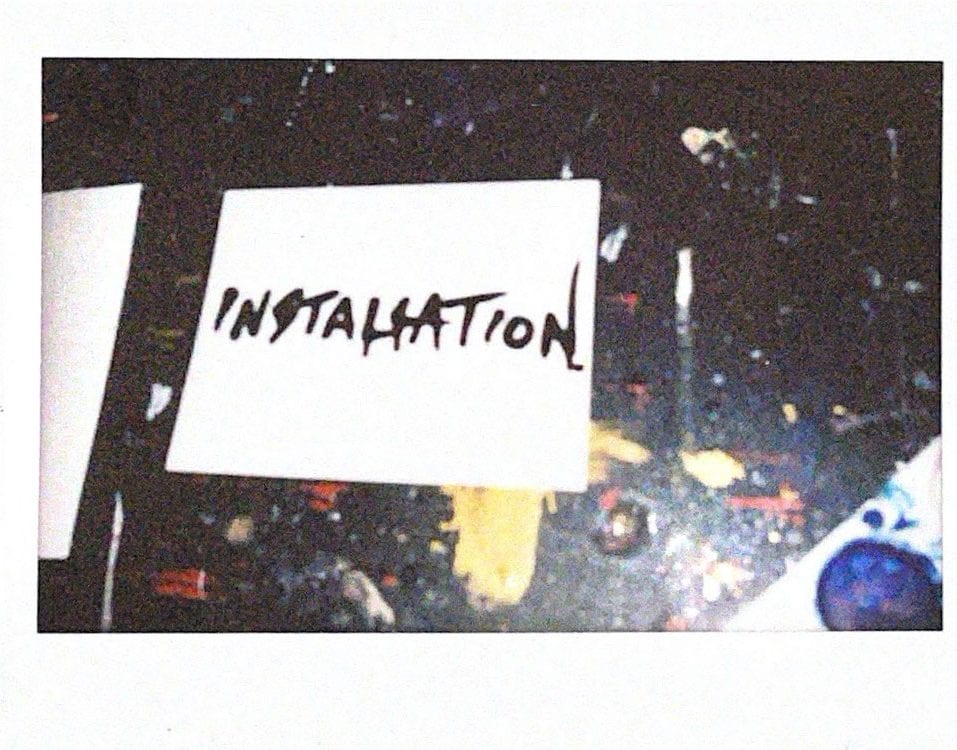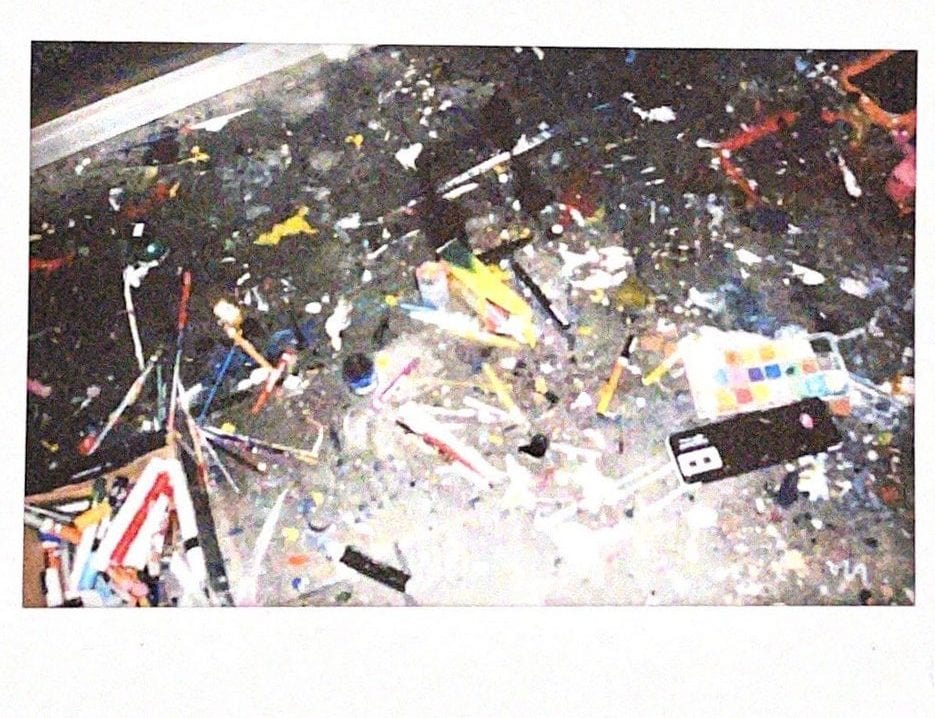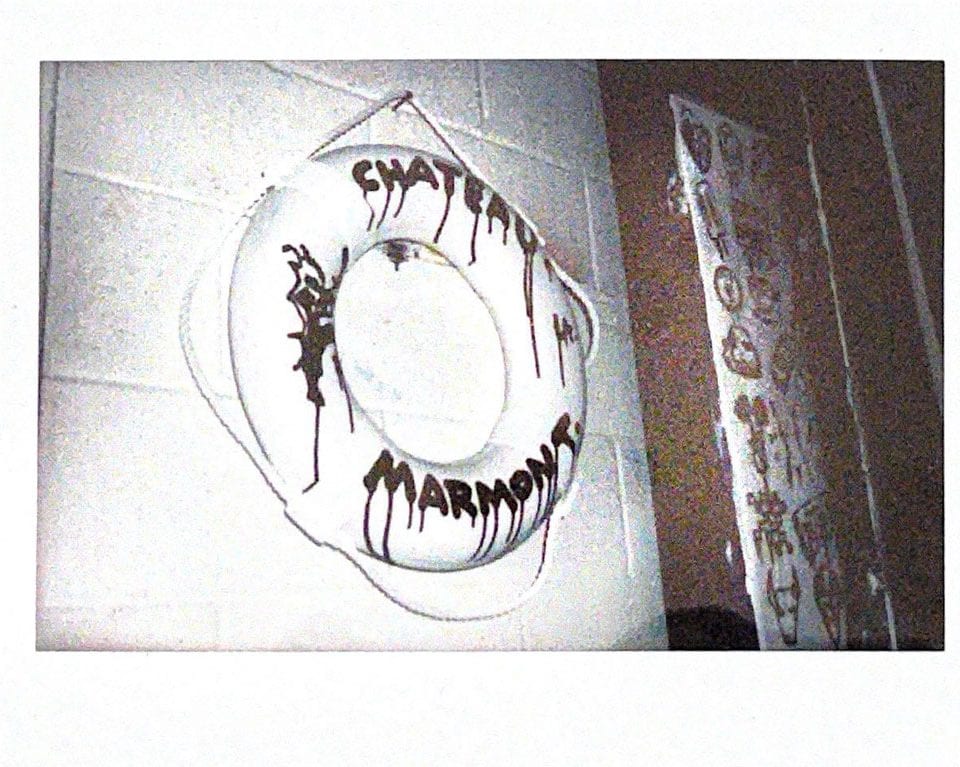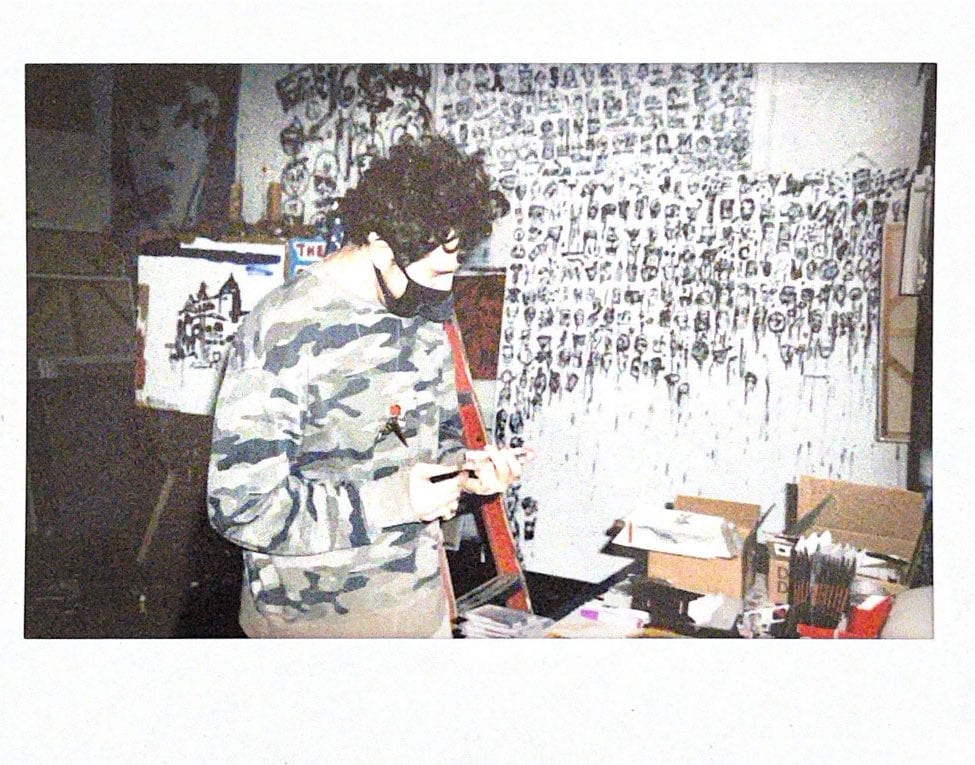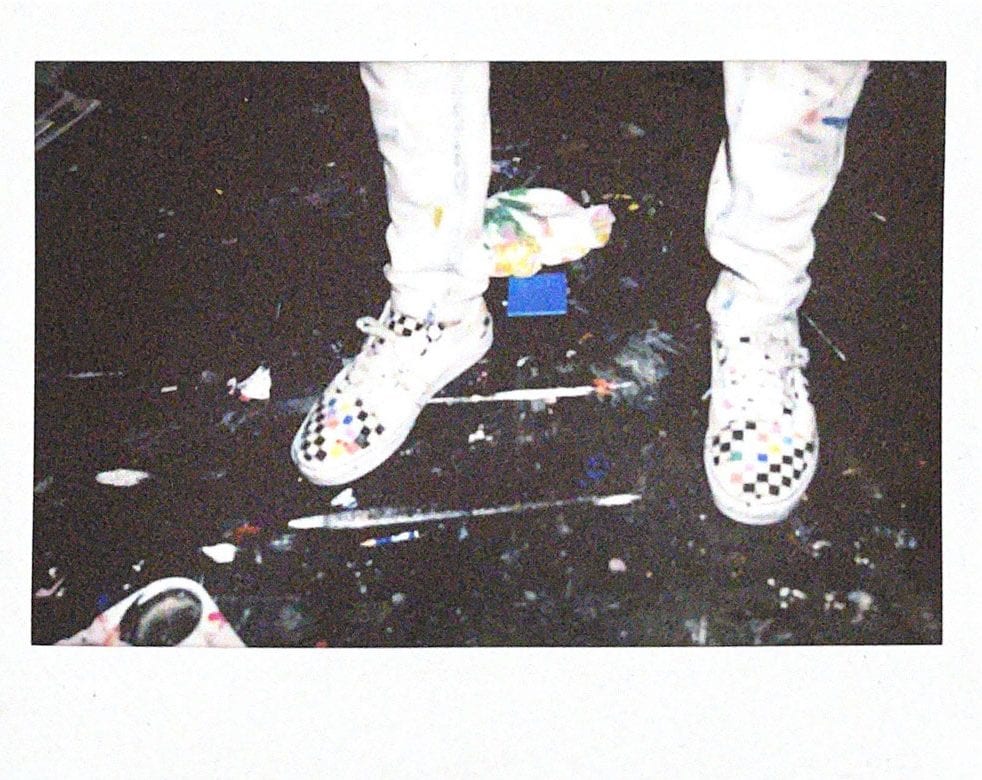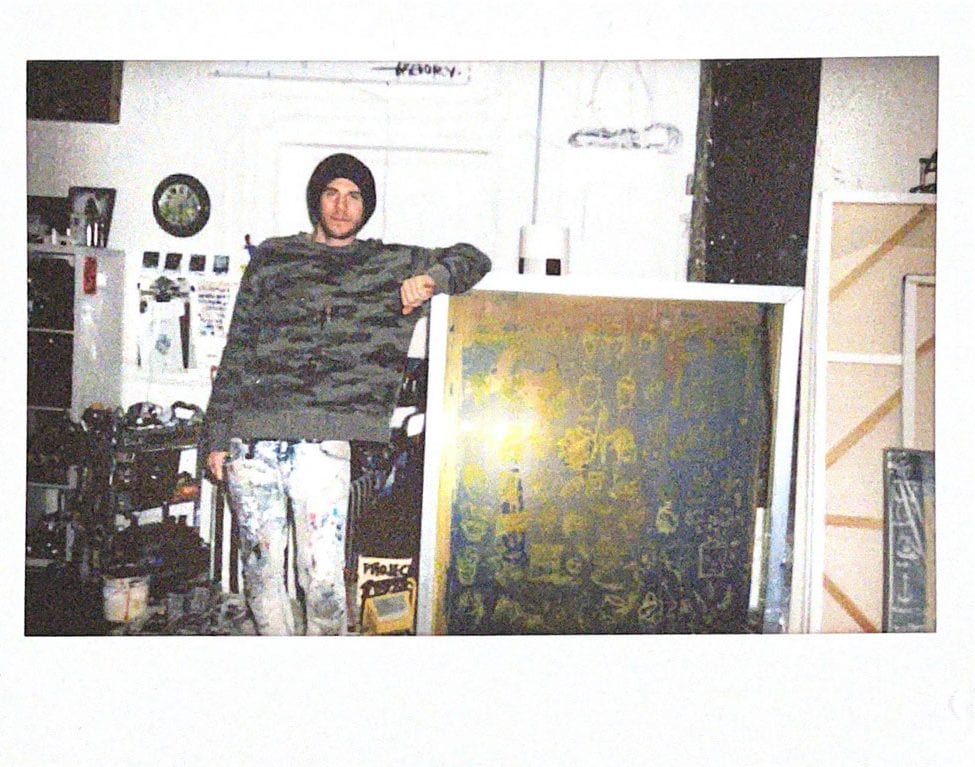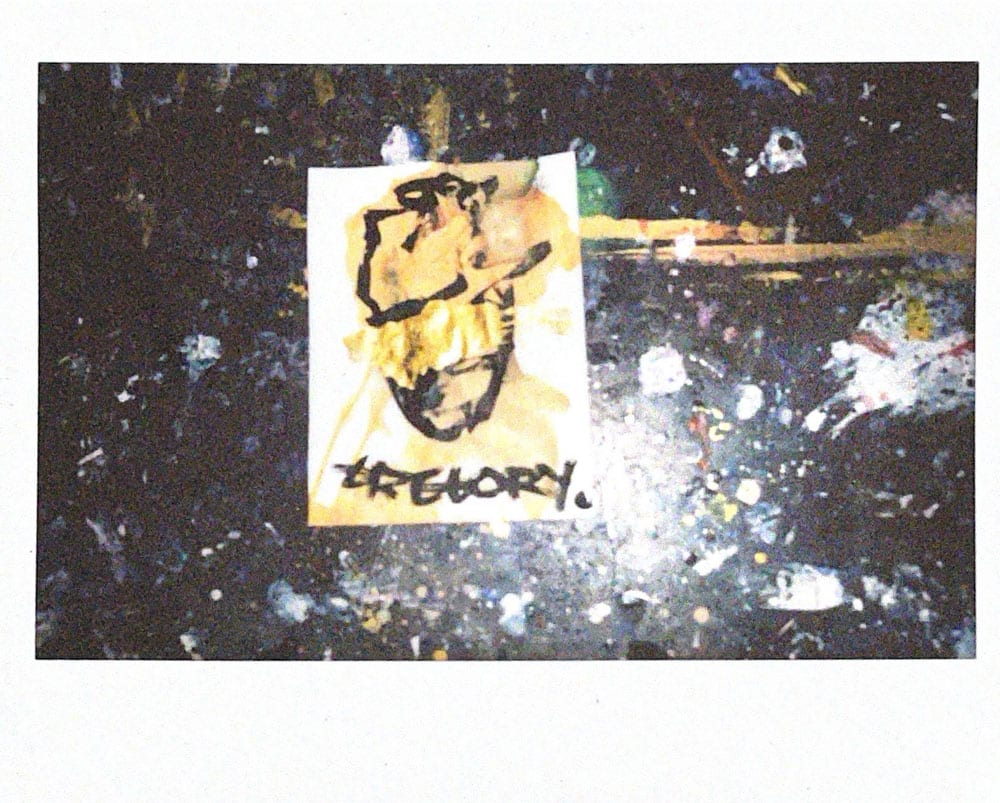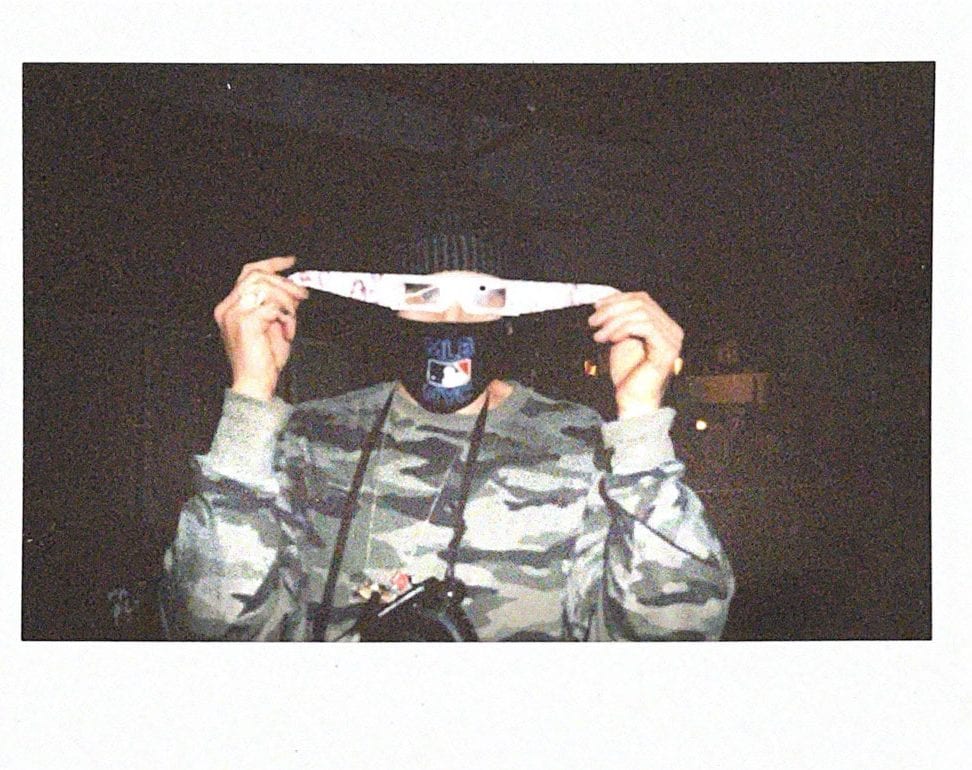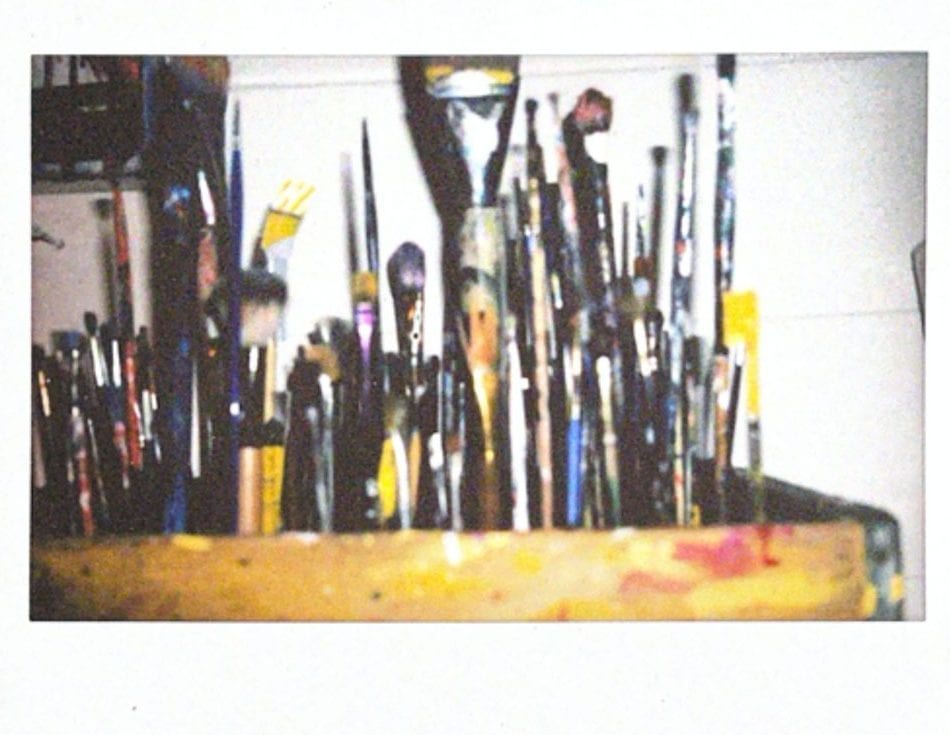 All Fuji Photographs © Installation Magazine 2020/2021
Your father plays an integral role in the ideation and creation of the symbols in your work.  He appears as a symbol both represented in the older handsome face and the bull.  How did his passing guide you toward becoming an artist?
I had everything I ever wanted in life but losing my father… it cracked the shell of who I was then and I came out as a new person.  The same person but now [wanting] to make good.  Make this more than what it is.  It wasn't just that he passed.  He's right there.  I've always loved art and that was 2007 [when he passed away] but it wasn't until 2010 that I was realized, "I can't go a day without making something."
In the loss, the symbols connect you back to the thrills, the pieces of your childhood, and the love that keeps you going.  Maybe that was part of his beautiful gift that he gave you? Do you think that once you faced your greatest fear of losing him that you were liberated?
 It awakens a force inside of you that you weren't exercising because it wasn't time for you to do it.  Now it shows you are connected vibrantly and harder to him than when he was here.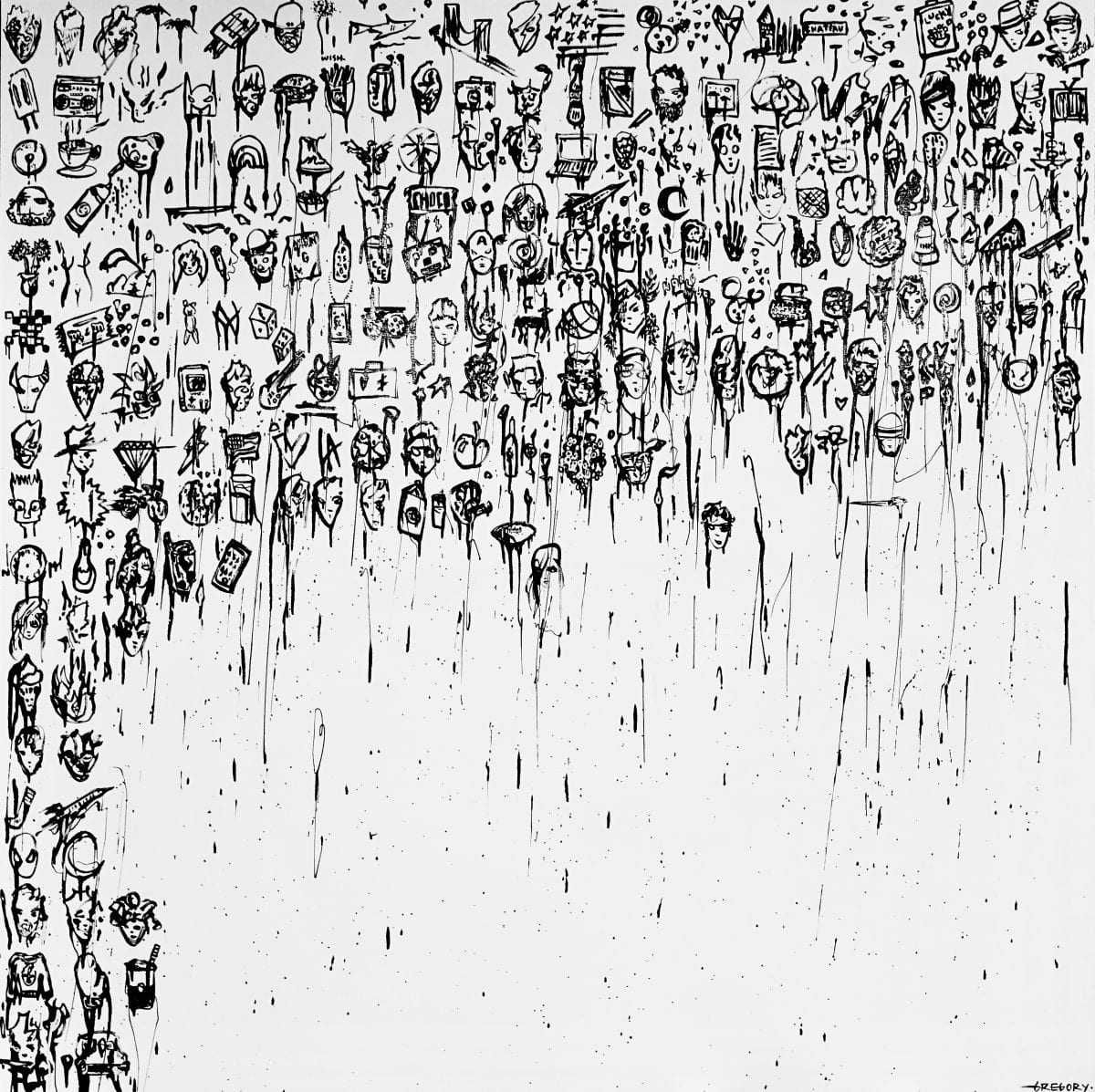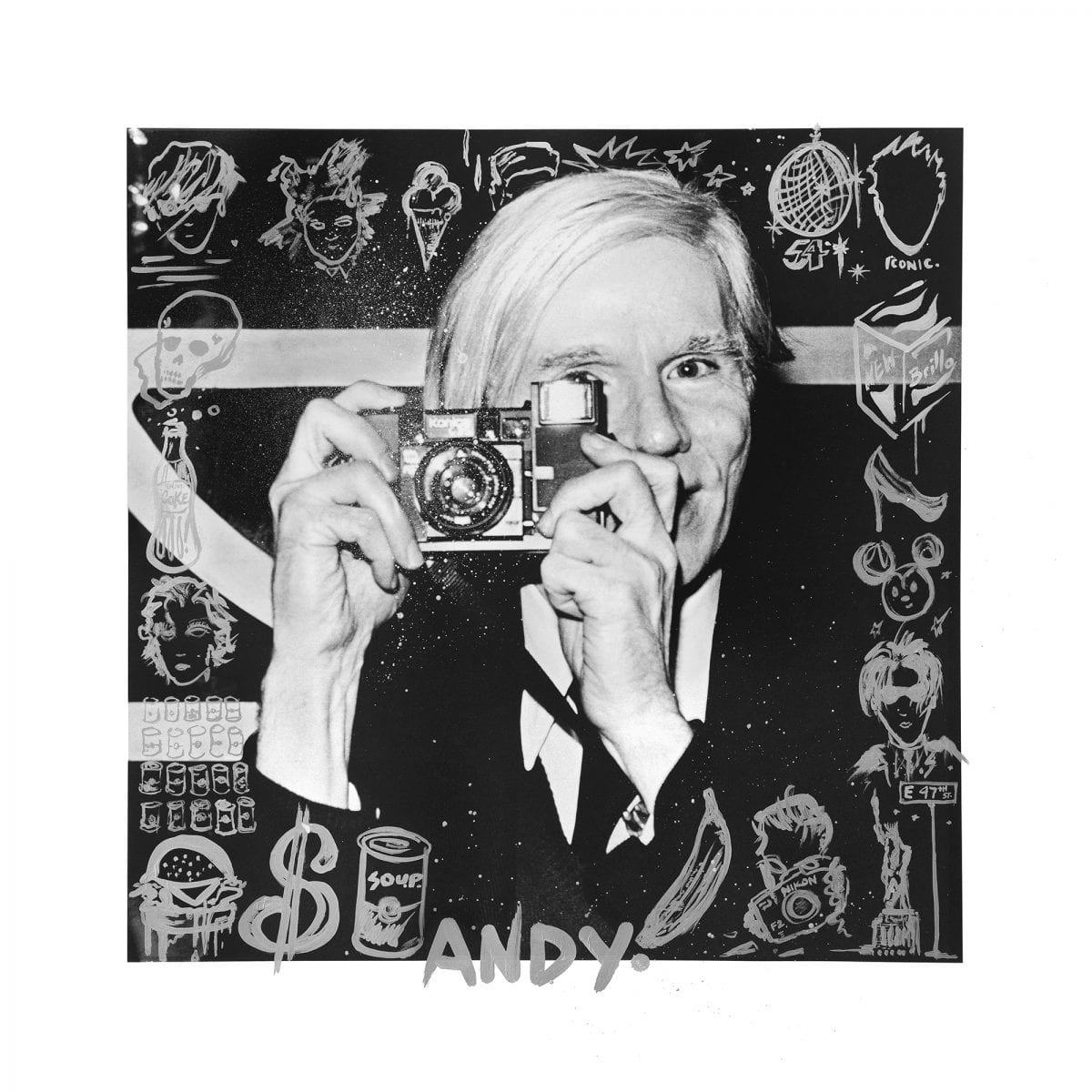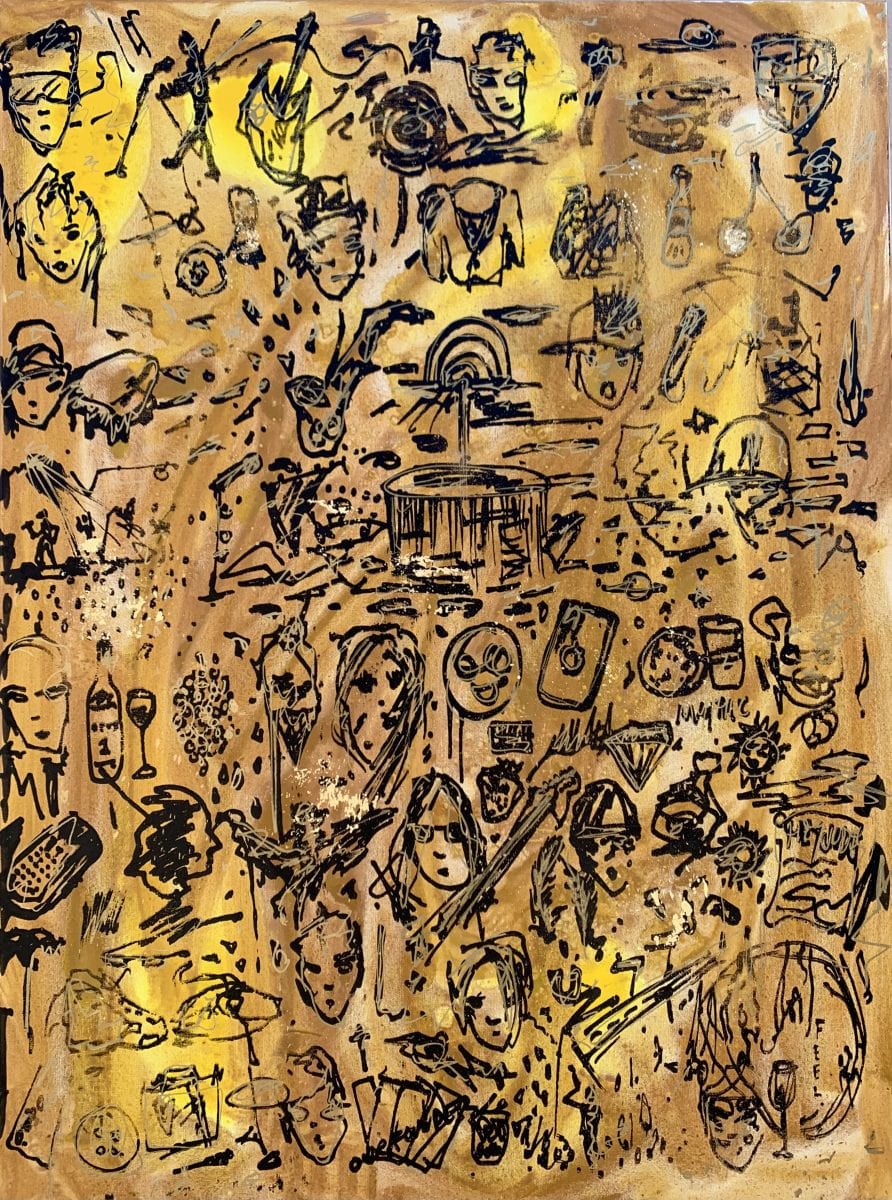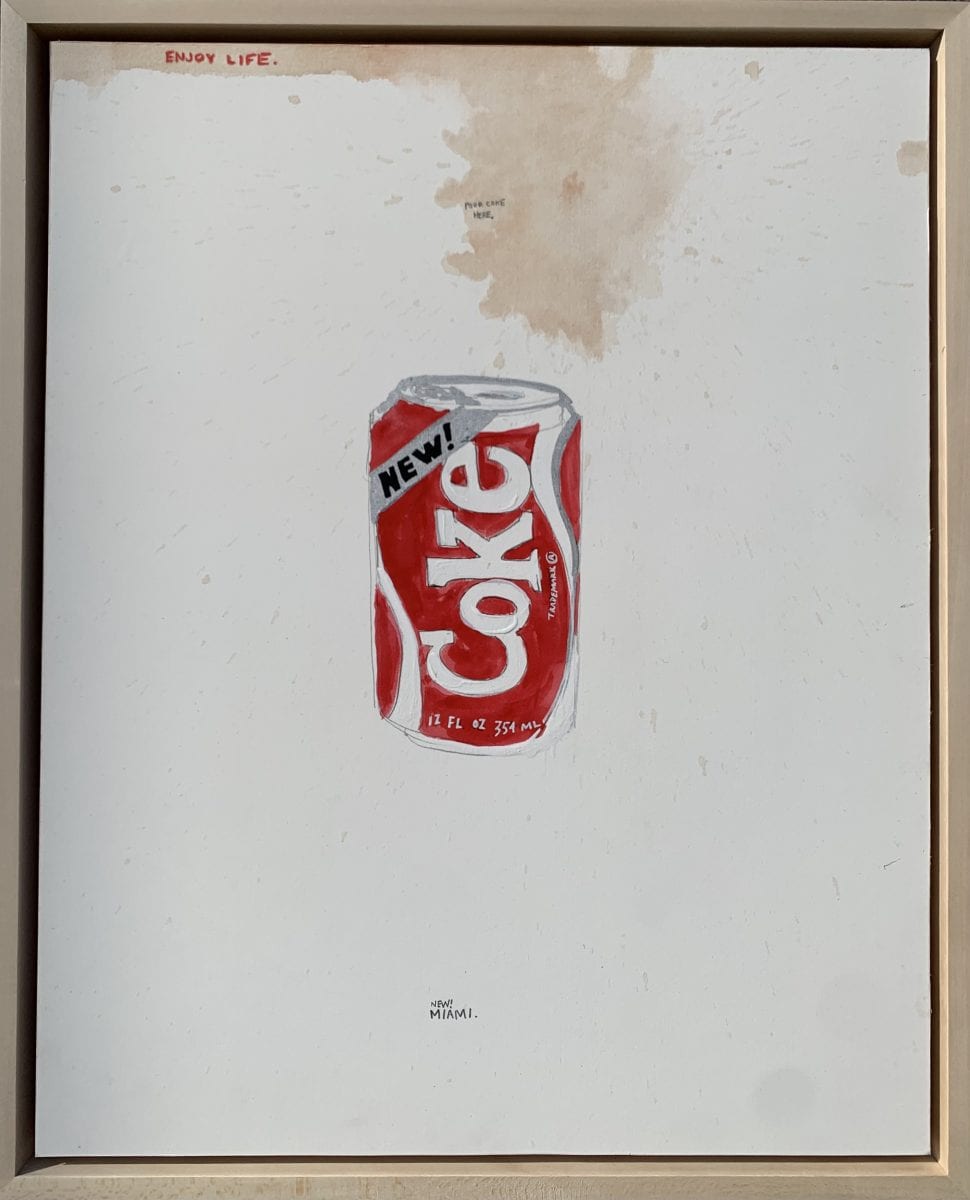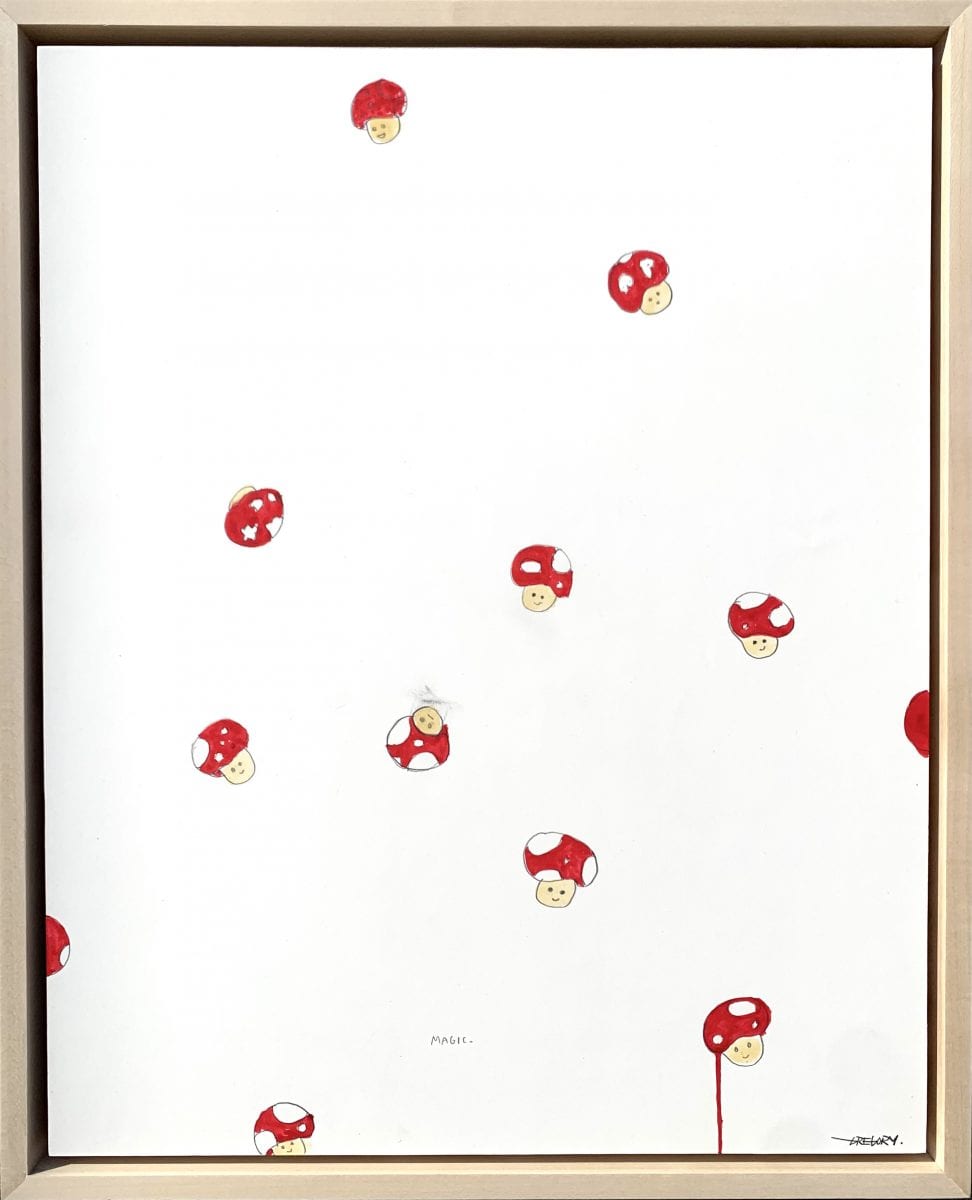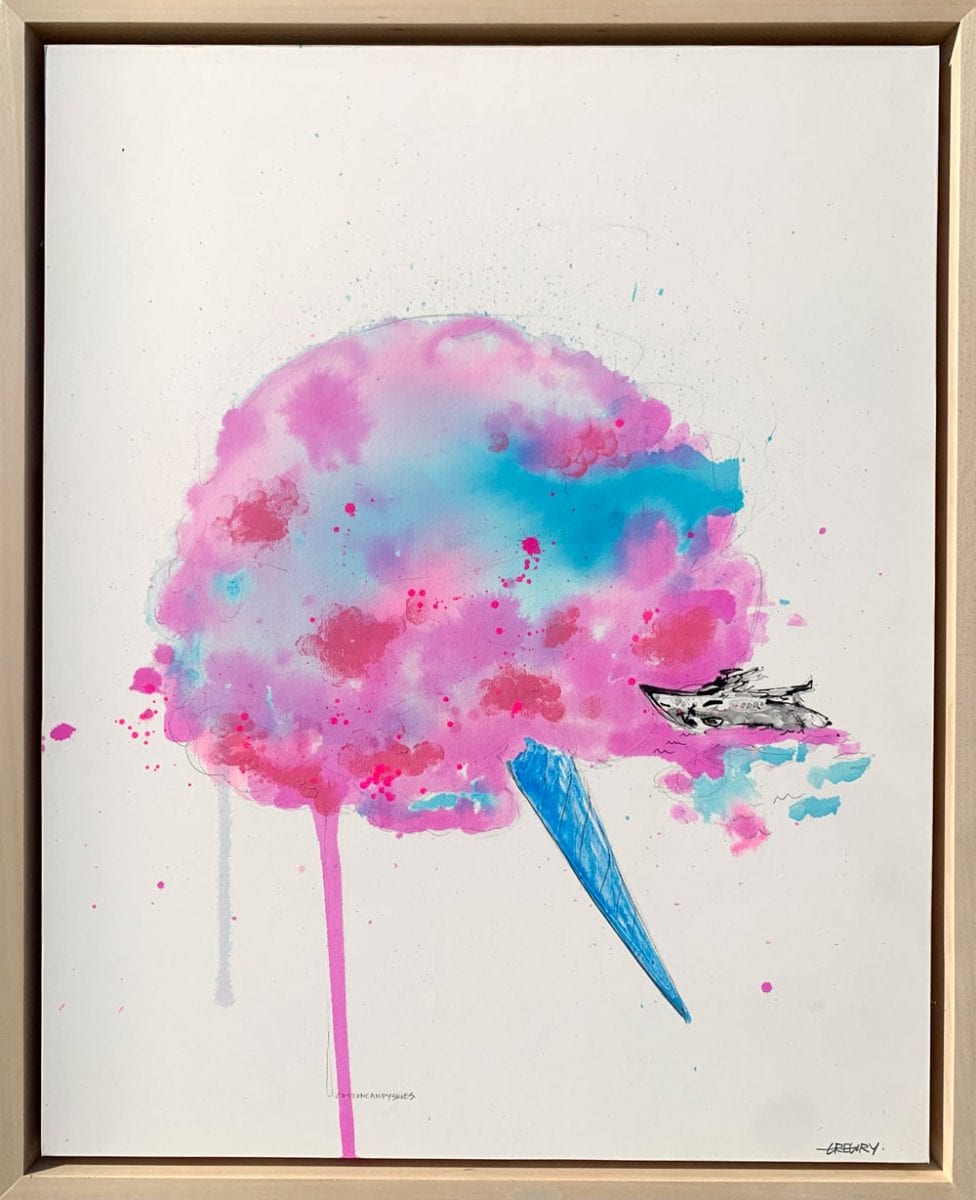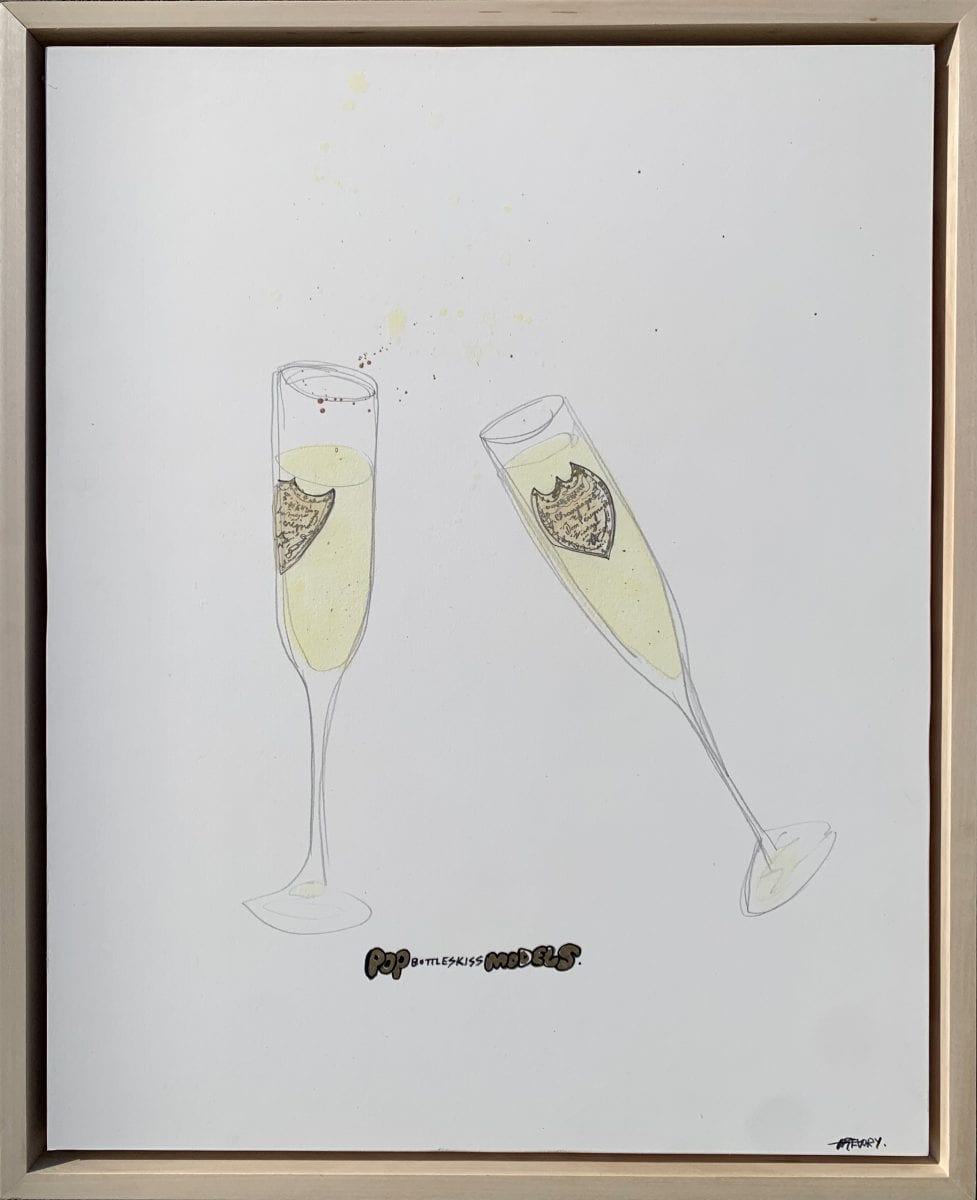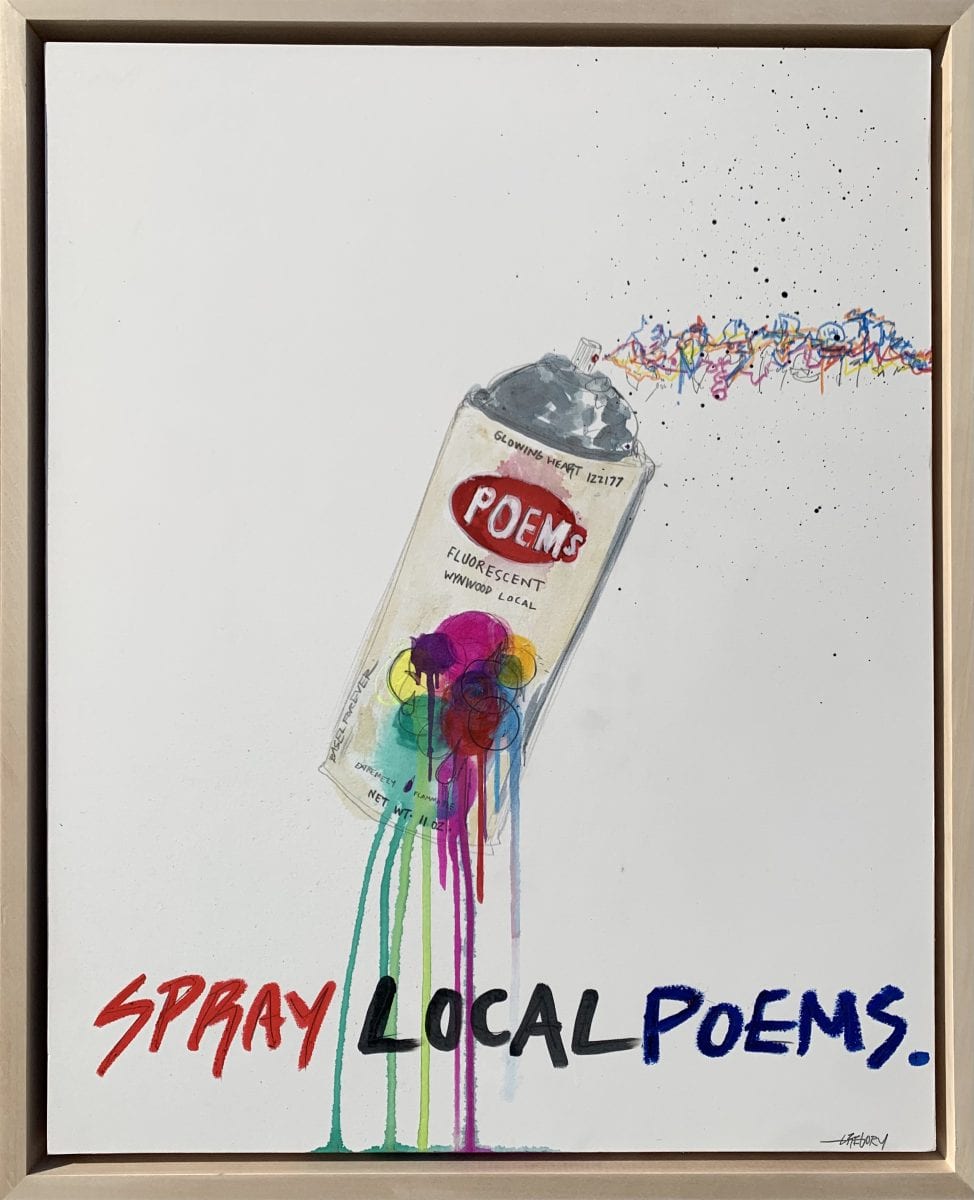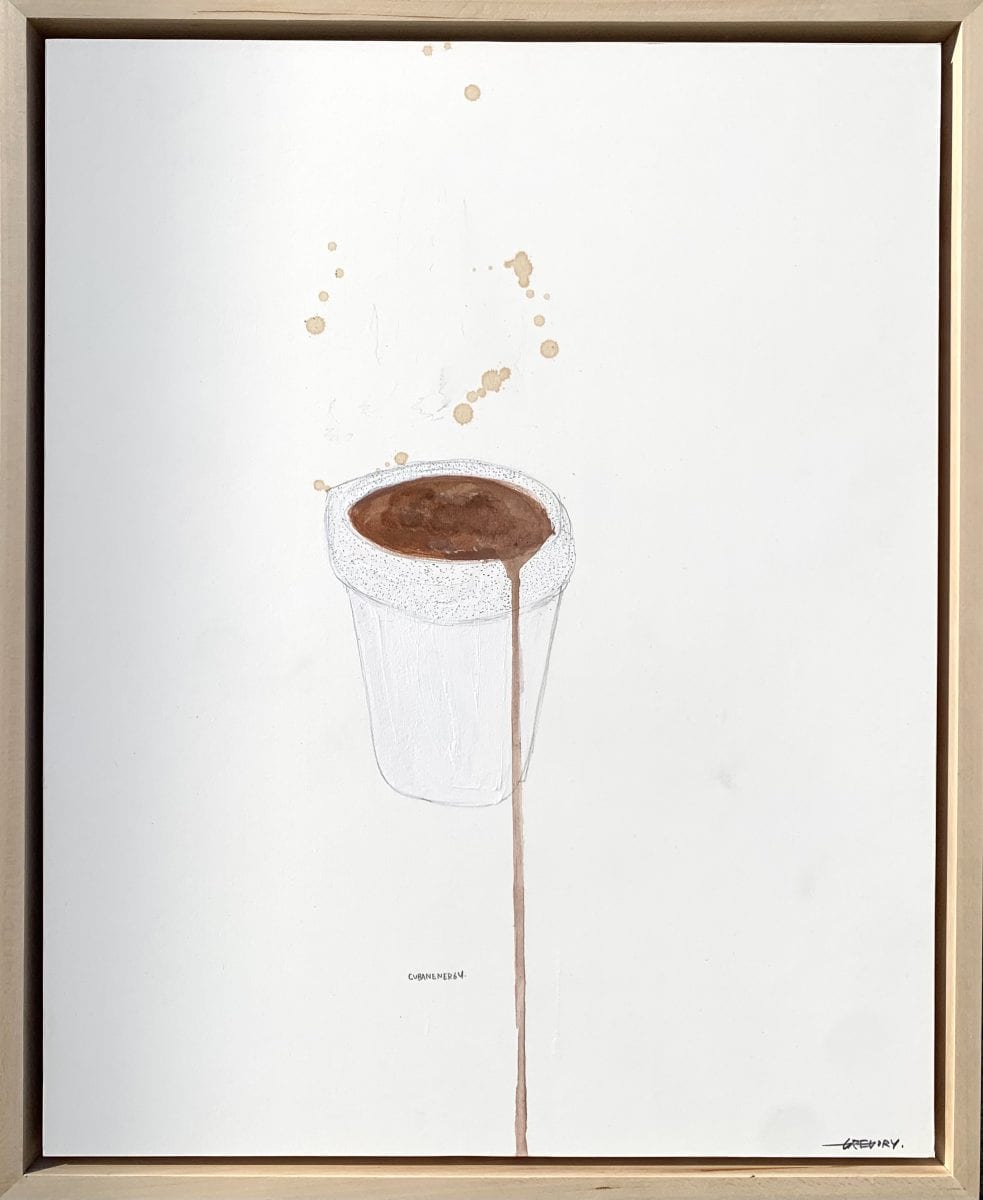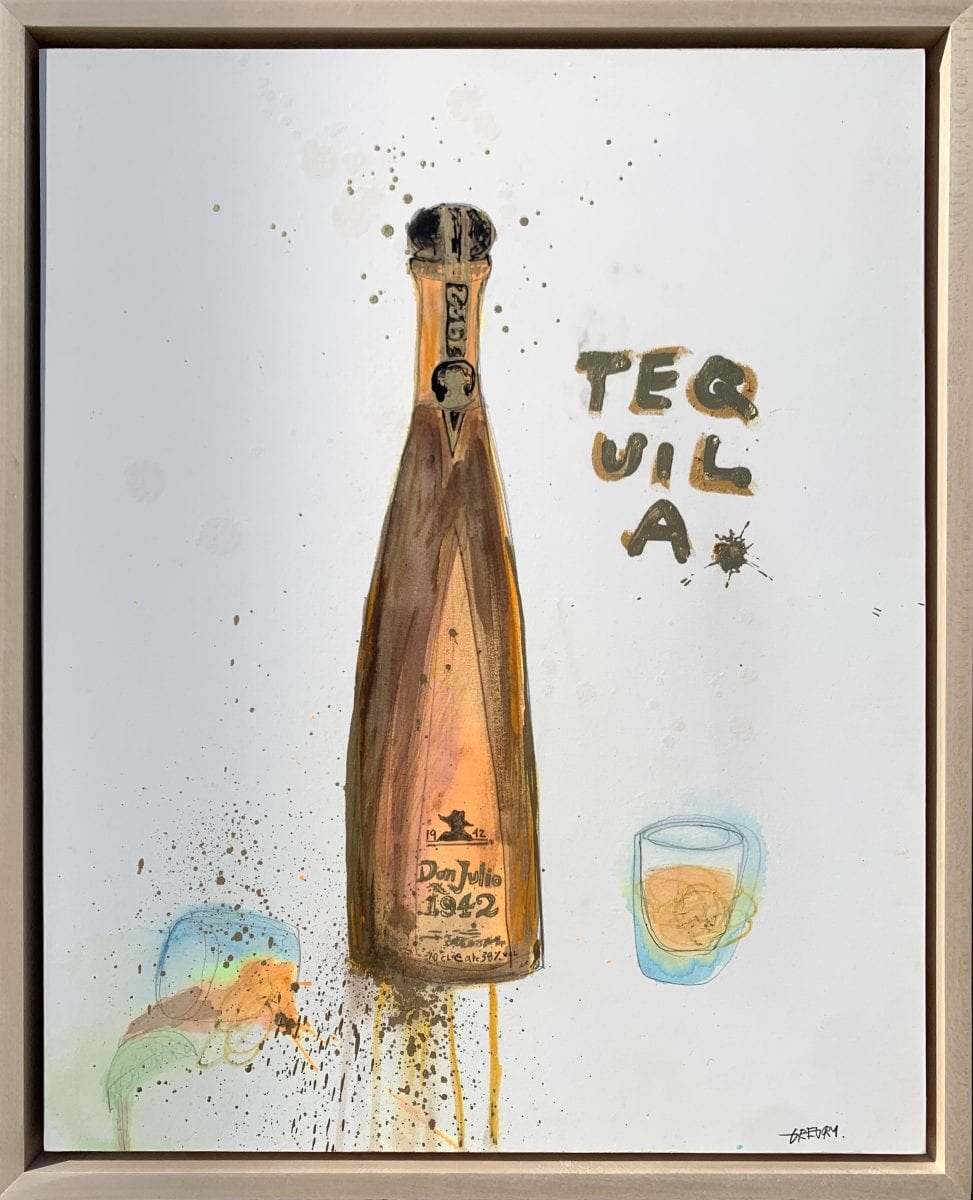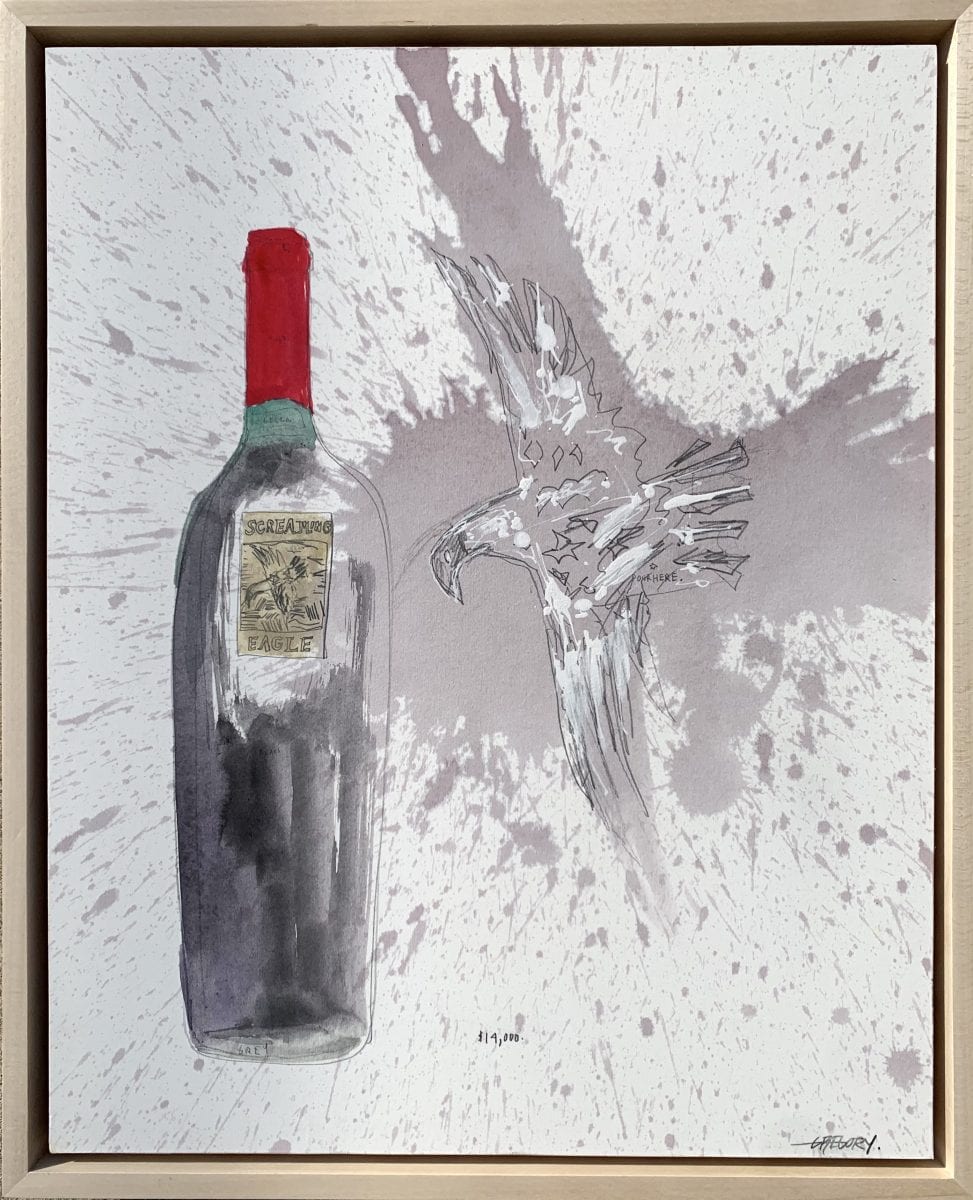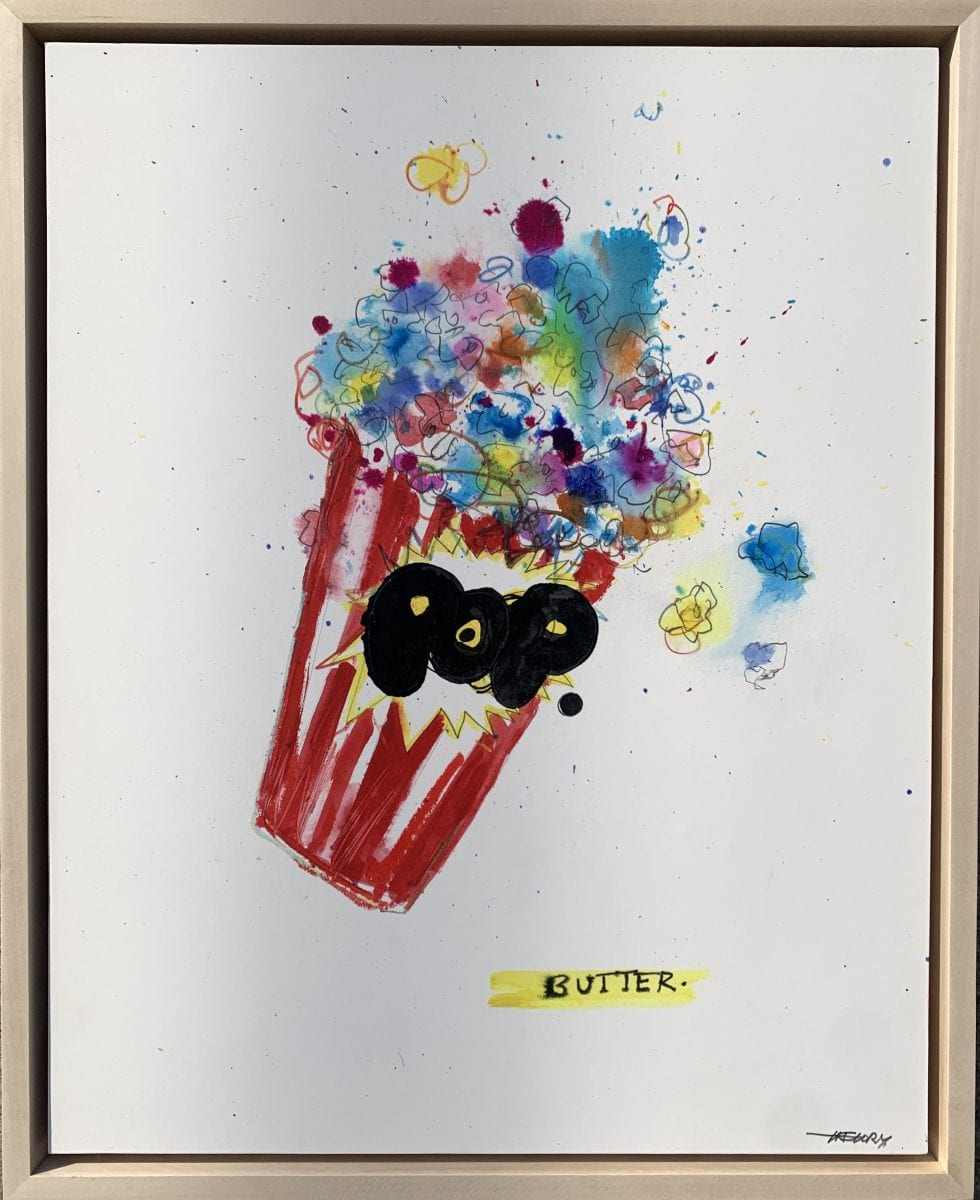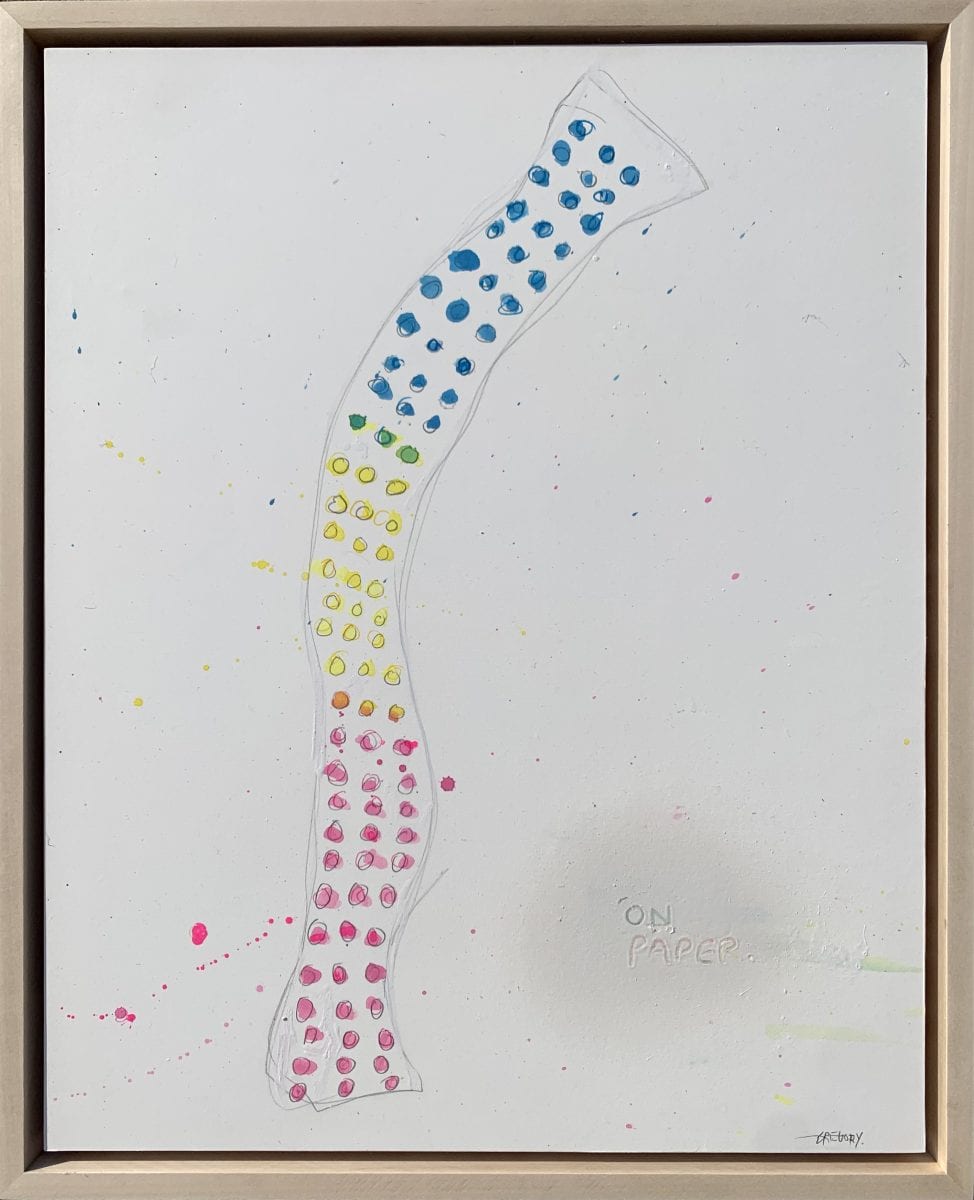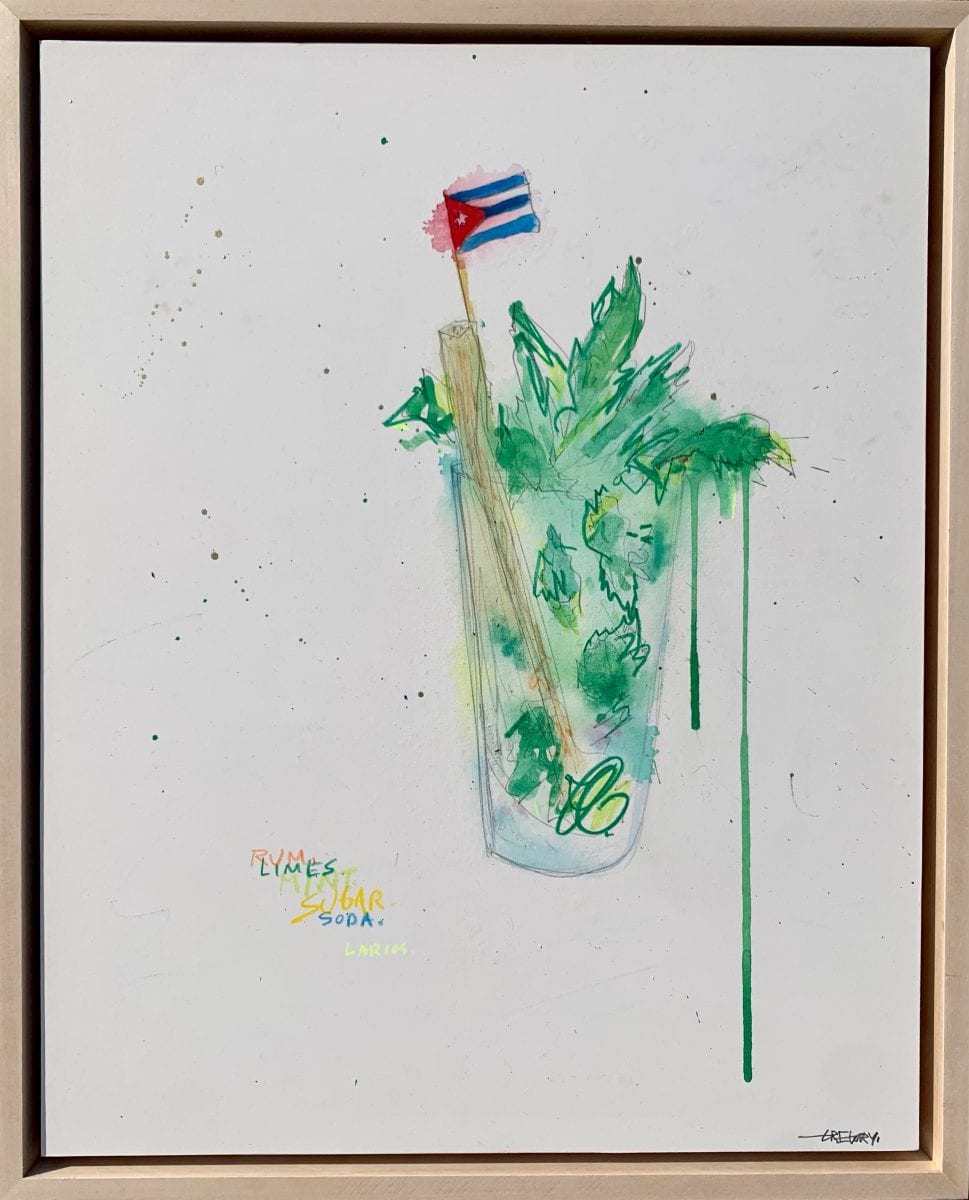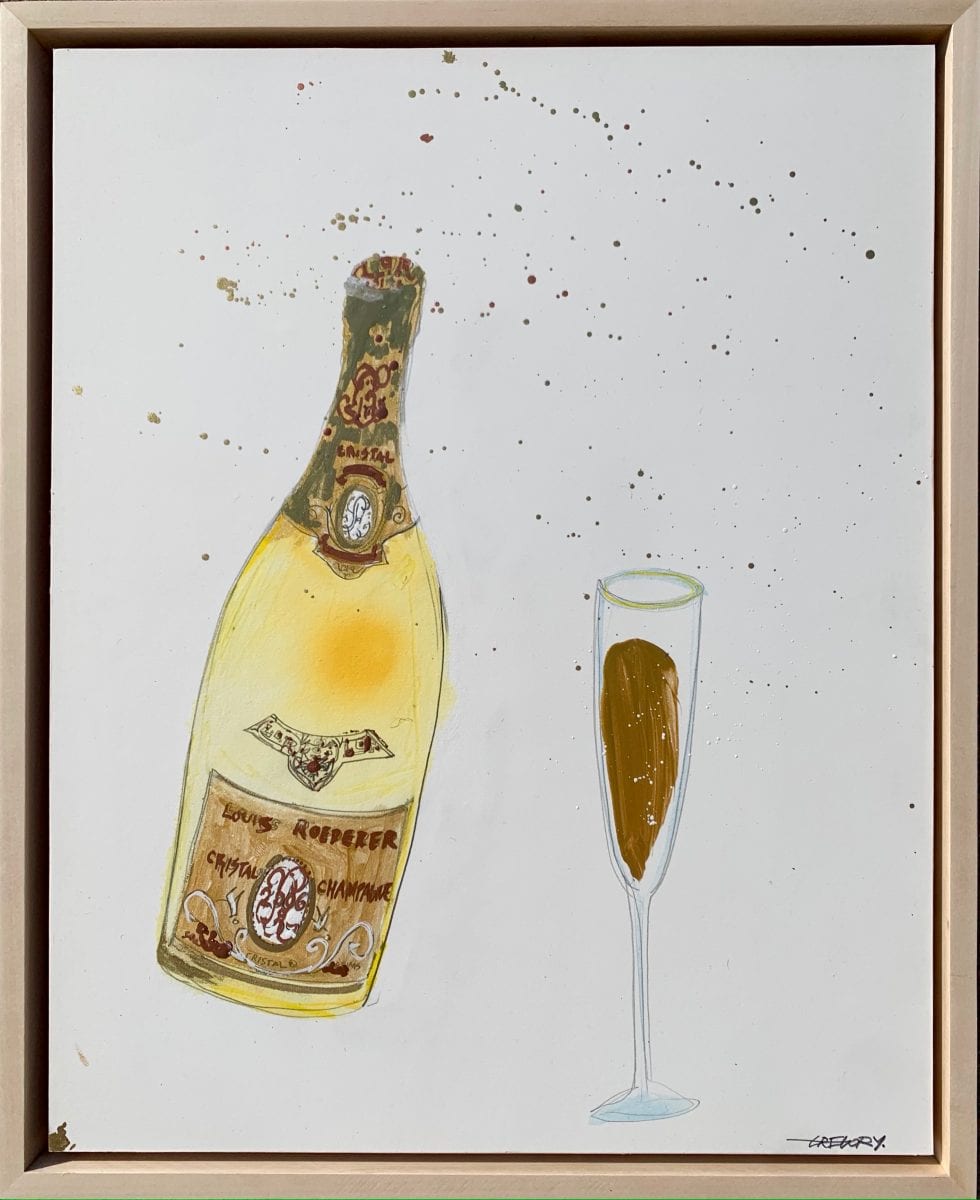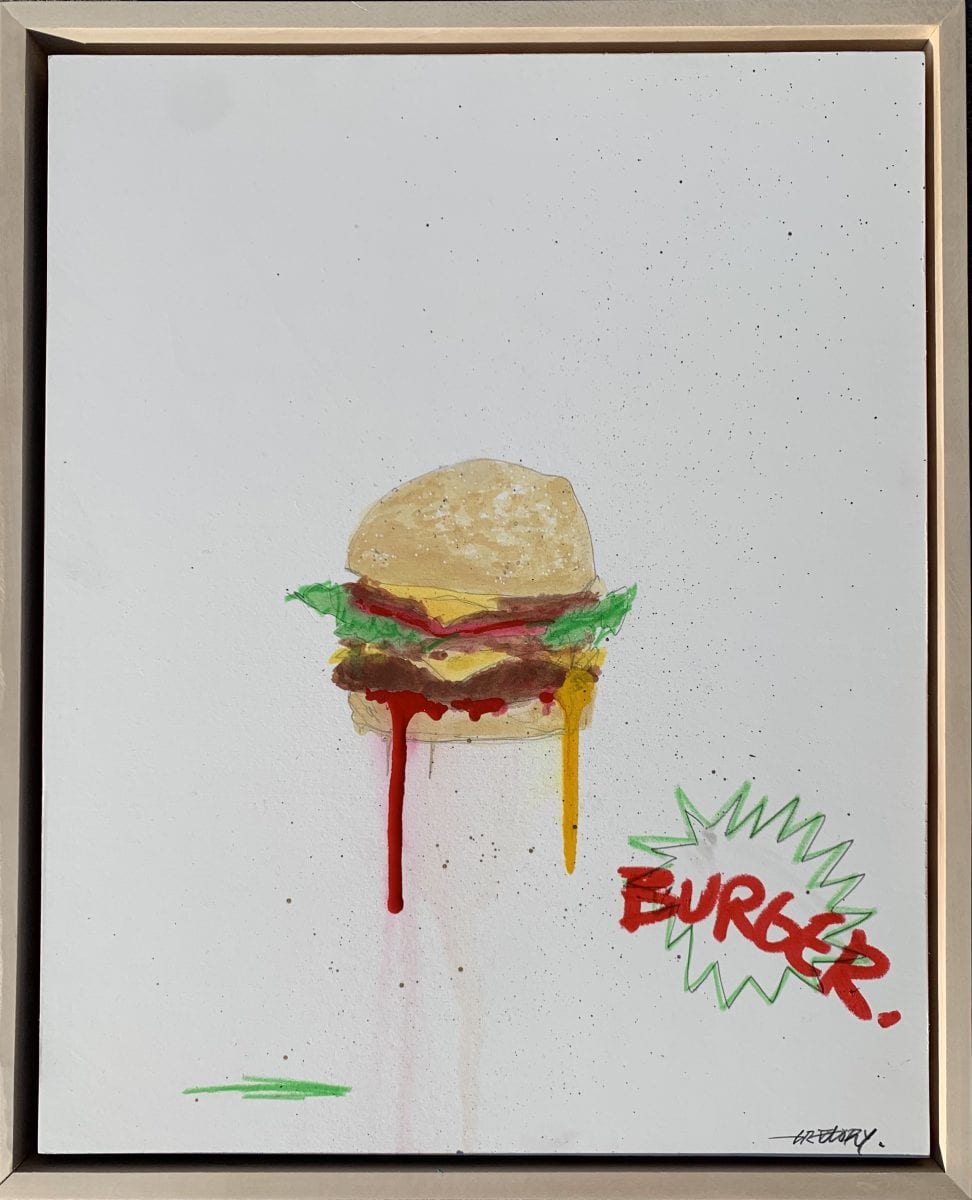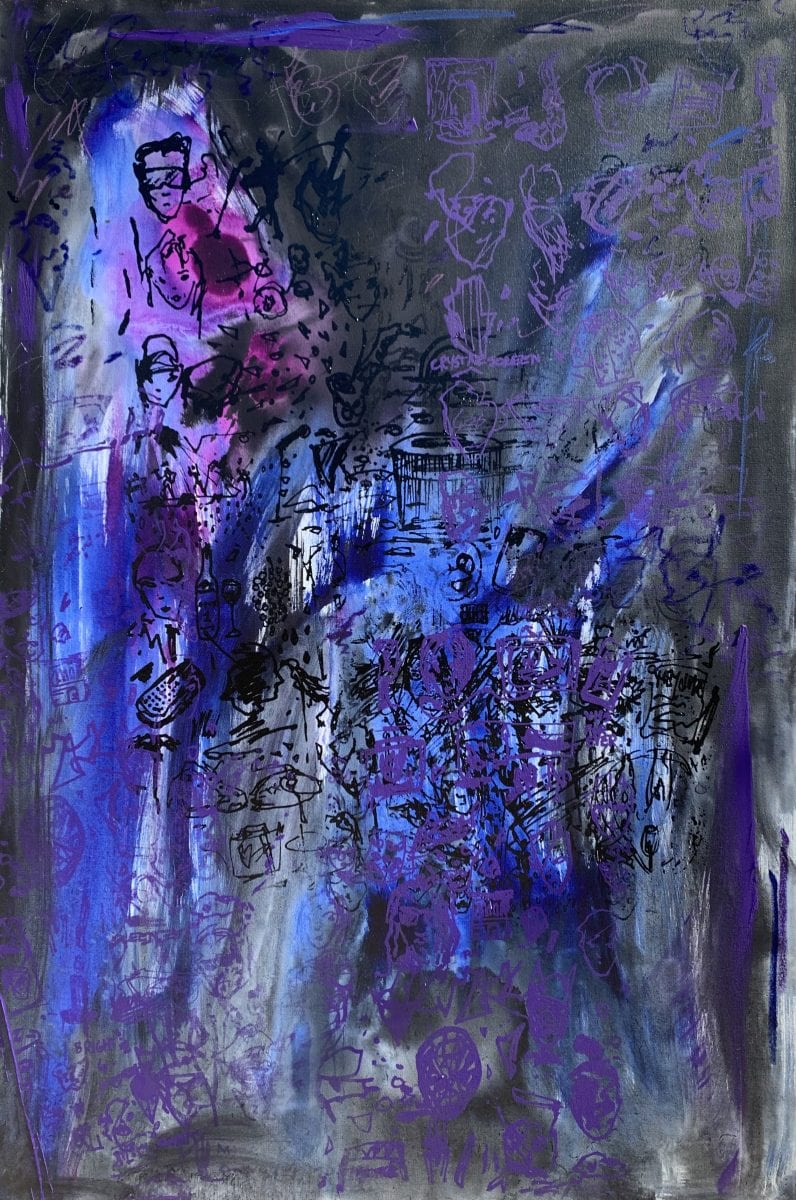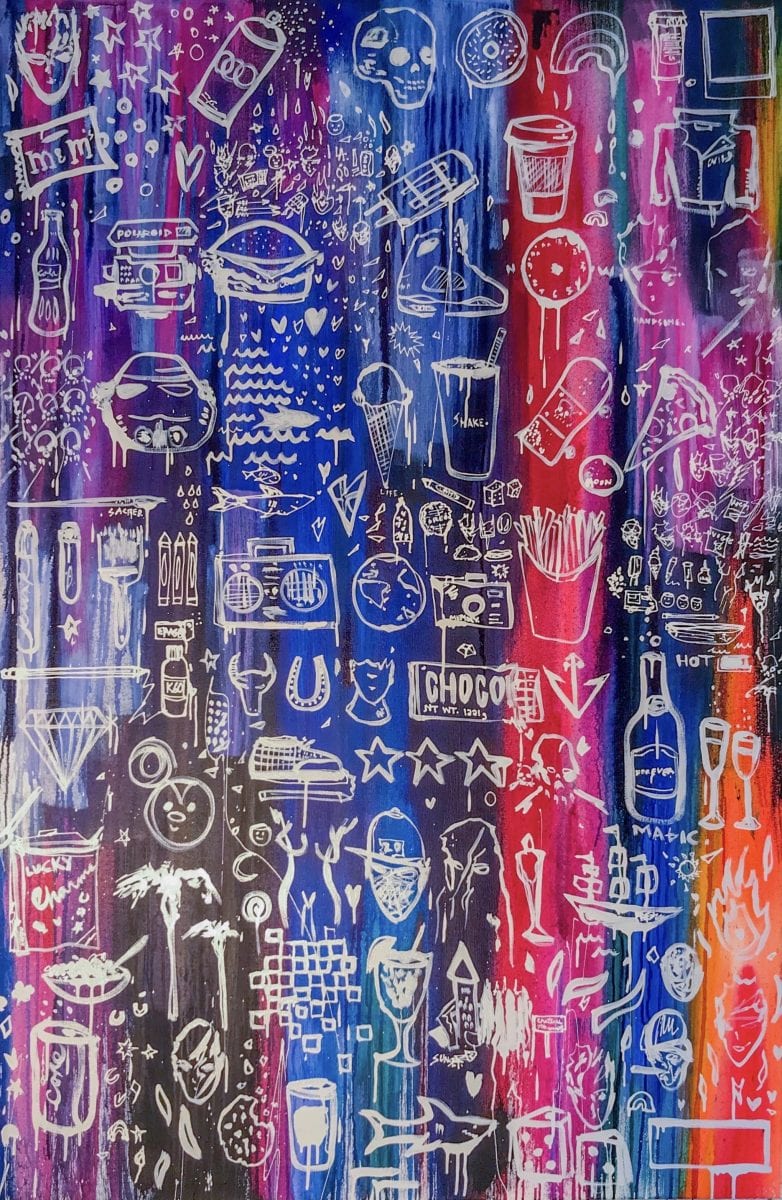 Do you still find magic in painting?
When you find something that you love and your supercomputer, the battery in your heart doesn't stop.  When you feel that that battery never gets tapped out then you know you're in the right spot. 
This year Art Basel Miami looks very different with online viewing rooms replacing the temperant climate with an ocean view and the kinetic nightlife lasting into the morning hours.  Thanks to Gregory Siff, there are still cotton candy skies, the memories of the Wynwood Walls, and endless glasses of Dom Pérignon. 
"The Thrill Series" is on view December 3-7, 2020 presented by ArtLife Gallery and 4AM Gallery. 
Featured Image Caption:
Gregory Siff, "Studies in Rainbows and in Darkness," 2019 (detail view)
acrylic and ink on reclaimed wood
39 x 77 in.
Image courtesy of the artist, ArtLife Gallery, and 4AM Gallery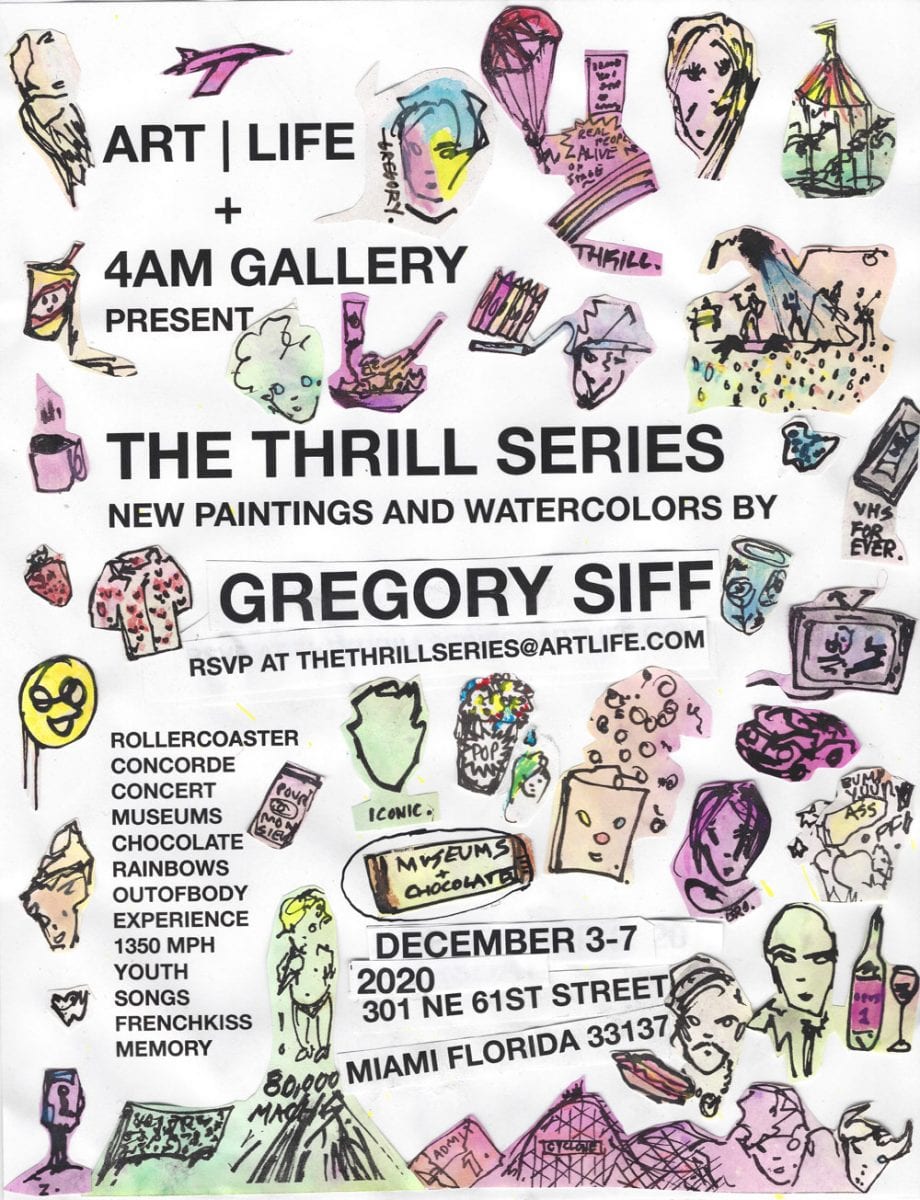 Installation Magazine © 2020/ 2021