There are five questions we always ask ourselves as readers, writers and critics of the arts, "Who, What, Where, When, and Why."  Social sculptor and artist Ana Teresa Fernández along with designer and architect Johanna Grawunder created five illuminated sculptures you can find installed around the 5M campus in San Francisco.  Located in key adjacent public spaces these simple questions make the viewer wonder as they immerse themselves in the space.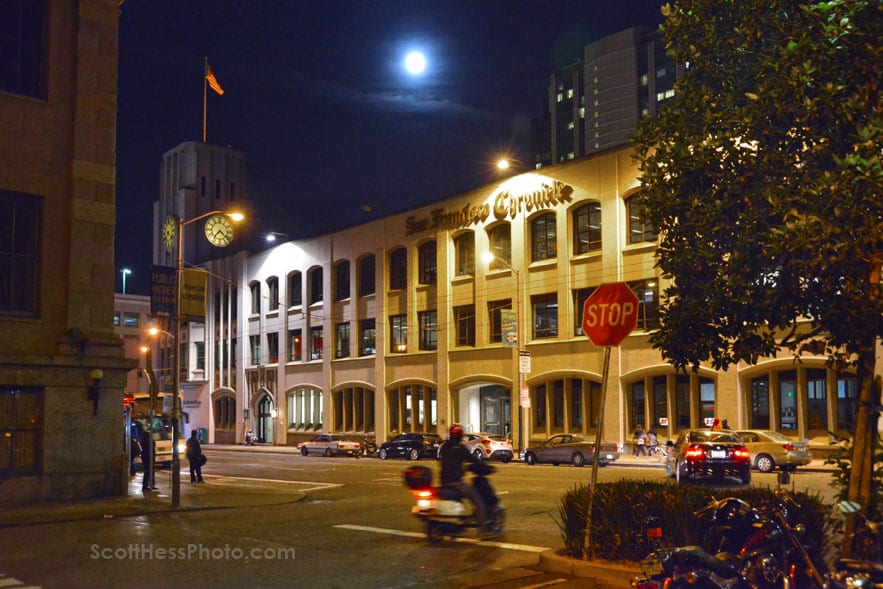 In the Fall of 2011, I was invited to do a series of art workshops teaching inner city teenage girls at Intersection for the Arts how to do sculptures with any available materials as a way to bring art into their lives.  Intersection is located at 5th and Mission, the heart of mid market, and is the center diversity in all senses of the word. I would walk by a white homeless woman and later collide with a super hip Bangladeshi start-upper. An array of nationalities, economic standings, and trades swirl around this same area, all of whom have an opinion as to what should happen in the ever so trending topic of Mid Market Redevelopment.  And since Intersection is located in the same building as the SF Chronicle and the Hub, the epicenters of the news world in San Francisco, this topic is always floating around. As I was walking to work one day, and overheard a blue collar worker complaining about the economic struggles he was encountering in the city, the idea hit me. I saw a big WHY painted across a building a la Johanna Grawunder Lamp Wall-style. Then I saw the four other "W" questions; where, when, who, and what sculpted and installed in different areas of mid market.  I came running into Rebeka Rodriguez's office, the Community Engagement Director for Intersection, and my boss.  I poured out my idea, drawing words across the sky with my hands, scribbling and doodling some down with an orange sharpie on her notepad, and as I raced across to the finish line of my thoughts, I hoped she wouldn't think I was a lunatic. Her eyes were wide and inquisitive.  She just nodded and blurted out YES but asked for me to explain it one more time.  So we both sat down together excitedly and I tried to arrange my scattered thoughts, as one tries to do so when your idea is freshly caught, bouncing around like a fish on land.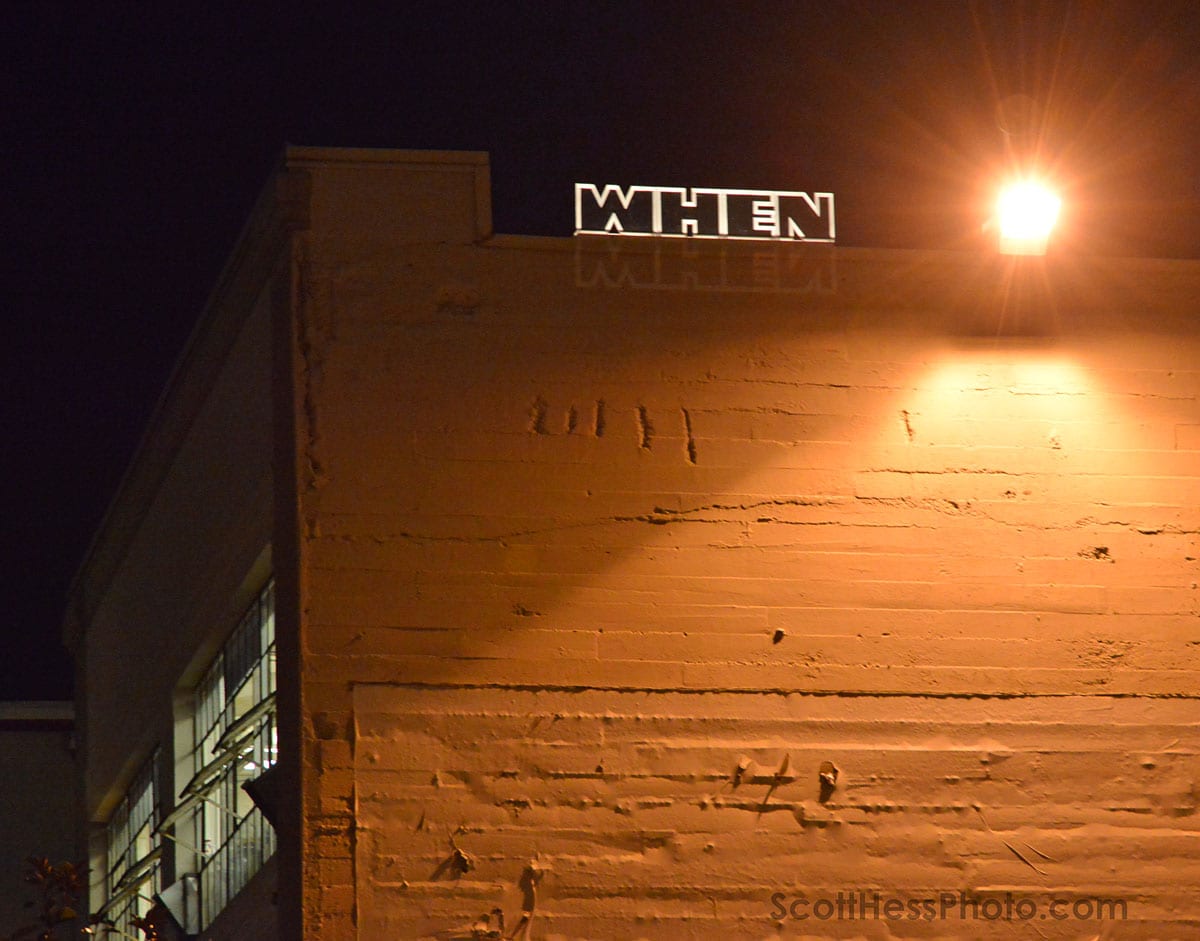 After I had Rebeka's interest in wanting to develop something serious I realized, if the main piece was inspired by Johanna Grawunder, then I should invite her to be part of the team.  Johanna and I had been friends and admirers of each other work for years, but had never collaborated.  I crafted an email where I explained the project and asked if she would be interested in collaborating.  I nervously clicked sent and to my surprise she said yes within minutes! Johanna and myself spent about two months designing the format and feel of the words.  I went around by car and foot taking hundreds of photos of possible locations for these sculptures.  Johanna and I would sometimes have to re-design and change some elements to make the pieces fit in different locations. Each word was an unique adventure where we met so many beautiful characters along the way and learned so much about different material process. Rebeka spent months on end obtaining permits from the Arts Commission, and the building owners. The WHY became especially hard, since we insisted on painting the word on a brick wall, and most of the buildings made of brick are historically protected and impossible to paint on. The entire process took 2 years to complete, from idea to execution.  The idea, materials and process were kept in full integrity thanks to our dedication and refusal to give up no matter what new obstacle emerged. And believe me, obstacle after obstacle appeared in the shape of property owners saying no, permits, expensive materials, and the "Three Graces," as I later came to nickname us, we kept pushing through.  We had an initial budget of $10,000 from Intersection that Rebeka made available. We quickly learned that our designs were much more expensive. Ping Fu, 3D printer guru and inventor, Matt Mullenweg creator of WordPress, and mad scientist Andrew Hessel privately donated and were imperative in helping the project come into fruition in its original vision.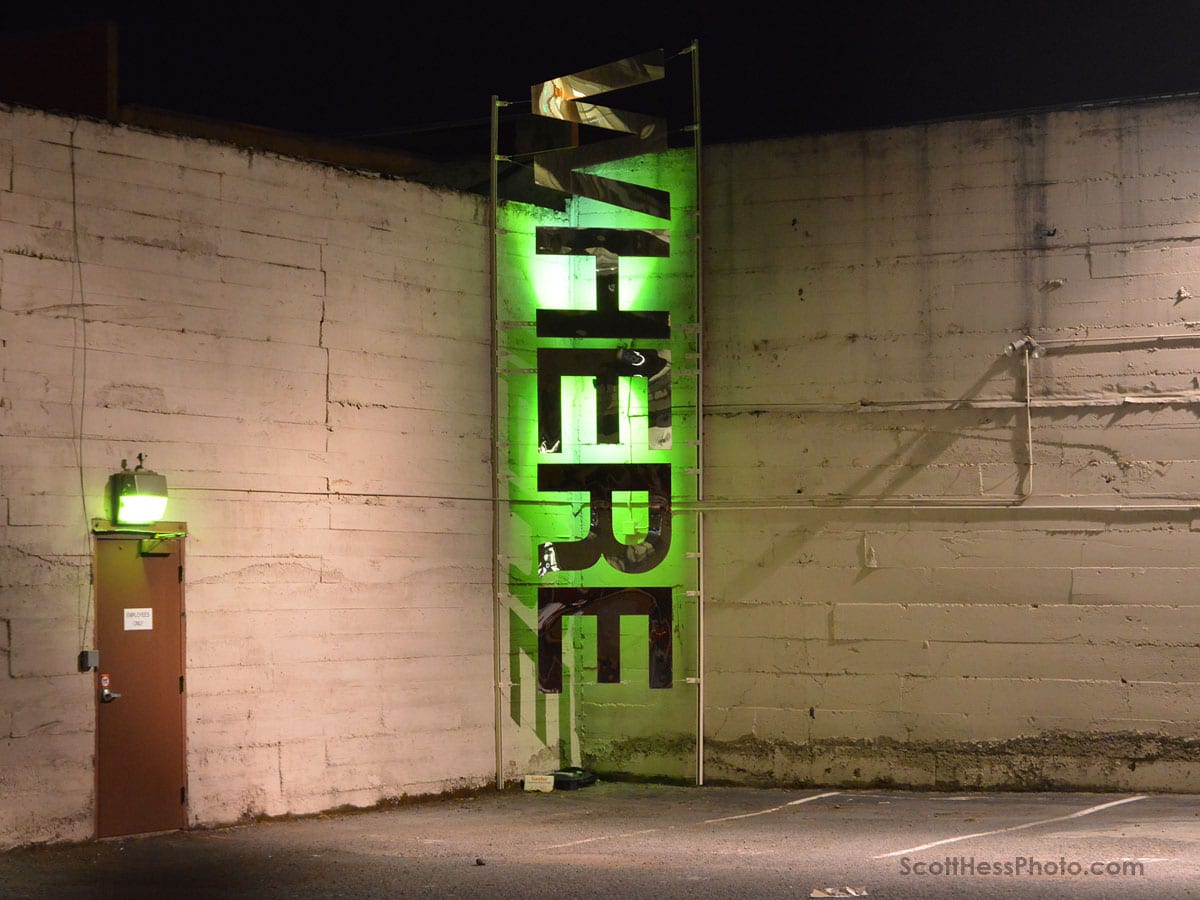 The Concept
An interview is merely an inner view into someone, insights into what makes us, who we are, where we do or don't be- long, what path we choose and why.
5W introduces these five questions into the realm of Market street and the 5M area, engaging thought with its populace and physically creating a reflection 5M/5W. Stemming from the journalistic practice of asking these 5 questions to get to the grain or true substance of the source, we are took Why, Who, Where, When, and What and placed these questions at strategic spots within a three block radius. The format is unique to its site and place. Each word activates an already loaded space. We wish to reveal the piled-layers of history and current situation by providing some extra thought or a double take at these sites. The words provide a visual echo to the residents, visitors, workers murmurs, thoughts, complaints, etc.  This is an area that was and continues  to be the hot spot of discussion. A place that has a dubious past and an uncertain future that everyone seems to have an opinion about. Has this area made San Francisco or has San Francisco slowly made this area? These question provide moments of reflection to passers by, a moment of inquiry to people taking a smoke break, or moments of rest for people sleeping on the street. The questions provoke more questions themselves, creating deeper reflections, almost like an infinity mirror.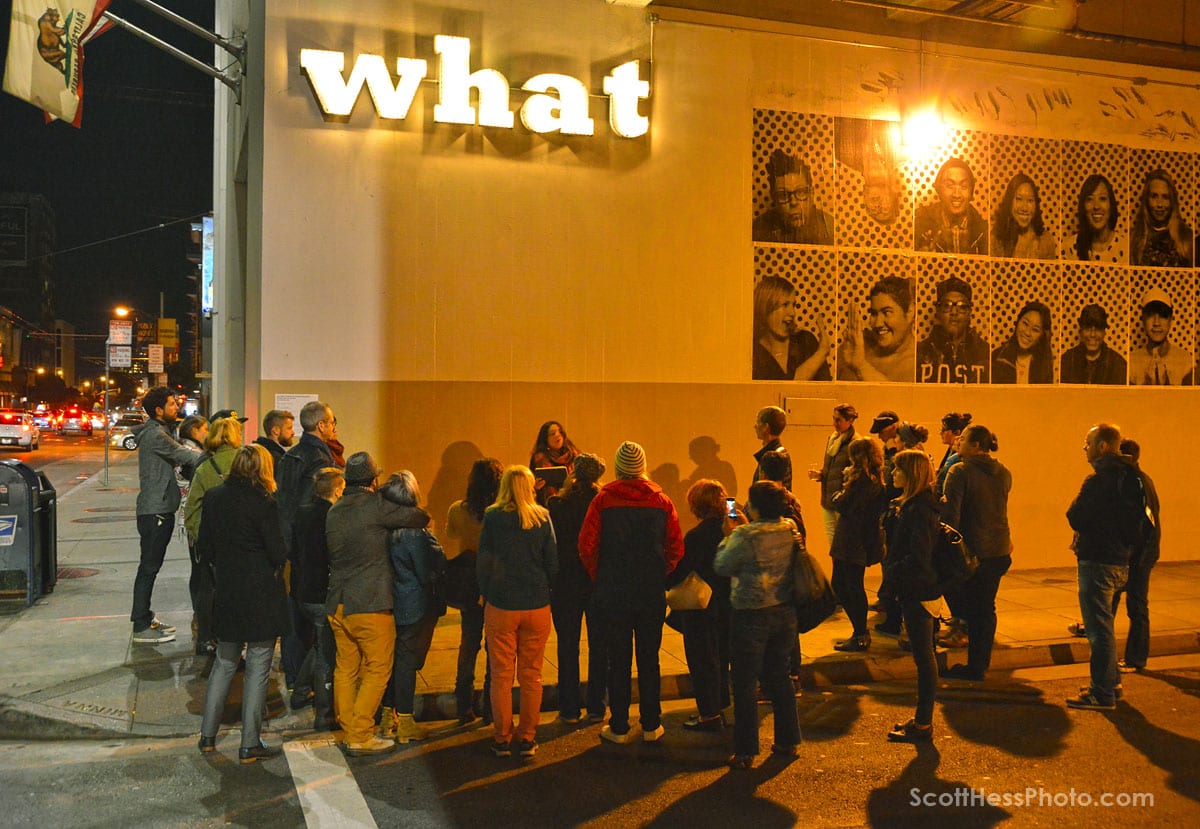 The 5Ws Project is an exploration of place. This inquiry unfolds as a public art and community partnership project utilizing the questions Who? What? When? Where? and Why? to provoke conversation and exchange.  We are working in collaboration with youth development and after-school programs, local community based organizations, artists and tenants and collaborators at the 5M Project to explore and reveal memories, traditions, cultures and histories of the neighborhood.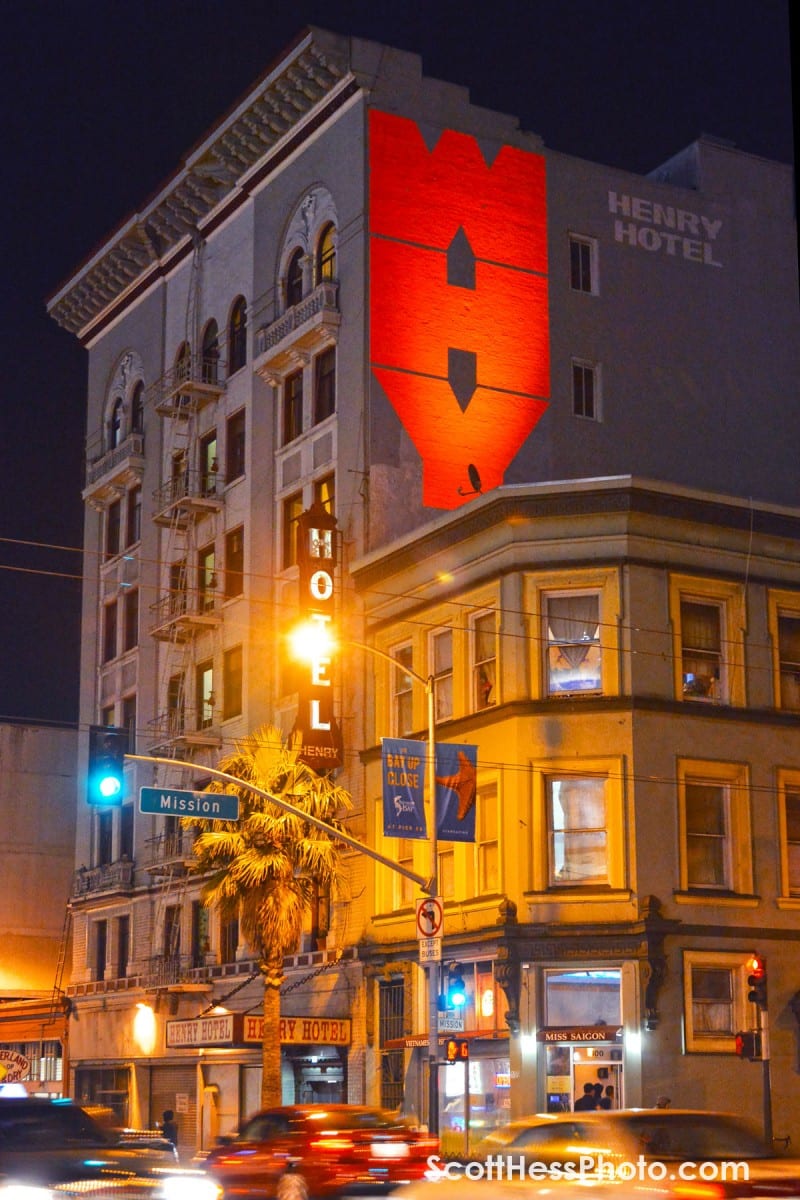 The 5Ws Project includes community chalkboards (located on Mary Street between Mission Street and Minna Street), community partnerships (including: Bessie Carmichael Elementary School, Bindlestiff Studio, CHALK, First Exposures, Hospitality House, SRO Collaborative/Sisters Rize!, United Playaz and West Bay Pilipino Multi-Service Center), a series of arts-based workshops, a re-purposed newspaper kiosk hosting exhibitions, illuminated sculptures and street furniture.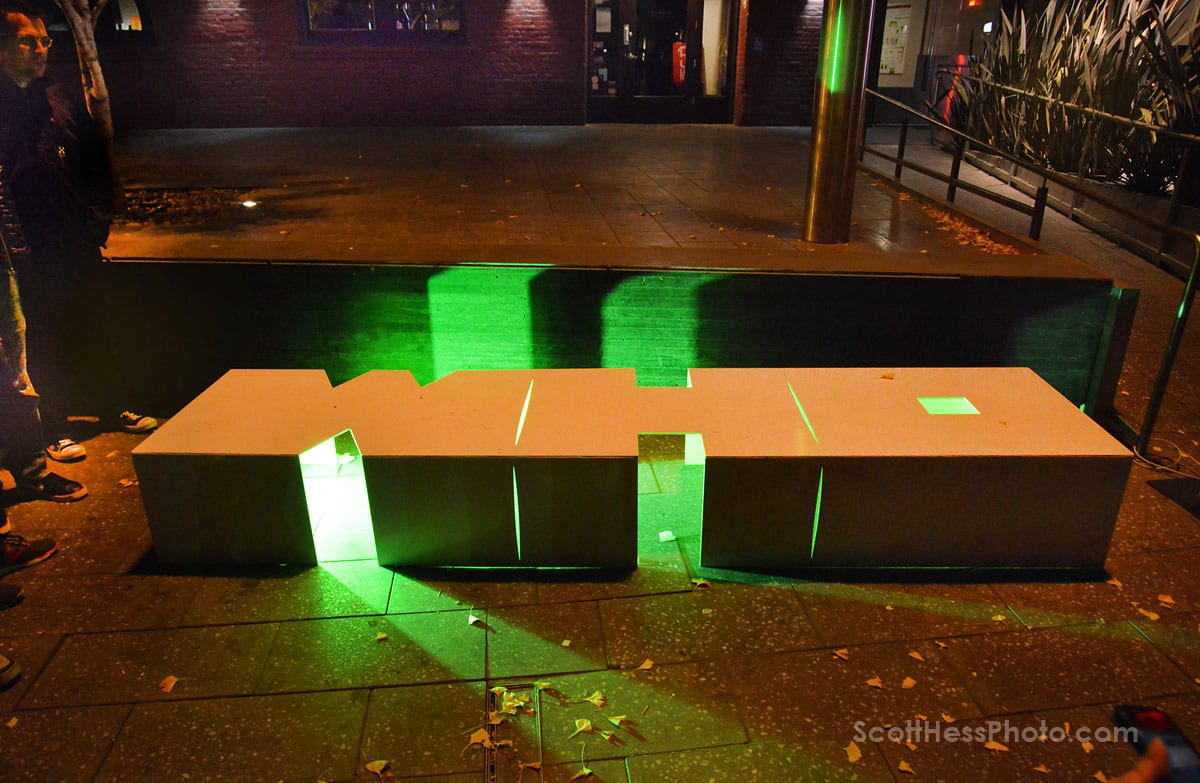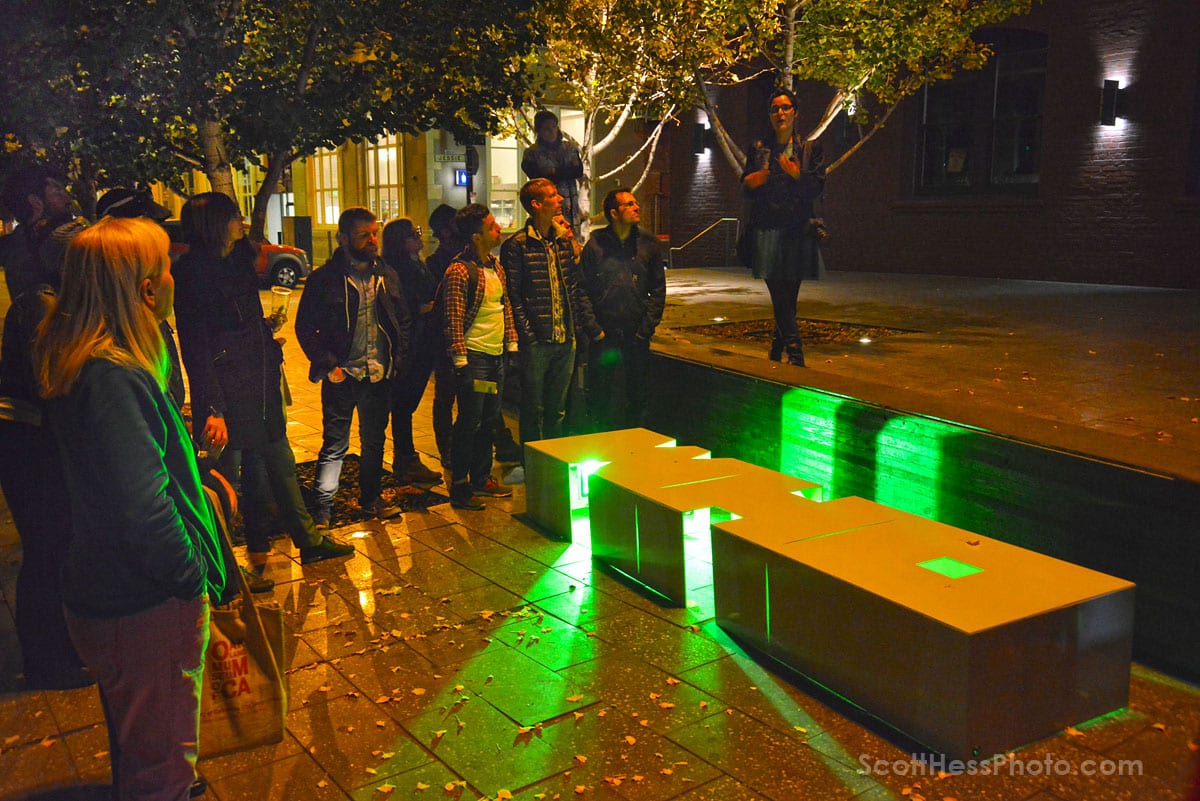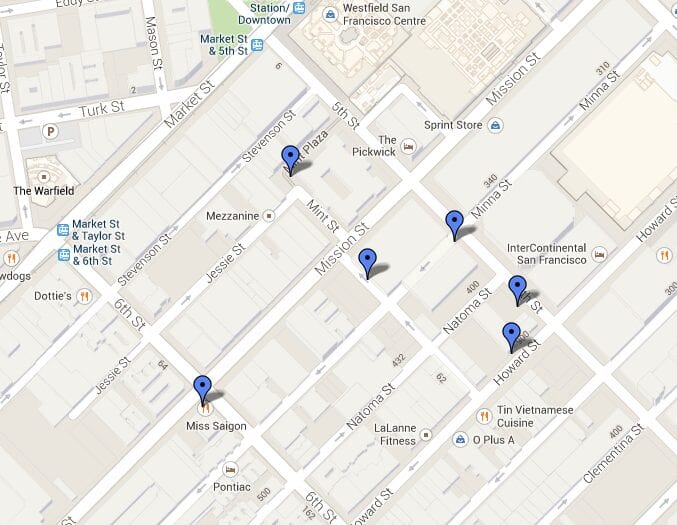 Featured Image: Ana Teresa Fernández, WHO, 7 gauge A36 steel, light, 10' x 28" x 15″, 2013, located at Mint Plaza
Images ©of the artist and Scott Hess Photography