I vaguely remember my first experience at NADA (New Art Dealers Alliance), sometime back in December 2009. "How snotty and hipster and repellent," I thought to myself as not one person (neither gallerist nor fairgoer) at the fair seemed to be in touch with the world beyond the booth.  Staring blankly into laptops and patronizing every person who came into contact with their booth, the gallery directors and assistants didn't seem to get the memo that this was an art fair and, whether they agreed or not, they were providing a service.  In the year 2015, NADA has proven that it can mature both in attitude and content: the vibe has considerably relaxed and the artworks have stretched across a greater range of media with each passing edition.
Critics, I think, really have no place at an art fair.  They're forced to come up with a parade of "Lists," "Top Fives," "Must-Sees," and fly-by-night interviews that eclipse thoughtful, considered enquiry. Essentially, they wander around the booths hoping to stumble upon either the familiar or the incomprehensible, ending up with little more than 500 to 1,000 paid words, several wasted hours, and a phone full of photos that will never be kept.  But when a fair behaves more like a pop-up institution, where fairgoers actually learn something new, and better still, when that fair is free and open to the public, the critic may finally have a perch to rest on in the way of reviewing an art fair.
Gorgeous spring weather and a prime spot on the East River at Pier 36 (known as "Basketball City") were certainly advantageous in supplying NADA NYC with a chilled-out sensibility. Inside, dealers, artists, curators, and writers all made their respective stops at over 70 individual gallery booths, a central portal of sound/film/web art commissioned by Daata Editions, an open performance/panel space, and a ring of tiny project spaces.  Geographic representation has widened for the fair, with artists and spaces hailing from Torino, Oslo, Minneapolis, Miami, Toronto, Sydney, San Juan, London, Rome, and New York (among others).  Where previous editions have mostly featured a particular grade of "aggressive abstraction" (in forms of slathered painting and lazy sculpture), more recent NADA fairs present video, sound, performance, and internet artworks as featured platforms, versus mere accompaniments to the actual exhibitor spaces.
Standouts for NADA 2015 included a set of cheeky, creepy paintings from Irish artist Genieve Figgis with Half Gallery (she's been variously called a hybrid of Goya or George Condo riffing on Baroque and Rococo masters), a curious set of small, cross-stitch tapestries from Jordan Nasser (who is also the Coordinator of Fairs and Editions for Printed Matter, Inc. in New York) courtesy of London-based Evelyn Yard, a humorous nod to Duchamp by Paul Gabrielli (with Invisible Exports) in the form of a wall-mounted soap dish with two pink nylon cords poking out from its center, and a series of headshot of discarded Hollywood heartthrobs with subverted homoerotic tendencies thanks to Oslo-based Rod Bianco and interdisciplinary, Berlin-based artist Vaginal Davis.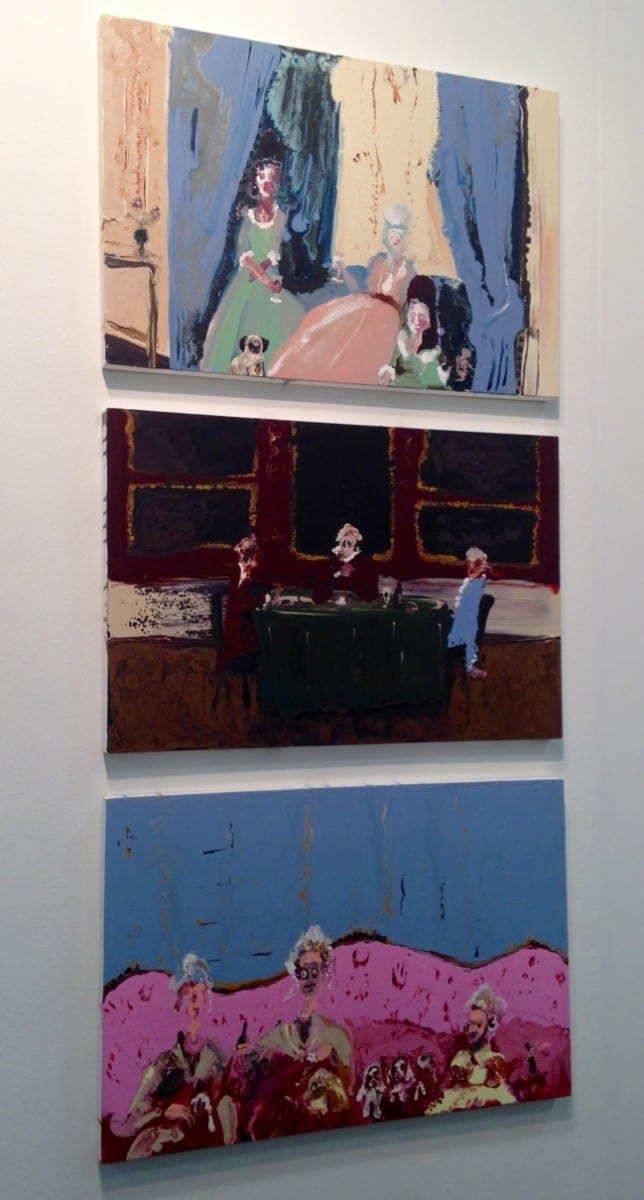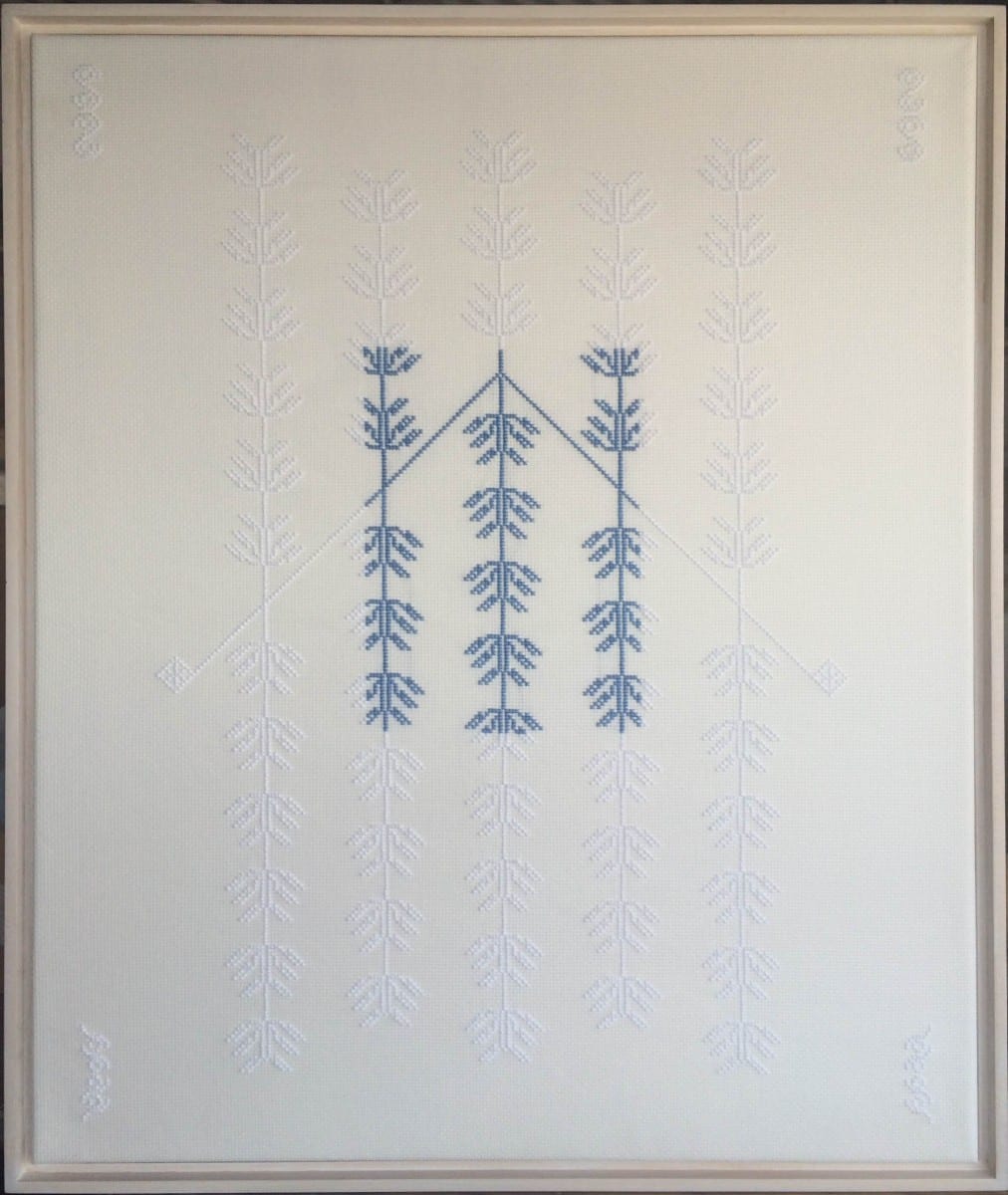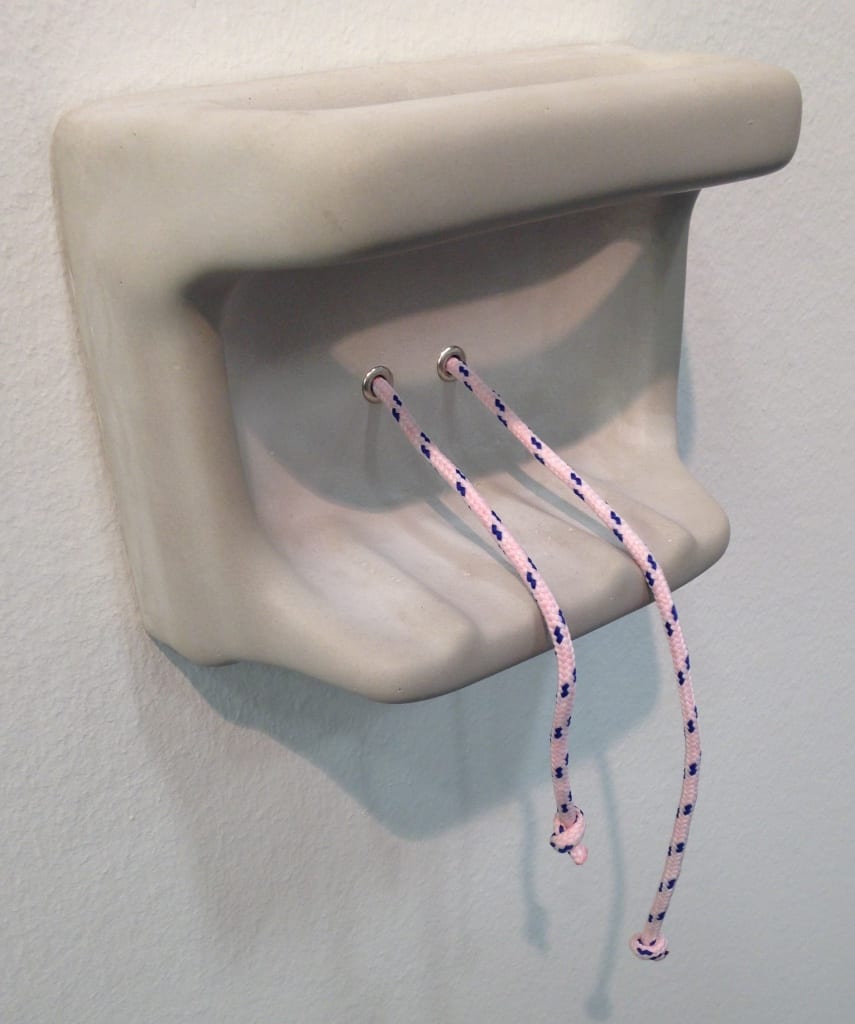 Of particular delight at this year's fair was a crisp grid of monochrome pussies (not the cats), by Betty Tompkins offset by a frenzied paper collage by Fay Ray with the Louis B. James Gallery.  I'm instantly excited every time I see the delicate, lyrical drawings and watercolors of Cameron (1922-1995) presented by Nicole Klagsbrun, and this year's selection was no disappointment.  Last but not least, a strangely haunting architectural installation made from foam, concrete, brass, and unique steel by Sandy Smith with London-based Space In Between: at first glance, it mimics façades and reliefs seen in examples of Deco architecture, but in three places presents hanging mobiles with tiny steel letters cut out that appear to read as  the word "ISIS" in repetition (according to the gallery, the combination of letters related to the Islamic terrorist organization is absolutely coincidental). Terrorist tessellations? Check. Craft art-turned-contemporary-art? Check. Sex, drugs, rock n'roll? All present and accounted for.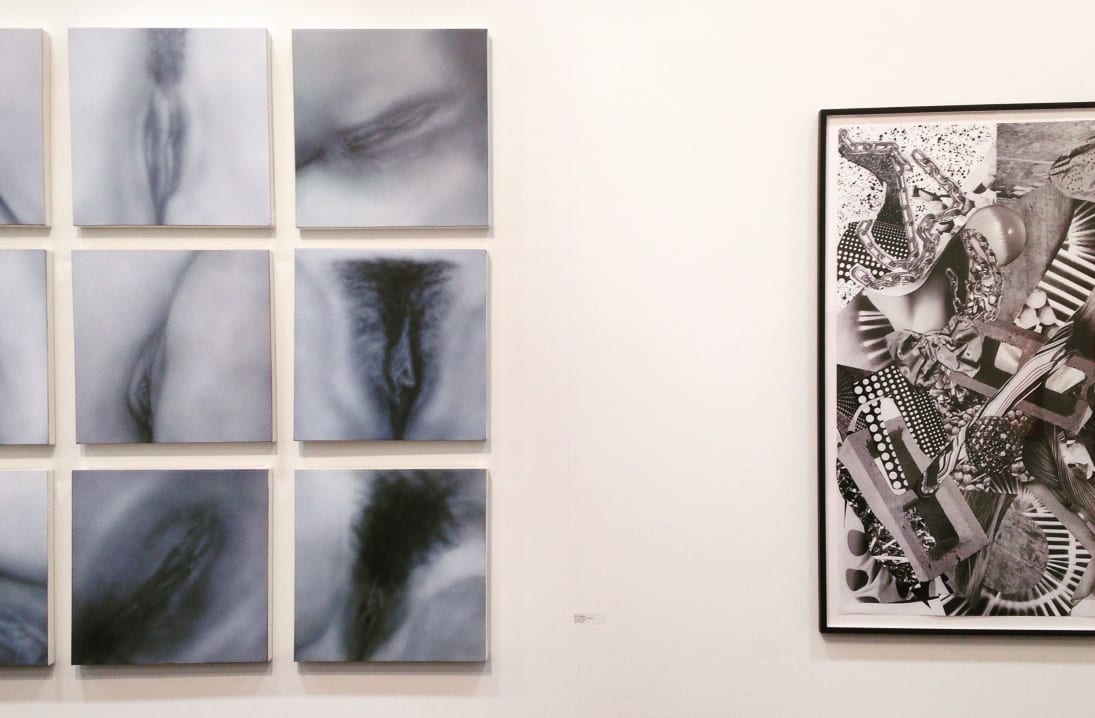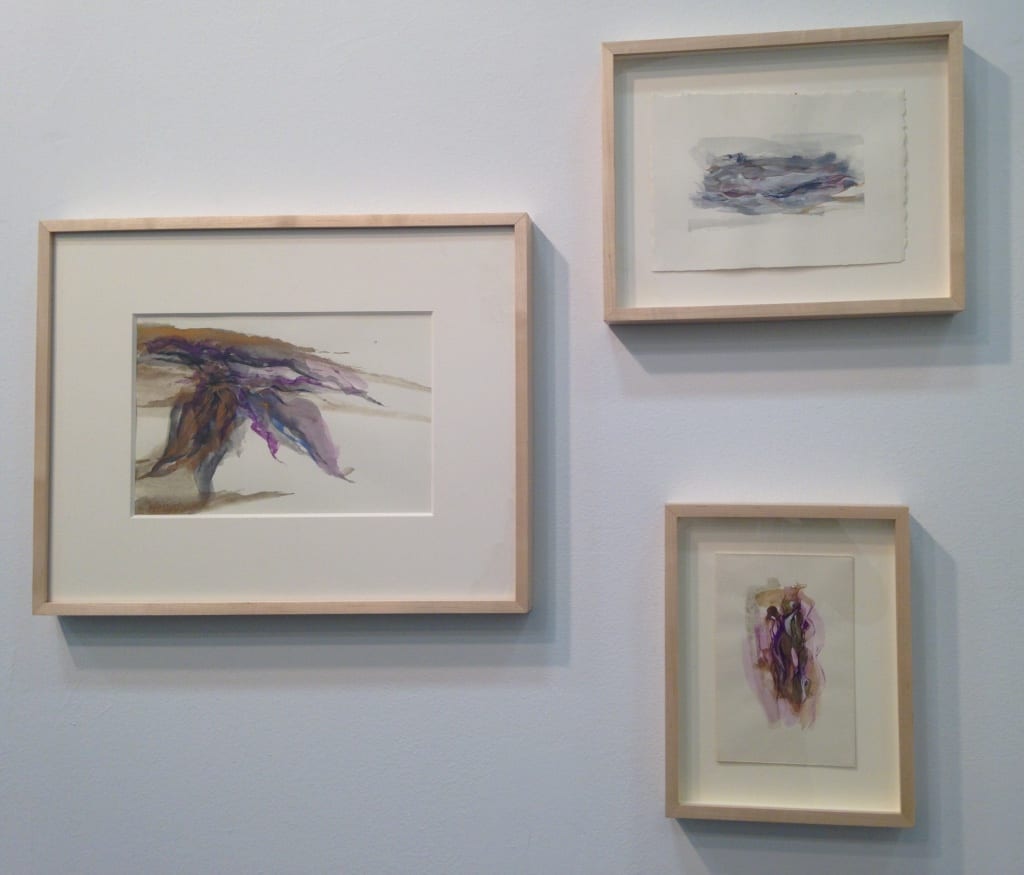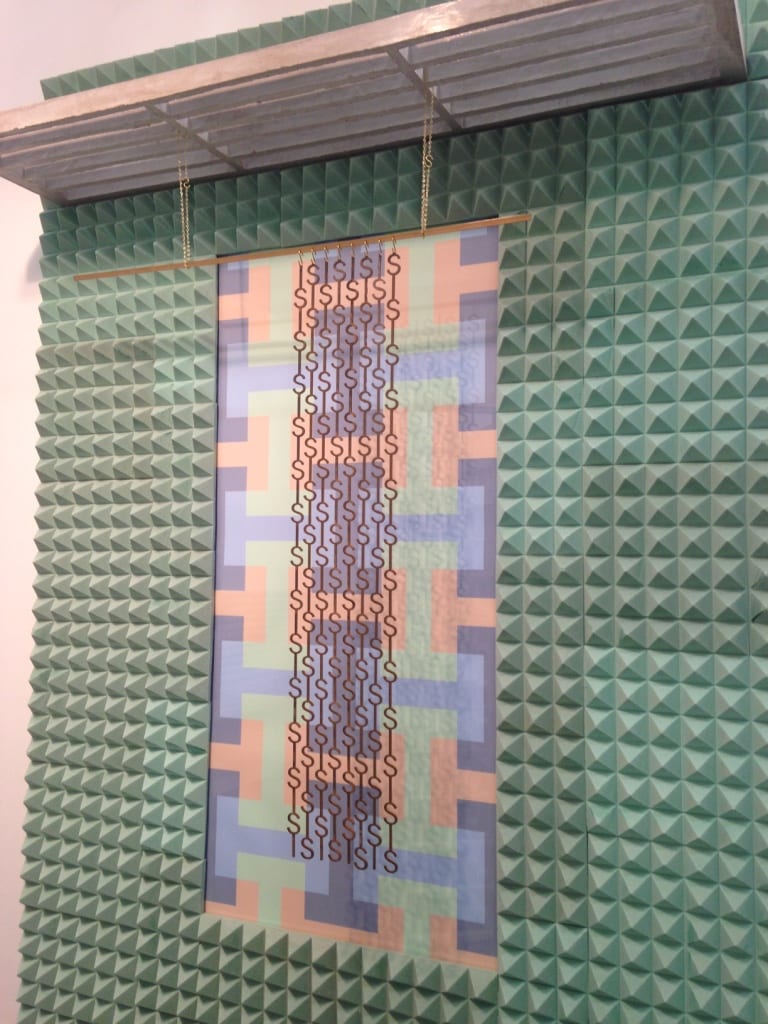 NADA NYC opened with a special VIP preview on Thursday, May 14 at Pier 36 (Basketball City) in New York and runs until Sunday, May 17. The fair is free and open to the public.