Basements are good places to play, licitly or not.  A person can tinker or experiment out of sight of people going about their day-lit lives.  Leeza Meksin has landed a body of new artworks into Airplane, a basement gallery in Bushwick, New York, that takes full advantage of its cellar opportunities.  She pinches, perforates and trusses a variety of netting and fabric to transform existing parts of the space and to make freestanding new things with titles like Fin Box, Landing Gear or Leg Fairings.  Ingeniously applied ratchet straps and zip-ties hold the mesh sheets to pipes and risers passing through the gallery so that their infrastructural function and intrusion into the gallery is embraced.  Bulges and clefts are teasingly conjured with a couturier's attention to the telling detail.  Meksin's craft bestows on architectural nether parts a coquettish charge.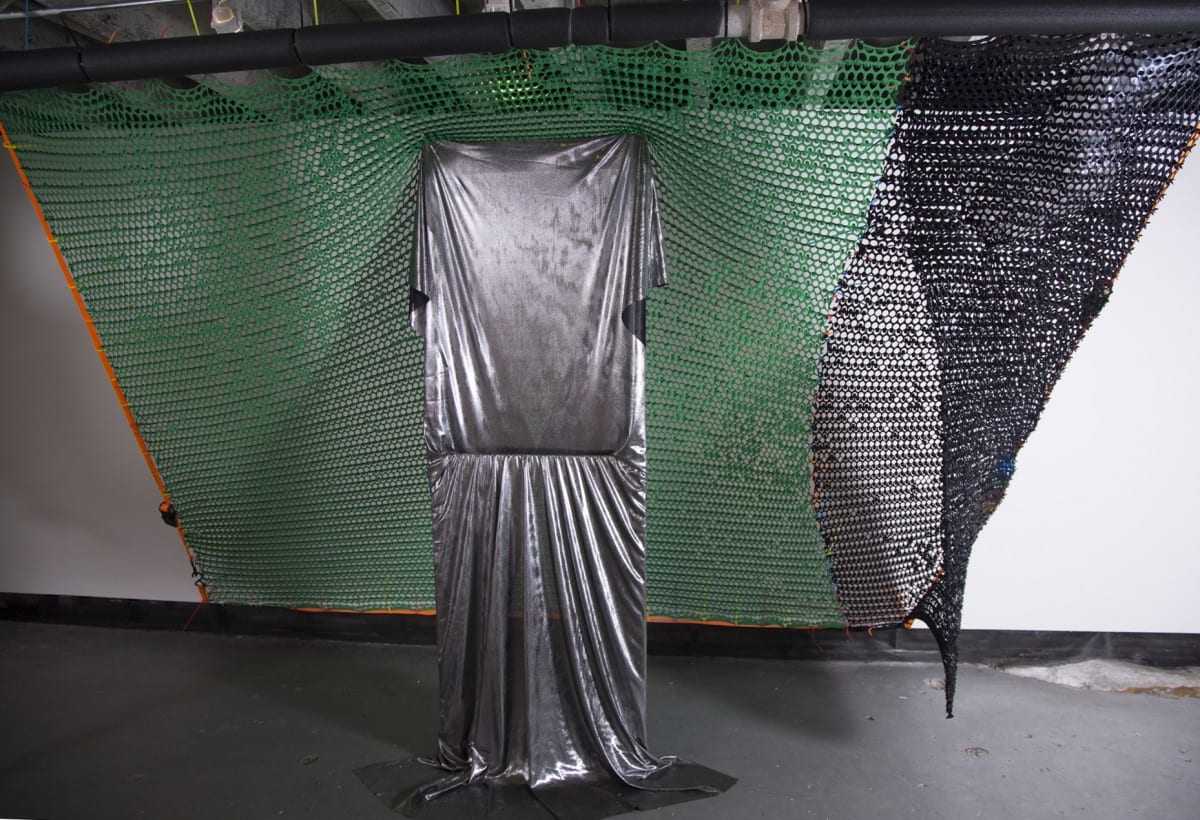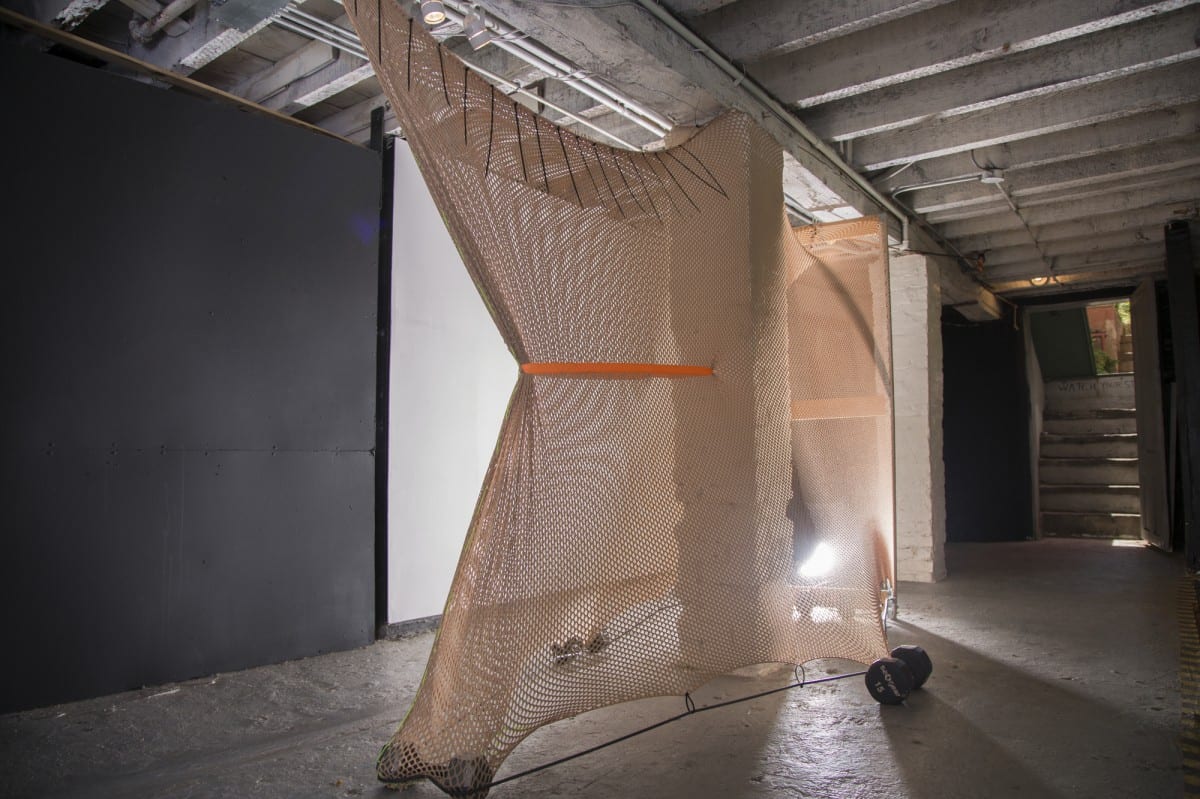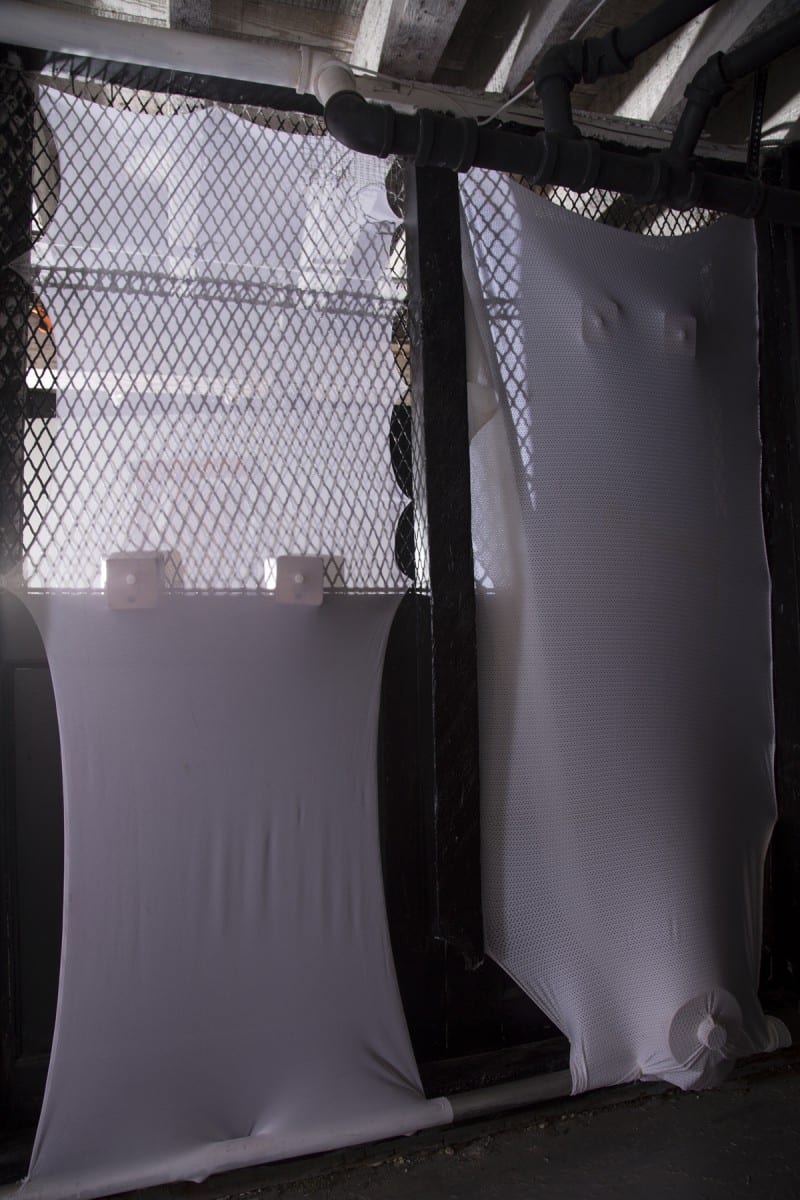 Stage and performer become fused in this futurist burlesque of warping grids and dynamic topologies.  Layered patterns of perforated material cause forms to shimmer and dissolve; color from overlapping sheets blends and mixes as we move around the space to see one piece through elements of another.  Meksin's sculptural performers thrive on our movement as the layered grids reorganize themselves according to our position.  Light falls through the mesh to splash patterns on walls and floor to further blur the distinction between objects and their surroundings.  Meksin celebrates the duplicity of form by scrambling display and disguise. Her work is charged with the turbulent energy of solicited and projected desire.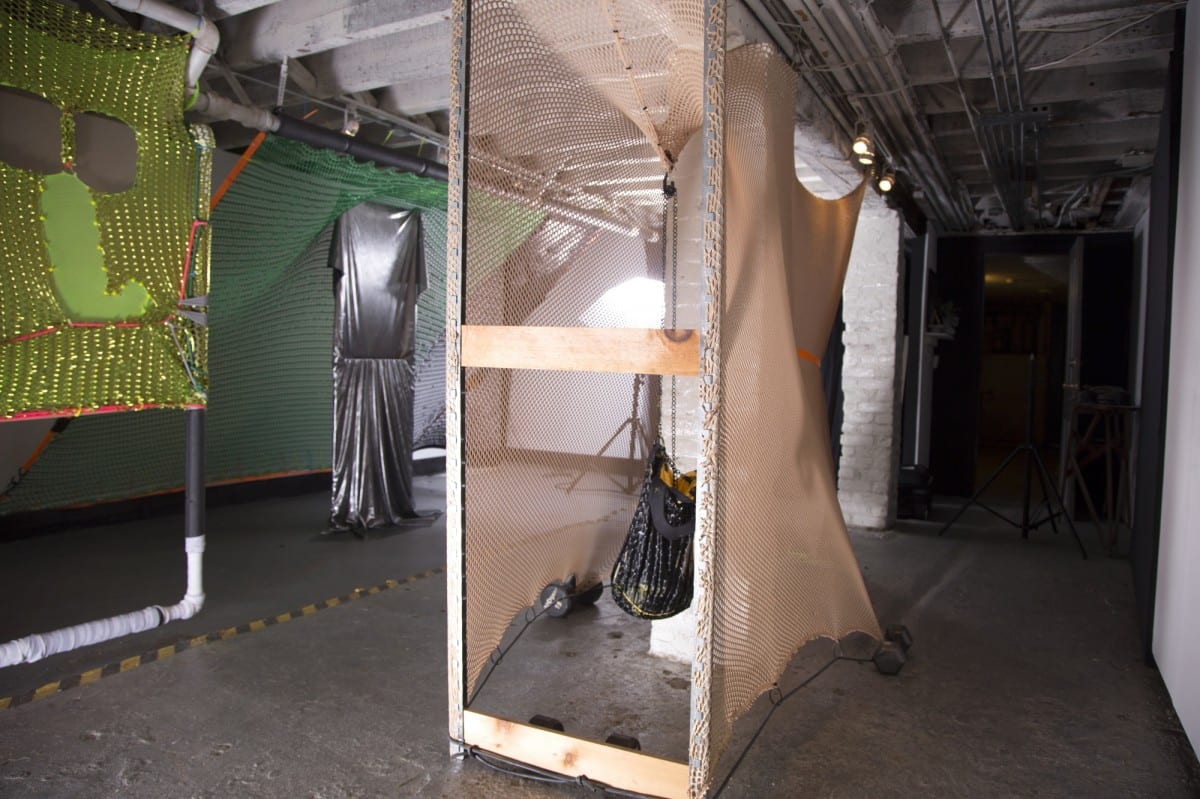 Rudder is a sculpture dressed up as a painting.  Its flatness presents a chance for Meksin to exercise her muscular abstract compositional instincts, and also to introduce simplified iconic imagery. Loosely framed by preexisting pipes, Rudder divides the Airplane space down the center to function as the show's spine (or guiding symbolic rudder.) Overlapping orange and green plastic fencing is interwoven with multi-colored bungee cords and power cables that secure the piece to its framing support and also weave abstract shapes into the polyrhythmic field. An orange yoni-slit down the center is flanked by suggestively cryptic glyphs on either side to give Rudder qualities of an ad-hoc gynocentric altarpiece.  Rugged fanciness, torn-fishnet stockings and disco-bedazzlements spice Meksin's disciplined formality with socio-mythic heat.