Aram Jibilian investigates the late Arshile Gorky through the lens of the glass house, the artist's final residence before his suicide in 1948 in his latest series of photographs Gorky and the Glass House.  An Armenian living in America in exile, Gorky's identity was in a constant state of flux and served as a point of inspiration for Jibilian.  The photographs delicately capture the ghost of an artist tortured by his past and trying to reconcile with the present.
Why did you decide to pursue your artistic practice on the East Coast? 
I was raised in Fresno, California, and moved to Los Angeles for college.  When it came time to apply for my graduate studies, I only applied to schools in New York City.  My twin brother and a close friend had recently relocated to the East Coast so that was part of the incentive.  However, a friend had taken me to the opening of a Nan Goldin show at the Gagosian Gallery in Beverly Hills, and this was when I fully realized I should be in New York.  The show was a mini-retrospective of Goldin's work, with lots of photos from her Ballad of Sexual Dependency series.  The images of the Bowery and Alphabet City ignited a desire to leave Los Angeles for good.  I had been working in the film and television industry for a few years at that point and had been turned off by the plasticity of Hollywood. Goldin's images provided a window to a place and a group of people- mainly artists- who seemed so "real." I found it all so attractive, glamorous, and tragic at the same time, which was similar to how my younger self felt and wanted to feel.  I come from a large Armenian family and most of my relatives lived, and still live, in the Los Angeles area.  In order to develop as an artist, I felt I had to leave this behind, and New York seemed like the place that would offer the most access to art and a new way of life.
What do you find distracting about your urban environment?
The most distracting thing about the urban environment is the urban environment.  There is so much going on all the time and there is a constant buzz of energy that I try to keep up with.  I find it difficult to spend lots of time alone working in my studio.  You have to learn how to say "no" to the distractions and expectations of others so that you can prioritize your work and develop your artistic practice.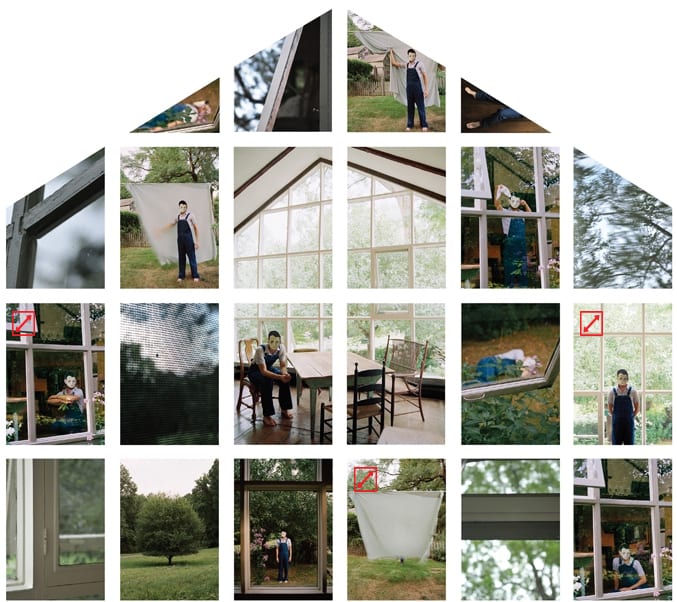 What do you feel is unique to your city? 
New York is unique in its adaptability.  There is no other place in the world I would want to be during a crisis.  I lived here through 9/11, blizzards, and the recent Hurricane Sandy, and the level of calm that New Yorkers maintain amazes me.  After each of these incidents, there was a quick call to civic action, people helping each other out and volunteering.  Unless you are born wealthy, it takes a lot of creativity, work, and spiritual gumption to maintain a comfortable life here.  You have to be willing to adapt to the changing needs of your chosen field and your community.  I think New Yorkers have certain sensitivity, intuition, and flexibility to deal with change.
What do you find most appealing about Los Angeles? 
The most attractive feature of California is the landscape.  Having grown up in Fresno, we were a three-hour drive away from the Central California Coast, Los Angeles, and the Bay Area.  Every time I am there, I marvel at the beauty of it all, especially the transitions from one area to the next: the dramatic rise of the I-5 as it ascends onto the Grapevine that announces your departure from the San Joaquin Valley, the wind farms off Pacheco Pass as you make your way to Northern California, and the dramatic change in the coastline as you drive on the Pacific Coast Highway.  It is melodramatic and prophetic.
What artists have influenced your practice the most? 
I continue to be influenced by Arshile Gorky, whose story and image serve as the basis for the Gorky and the Glass House series.  Although I am very much taken with Gorky's work, it's his process and life story that I find uniquely compelling.  Having relocated himself from his native Armenia to New York, he took the opportunity to dramatically reinvent himself – his name and his background.  I appreciate this acknowledgement that we are not fixed beings and can continually make choices that assist us in connecting with our true authenticity.  I feel like Gorky knew that if he had the baggage of his past laid out in front of him, it would affect the way people saw the work; it would be categorized as the work of a man who survived a great atrocity- the Armenian Genocide- instead of just being "the work." Although this idea of "art for art's sake" raises a myriad of questions and concerns, I appreciate his self-reinvention as an effort to achieve his artistic intentions.
Images courtesy of the artist
THE 20+20 PHOTOGRAPHY ISSUE
Aram Jibilian is featured within Installation Magazine's special 20+20 Photography Issue, which highlighted 20 Los Angeles and 20 New York City photographers. Download the full issue on your iPad and iPhone.