Ballroom Luminoso is characterized by its location under an elevated highway in San Antonio, Texas at the intersection of Theo and Malone with I-35. With semi-trucks rolling overhead, horns honking and music blaring out of open windows, the urban cacophony enlivens the permanent public art piece. Commissioned by the Public Art San Antonio (PASA), Department for Culture and Creative Development and one of the first projects to be completed as part of the Bond Program, the piece was commissioned with the goal of promoting "Neighborhood Connectivity." Defined as "public artworks that enhance various capital improvements and infrastructure to mark destinations and center points of established neighborhoods, cultural and historic places, and shared community space," Ballroom Luminoso does just that. Created by Joe O'Connell and Blessing Hancock, the installation serves as a bridge that blurs the distinction between cultural, economic and political lines. Ballroom Luminoso expresses the artists desire to make work that is meant to thrive in the unpredictable elements of the public rather than inside a sterile gallery.
Deep Captions Joe O'Connell and Blessing Hancock
SITE
The site was chosen by the city. The surrounding area is comprised of developing neighborhoods that the city is hoping to revitalize through a larger influx of funds supporting infrastructural development via streets, bridges, sidewalks, parks, recreational space, and cultural facilities. San Antonio is a very arts friendly city, however the cultural hubs are north of I-10 in the King William neighborhood and downtown. With this project, we were able to bring art to the southside and make a significant aesthetic impact in this forgotten space. Our goal was to create a piece that represented the specific neighborhoods surrounding Theo and Malone Avenues instead of the city as a whole.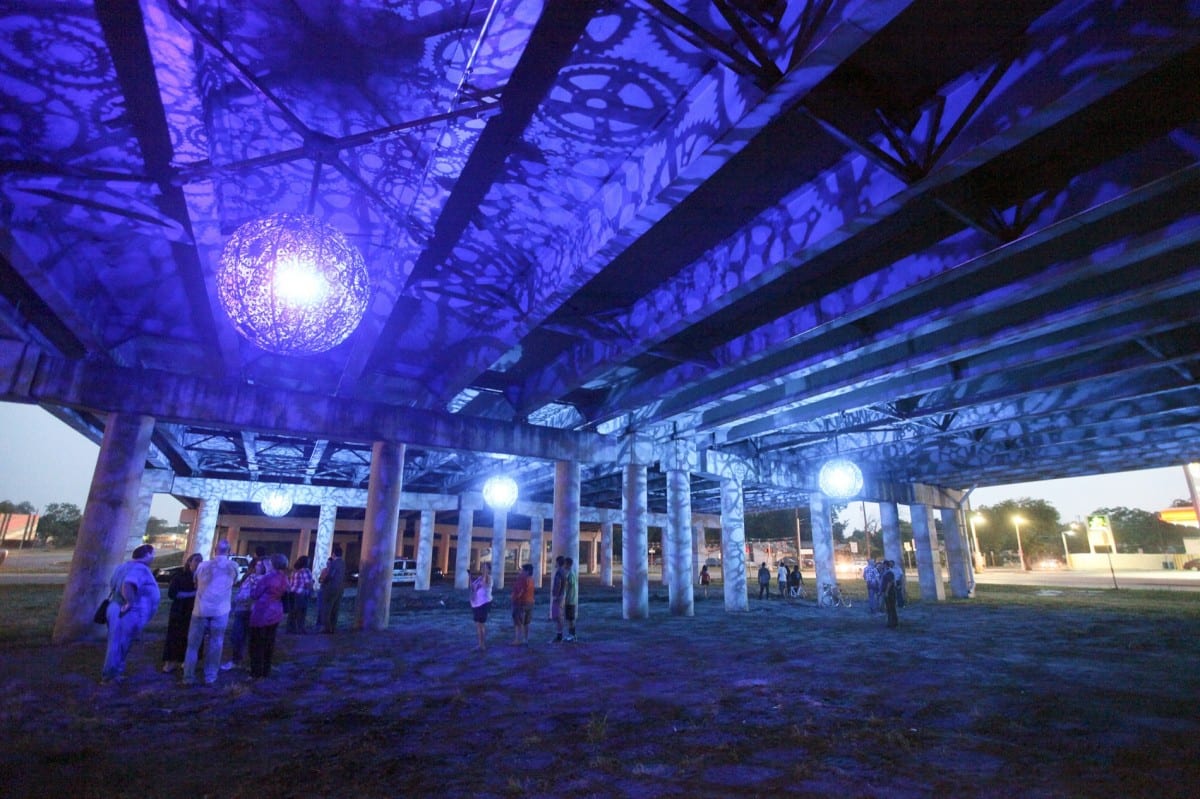 CULTURE
Immediately, we were drawn to the formal elegance and clean lines of the freeway underpass. It had an implicit dignity like an abstracted ballroom. We wanted to play on that contrast between the economic exclusivity of a ballroom with the humble trappings of the actual site. And of course ballroom dancing is something that both Anglo and Hispanic cultures share. The area largely hosted middle-income families with strong Hispanic ties. More recently there has been an ecological push to restore projects on the nearby San Antonio River and a desire to promote cycling culture or other green initiatives. The piece was an attempt to coalesce these histories and manifest a positive narrative for the neighborhood. We hope that it can become a place for people to gather.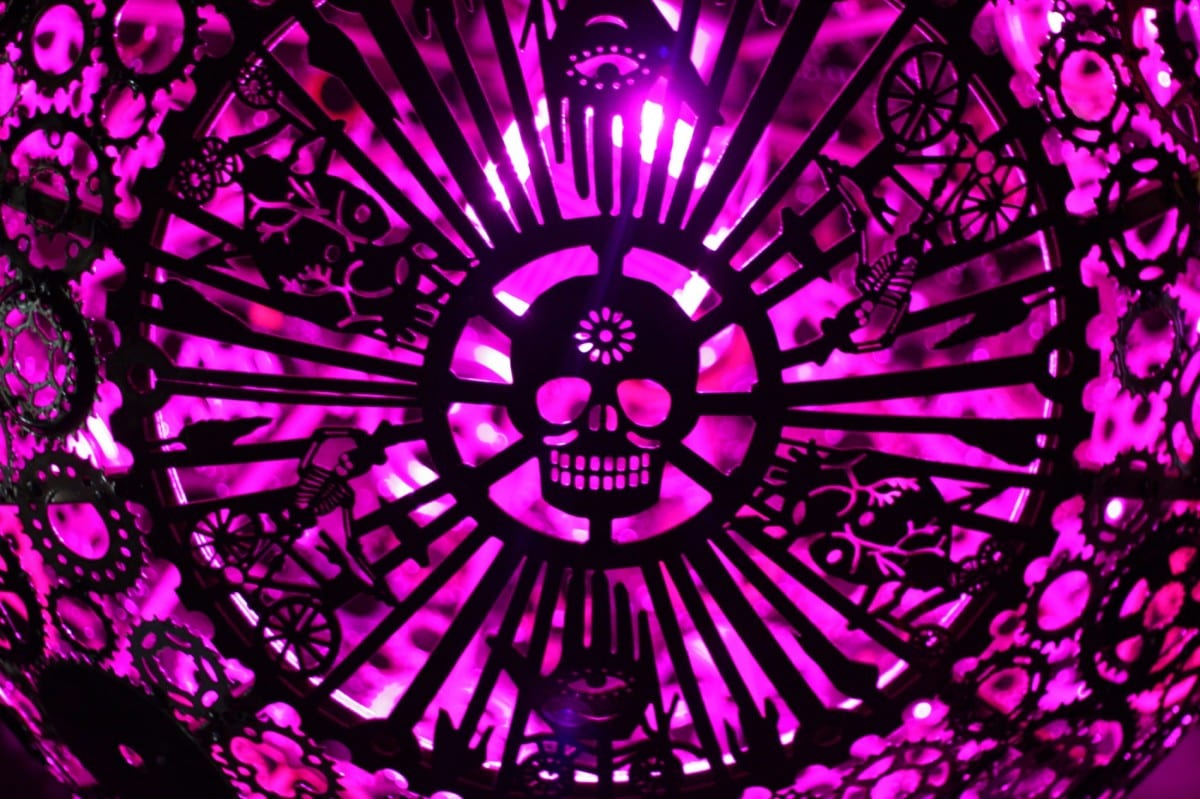 TECHNOLOGICAL APPLICATION
We wanted to shine an intense sharp-edged light uniformly in all directions, as if the light were coming from a single star in the center of each chandelier.  There are only a few LED emitters with enough light density (lumens per square millimeter) to achieve the kind of lighting we seek. The challenge is that they make a lot of heat. For outdoor installations, we cannot count on active cooling (i.e. with a fan) so we develop simple passive cooling devices – large heat sinks or fixtures that couple heat to large portions of the ground. For Ballroom Luminoso we developed large aluminum heat sinks that cool by natural convection. The heatsinks couldn't be too large, though, or they would separate the four LED emitters so far that they would produce distracting double-edged shadows where their illumination patterns overlapped. We protected the heat sinks with acrylic – a material we use for its long term UV resistance – and encased them in a clear silicone fluid that protects against moisture and conducts heat.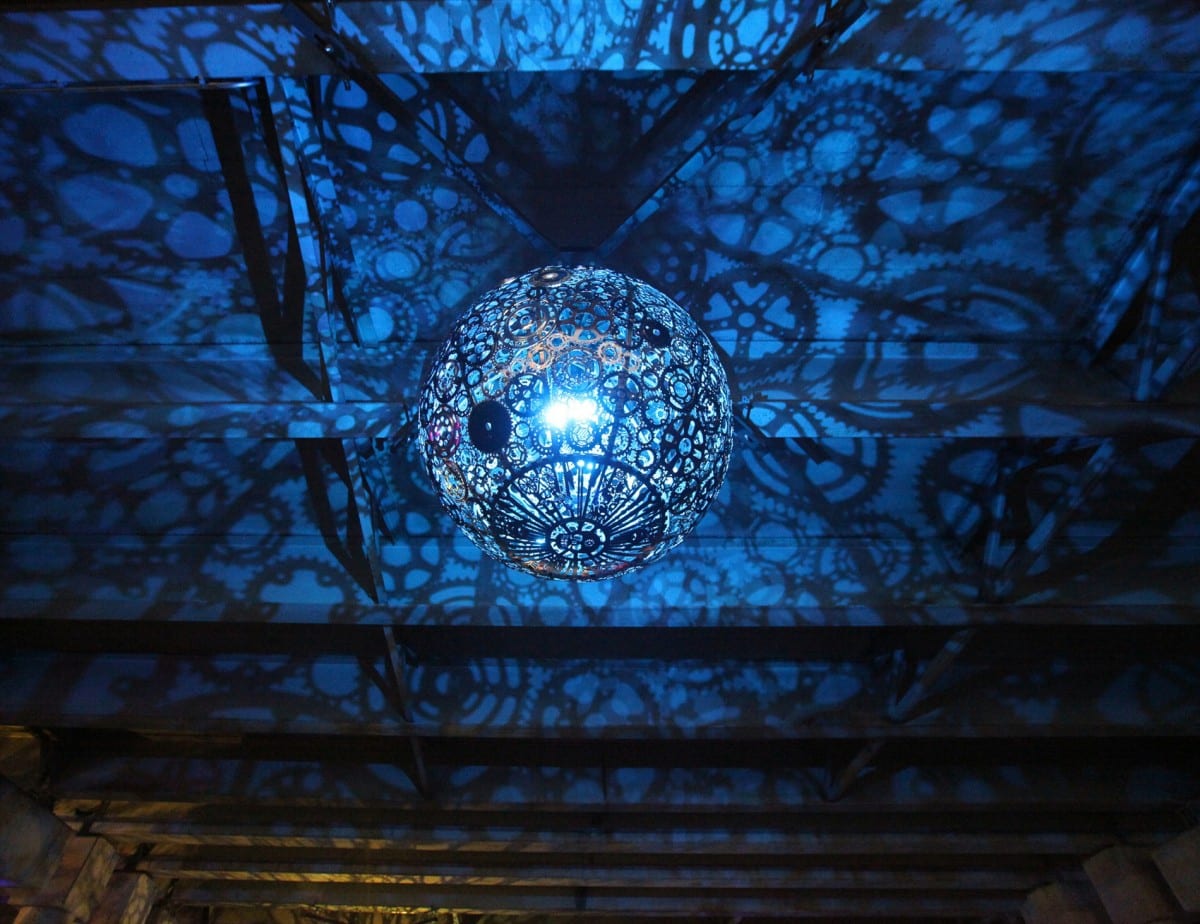 THE CHANDELIERS
Ballroom Luminoso embodies a spirit of rejuvenation and reinvention, but also explores many dichotomies. The piece is a series of chandeliers, but they are made from metal parts picked from junk bins. They create delicate, ethereal projections.  In the most basic light, the chandeliers manifest potential; meager origins developed into beautiful results. In addition, all the bike parts were recycled, and we gathered them from bike collectives across the country. Most of these collectives are volunteer-run grassroots organizations dedicated to improving people's quality of life. Through the process of collecting a parallel narrative developed for the chandeliers reflecting the spirit of these organizations and their desire to improve their surrounding communities. In a small way, this artwork was able help these organizations financially by buying trash parts. Therefore, the piece had a larger social impact that even just on the San Antonio community.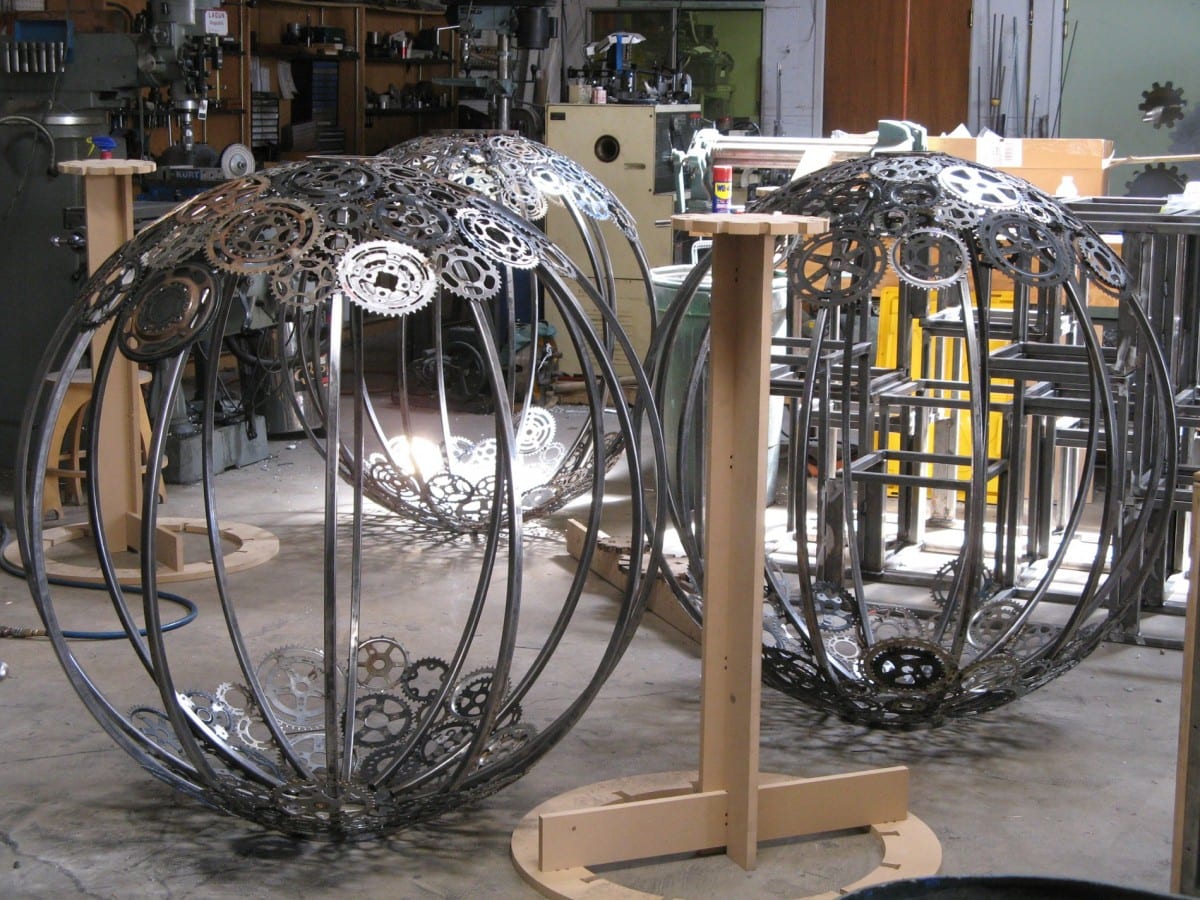 HOURS OF OPERATION
The lights turn on three hours before sunset and then turn off at 2am. With many of our pieces, the public art agencies ask the lights to be on for specific periods of time each day. Since we utilize particularly strong LEDs, we are able to turn our pieces on earlier, which results in a seemingly gradual process of illumination as the lights become more vibrant as the sunlight fades. The process creates these beautiful moments at dusk when natural light and artificial light intermix creating a unique landscape.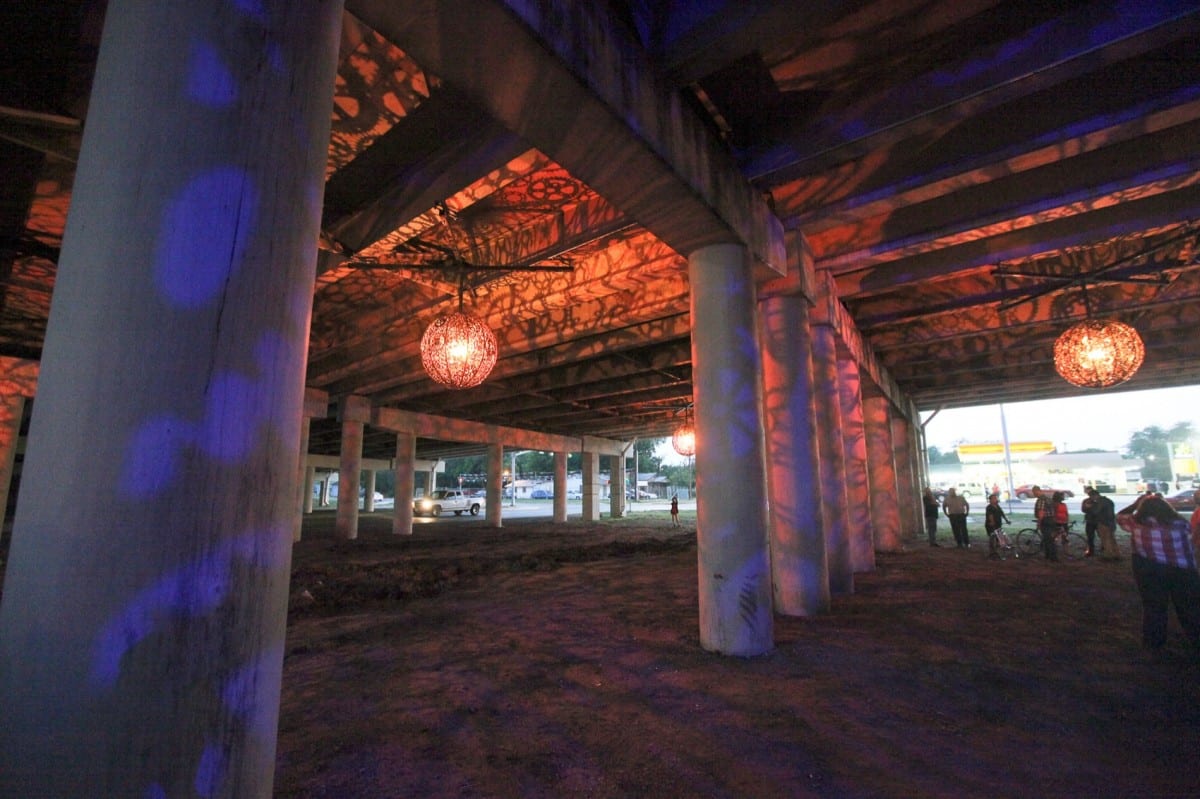 RESPONSE
We've received an overwhelmingly positive reaction from the public. People have really responded to the project's transformative power. The community is ripe for capital improvements and appreciates the inclusive of art outside of downtown tourist-centric San Antonio. We heard a lot of comments like "It's about time" or "finally, there is art for another part of the city." It was a great opportunity to work on this site, and this piece reflects our ideological desire to bring art to spaces and people who traditionally have not had public art.