In his latest work No Exit, Los Angeles based artist Danial Nord blurs the boundaries of mass media by using artifacts of popular culture as his subject.  Utilizing LEDs and computers, Nord converts blockbuster films into raw audio-visual energy that drives his sculptural installation.  No Exit is currently on view as part of the California Pacific Triennial in the Orange County Museum of Art until November 17.
"My professional career in television and film taught me the 'tools of the trade'… now I'm countering that experience, using the same skill-set to probe the periphery of media culture." -Nord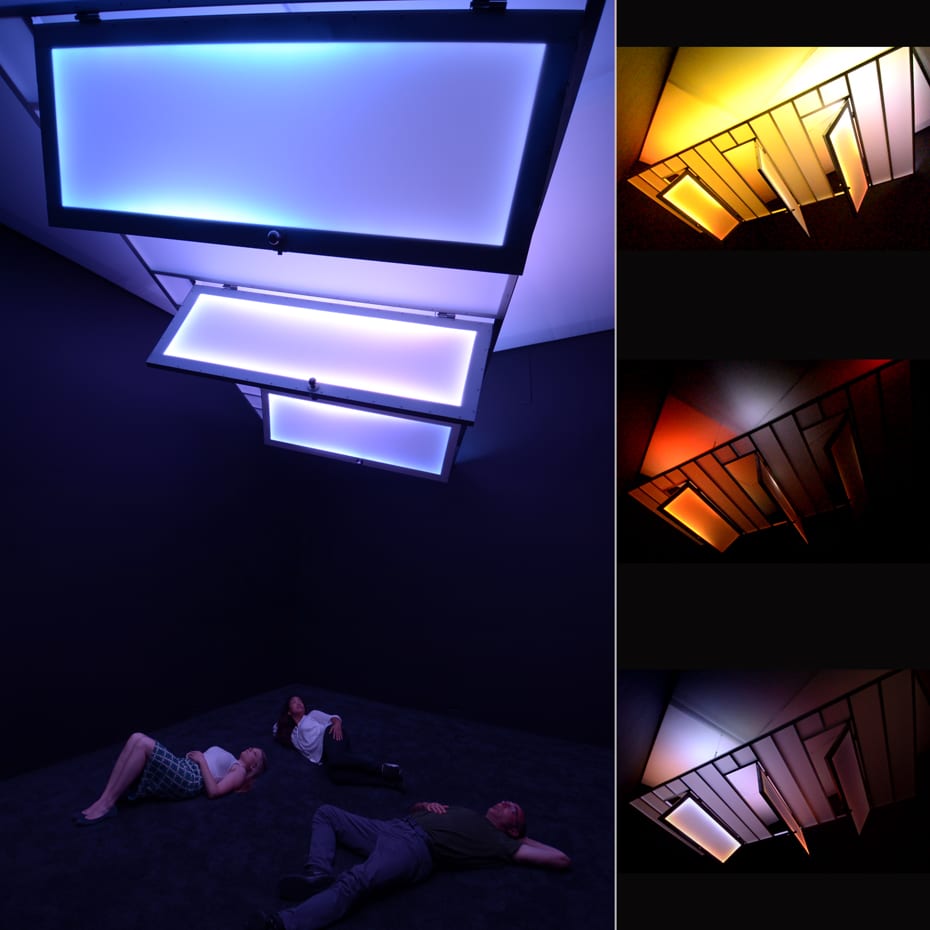 Breaking Out of the Box
Since 2010 I've been working on a system to build structures and forms that radiate the light and energy of mass media, without direct narrative or the use of traditional monitors and projectors.  No Exit is the first project in this vein that I've exhibited.  The steel-framed, polycarbonate skinned wall, complete with open doors, is suspended fourteen feet overhead.  The structure houses hundreds of LEDs that emit color, light and motion from an endless montage of apocalypse themed Hollywood films.  Completing the sensory deluge, the soundtracks play directly from the movies driving the installation through a robust audio system.  The flexibility and discreet size of the LEDs enables me to build just about anything (like a video-driven Erector Set) and infuse it with the dynamics of pop culture.  Formal structures become visceral, hybrid experiences.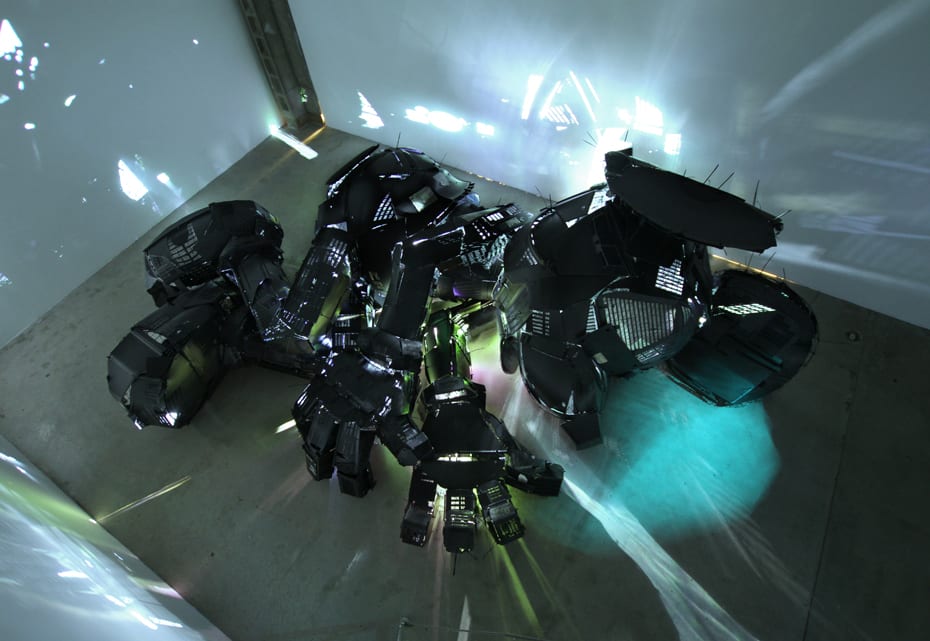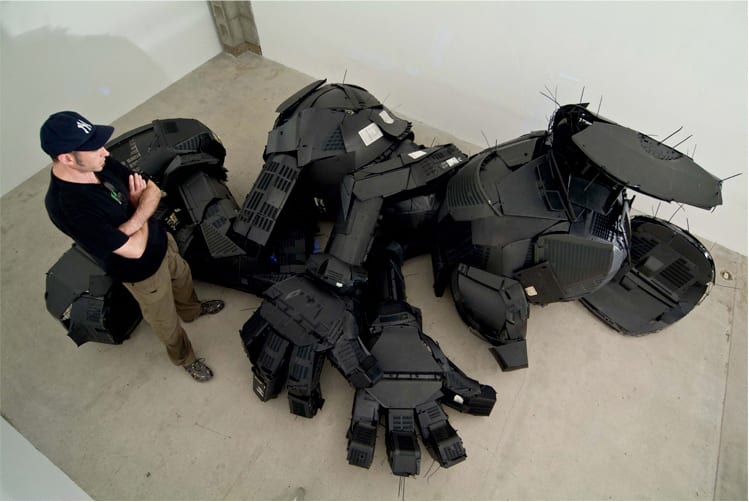 Recycling
In 2011 I created a seventeen-foot long Mickey Mouse for State of the Art, an installation exhibited in the C.O.L.A. Fellowships Exhibition.  The sculpture was pieced together from the backs of discarded televisions that I collected from LA's Department of Recycling.  The hapless Mickey-monster pulsated with light and sound, radiated via a system of internal video projectors, mirrors and speakers.  The installation was driven by a video remix of the Mickey Mouse Club's opening sequence, but the imagery was subverted in favor of color, light and motion as with other works.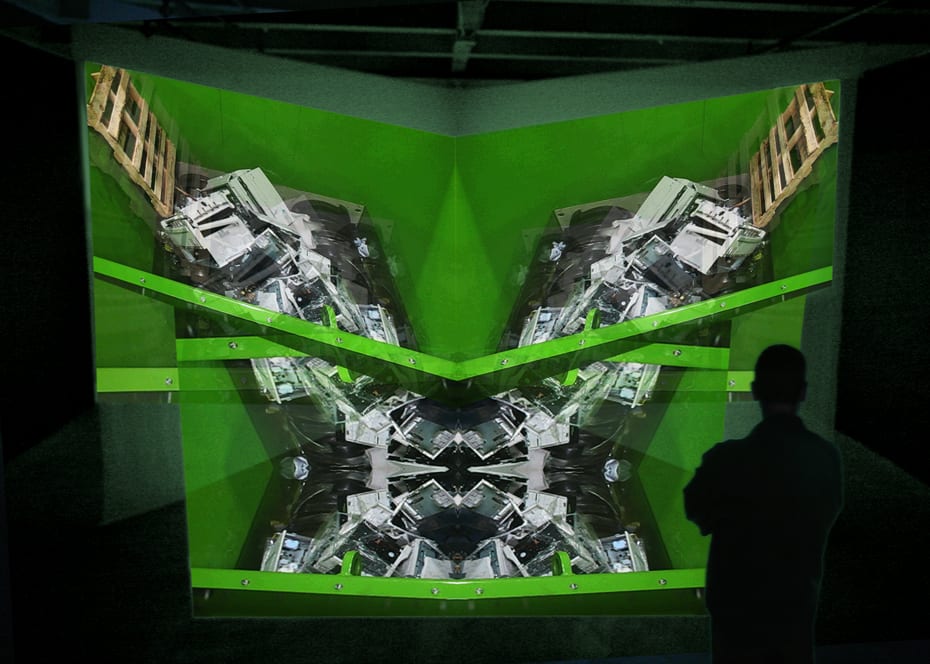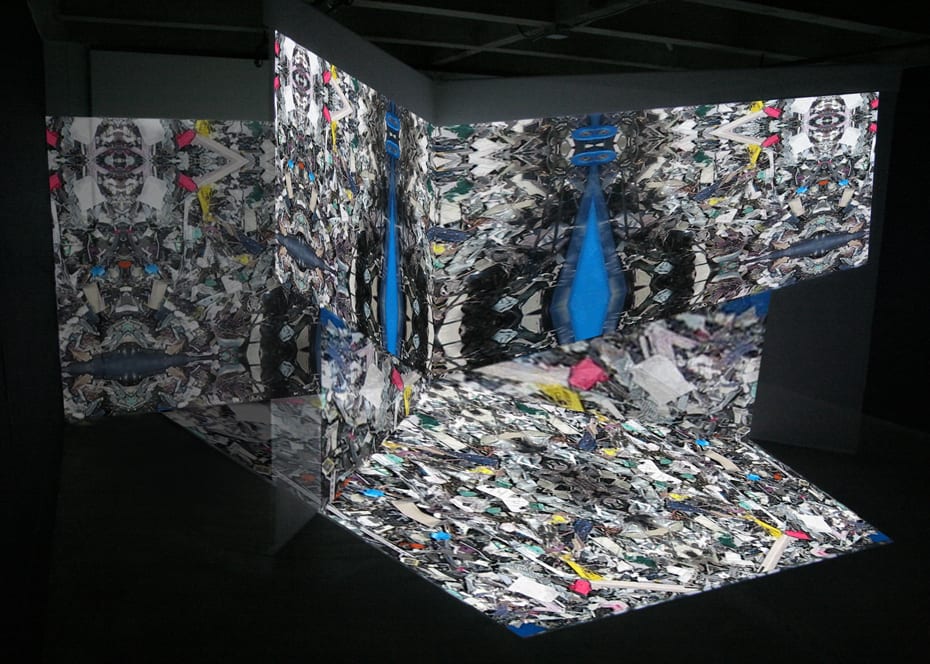 Fate Machine (2008) was a large-scale kaleidoscopic video installation in which giant mechanical shredders pulverized piles of discarded computer components that tumbled to their disintegration as e-debris.  Translucent sculptural projections onto the walls and floor, along with a cacophonous soundtrack, created an immersive techno-industrial spectacle.
These projects give new form to cast-off electronics and materials while also sharing themes of disposability and obsolescence, commenting on our culture of consumption and the global conundrum of e-waste.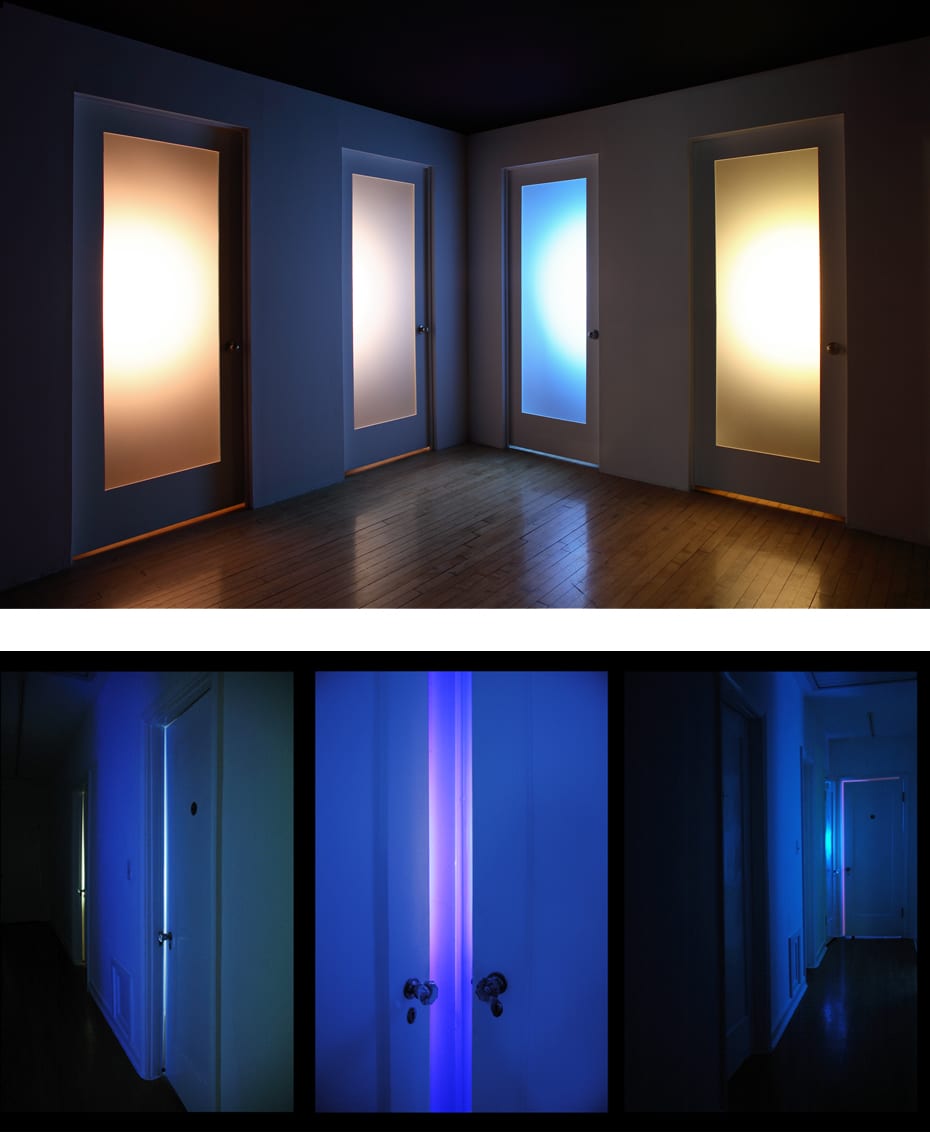 Obfuscating the Image
In 2007 I created an installation entitled Private for a solo show at HAUS in Pasadena.  In this work, couples' ferocious arguments culled from four Hollywood dramas streamed from behind four almost closed doors in a narrow hallway.  Playing on large screen TVs, colored light from the movies pulsated through the cracked doors and beautifully animated the space.  The vile aural content of the fights was made visually appealing through the obfuscation of imagery; the work was simultaneously attractive and repulsive.
 In 2009 I revised the piece for an installation at the UCR California Museum of Photography.  Although it was more evolved in its formal presentation, the work featured the same paradox, aestheticizing its ugly subject matter through light and abstraction.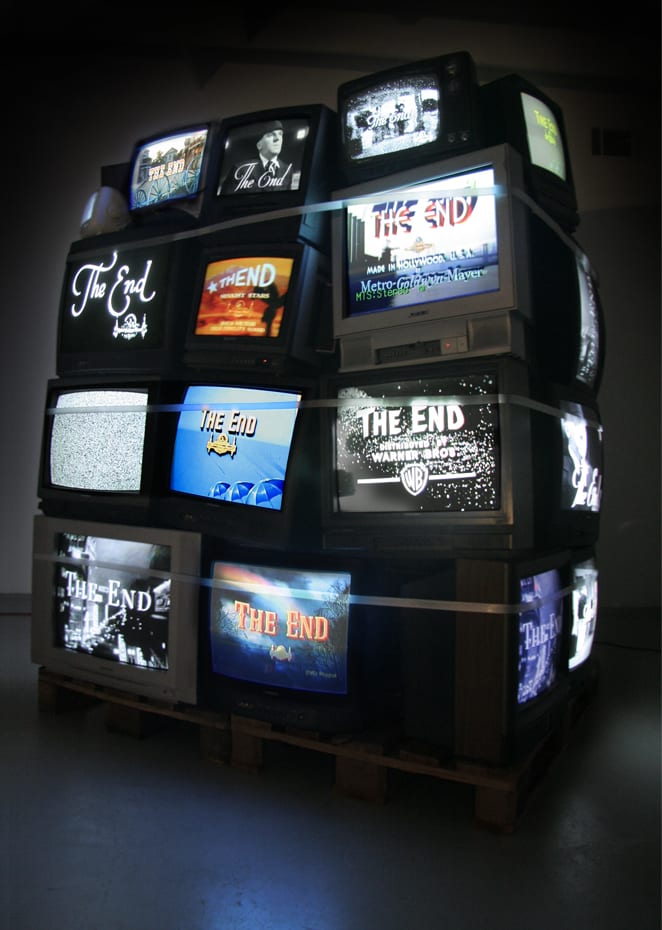 That same year I created Monument, a sculptural mass of outmoded analog television sets and discarded electronic components, palletized and readied for disposal.  The forty recycled TVs simultaneously streamed hundreds of climactic endings culled from Hollywood films, resulting in a glowing, polyphonic swan song that signaled the end of an era.
 All of my recent installations explore peripheral aspects of media: environmental, sociological, and sensory.  The dialectic that I established in works such as Private is the basis for current projects.  I've disposed of cumbersome televisions as the source of light, and replaced them with video-driven LEDs that can be elegantly maneuvered in three dimensions to activate tight spaces or massive structures.
Featured image: Danial Nord, No Exit, installation of 2013 California Pacific Triennial at the Orange County Museum of Art, 21' x 15' x 14'6", 2013. Photographs by Gene Ogami ©Danial Nord
All images ©Danial Nord