Since making its Basel debut in 2005, VOLTA has crafted and refined an authentic narrative and experience which has always made it unique from other art fairs. Created by and for collectors and art lovers, VOLTA feels refreshingly approachable, making each edition an invitation to engage in a dialogue with international gallerists and artists. The authenticity of VOLTA has resonated with us at Installation Magazine for many years and we are pleased to announce our renewed partnership which aligns so seamlessly with our own vision.  A. Moret speaks with the newly appointed Director Kamiar Maleki about the guiding principles of VOLTA that harken back to its roots- Discover, Connect and Collect.  As a lifelong collector, Maleki has revitalized the art fair with a volt of creative energy as it opens for the first time in Basel since 2019. 
VOLTA Basel's September edition signals a celebratory moment as it marks the return of art in real life.  As the Director you have the inherent responsibility of curating the fair and selecting galleries that engage in a dialogue with VOLTA's diverse community. This September however presents an additional set of challenges after an unprecedented year where fairs were closed and were only experienced virtually.  What has the road to Basel been like? How did you revitalize the spirit of the fair within your team and among your roster of gallerists and artists?
Well, first of all, thank you for being our media partner for such a long time. We really appreciate it.  It was a very interesting and very challenging time.  I knew that when I took over from Amanda Coulson that [I was inheriting] a legacy, and [taking over] for someone who's been at the fair for such a long time.  As a collector, I've always enjoyed coming to VOLTA and have been for a number of years and I have also made some great discoveries.  And I think what we wanted to do initially- and actually, the pandemic has helped us in a way-   that we probably wouldn't have imagined because we had that first fair in New York in March.  And then we had no fairs.  And that's what allowed us to sit back focus and think, "what is it that we wanted out of VOLTA? How could we change the landscape? How can we be more relevant? What can we do with VOLTA?"
A time of tremendous uncertainty seems as though it offered an opportunity to meditate on the values intrinsic to VOLTA's narrative.
We looked at three points.  We're about discovery, we're about connecting and we're about collecting.  And our core idea now is really to think globally but act locally. So we want to reinvigorate and bring out new collector bases, talk to the grassroots collectors and work with local PR agencies.  The road to Basel has actually been extremely fun because we rebranded, re-emerged and we positioned ourselves.  But I think we have a little bit of a edge in the sense that I also come from a collecting family.  I collect myself and I know what a collector wants.  I know what a collector sees and I know what a collector wants to envisage when they go to a fair.  We have a dedicated hardworking team that has been with the fair for the last 11 odd years and we kept the nucleus alive.  We're very excited about Basel.
What considerations are made when reviewing a gallery for inclusion at VOLTA?
You have to remember, there's nothing stronger than a fair that has been created by dealers for dealers.  First of all, my, we have a three-part vision.  One of my visions is to get the good old galleries to come back again.  The second one is to really be relevant to try and find ways to see what the new movements are in the art market to try and find ways to attract a new breed of gallery.  It's really about finding interesting galleries that have good programs, that might get overlooked by the bigger fairs.  We're going to have the first NFT gallery at an art fair at Basel.  And then we're going to have another one of our galleries showing an NFT artist.  So it's about cultivating a new collector base. It's about discovery. It's about looking for and finding new artists.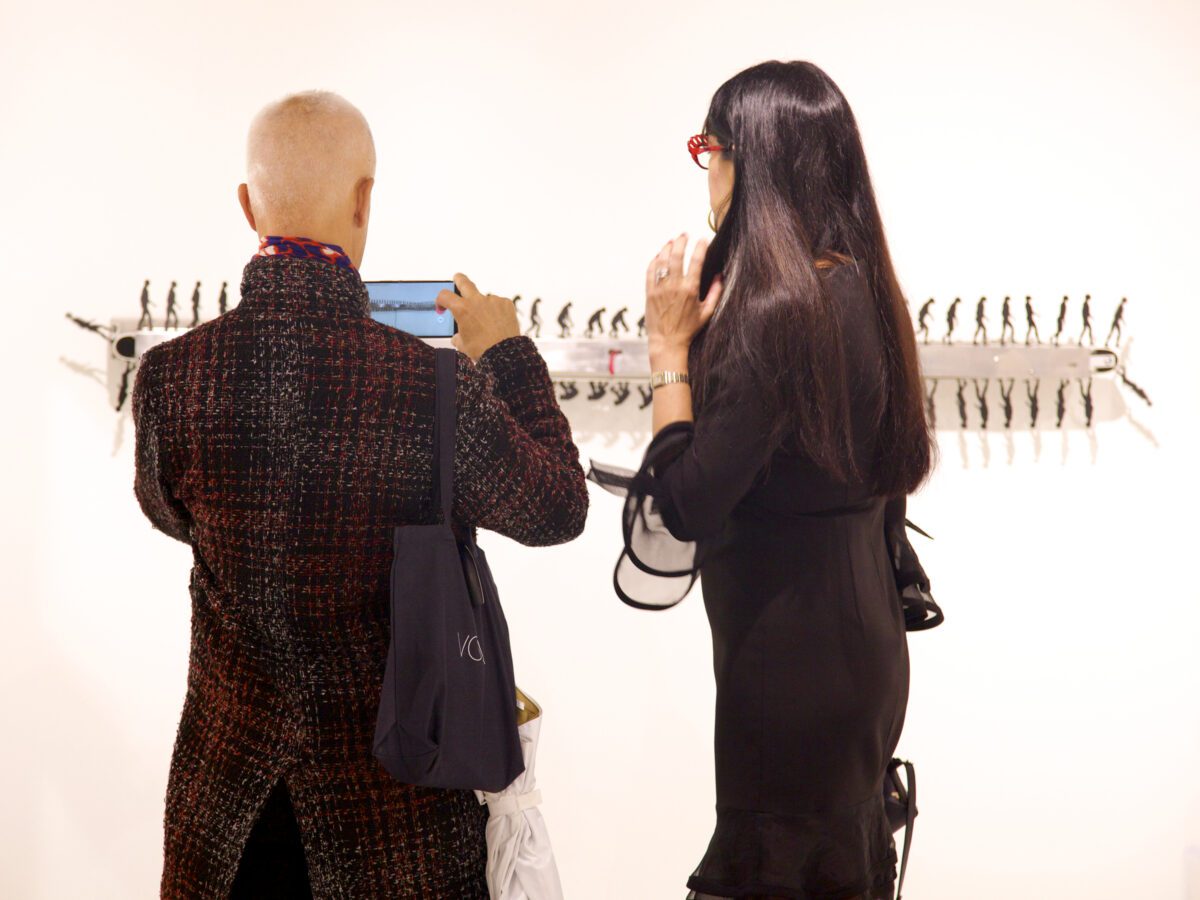 I am especially intrigued by the inclusion of the NFT into the art fair environment because it positions digital work and currency in a physical space.  And to your point, this further strengthens your desire to discover.
Yeah! For me art has always been about talent- it has never been about sex, age, race or medium.  When you're fortunate enough like me to grow up in a collector family that has grown up with fabulous arts, young art, old art, you have had the opportunity to meet artists, you develop a sense of understanding of how they work and what they do.  There are no bad artists, it's just the way you present it, it's just how you package it and how you are able to sell it.  And I think now is an exciting time.  One of the main reasons why NFT's's have exploded the way they have is because it gives power back to the creative.
As part of our pre-fair coverage, we will present ten galleries by asking them the same set of questions about their programming and how they fit within the VOLTA's ethos. How did you determine which galleries would be chosen for our editorial?
It's not by hierarchy.  It's not by how many times you've appeared in VOLTA, [rather] it's a just by the chance thing that we feel that we want to highlight these galleries not necessarily for any reason particular.
How does the layout reflect the way in which you want the visitor to feel when walking through VOLTA?
First of all, we have our secret weapon, which is Brian Fee (the Gallery Liason) who is what I call "Encyclopedia Britannica." So he really knows every single artist, every single gallery, every single person that has exhibited at VOLTA for the last 12 to 15 years.  I think it's a question of "how do you want the viewer to view this?" Symmetry is very important for me.  I love a fair that is symmetric.
How has your personal history of collecting informed your perspective as a Director?
When we left school, [my father] gave us a budget to buy artwork, and he said, "You're only allowed to buy art with it. You're not allowed to do anything else. If you buy something we buy it together after research.   If you sell it, we sell it together and you tell me why." I think your collection grows as your vision grows.  I think one of the things I love most about this job is that I see so much art.  It's all about the discovery, actually.  I love reading.  I read a lot of the PDFs that I get and I love conversing with artists and with directors.  I get to communicate with various people.  The journey itself is fabulous.  For me, the education process is never-ending.  My collection is very, very varied.  It started off as paint on canvas, predominantly. This is funny because I once heard a collector describe VOLTA  as the "painters fair."
Over the past year and a half we have grown accustomed to online viewing rooms.  In what ways do you feel that the virtual experience and the abundance of information the platform offers can be beneficial in how we discover new artists and collect?
I think we were one of the few fairs that didn't do an online viewing room, primarily because we had so much work to do to create our content and to create our mission statement moving forward.  But we decided that we'd rather concentrate on the in-fair experience, rather than the viewing rooms.  The viewing rooms are part of the future.  I think first for me, it was about creating a new experience for VOLTA and its visitors.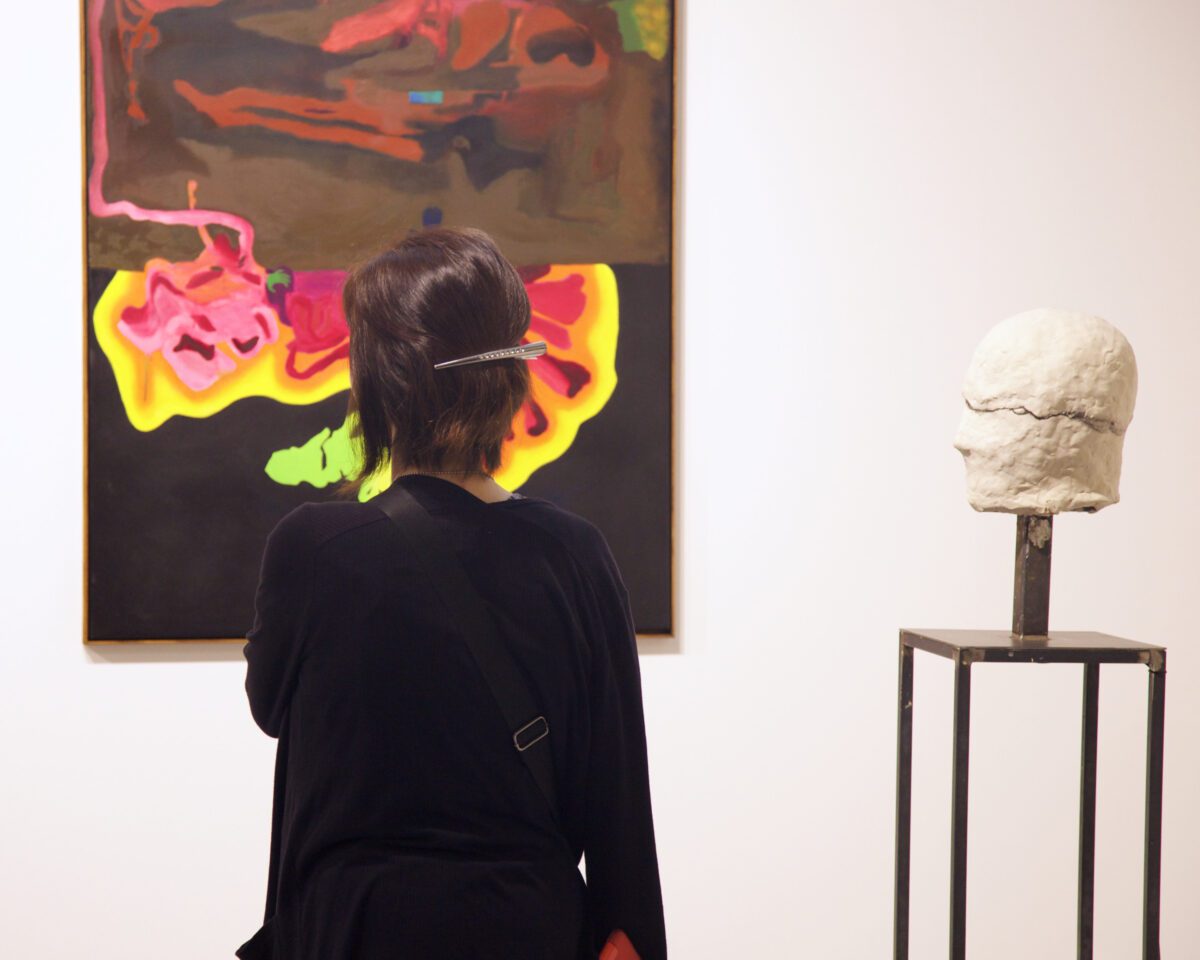 The creative journey is rarely ever black and white. How did you remain connected to your love of art and maintain an unwavering sense of discovery despite the uncertainty?
I mean, it's definitely been challenging.   I didn't have as many white hairs as when I started, but you just have to remain positive, of course, it's difficult.  You plan and then you cancel then you plan and then cancel and you have to motivate your team, which works extremely hard long hours.  We only have a team of three people running three art fairs at VOLTA so it's, it's very small, but it punches a big punch.  So you have to come up with ways to motivate.  You lead by example.  I think you just have to stay positive.  If you don't have any fairs if you can't travel research, read, reach out to galleries, talk to them, see what their problems are, see how you can help them.  One of the things we launched purely out of that actually was "VOLTA Voices," which is talking to galleries, talking to people who have collected with us in the past, talking to people who have supported the fair, and giving back to them.  Then another thing a lot of the people that liked it was even though we couldn't travel, we still had friends who were international.  So we did our "Monthly Reports."  As a fair we try to bring our readership together, we try to bring our collectors together and make them feel part of a family that we're all struggling that we're all having a tough time.  And that's what VOLTA is about.  It's about the community spirit that the galleries have with each other and the collectors have with the galleries and that we all have with you the readers as well.
VOLTA Basel is set to occur from September 20 – 26, 2021 at Elsässerstrasse 215, concurrent with Art Basel in Basel Week.
To celebrate our partnership with VOLTA Basel, Installation Magazine has created a limited-edition logo.  Rendered in our traditional block stamp, we have incorporated the "A" from the rebranded VOLTA logo, seamlessly integrating our unique identities into a single frame.  We have infused the "A" with the electric green color-way of the September edition.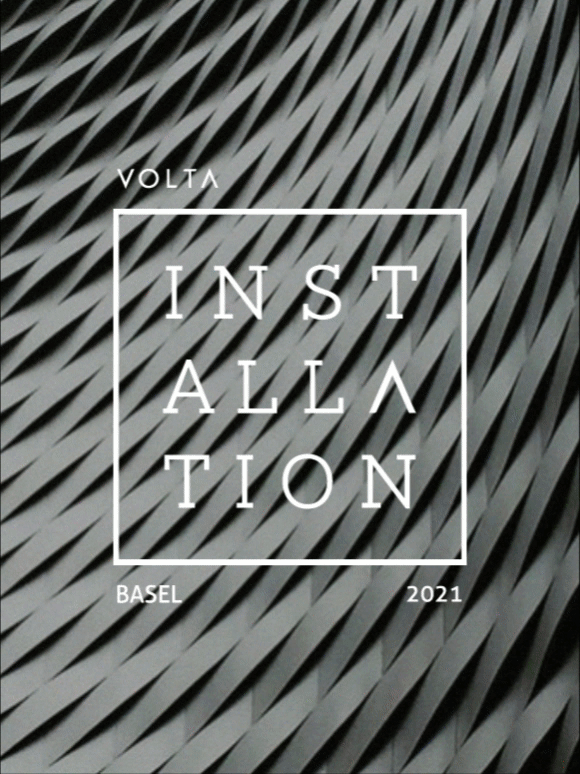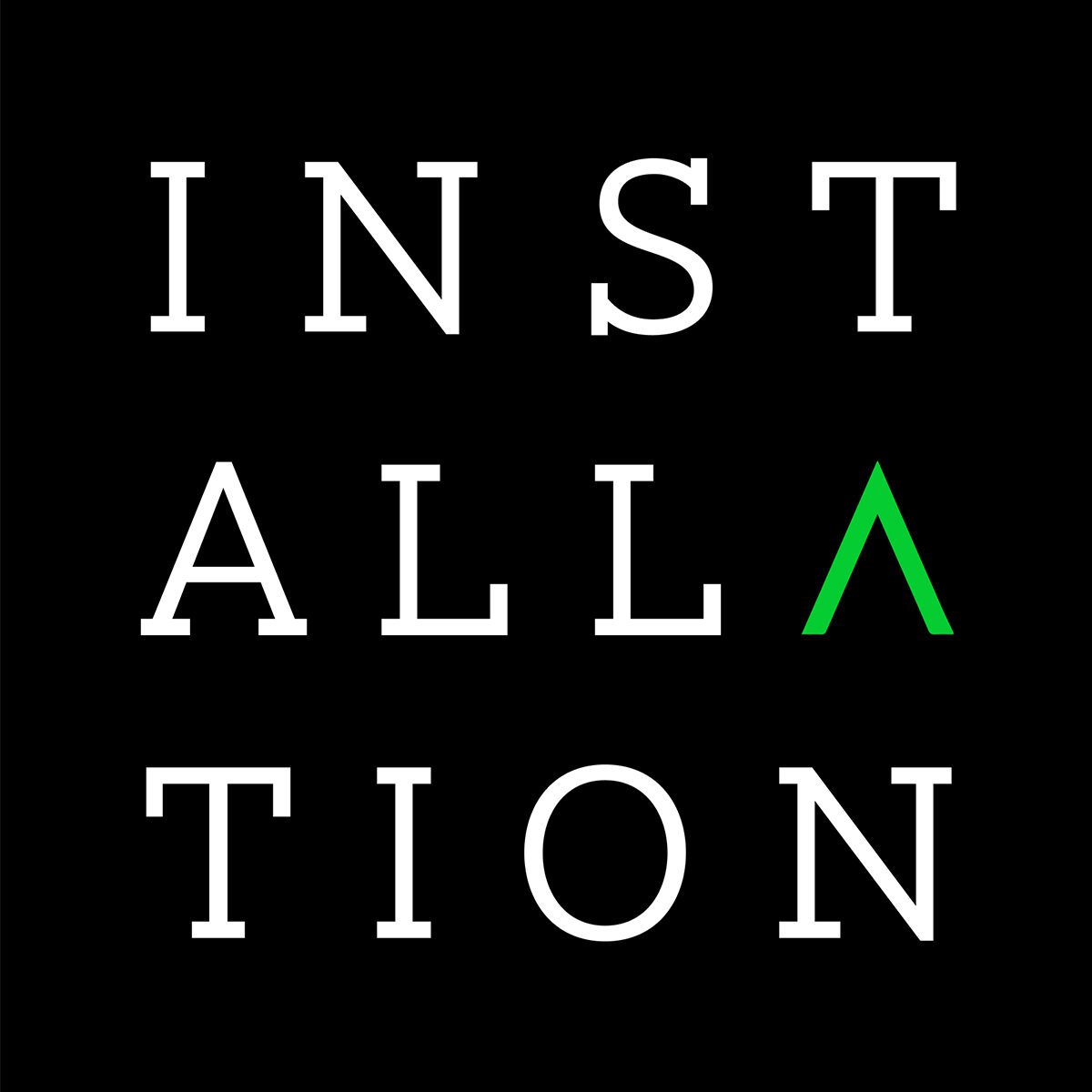 The "volt" of electricity that fuels the creative energy and spirit of VOLTA is represented in the same green hue and strikes a lightning bolt of inspiration onto our logo.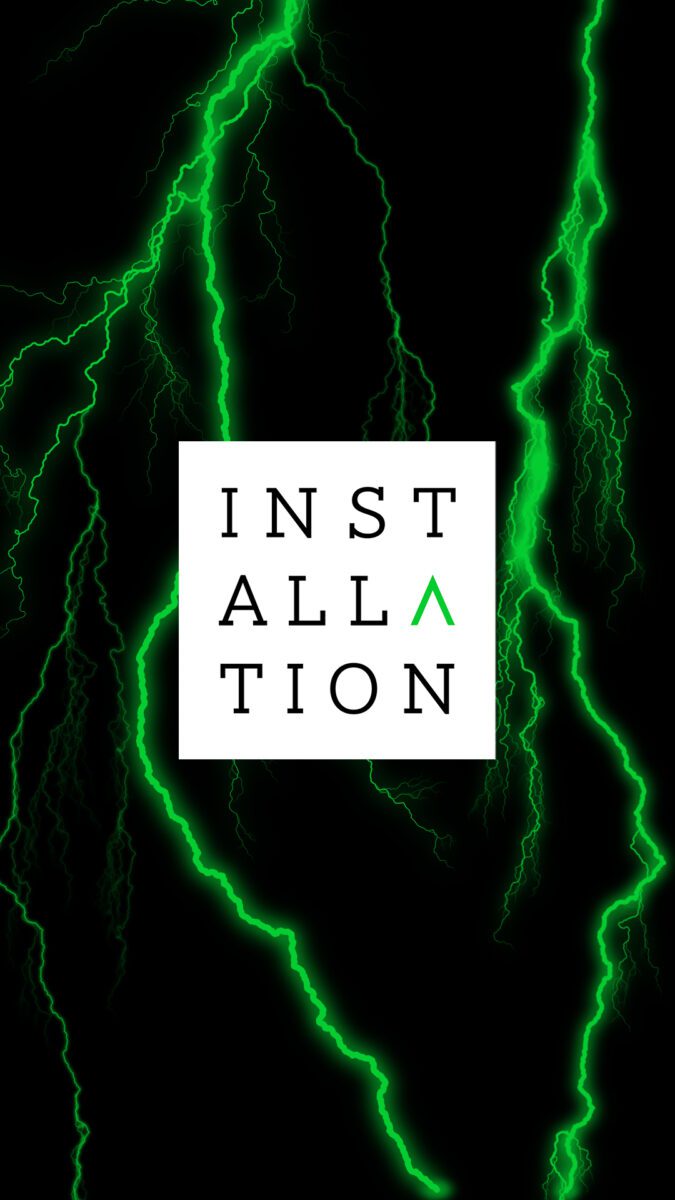 We also created a limited-edition moving logo that combines the surge of electricity that runs through the three core principles of VOLTA- Discover, Connect and Collect.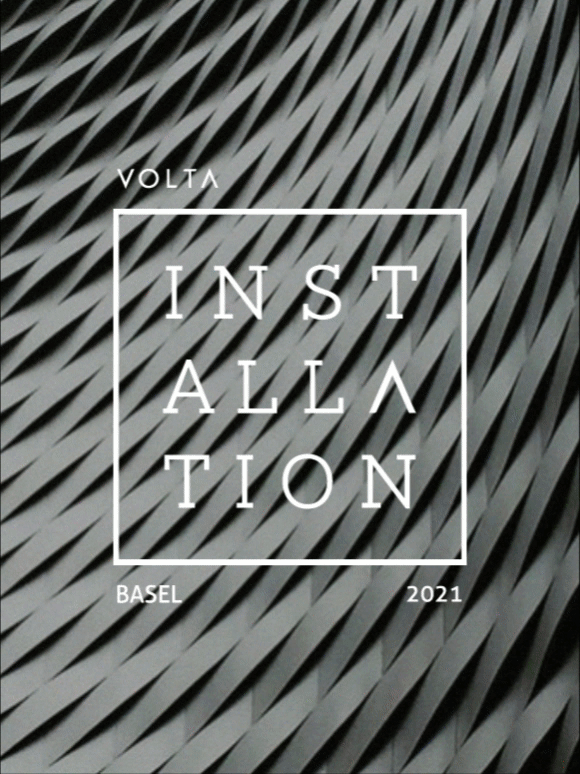 Our signature moving covers have returned! Drawing inspiration from the rich texture and distinctive architectural landmark of Messe Basel designed by Herzog & de Meuron, the featured woven metal surface surrounds the prominent hole in the middle referred to as the "Fenster zum Himmel" ("window to heaven"). Our limited-edition logo experiences a momentary "glitch," a gesture that is often encountered when rendering a large image file.  We are rebooting from a year without art fairs and the motion reflects our interest in the juxtaposition of art and technology.  Stay tuned as our pre-fair coverage continues and more features are added to the VOLTA Basel 2021 Special Issue.