18 Windows
This abandoned train warehouse in London was an elegantly proportioned building.  Although it was in such a state of disrepair and it's historical use had long since been forgotten, it still possessed a beauty and classic grandeur.  The shafts of light and colours from the layers of graffiti along with the windows' reflections made it a technically challenging but very enjoyable subject to paint.  I aimed to convey the stillness and silence and the distant memories of its former life.  In this, and other former industrial spaces I have painted, I wanted to convey the cathedral-like proportions and an unexpected peace.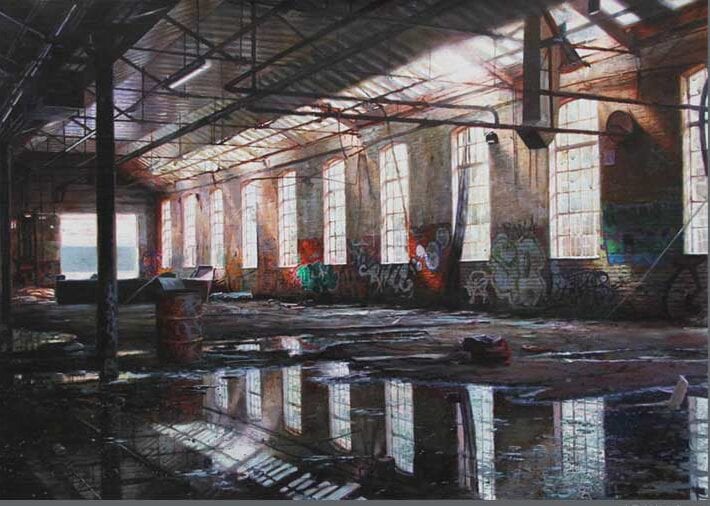 Charmer
I was walking through Jemaa el-Fnaa square at midday with an intense heat and overhead sun casting harsh shadows on the people going about their daily business.  I noticed a group of friends gradually congregating for tea and conversation.  The familiarity and relaxed atmosphere suggested that this is very much part of the routine here: as the man started to play, his friends laughed.  If it weren't for the remnants of modern life with traces of trash and plastic bags, the scene could have been from anytime over the last three centuries.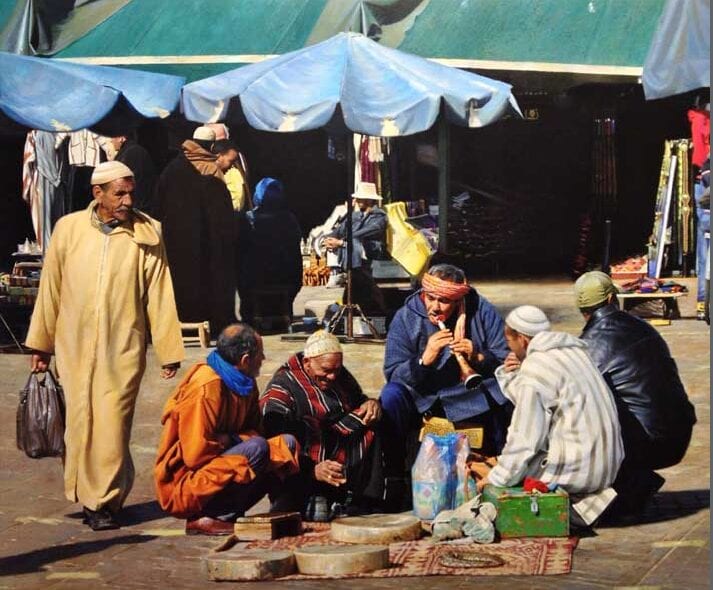 Deep in Conversation
The maze of souks and side alleys had numerous bars that were very much for locals. They were certainly not after tourist business.  I watched this man sitting at a bar, watching everyone else pass by in the never-ending stream of tourists and merchants. His calm smile seemed all- knowing, as if he had seen it all and would be surprised by very little.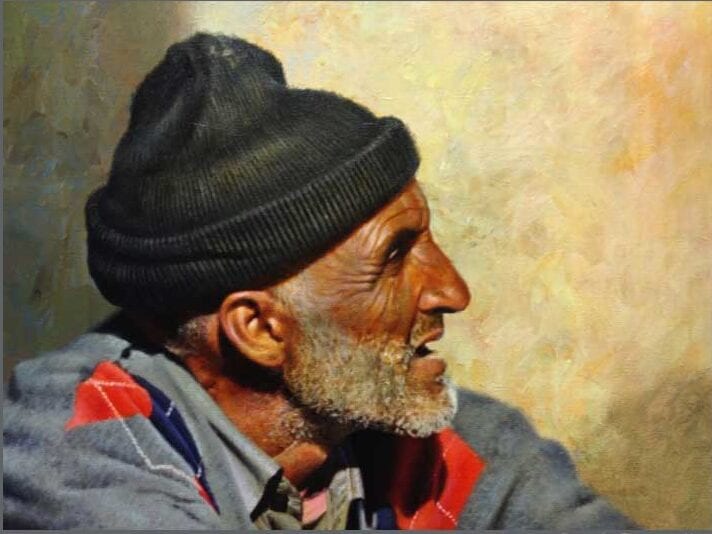 Fulham Factory
This former London brewery and drinks factory is now sadly gone and replaced by a supermarket.  The tragedy of its deconstruction made painting it all the more poignant. To me, it was getting more beautiful as it became more decrepit but finally lost the battle to developers.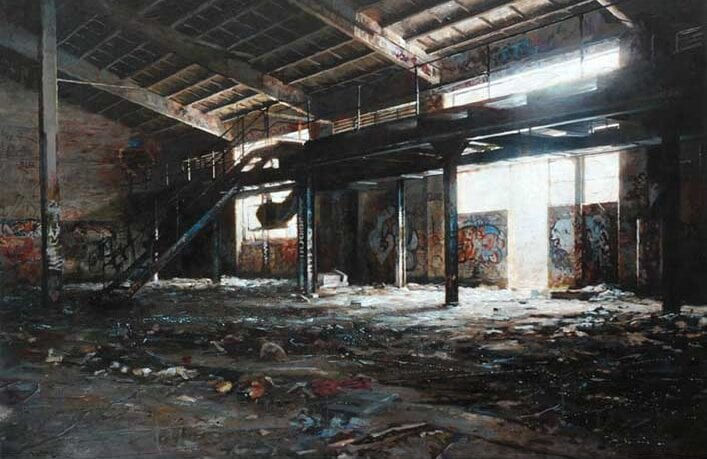 Blue Factory
This was another beautiful aspect and wing of the former drinks factory.  The streaming light reaching into the dark and dank interior seemingly gave new life to this dark corner.  It elevated what would otherwise be a rubbish strewn room up to a symbol of hope.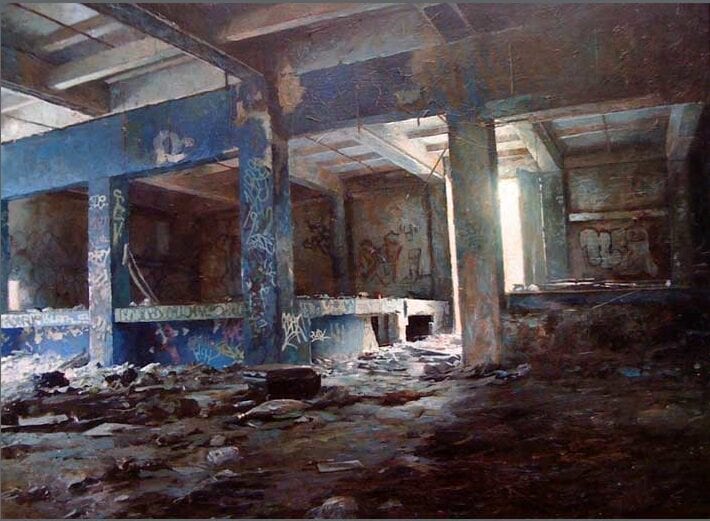 Contemplation
In this tiny and calm corner of the market stood this woman lost in her thoughts.  Her eclectic mixture of western and traditional dresses echo the incongruence of her passive demeanour yet deep and quiet strength.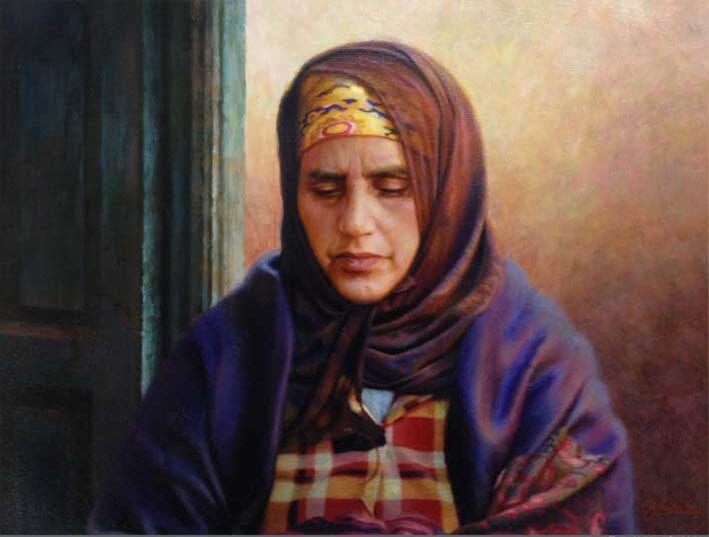 Into the Light
This painting is about freedom and hope.  It is a family unit shown in its innocence and purity.  An innocuous scene in an extraordinary setting, one which clearly represents home to this family.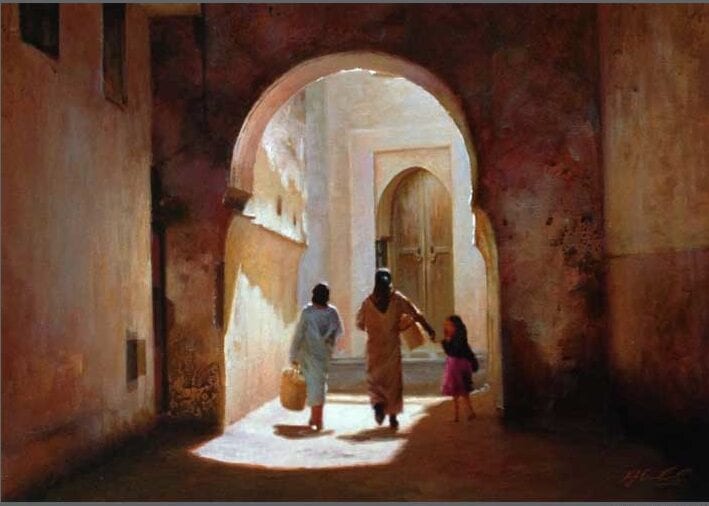 The Aladdin's Cave
The oppressive desperation and limited opportunity of life as a bazaar vendor fascinated me, the moment to impress the client seems so fleeting.  Fighting the lure of the beckoning light beyond seems insurmountable and the resignation of the figure conveys this.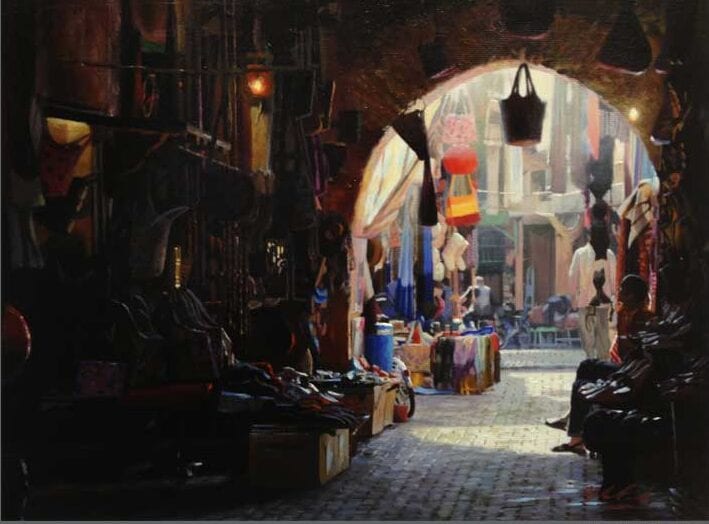 The Rug Seller
This piece is ostensibly a portrait, but it shows the mundanity of the life of any person that is governed by chance and luck.  A life controlled by the whim of others, she watches in the passenger seat of her own destiny.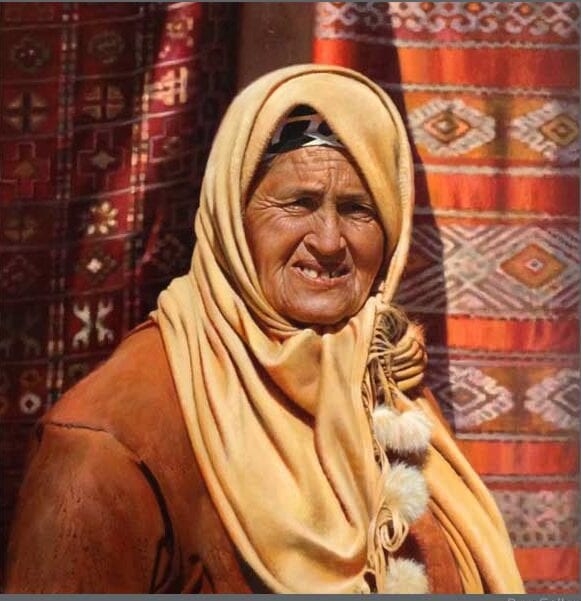 Featured Image: Rick Garland, Contemplation, Acrylic with glazes on canvas, 40 x 30 cm,  2013