German illustrator Robert Malte Engelsmann (aka kaeghoro) gives Installation Magazine an exclusive first look into his most recent body of work, along with key insights into his artistic process.  Engelsmann collaborated remotely with Japanese artist Yosuke Tan (aka untangle), whose joint works are currently on view in a double exhibition titled untangle & kaeghoro at UDOK. in Japan.  Aside from the three collaboration pieces and detailed photographs of this series, Engelsmann also presents a selection from his Enter the Dragon series, his latest body of work exclusively created for the UDOK. exhibition.
Tumblr is Magical
I first met untangle and learned of his awesome line-drawing works through the digital world, as we both share our artworks on Tumblr, we connected through the blogging platform.  Since Japanese culture and the evolving artworks are one of my main sources of inspiration, to work with a Japanese creator always interested me.  Aside from this, I had a feeling that if I could somehow give something back, that would be wonderful.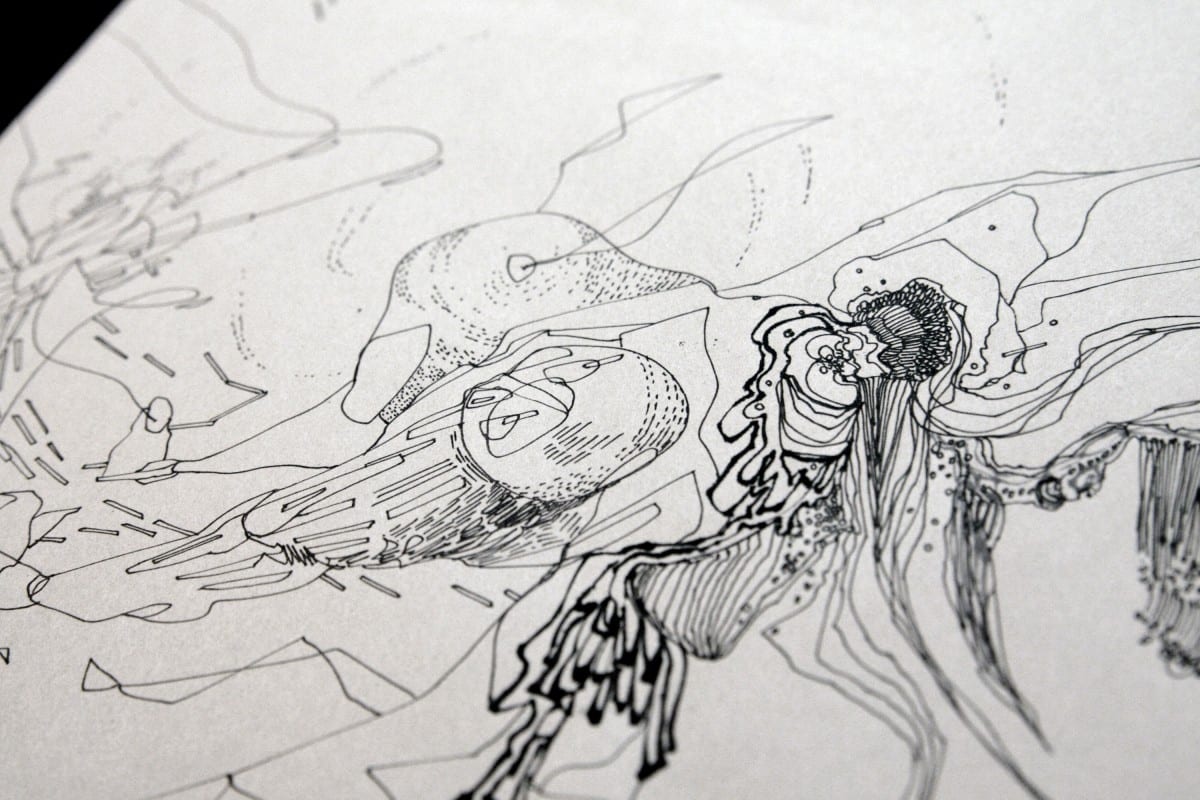 It was something of a dream to have my books featured in a store or gallery, or to exhibit in Japan.  I had enjoyed untangle's artworks on Tumblr for quite some time when I decided to contact him, I suggested a future collaboration and asked if he could recommend places in Japan to which I could send my portfolio.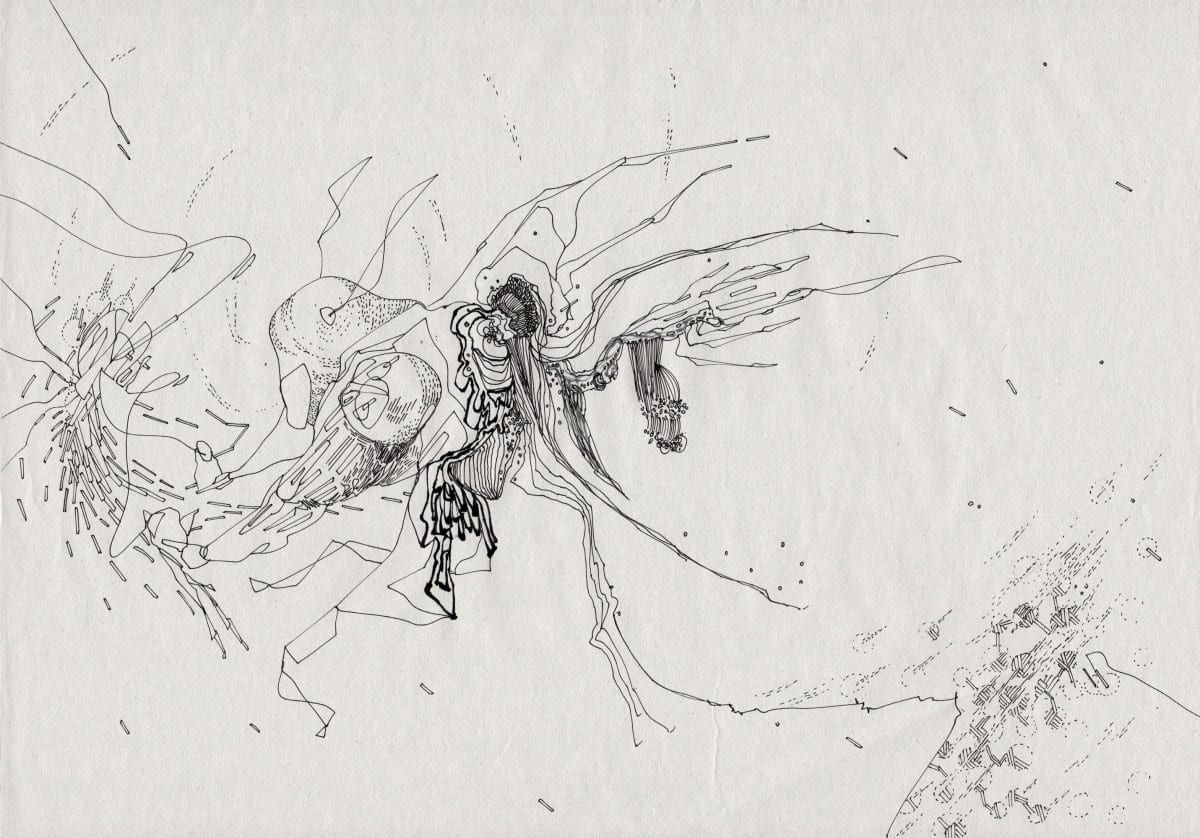 The answer I got was absolutely amazing, he told me about UDOK., an alternative artspace and atelier where he and his friends create and exhibit artworks.  He suggested promoting my monograph, as well as organizing a double exhibition of our works.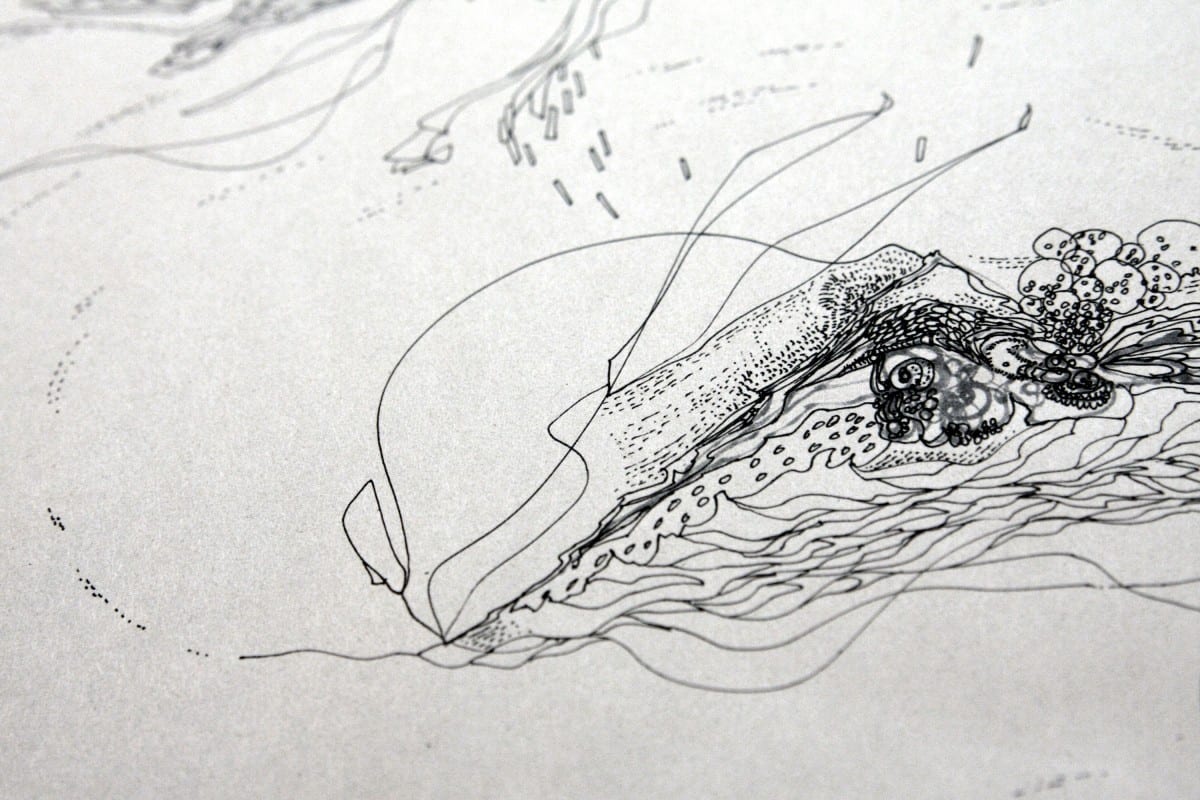 Flowstate Drawing
Most of the information about untangle and his drawing concepts are in Japanese.  Reading articles on his work, I tried to get a better understanding of his thoughts on how "to rebuild the line." There is a short caption in English on his website, "[…] with a line that captures every event." Admittedly, using translation software sometimes left me guessing but even when not understanding the meaning of the texts in their entirely, I had the feeling of knowing the essence only by looking at his artwork.  I feel that his way of creating is not far away from, or might even be the same, as my own concept of drawing which I refer to as a "flowstate drawing."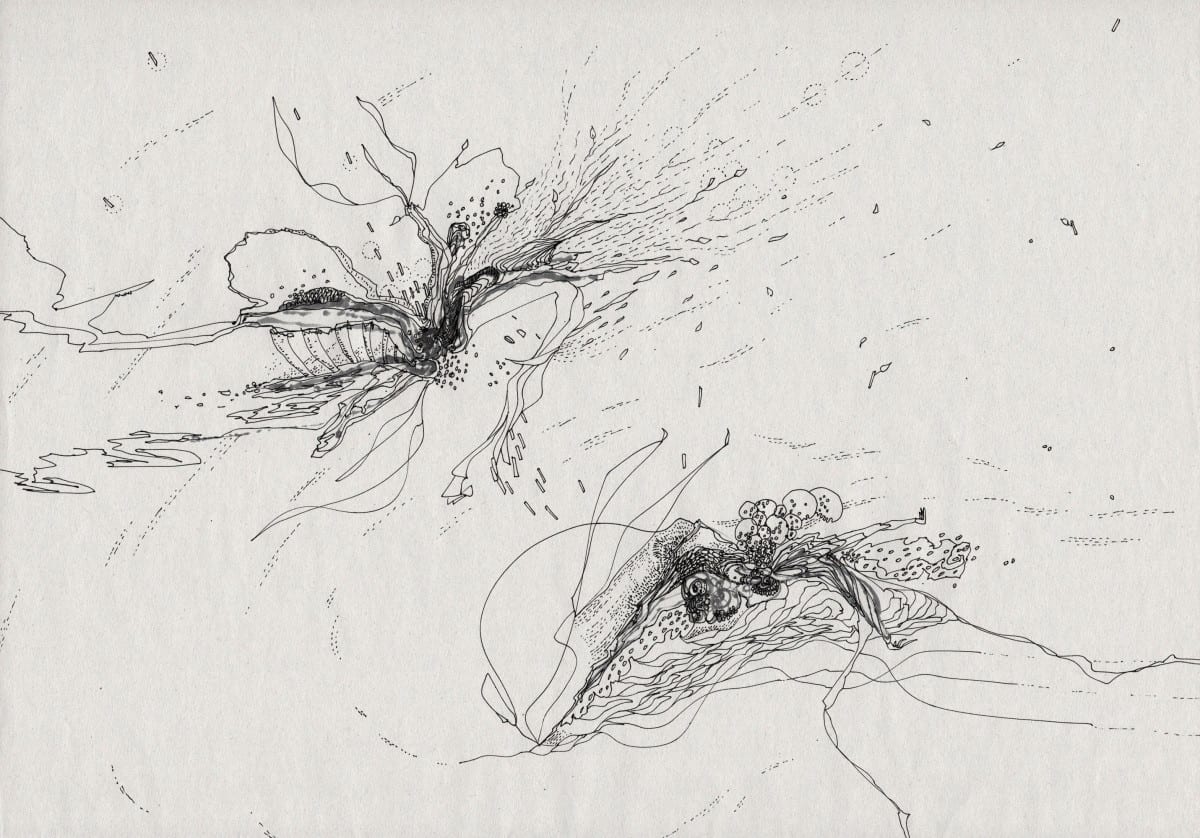 Synergy
For our double exhibition, untangle & kaeghoro, we wanted to create a drawing collaboration and agreed on a drawing experiment.  I sent drawings to untangle and he expanded or finished them, and vice versa.  On the three artworks presented here, untangle started the input and I finished the pieces (Japan to Germany).  untangle suggested that we draw on the paper I usually use, it was very practical that it is a Japanese type of paper.  Since we also use nearly the same type of drawing pen, at first sight it is nearly impossible for the observer to fully identify which lines belong to whom.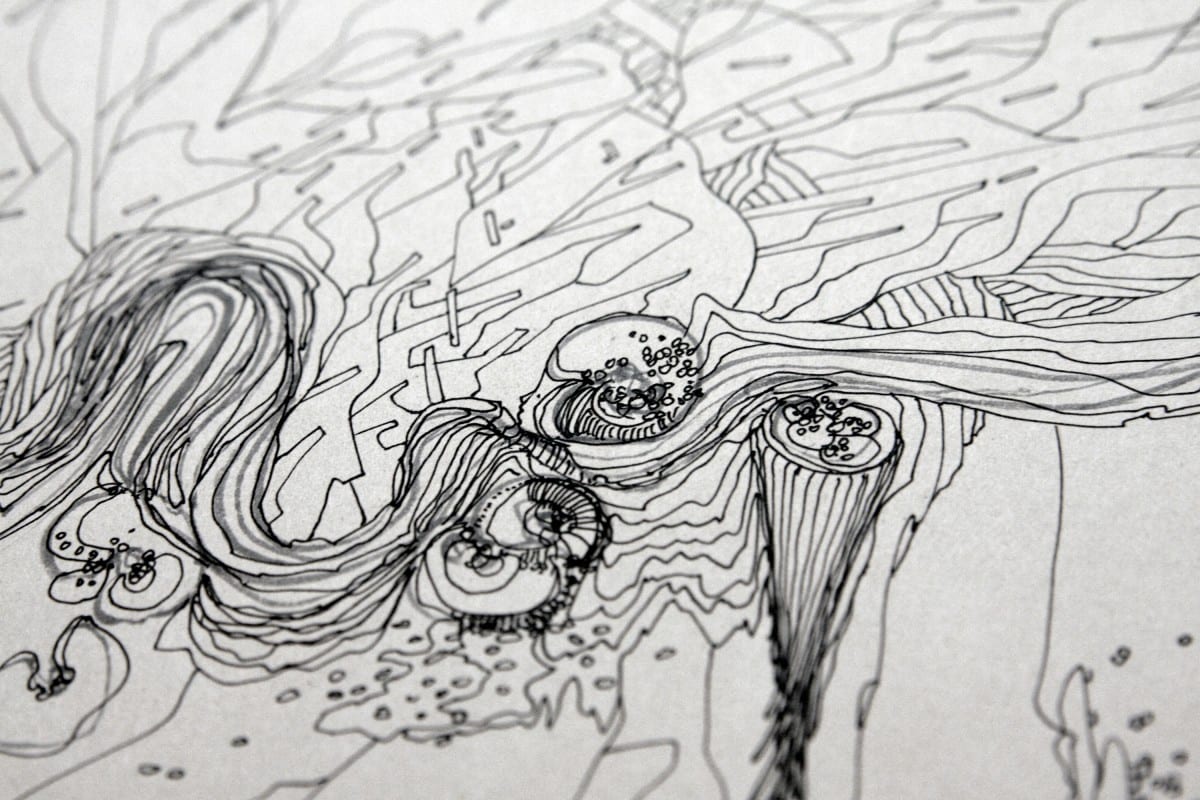 It was an exciting process to connect our worlds.  To work with untangle's abstract lines was like working with my own flow.  I think I fully embraced his input and made it merge with my "flowstate" characters.  I am absolutely happy with the result, two like-minded artists creating a single piece.  I also see it as an intercultural communication through art.  At the beginning it was labeled as a "drawing/ collaboration/ experiment," now, I label it as "synergy."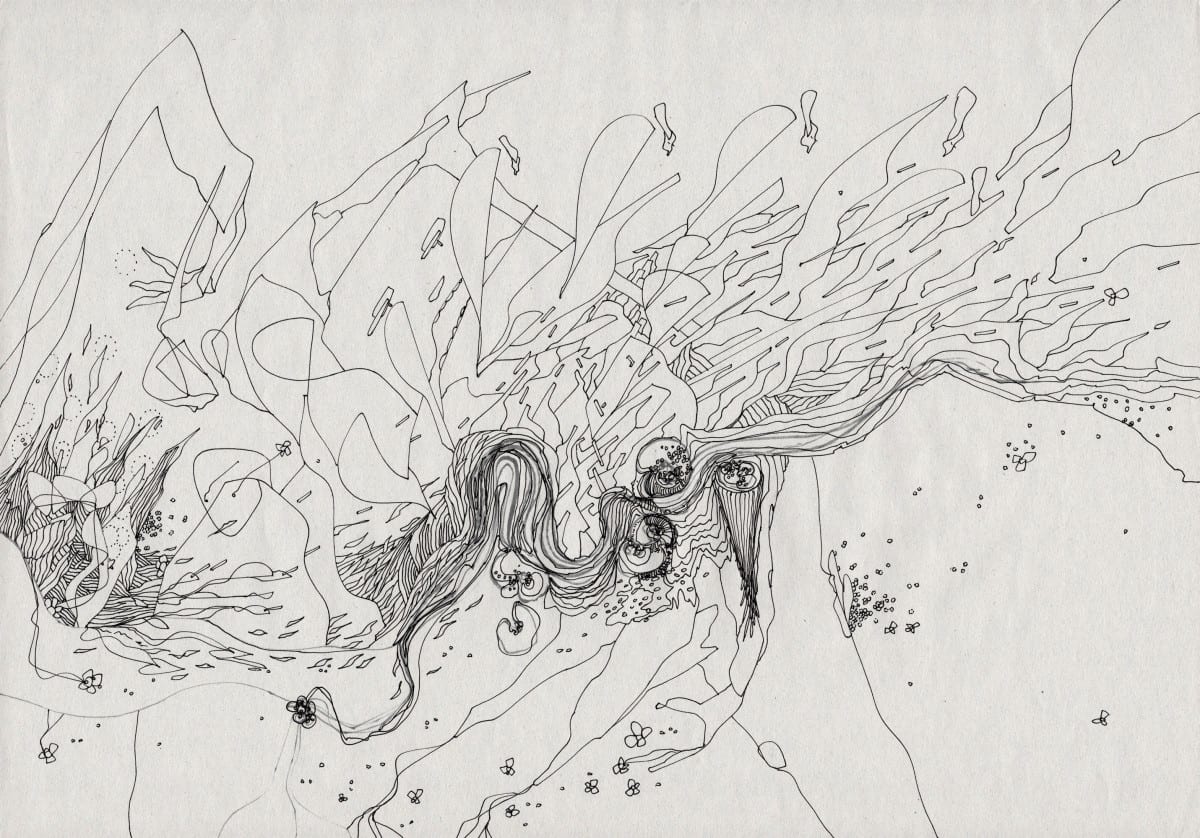 Enter the Dragon
I created Enter the Dragon series exclusively for the exhibition in Japan, a selection of the 12 pieces in the series is presented at UDOK. now.  The creation of my artwork is very organic and process oriented.  When I draw, I let the line decide, I let the line flow.  For me this is a conscious/ unconscious process which I call "flowstate-drawing."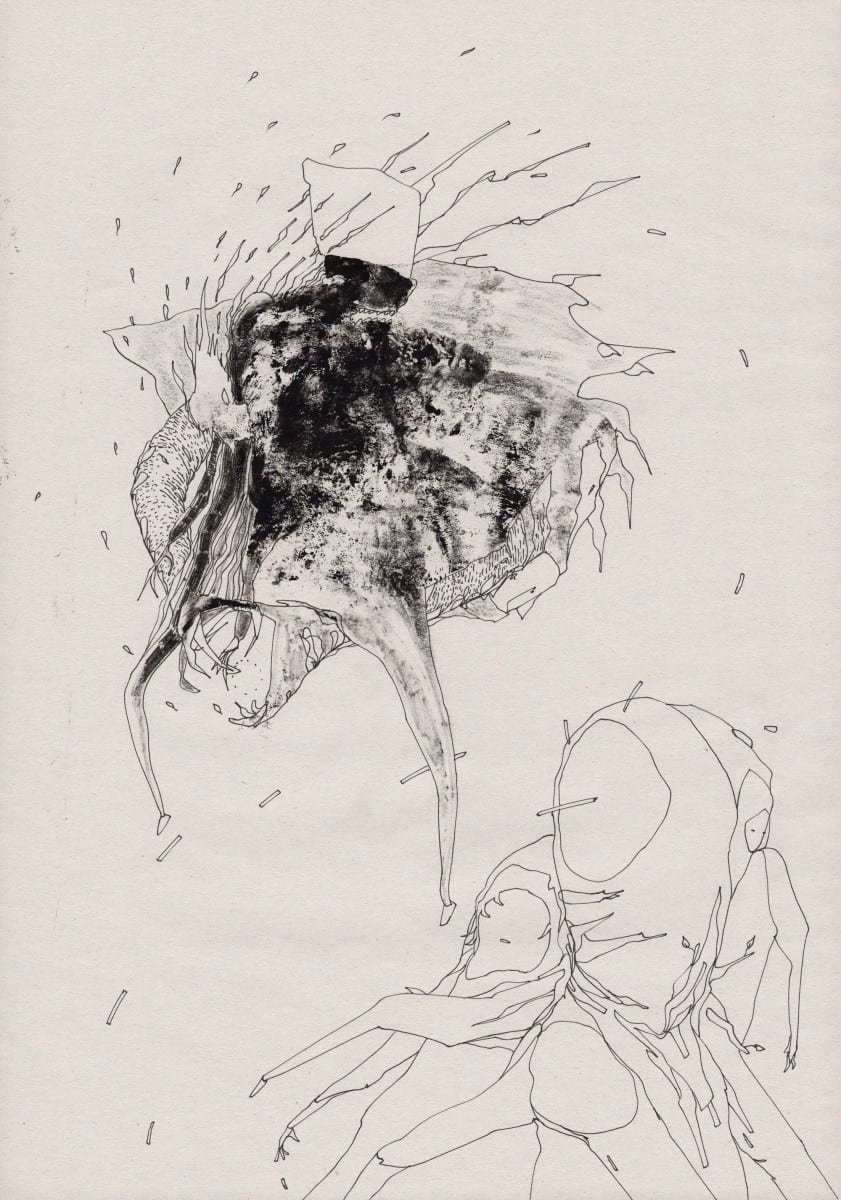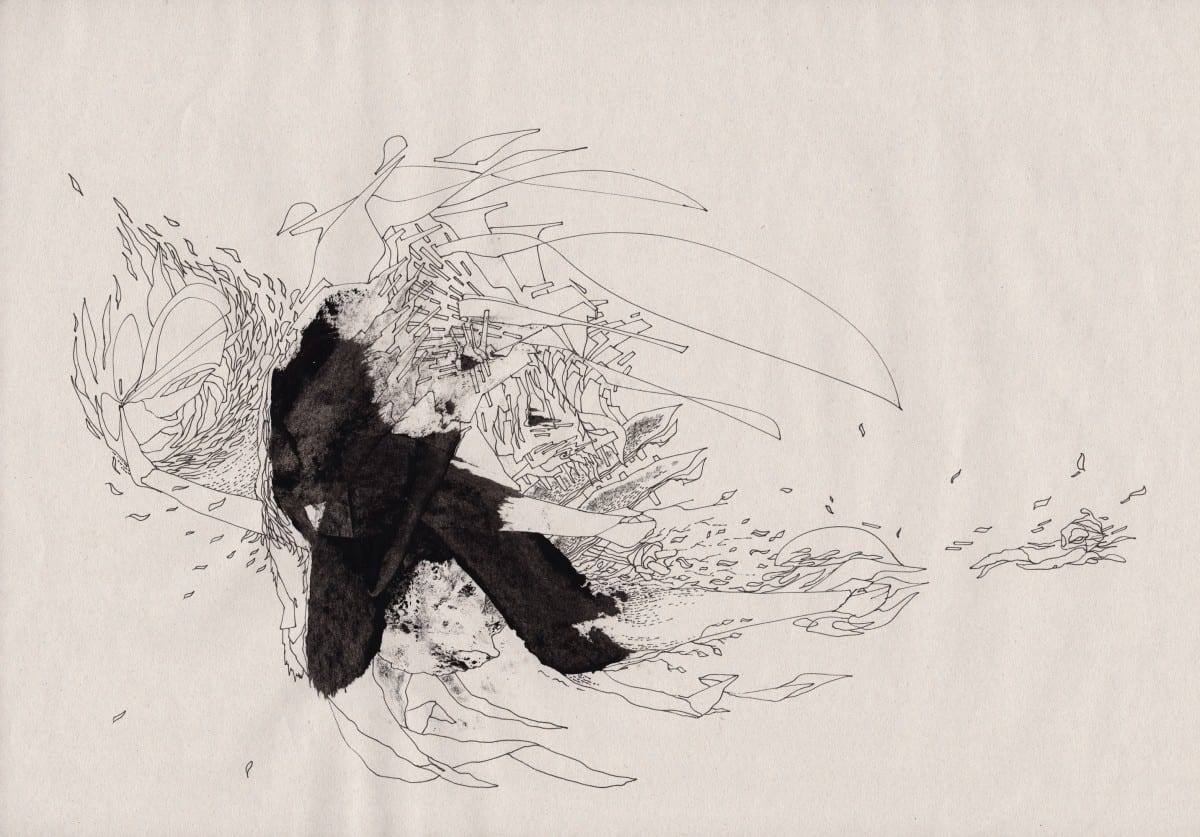 Figures and characters play the leading role, chaos, transformation, elevation, metamorphosis, and the dichotomy of the individual are all subjects you can find in my creations.  For a series like Enter the Dragon, I start with a basic concept in my mind and let the line flow.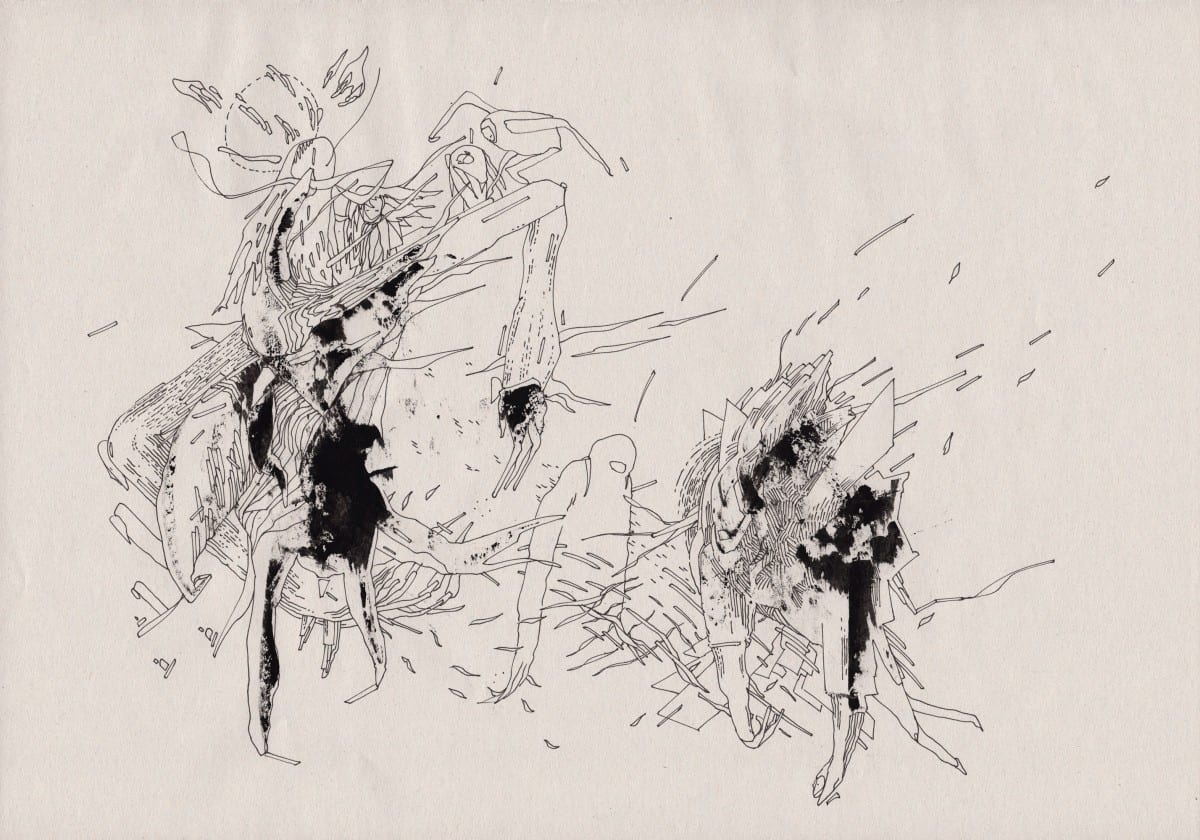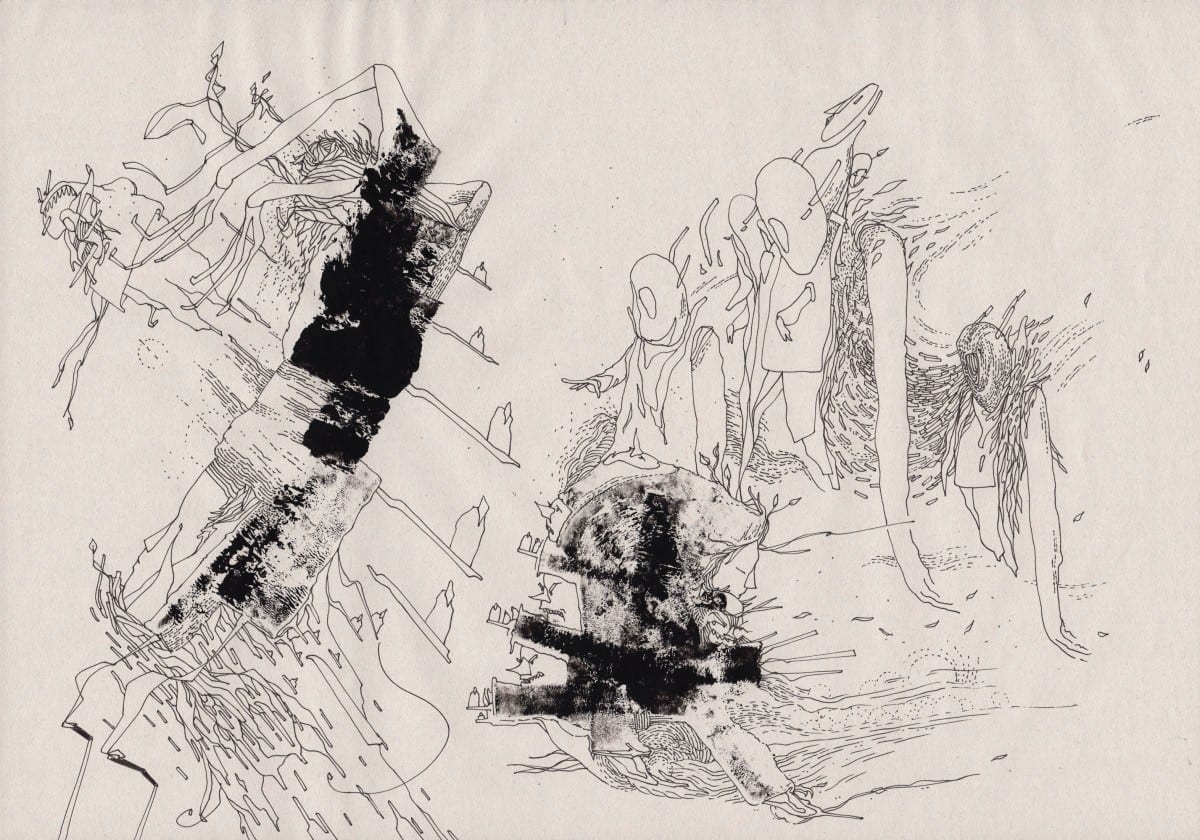 Catch a glimpse at the complete Enter the Dragon series.
Featured image: untangle & kaeghoro, Synergy 03 (detail), drawing on paper, 265 x 363 mm, 2013, drawing collaboration ©Robert Malte Engelsmann
All images ©Robert Malte Engelsmann