Installation first presented the work titled Tearing Shadows created by  experimental film, video projection and installation artist Robert Seidel in Issue 09.  The artist is debuting his latest work Advection in our digital pages.  The two-channel video projected on a water fountain was commissioned by the 4th Lichtsicht Biennale in Bad Rothenfelde, Germany.  The installation opened September 27th and will be on view until January 5th, 2014.
Installation Magazine: Describe Advection from its inception, construction and completion.
Robert Seidel:  The project was commissioned by the 4th Lichtsicht Biennale, which is located in Bad Rothenfelde, Germany.  The exhibition was curated by Prof. Dr. Manfred Schneckenburger, who was also the curator of Documenta 6 and 8.  The line-up is featuring works by international artists like Daniel Askill (US), Daniel Rossa of Urban Screen (DE), and Moon Kyungwon & Jeon Joonho (SK).
I had the opportunity to create a work for the water fountain in the area of the Biennale.  Originally it was planned to use a smaller fountain, but thanks to the fantastic exhibition team I was able to work on a much larger scale.  This immense "canvas" allowed me to explore the abstract qualities of water within several audio-visual études.  I was interested how the water changes perception of color and form – leading to very different readings of the audience, and creating a living artwork driven by metrological and seasonal changes.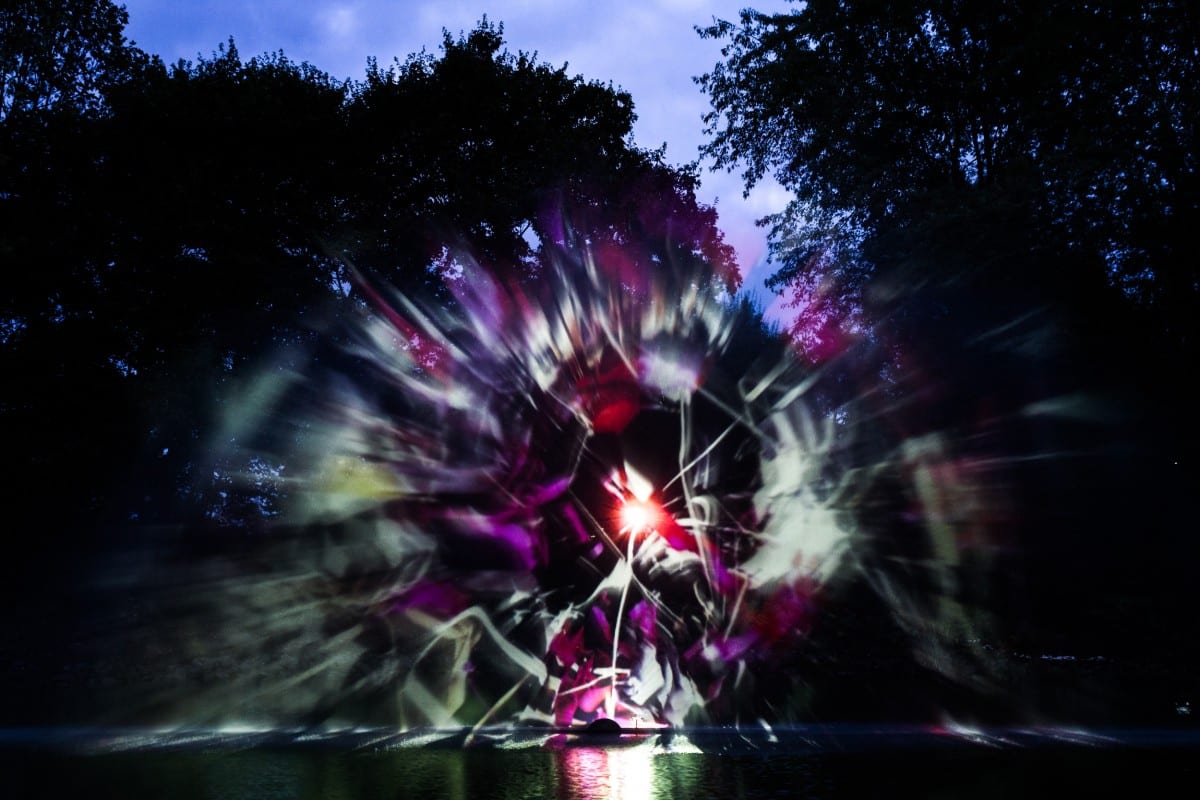 What materials were used?
It was the first time for me to work with an ephemeral material like water at such large scale.  The installation consists of a water fountain-  10 meters wide, 7 meters high, in depth it is mostly 40 cm although it depends on the weather-  in a pond in the city park.  The fountain is illuminated by one projector directly and there is another projector illuminating the surrounding area of 35 x 50 meters.  Therefore vegetation and visitors become part of the projection and the whole installation becomes an abstracted mirage stage.
The second projector is dimmed down to create a subtle interplay between the strongly lit fountain and the very dark surrounding.  On the photo and video documentation this second video layer is almost lost, but on location it creates a whole…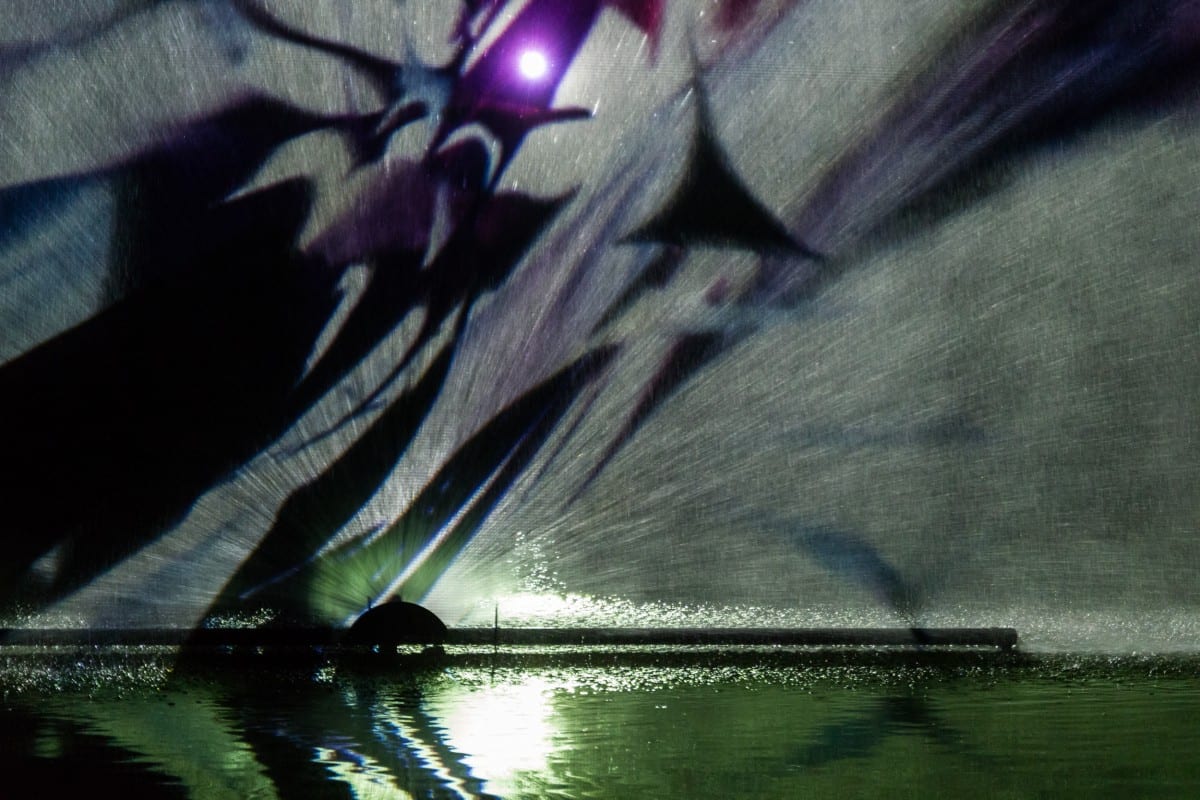 What technique did you employ to create the installation?
This time I was working with composer David Kamp to create another installation that brings my experimental films into reality.  I started as an experimental filmmaker in the beginning (_grau), further and further shifting the abstract worlds into different kinds of installations like projection sculptures (Black Mirror) or media facades (Scrape).
For the projection footage I create four different études that are based on the abstract drawings and digital sketches I did while the project's research.  With re-animating them I wanted to re-image their construction processes or even invent new ones, all related to archetypical emotional states.  Knowing the flat projection would turn them into volumes, the shapes mostly have flat, oversaturated colours.  So the myriad of water, fog and air layers reflect and refract the light into something that could not be done on in any other medium.
The visual études are volumetric "drawings" and "paintings" of light and musical-wise they are also interconnected with etudes of different complexity and intensity.  On site there are two different scores, one dramatic and orchestral like in the video documentation.  The other is more subtle but as effective, playing with different artificial layers of real and altered water field recordings.
The water and the weather play are an important part in Advection since they change constantly.  The impression of the image alters dramatically if you walk around, since it is projected in a volume of moving water.  Especially the rays of the projectors' light cone scatter the image, so every point of view can reveal or hide details of the original image.  I tried to capture this with the video documentation, but the overall scenery will change in the next months, trees will lose their foliage and the second projection will break deeper into the surrounding.  It's exciting to have a piece of art so directly connected to the season and weather changes.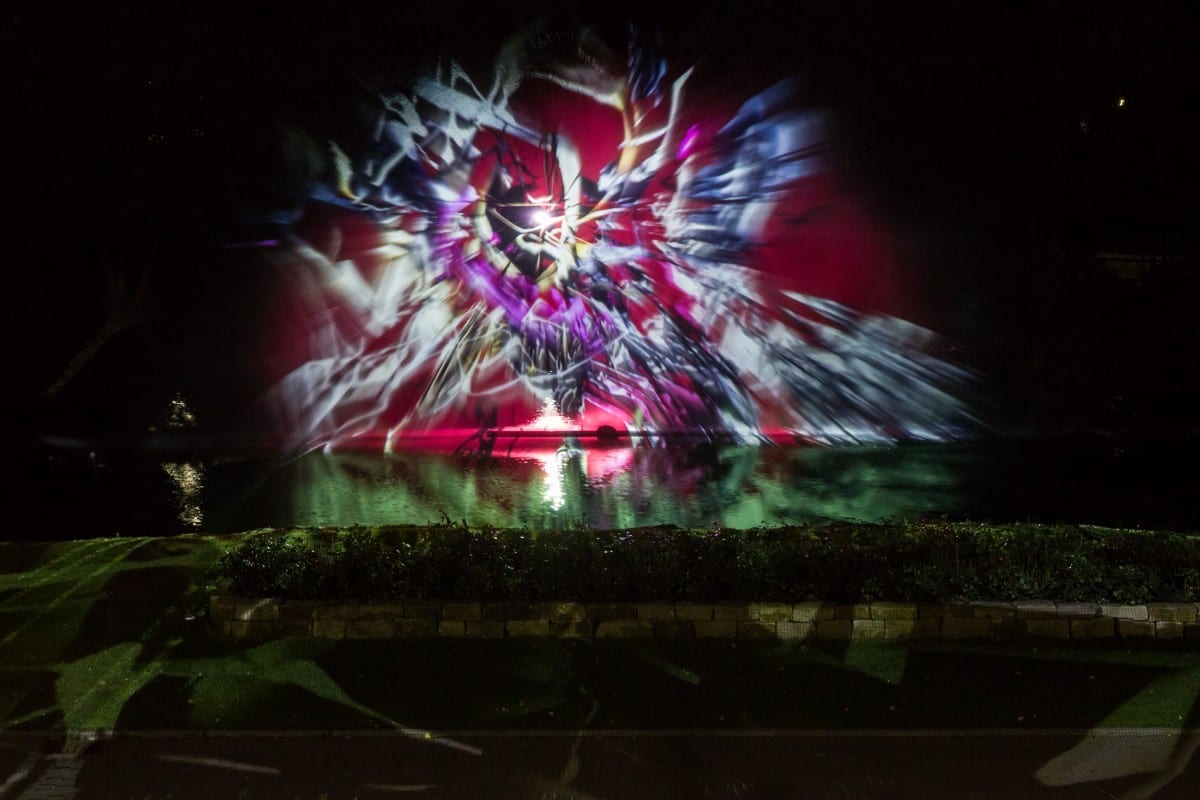 How do you feel your vision was executed?
Water is a very unique projection surface and after the first tests I had to rework some parts that turned out unexpectedly.  The illuminated water reacts strongly on colour, contrast and density of the images.  My composer fitted the sound into the location to work with four speakers. In the end we created something that only exists in this specific place and every loop is a unique permutation.  The technical team of the Biennale was very helpful and made everything weather-proof, even for the coming winter.
Working in reality changes a lot of my original filmic ideas.  I like the surprises and challenges of this confrontation with the laws of physics and economics, but almost 10 years after _grau I feel the need to work fully virtual again.  So the plan for next year is – create an experimental film without any restrictions…
What message do you hope to communicate to the viewer?  
I want to create abstract films and installations that have their own coherent "systemic world." They are hybridizations of the classical art-historical concepts of drawing, painting or sculpture in coexistence or confrontation with digital tools and time-based media.  I see them as contemporary artistic experiments with technology that are not just a reflection or de-construction of the exiting possibilities and images.
In Advection I call this constellation of images, sound, water and surrounding a "plasmatic spatial system," since it is not a "closed surface" for the projection, but a mix of surfaces, volumes, densities, reflexions and flares.  Even though these works are complex and refer to my concept of "moving paintings," I want them to be fascinating from first sight.  They should be places where people can feel free, finding their own questions and maybe even answers in our self-optimized and disenchanted world.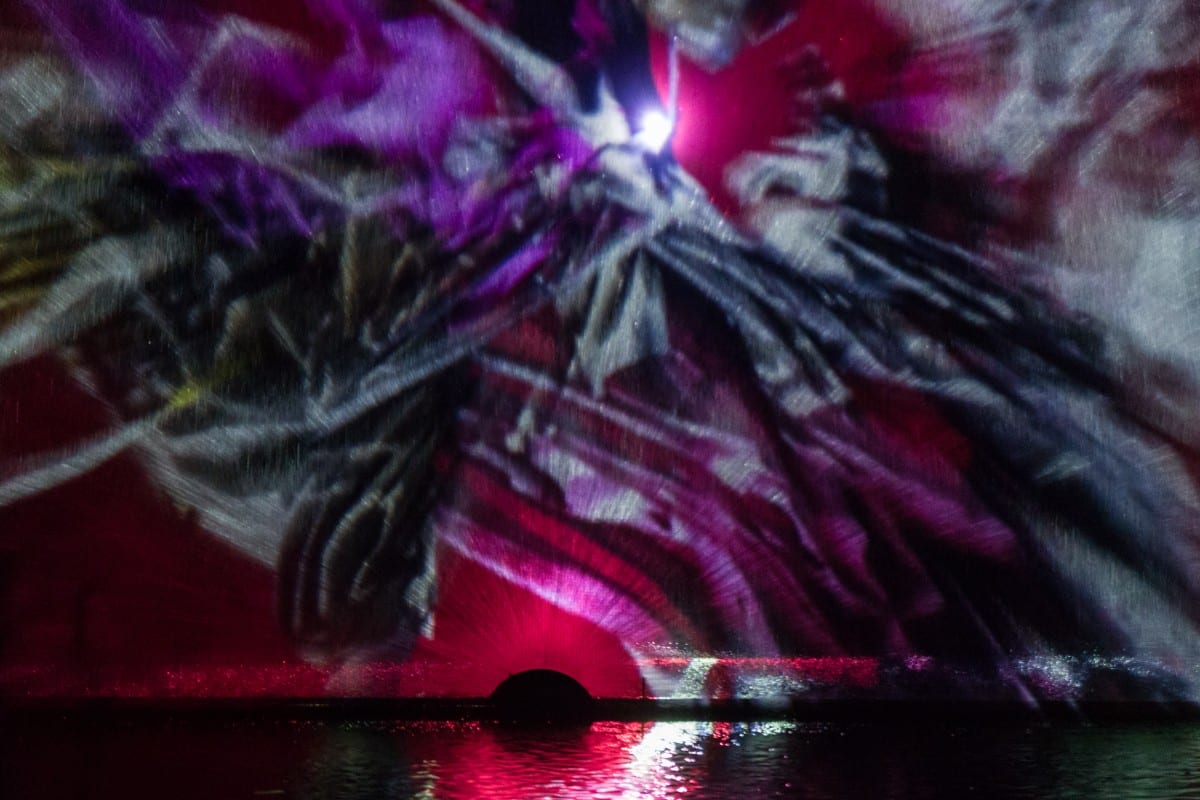 Take a public view of Advection
Featured video: Artwork by Robert Seidel, music by David Kamp, curated by Prof. Dr. Manfred Schneckenburger, project manager Paul Anczykowski, producer Marion Carey-Yard, consultant Hermann Noering, technical setup Christian Meyer & Team ©Robert Seidel