Through a sequence of intricate gestures, Alana Dee Haynes transforms photographs with delicate pen strokes.  A collection of photographs serves as the artist's canvas to explore the human form and opportunity to apply texture.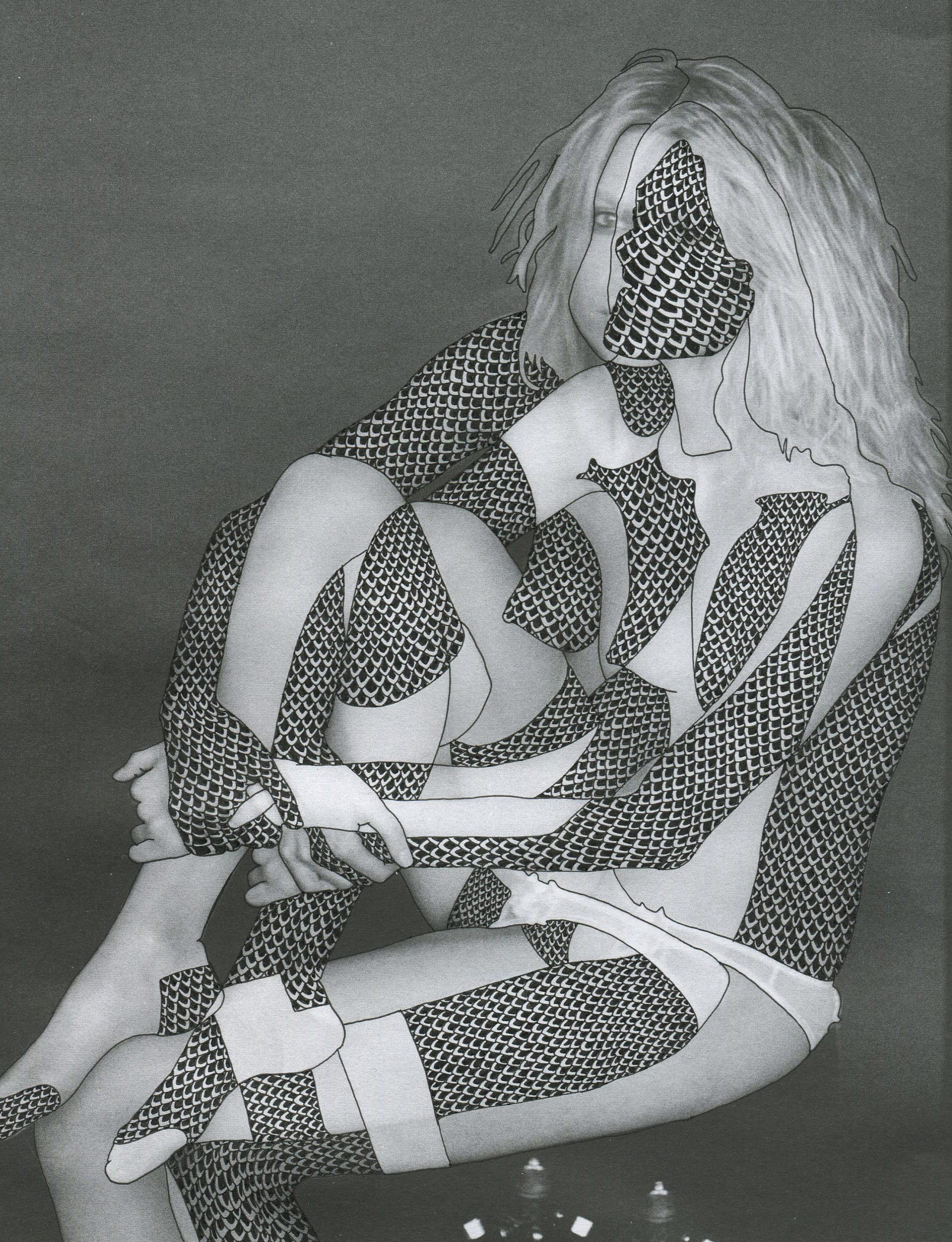 UNTITLED
I had been experimenting with lace patterns for a few weeks when I came across this series of double exposure lingerie photographs.  I had never played with double exposure in my illustrations before.  I scrapped the first one I did; and thought that it just wouldn't work.  I tried again with this image.  First outlining every part of overlapping limbs.  Then I analyzed the two photographs individually.  As I attempted to cover a single exposure, it dissected the figures even more.  The sexuality of the patterned figure became stronger than the skin that was shown.  The different mentality of the two figures also became stronger.  I played with layering self portrait negatives while I was in the teen internship program at the International Center of Photography (ICP) in New York.  The images I created spoke to the tangled feelings I was experiencing.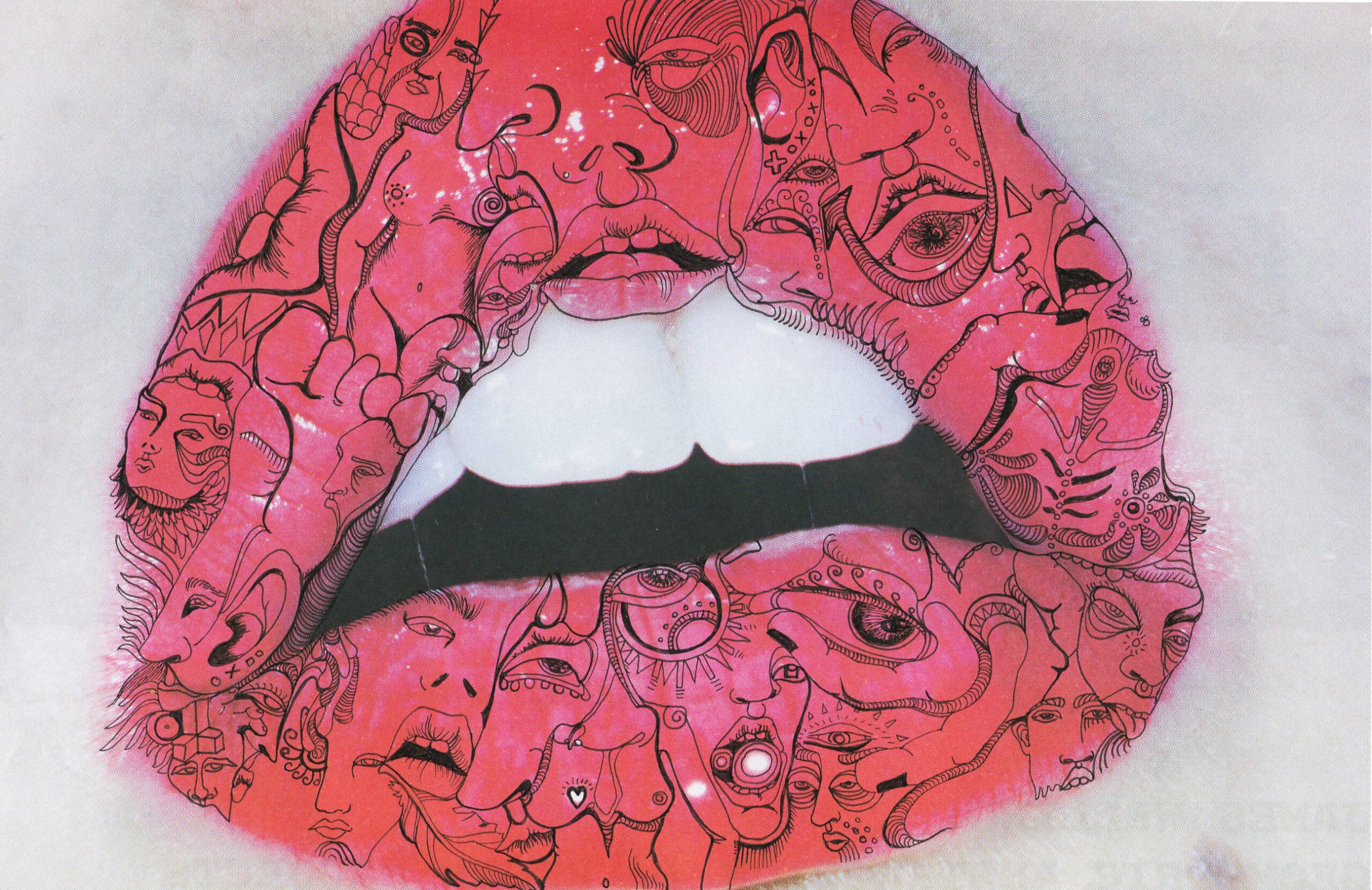 LIPS ON LIPS 
I've tried to figure out my deep relationship to the shapes that I draw.  My mother is a jeweler, so I grew up around beads, wire, and graphic shapes.  My father is a painter, he taught me about Sumi ink when I was around four years old.  My first ink drawing was an outline of a dog, filled with stripes and spots, it also included a floating hat, a bubble pipe, and a bird sitting on the dogs back.  I think it is a perfect foreshadowing of my art at its current state, a focus on heavy outlines filled with patterns, and a touch of whimsy.  The Red Lips by Terry Richardson is so graphic, and I felt that it was a perfect canvas.  I started by drawing lips on the lips.  Lips turned into faces, turned into bodies; and from there, the outlines left perfect nooks for me to hide symbols and patterns in.  As the piece grew, I loved how the extremely luscious and sexual lips were becoming less and less so.  It became a balancing act of how much I could add, while still having a beautiful pair of lips.  As much as my illustrations are about line control, they are about control on the entire piece.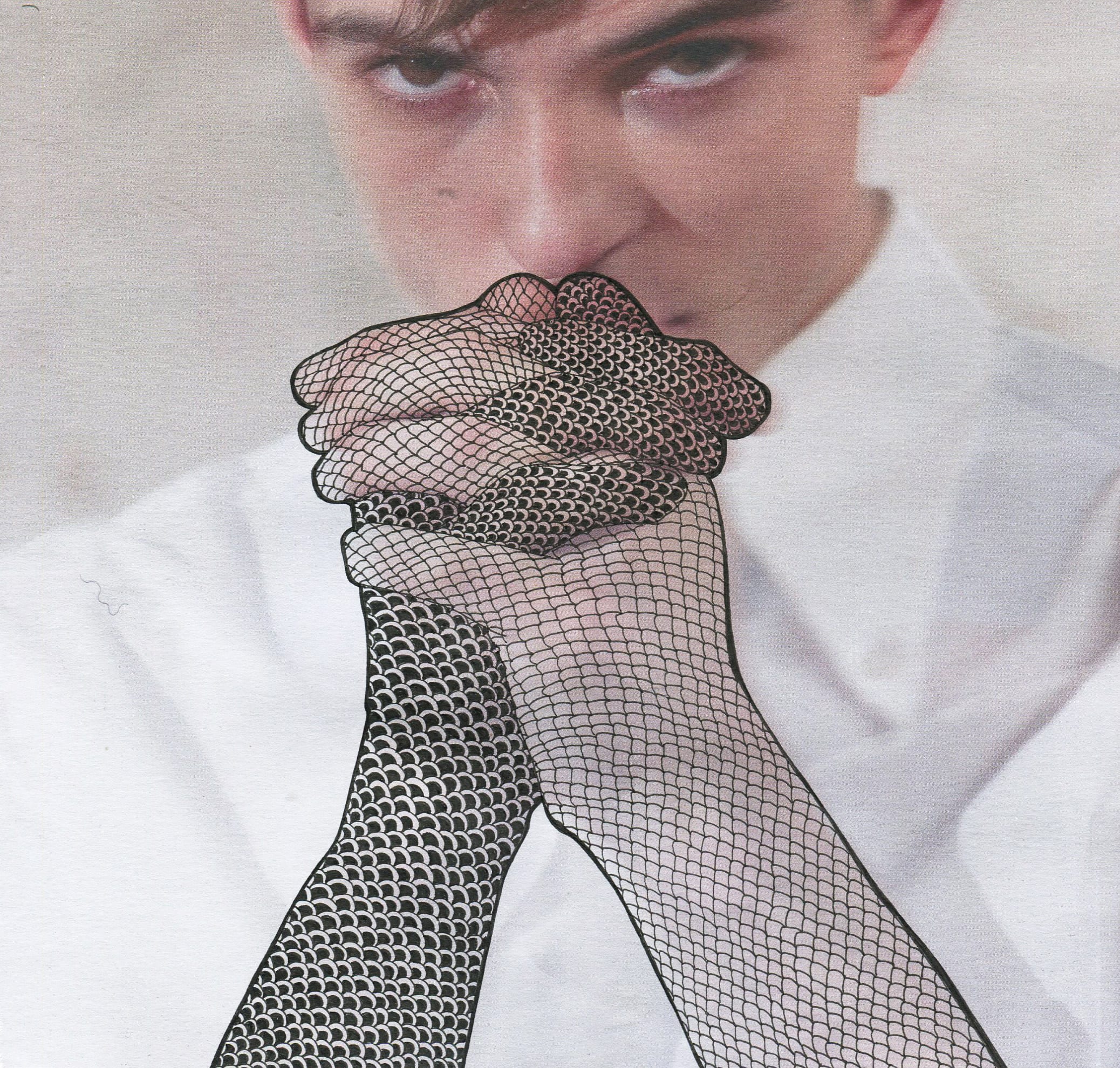 CLASP
I have always been fascinated with hands.  I have a collection of hand sculptures and wall art focusing on hands.  My hands are tools that execute my mental and visual expression.  Without them, my outlet would be limited.  I love the emotional significance, and how easy it is to form symbols with hands.  Interlocking fingers have inspired many of my illustrations.  In this piece, the hands were so significant in the photograph, that by covering them in interlocking webs, their importance was highlighted.  By having different patterns on each hand, it gives more significance and individuality to each hand enhancing the visual and emotional experience of holding your own hands together.  It becomes a more intimate and romanticized viewing experience.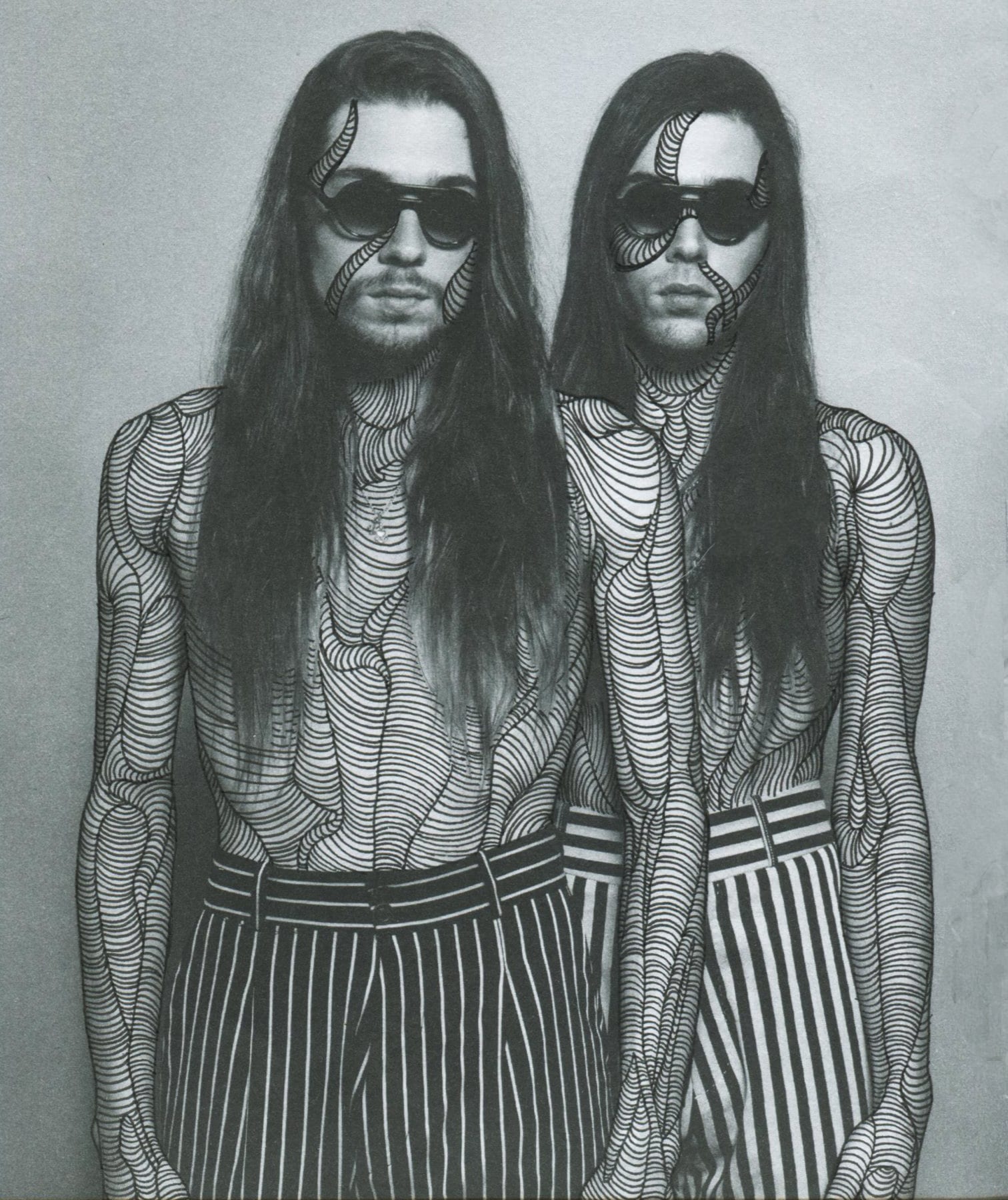 TWIN STRIPES
Anatomy has always been a very large part of my view of the world.  I love the way things fit together, pop out, and flow.  I dissect the ripples of the body through lines.  Then I choose my convex or concave lines based on the shapes I want to enhance.  Illustrating on faces is always my favorite part.  The face can be so delicate, and extreme when lines come into play.  The simplicity of drawing a line under the cheekbone defines that face as blush would.  And like makeup, there is a soft line that can be crossed between fashionable, and clown.  The striped pants were the jumping off point in my illustration.  The conversation between the image and myself is so important.  If I can't converse with a photograph naturally, it ends in disaster; my lines need the nutrients of the image beneath to grow.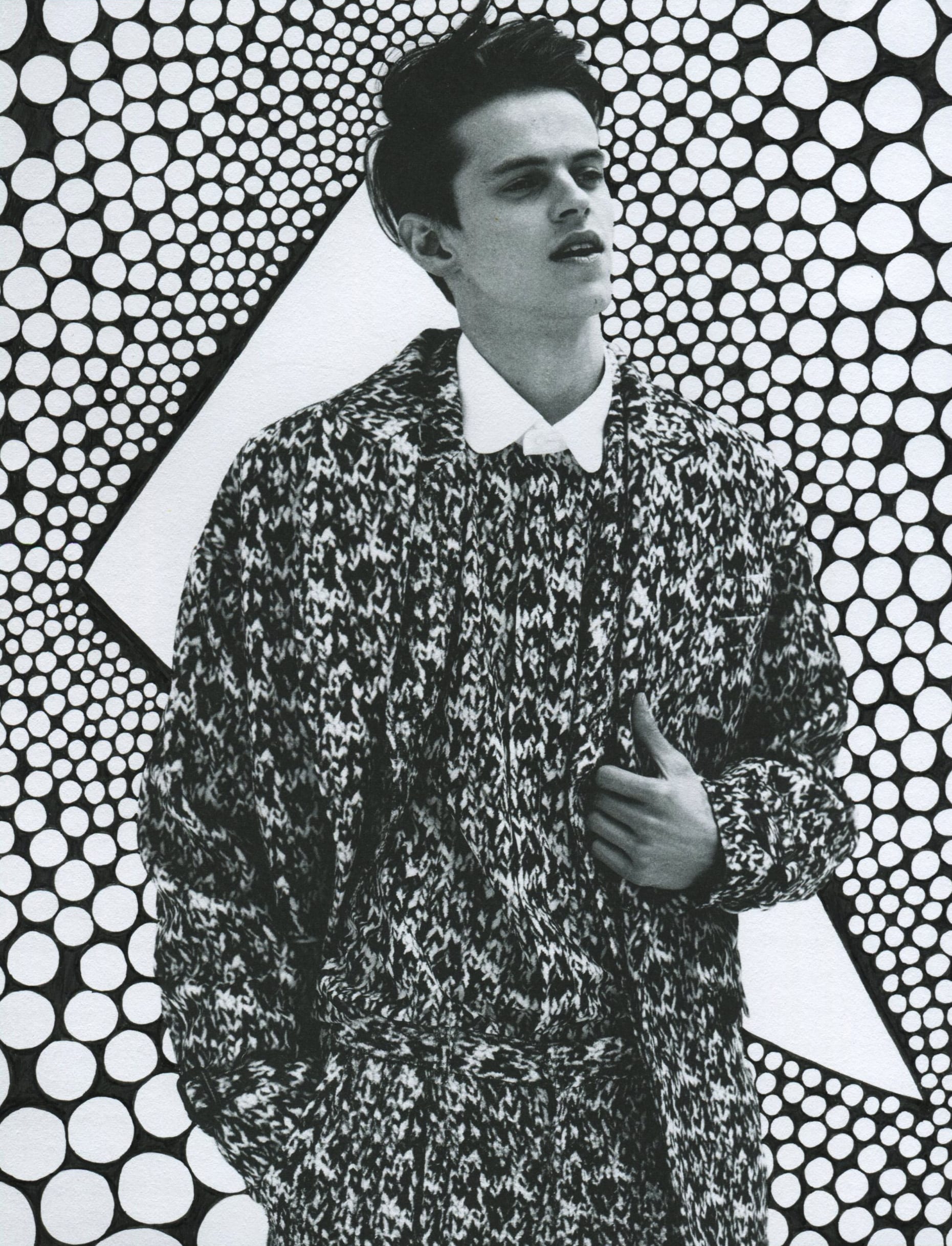 CAMO
As I fill up the empty space I joke to myself about horror vacui and cenophobia.  White backgrounds are such a freeing experience for me.  They allow me to find images that I am immediately drawn to either for the fashion, the model, the pose, or all of it combined.  I tend to want to fill the entire space with patterns, but given the context of the photograph, they beg for a more graphic shape.  In this piece, the fabric of the suit matched with my circular shapes to create a camouflaged affect.  Although I loved the suit, I was fascinated by how easy it was for the figure to melt into my illustrations.  The blending of different media is fluid and beautiful.  My work strives to combine different worlds, to give new meaning to each medium.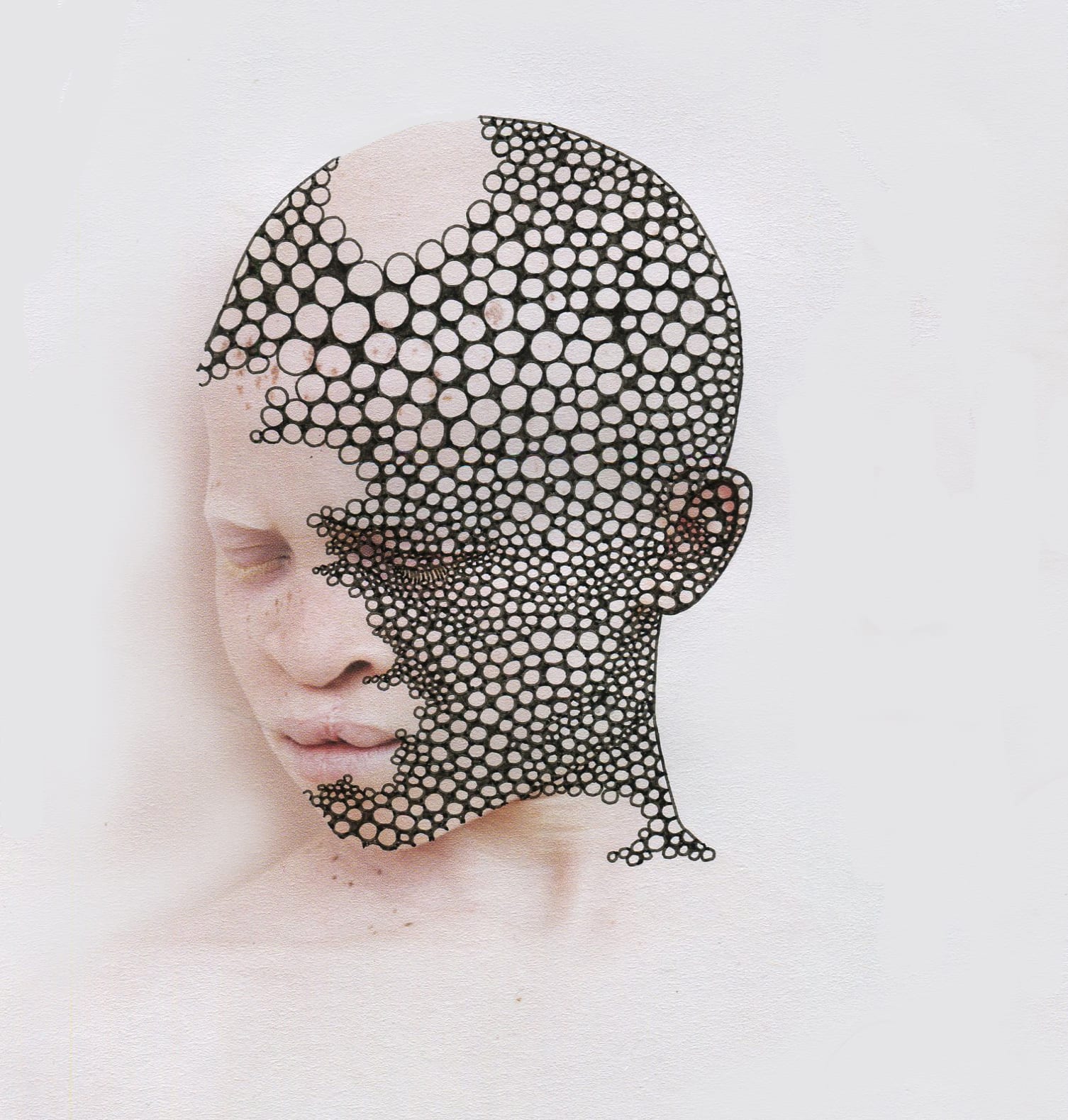 GROWING UP 
Michelangelo believed that the figures he carved were hidden in the marble, and his chisel just exposed them.  I have had the same feeling towards paper, and even more so with images.  This image by Eric Nehr served as the perfect photograph for my illustrations.  The child's pale skin with slight freckles were so beautiful, they formed the cellular shapes before I drew anything.  This pattern has always been a meditative process for me, a peaceful feeling comes over me, and the pen connects directly to my thoughts.  I wanted to keep the face delicate and alluring, while giving her a clear separation from the pale background.  Later when I was reading the blurb behind the images, the illustration seemed much stronger that it gave me a new meaning about my addition to the photograph.  The story behind Nehr's images of albino children in Burundi and Tanzania is a horrifying fairy tale that came to life.  The children were both treated like mystical treasures and worthless creatures at the same time.  Sometimes not knowing the context of an image is a beautiful blissful experience.  In this case, it made me think about what I was drawing on, and how unconsciously my illustrations affected the image and the story.  So much of my experience with my art is immediate, but the beauty comes to me when I step back and reflect on it.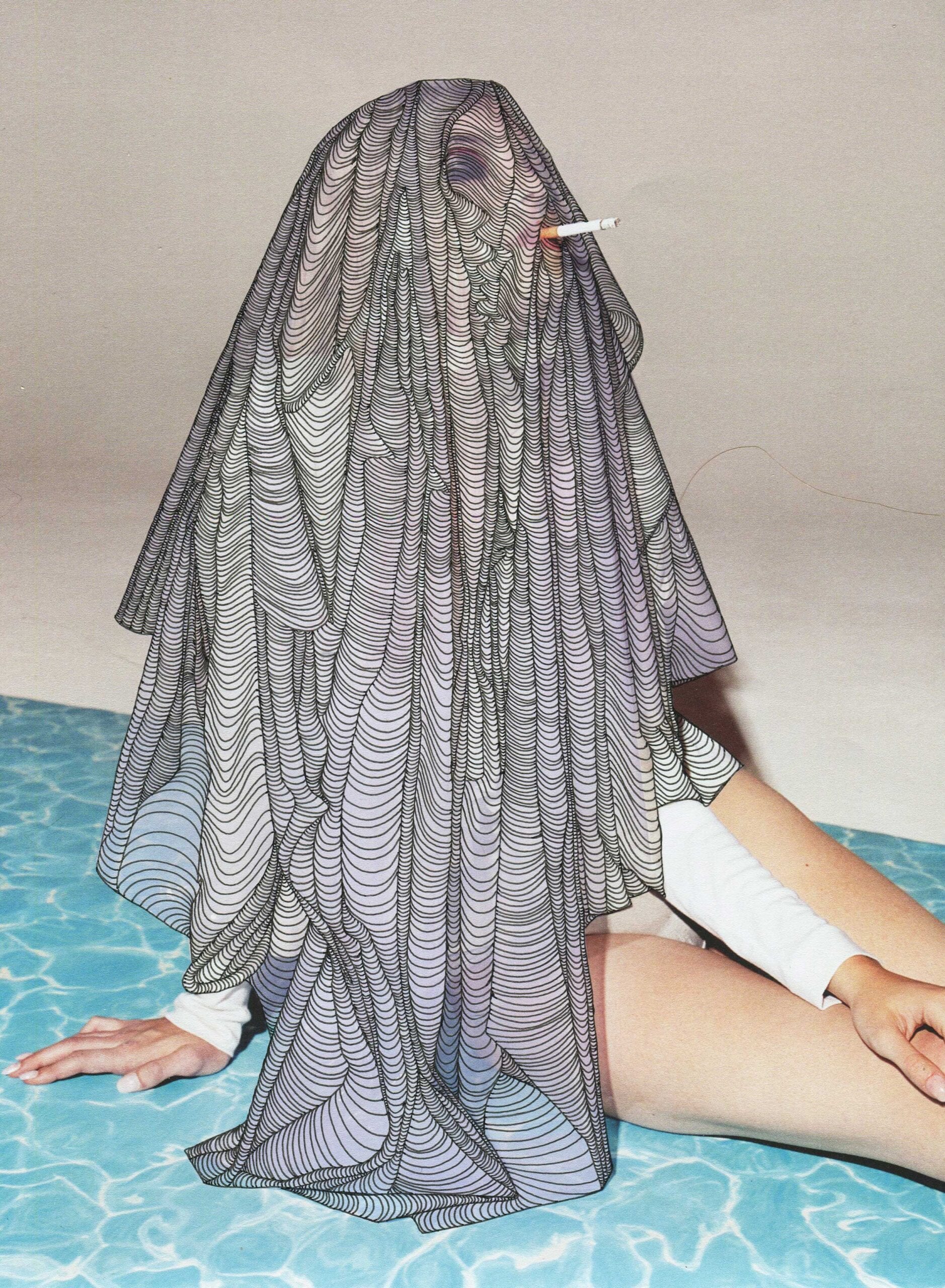 VEIL 
When I was studying Photography at the Fashion Institute of Technology (FIT), I had no interest in fashion imagery.  I rebelled against the assignments that were pure fashion; and even when I tried to shoot fashion, I still received D's.  After liberating myself from school, I found my own style of fashion and illustration, intertwined in one another.  I became more interested in fashion, and applied my own fashion – consisting of only black and white patterns and solids – onto colorful fashion photographs.  Since black and white patterns are my bread and butter, there is not too much forethought in my work.  The patterns sort of arise for me out of the images that I choose.  I see patterns and faces everywhere.  I simply use my pen to trace the lines so that others can see them too.  There is a certain force between the seen and unseen in my life, and in my work.  I typically use a Micron pen to draw my illustrations.  The draped netting creates a shield on the image, while the thin lines allow the viewer to mentally fill in the blanks.  A lot of my work tries to mend the photographs into my own fashion designs, but what intrigues me is the viewer's experience having never seen the image without my illustrations on it.