I first heard about Jen Stark in 2007, when she cut one million pieces of paper to create the sculpture How to Become a Millionaire in 100 Days.  I couldn't get it off my mind as I drove out to her studio.  The first thing I asked was if her hands hurt by the end of it.  She responded "My hands hurt a lot," which only confirmed my suspicion.  But there were also an extra 100 pieces that weren't tallied into the final equation.  Technically the piece is made out of a million and one hundred pieces of paper.  Which, beyond being a fantastic work of art is also an incredible feat of human endurance.
Jen's studio is in a part of Los Angeles I never knew existed – somewhere in the hills past zigzagging.  "We physically did the drive from Miami to LA with our dog Zelda in the car." Jen made the move from Miami to Los Angeles this year [2013] with several other artists for practical reasons.  "There are more resources in Los Angeles.  Miami is sort of in the middle of nowhere.  No one really goes down there except for Art Basel."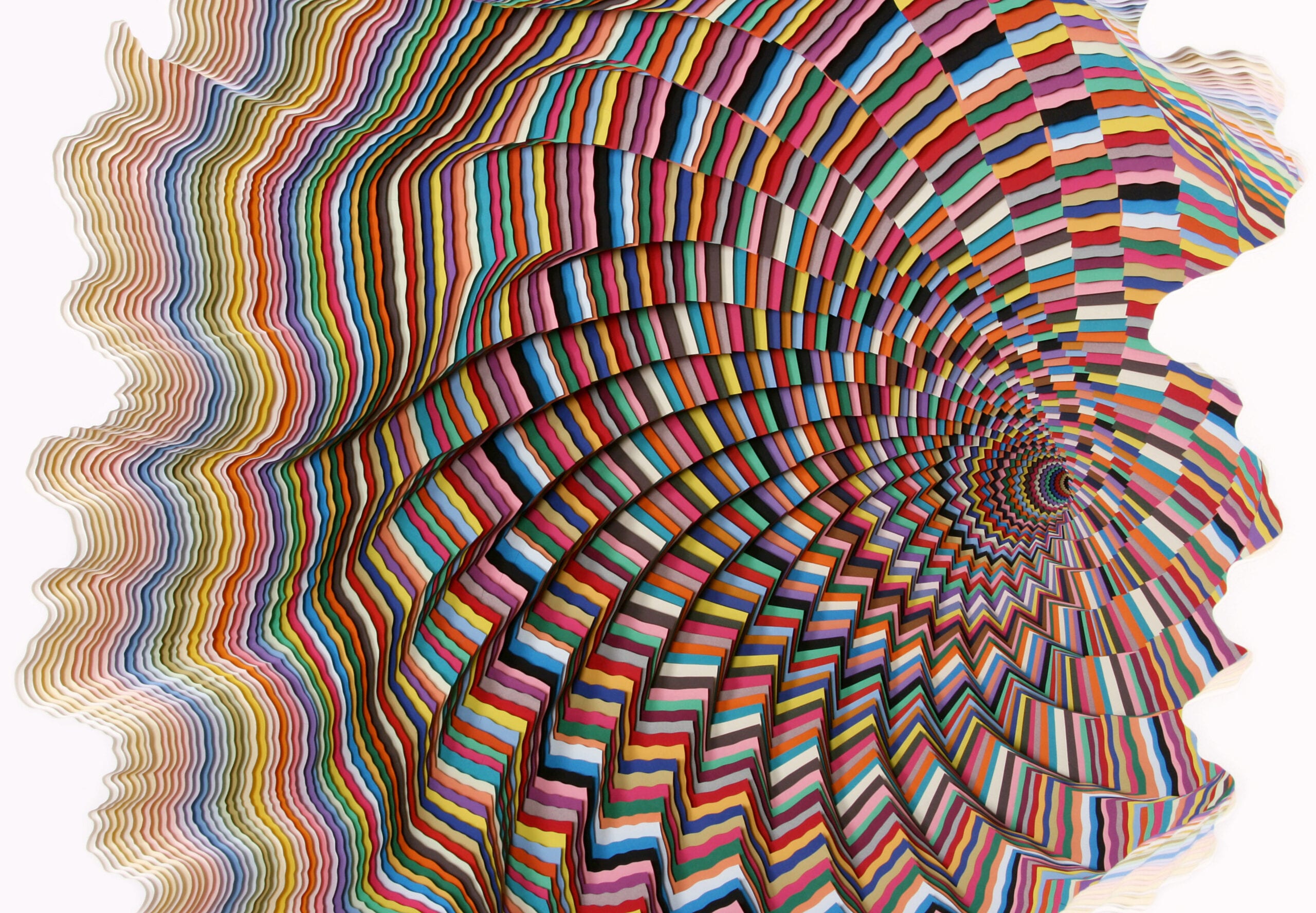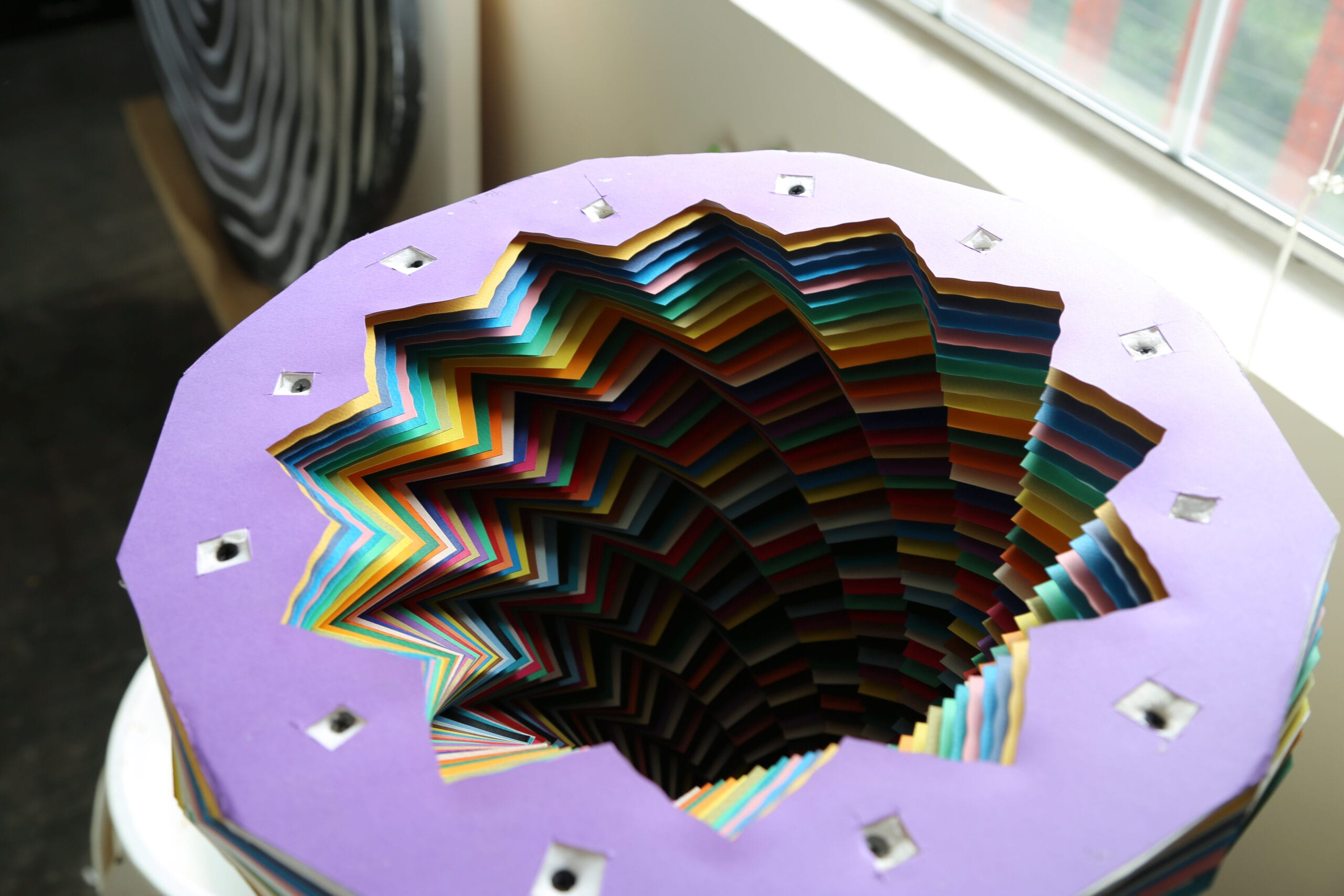 Her studio has a few pieces in it, though most are being crated away to Canada for her solo exhibit VORTEXTURAL at Cooper Cole Gallery in Toronto opening July 5th.  The one I was most excited to see was already in the box.  It's from a series where Jen installs paper sculptures into a wall.  "We will build a wall in the corner of the gallery and then place the installations inside of it."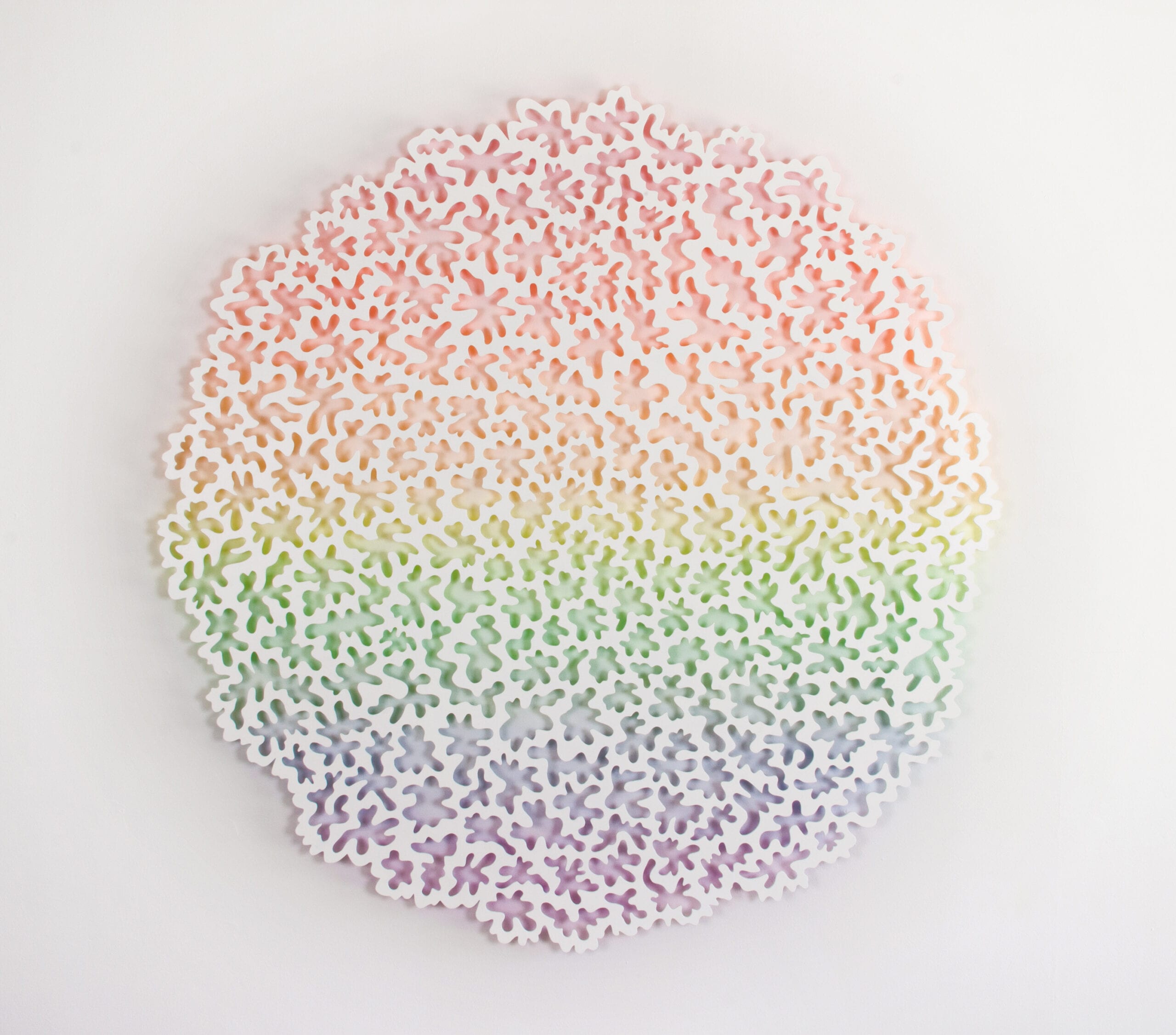 She's been doing them since 2008, yet it is still a bit of a struggle to propose it to a gallery.  They're a harder sell due to their complexity, but also the standout of each show for the same reason.  Usually the gallery accepts the work and loves it.  Each large piece, like the wall installations, can take over a month to finalize.  So Jen starts working on her solo shows at least five months in advance.  Leaving enough time to photograph the pieces herself in order to make them appear as close to how they look in real life.  This becomes especially important when documenting artworks incorporating holographic paper.  If the light isn't right on them, there are details you miss.  Like how Jen lines up the grids in the holograms to enhance their 3D effect.  "I actually have to cut the holographic sheets on the white side of the paper, otherwise my eyes will fall out."
She points out a black and white sculpture to me that made her dizzy for weeks after its construction.  I don't know if any of you have tried to create an optical illusion, but it's quite disorientating.  I mean, if you are the viewer you only stare at the thing for a few minutes.  But if you are the creator, you have to look at it all day.  Perfecting the imperfections.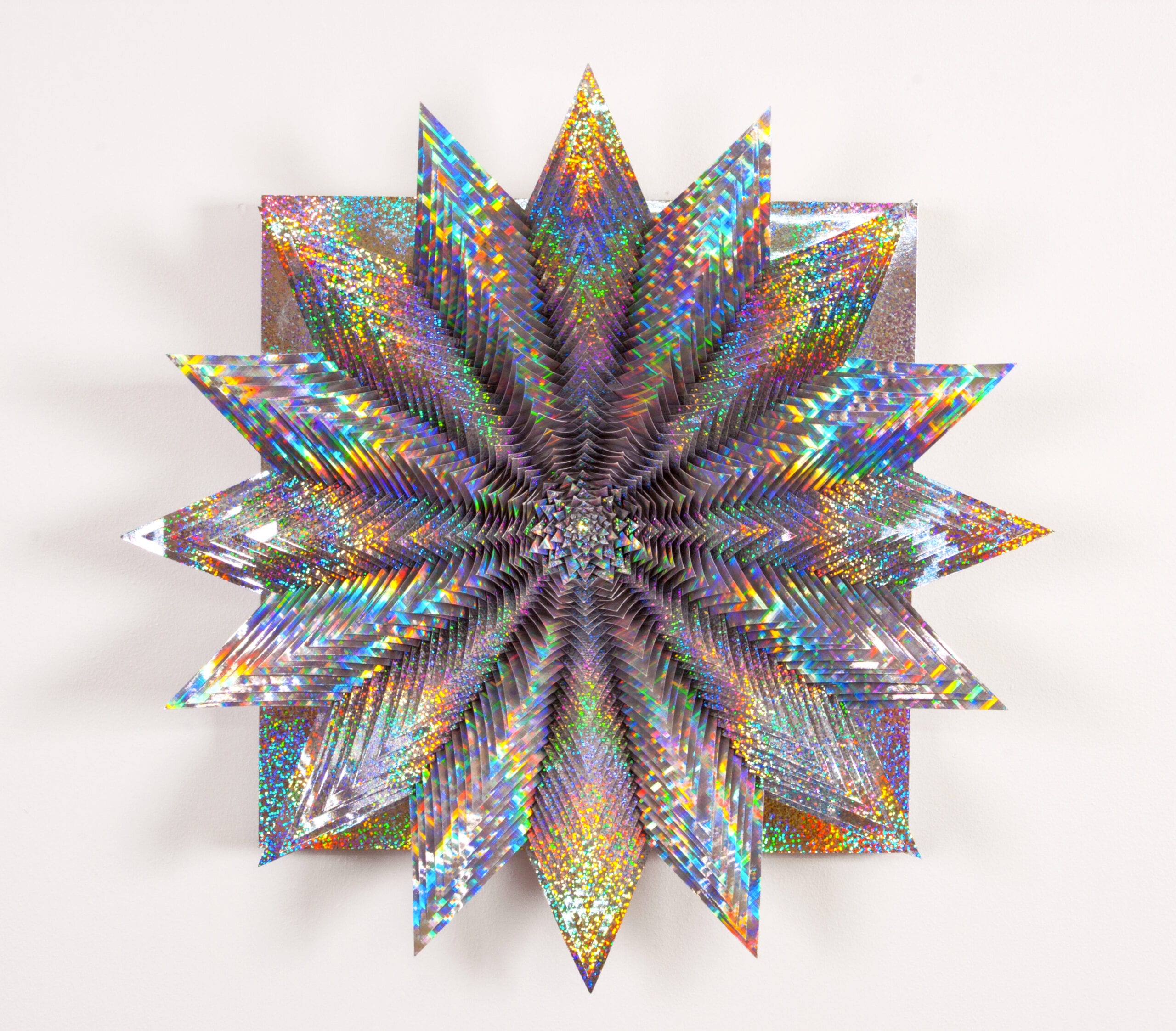 One of the pieces she's finishing up in her studio is a large disc with amoeba like shapes cut out of its center.  It's a couple inches away from the wall and reflecting a rainbow spectrum of light, even though the front of the piece is white.  The piece is made out from aluminum, so its shape will be archival.  Something Jen is extremely careful about with all of her pieces.  Making a point to only use the best glues, papers, paint, so her pieces look just as good 100 years from now as they do today.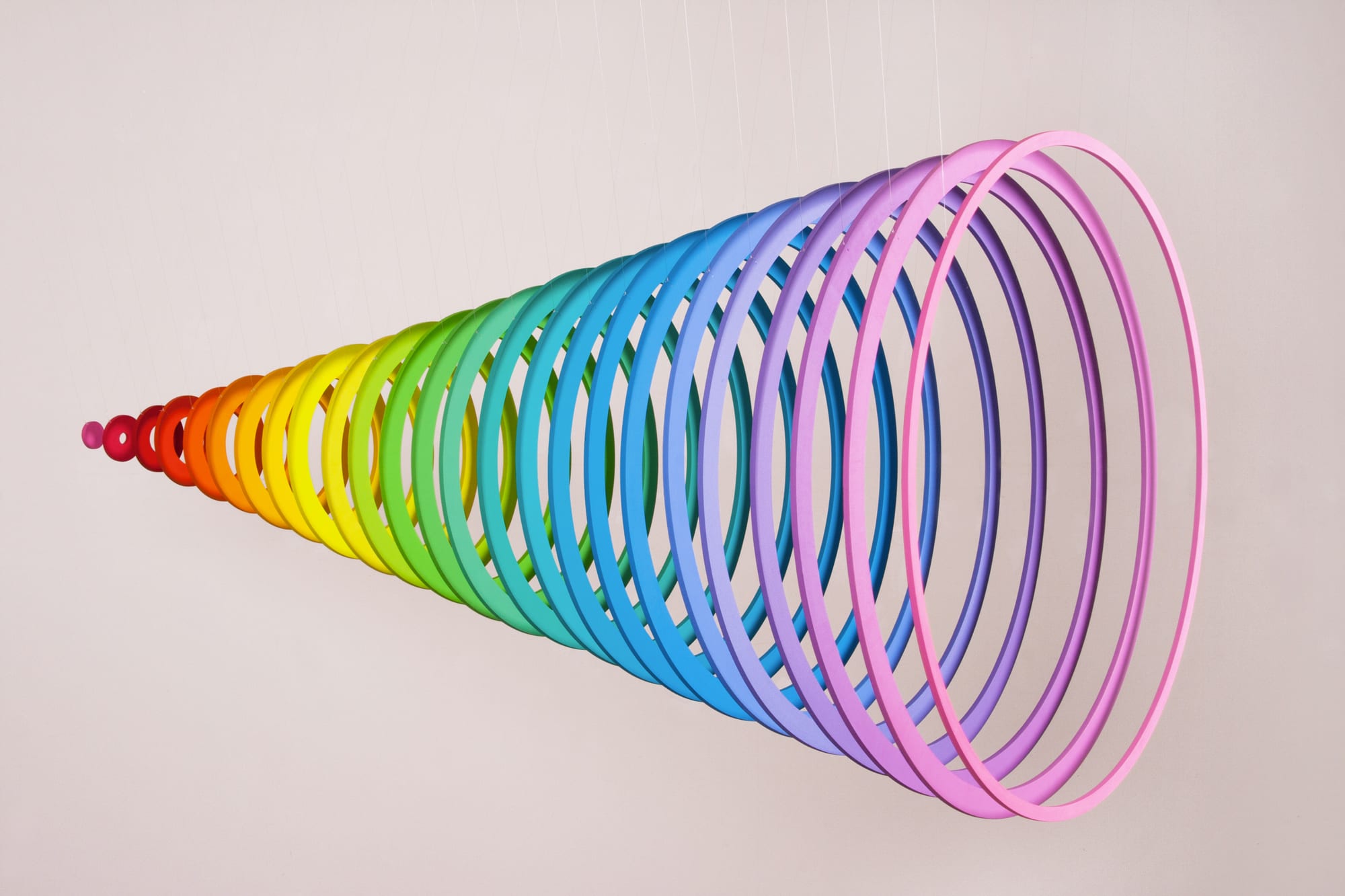 There are also Frisbee-shaped discs of various sizes on the wall.  They're meant to form an optical illusion where from one side you'll see a rainbow and from the other a black-and-white maze that appears to be moving even though it's still.  "They're going to be hanging in the gallery like dinosaur bones."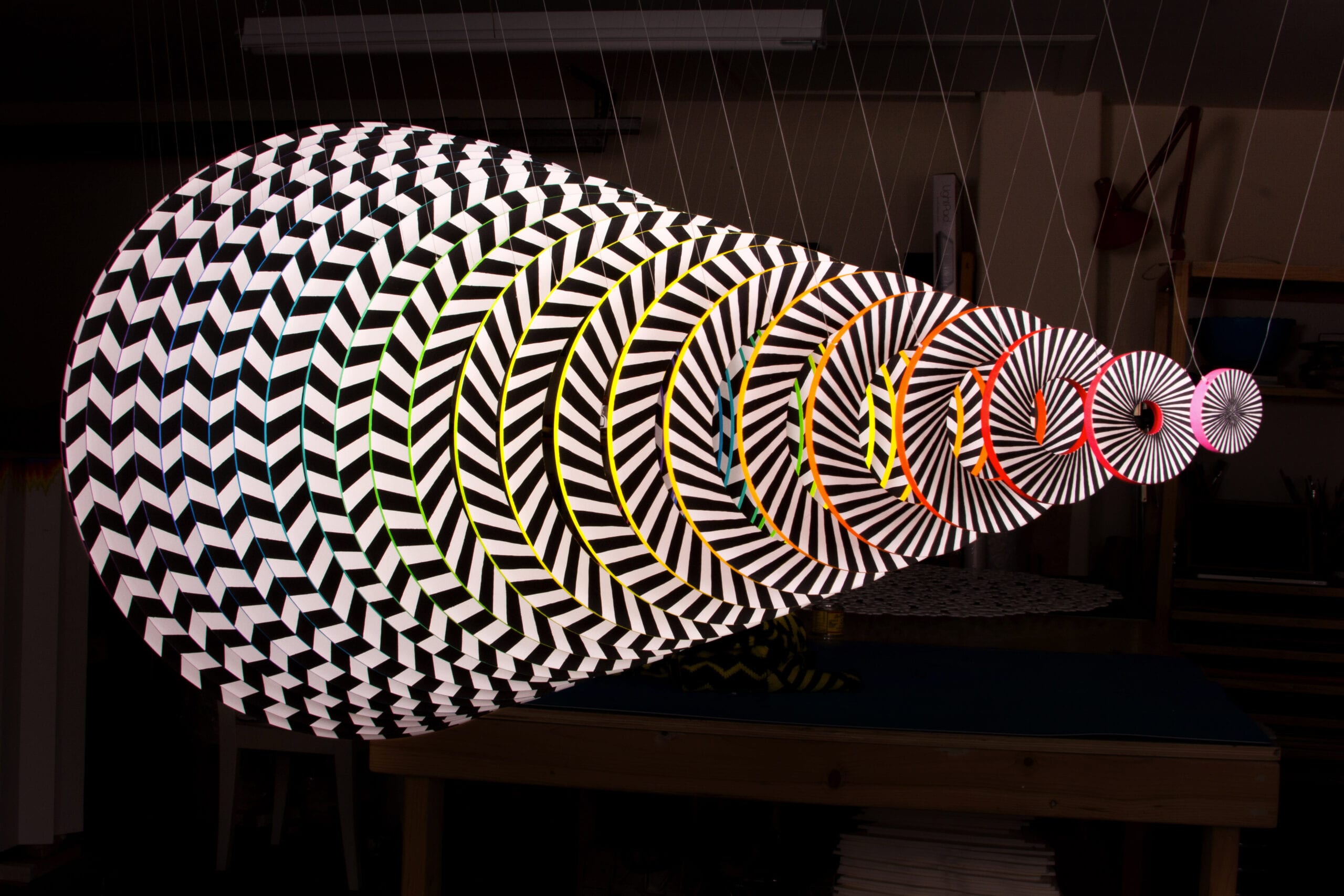 Jen was a fiber art major at the Maryland Institute College of Art.  Working with unusual materials is nothing new.  "They had a lot of emphasis on accumulation and this obsessive way of making artwork.  Some people worked with crazy things like crayons, but I worked with paper." However, she didn't begin working with paper until she finished college.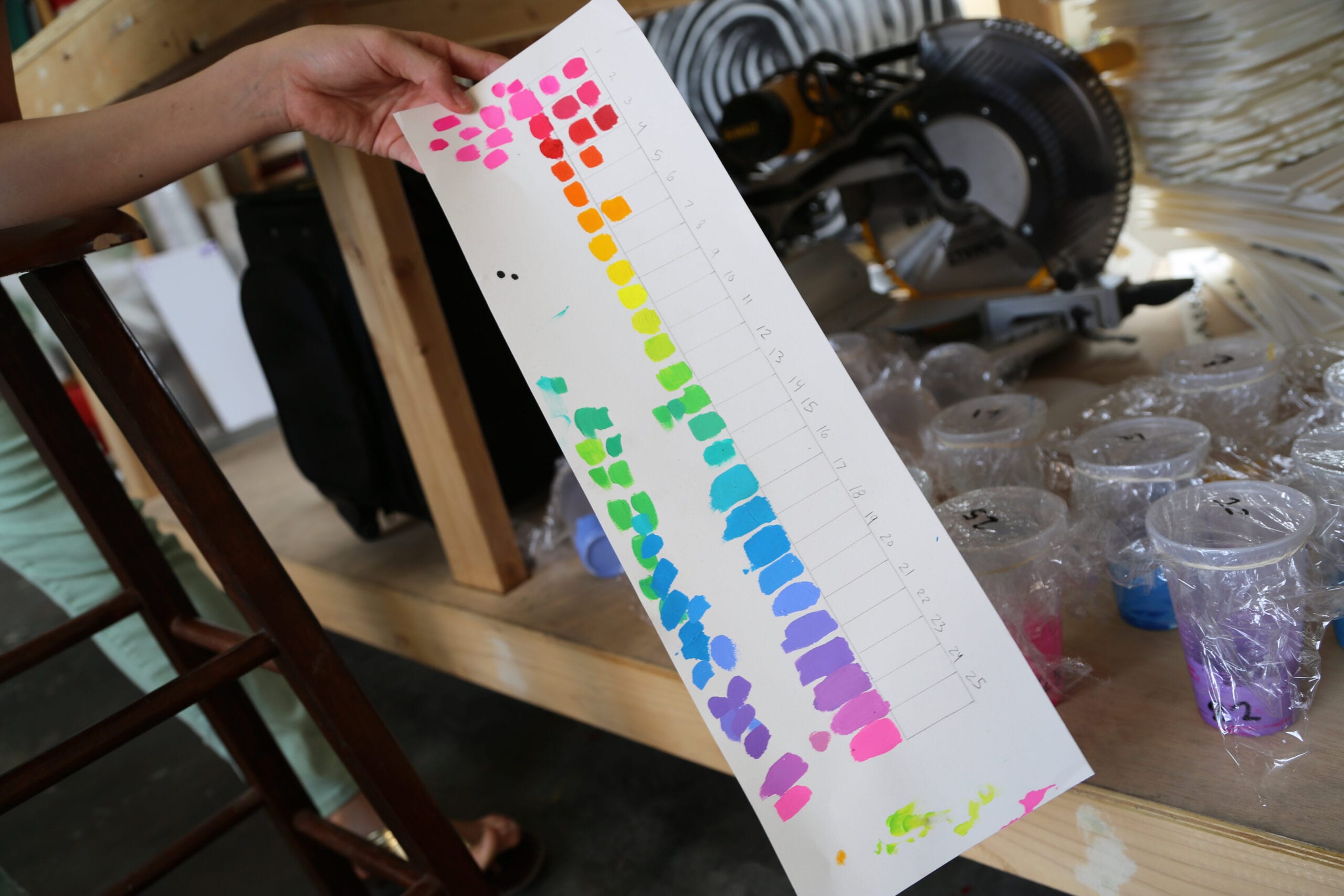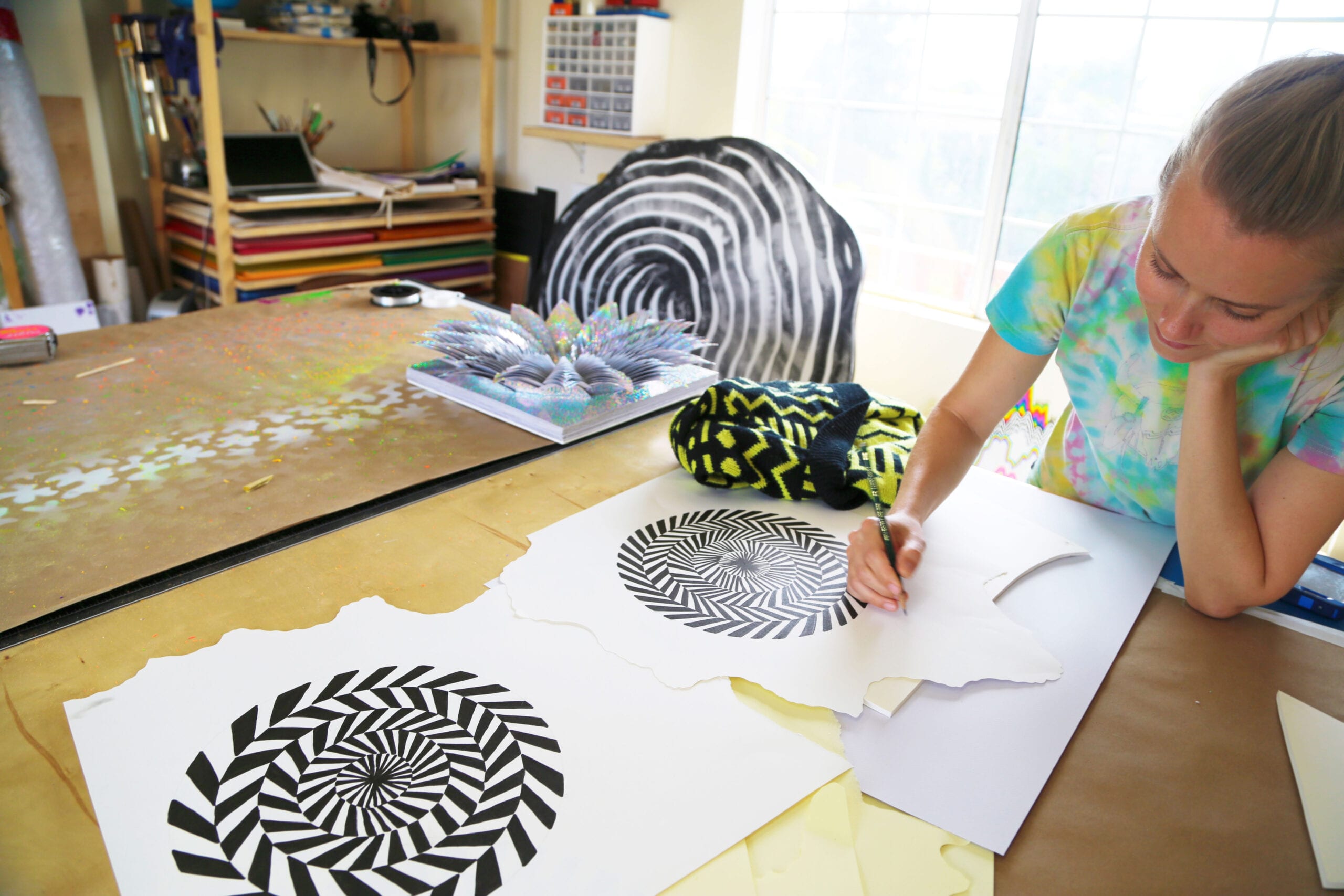 She discovered paper while studying abroad in the South of France.  The practical means of being a college student in an expensive land led her towards a groundbreaking journey to eventual fame.  "When I was in France, the Euro was high and everything I planned on getting at the art store was like 20 or 30 Euros.  I was only a college student, so I had to get something cheaper.  I bought this one or two Euro stack of construction paper and thought, let me try something with this.  I started experimenting and made a piece that turned out to be awesome."
Two years after graduating from college, Jen Stark became a professional artist.  "I didn't realize it was happening … my website started snowballing." The explosion of blogs, which would repost all of her images, caused the initial snowball effect.  Leading to public exposure that got Jen picked up by some of the world's top galleries.  Which only goes to show; the right piece at the right time can make all the difference.
Images ©Daniel Rolnik