PART ONE.  Peter Frank's insight into ICASTICA's inaugural exhibition, Glocal Women.  A cultural resurgence of the old Tuscan city ("local") and the multicultural amalgam of women in art from around the world ("global").  Next week Peter explores the works of Jennifer White Kuri the artist behind Global Women Project, a work in progress of painted portraitures of influential women.
Despite its birthing pains—most of them inevitable in a broad international survey sponsored by and installed (especially for the first time) throughout an historical municipality—the inaugural ICASTICA Biennale has made a strong point about the viability of women as artists and the art they make.  Women's work, it demonstrates, is as compelling as men's, in any of several disciplines, whether operating neutrally or gynocentrically.  Large survey exhibitions focusing on female artists have abounded since the 1970s, a recurring symptom of the art world's ongoing attempt to heal its sexism.  Sometimes the effort only serves to segregate women more; other times, by establishing both a diversity of expression and a community of effort among women, women-only group shows convincing authority simply by paralleling the dynamic of the art world at large—or, better, as with ICASTICA, by improving upon that dynamic.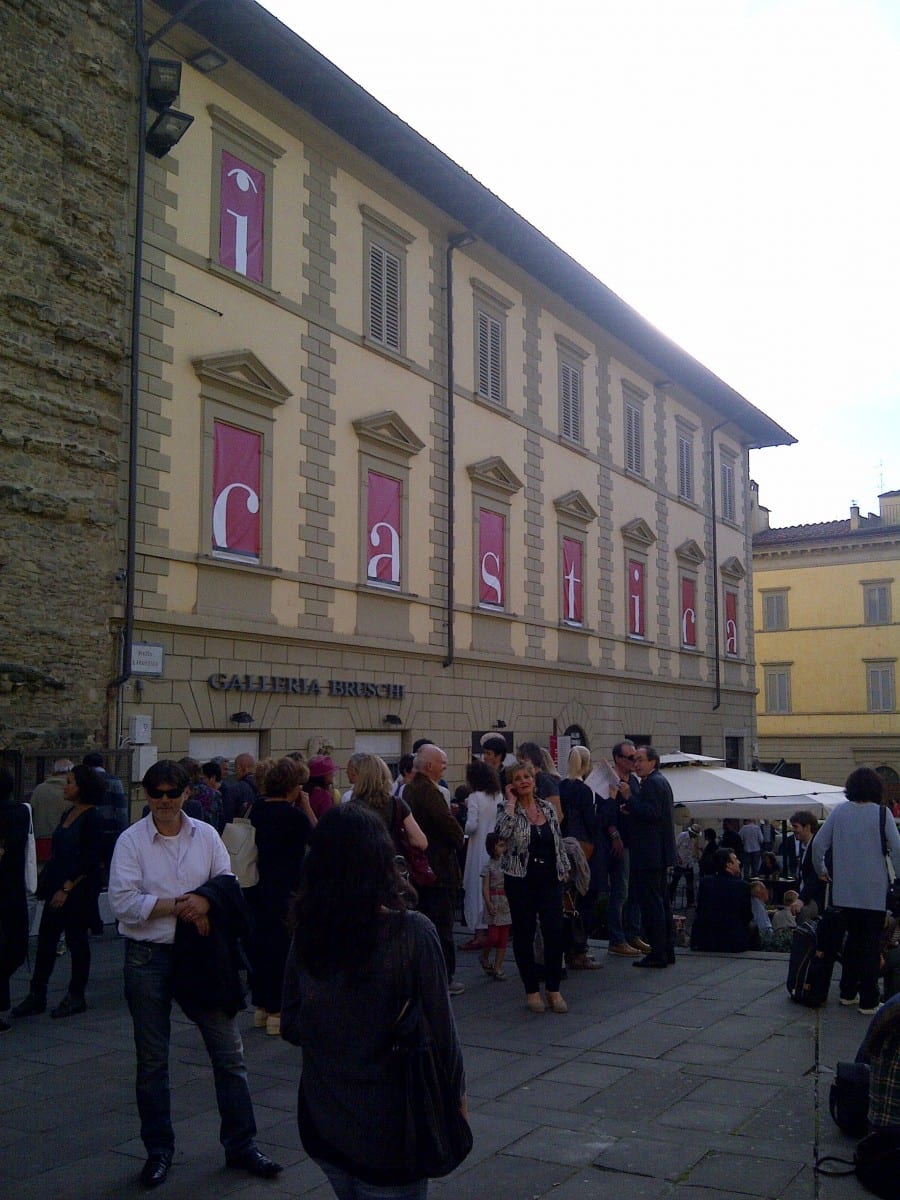 Perhaps this point does not have to be driven home in an art world that celebrates Cindy Sherman and Tracey Emin, but perhaps it does in an art world that (still) criticizes Yoko Ono and Marina Abramović for supposed hubris they have displayed as humans—read, women—rather than as artists (their offending presumptions a lot less "insider" than those of, say, Jeff Koons or Damien Hirst). We still do not fully trust women to act as wholly aesthetic agents, even as we trust the art world itself to maintain a porous relationship with the rest of contemporary existence. If art and life have commingled, women artists, it can be argued, most readily manifest that commingling—thanks perhaps to the outsider status they had to maintain for so long, and thanks yet more nebulously to a "woman's sensibility" that readily takes in diverse fields of stimuli.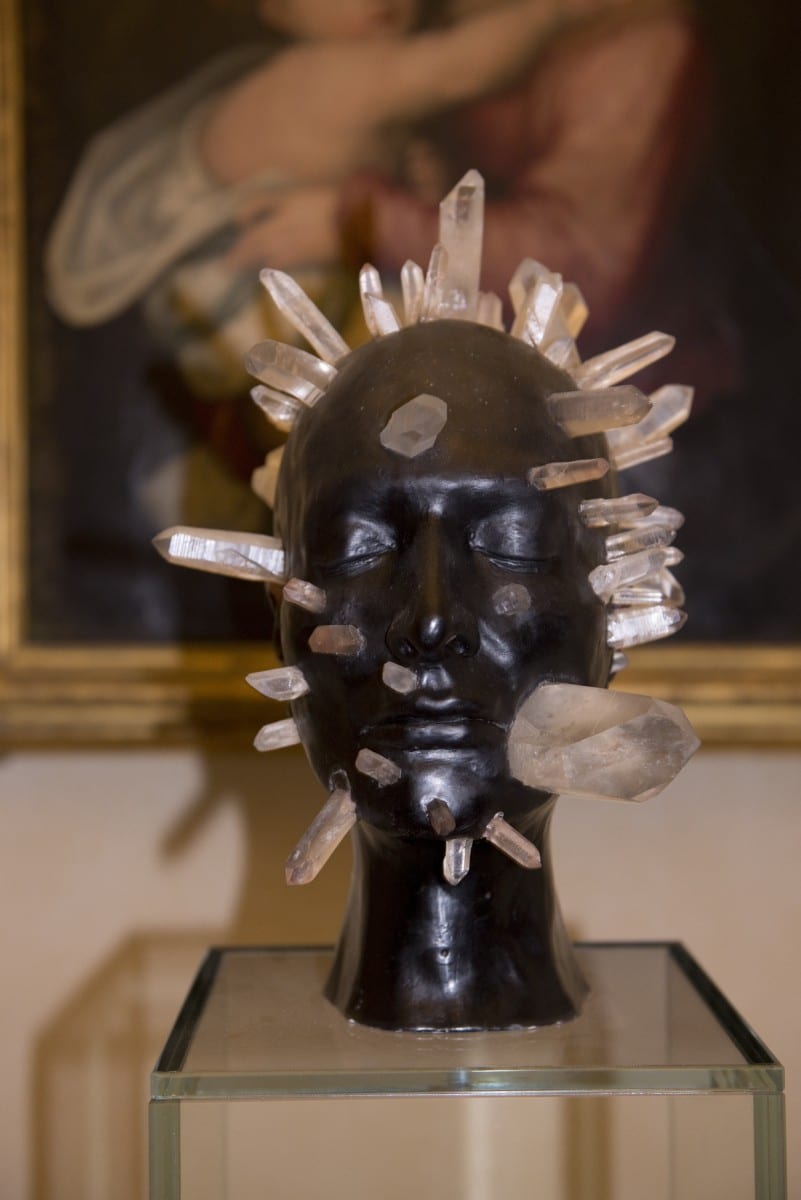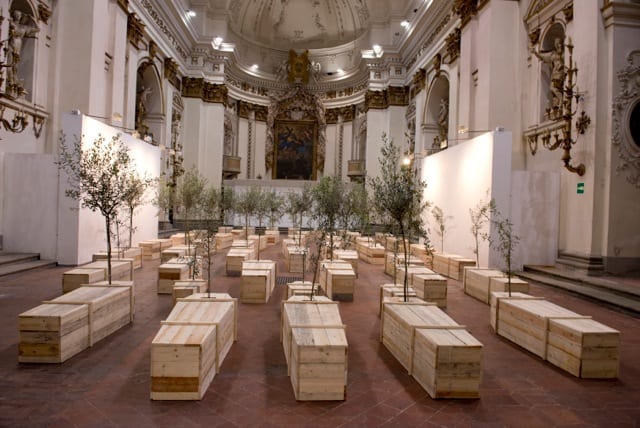 Plural responsivity was likely factored in ICASTICA's ready and graceful integration into its host city.  Arezzo is a classic Tuscan hill town, dotted with churches and history (it predates nearby Florence), whose particular charms and monuments are overshadowed in most guidebooks by those of Venice and Rome.  ICASTICA was a way for Arezzo to redirect attention to itself, in exciting but sophisticated, attractive but un-pandering, even noble form.  The powers of that concept could be figured to coattail on the opening of Venice's Biennale a week earlier, but ICASTICA's inauguration was an intimate affair (certainly in comparison to Venice's usual madhouse).  This was a blessing in disguise for attendees, and a decent Italian press presence seemed spurred by a modicum of celebrity sightings (Gina Lollobrigida, anyone?).  But I only hope the word has gotten out about this vibrant show in this charming little town: while Venice doesn't wrap up until the end of November, ICASTICA goes only to September 1st.
I must disclose my stake in ICASTICA, Jennifer White Kuri's Global Women Project (not to be confused with ICASTICA's own subtitle, the dysphonic portmanteau Glocal Women).  Kuri, the only American participant not from New York, appointed me curator of the Project at its first public presentations in Los Angeles four years ago, and I designed its presentation in Arezzo.  A parallel article here discusses what Kuri and the GWP are all about; suffice it to say that, given the GWP's mission to bring significant women from around the globe to universal attention through art, the Project's inclusion in ICASTICA seems logical, and almost to mirror ICASTICA's own inaugural purpose.  The GWP is the only didactically feminist work in the show, a dense island of information and narrative in a sea of classical repose and baroque elegance provided as much by the other artists in ICASTICA as by Arezzo itself.  Kuri's paintings are quite obviously "art" – in some ways the most traditionally made objects in the entire Biennale – but the GWP is at the same time a sociological undertaking with a propagandistic purpose, in fact making overt what ICASTICA advocates covertly, the revelation of women's power in the world.  The GWP's presence in ICASTICA is built around a work of one "Global Woman," Lebanese journalist Soula Saad; her documentary film, a portrayal of Arab and other women artists and culturati (or, more accurately, culturate), is thus a work about women inside a work about women inside a show about women's work.
Is it worth one's efforts to make the detour (presumably from Venice) before the show vacates Arezzo?  Yes; the show and its host city conspire to make the visit worthwhile.  Over half the artists fabricated new work for this show.  Clearly, ICASTICA's forty women have taken their participation seriously.  In turn, the town has given wide permission to its artists' visions, allowing Finland's Kaarina Kaikkonen, for instance, to festoon the most central of its grand plazas and august archways with decorous arrangements of discarded clothing, and Spain's Alicia Martín to interrupt its main shopping promenade with an improbable cascade of books frozen in midair.  Similarly, Australian Virginia Ryan has lined the exterior of the Archaeological Museum with her intricate castings and elaborate sculptures, part creature and part vessel.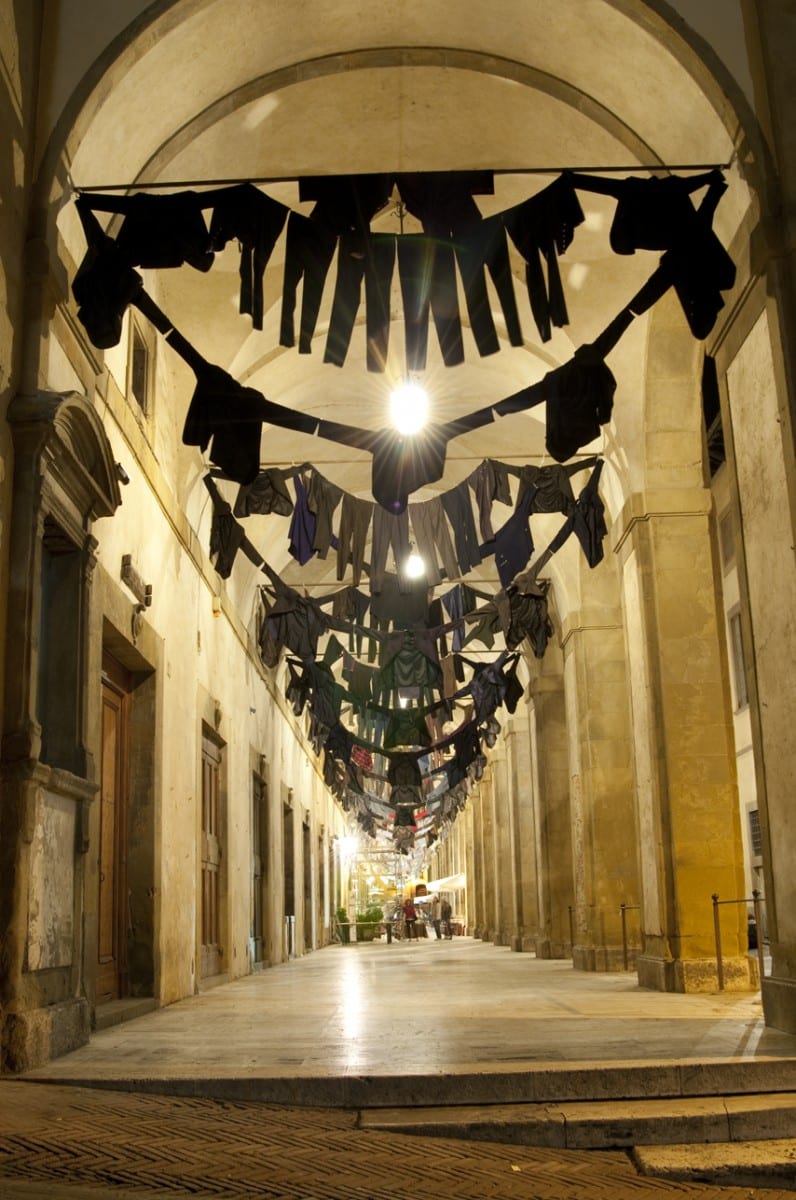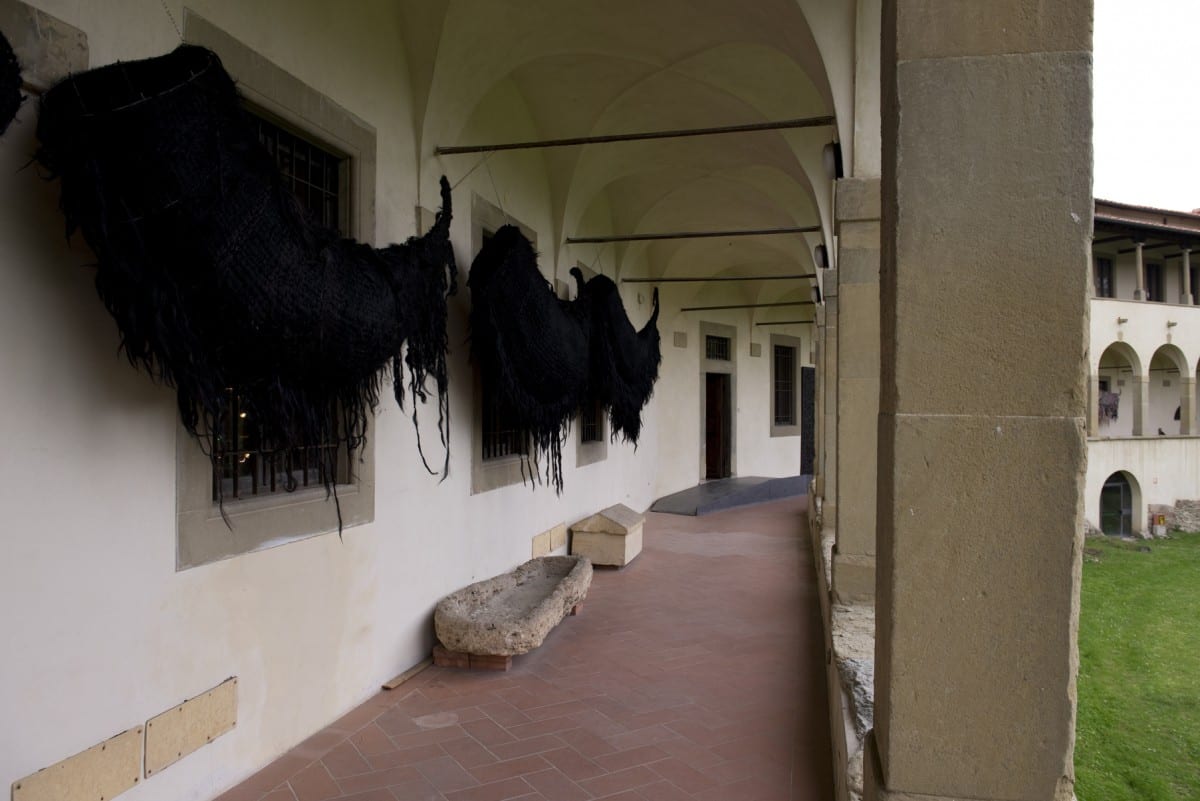 To be sure, ICASTICA features its share of high-profile artists. Marina Abramović, no less, has installed several mute wax heads, studded with large crystals, at strategic points in the house museum dedicated to Giorgio Vasari; and Yoko Ono occupies at least two sites, a deconsecrated church which she has filled with a flotilla of roughly made coffins (from which grow trees) and a municipal courtyard gallery—also housing Kuri's Global Women Project—where she has set up an audience participation piece about mothers and a several-channel video version of her notorious 1970 film, Fly.  A sculpture and an installation work by Carole Feuerman can be found under the same roof, but Feuerman's most compelling sculptures in her hyper-realist style find themselves, like Abramović's, strategically placed in city museums where their romantic modernism interacts subtly and subversively with the centuries-old artifacts around them.  Mona Hatoum, Shirin Neshat, Tania Bruguera, and Kiki Smith make credible appearances, too; but the show is not about their stardom, it is about their lyrical approaches to art making and to manifesting their feminine identities, as well as the seamless dialogue their art can maintain with the art and artefacture of the past.
ICASTICA certainly does not mimic the national-pavilion structure at Venice's heart, save in one place: a pair of rooms, tucked into a building in a municipal cultural complex hard by the university, which house the work of three artists from India.  Monali Meher's ghostly but very substantive, even bloody-seeming chandeliers, Remen Chopra's densely packed multi-layered light-box photographs, and the geopolitical installations, replete with orderly processions of national symbols, of Vibha Galhotra range in expression from the social to the philosophical to the poetical (especially when augmented opening week with Chopra's "performed conversation" about a "new aesthetic" infiltrating international artistic discourse).  The unified display testifies to a broad and complectified art scene in the world's largest democracy.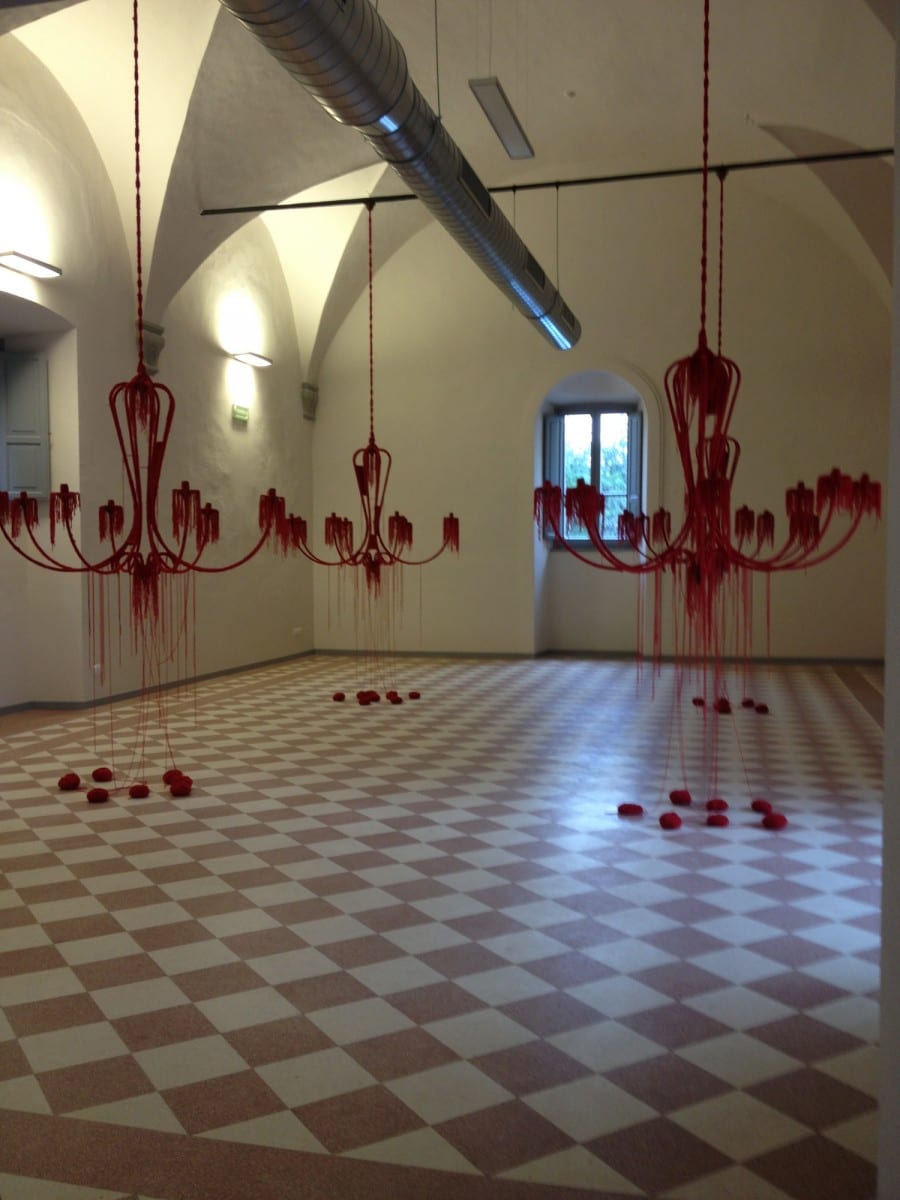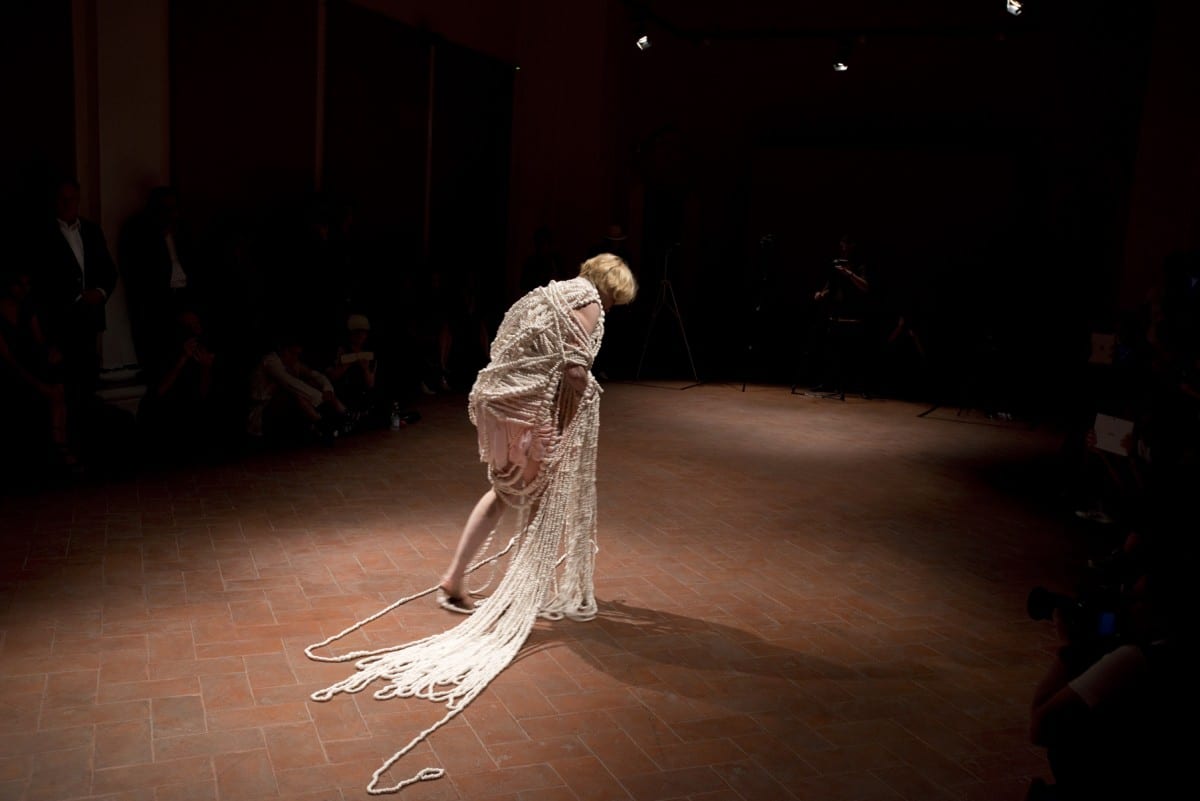 Among the most affecting presences in ICASTICA are the starkest, the ones that rely on vivid imagery or lucidly told story or unadorned spectacle to hold and even enchant the wandering audience.  Liina Siib, from Estonia, exhibits a sequence of photographs in each of which a blond young woman's face is adorned with linear markings derived from those of a jungle people indigenous to Brazil (originally documented by Levi-Strauss) — a clear but witty comment on what makes Caucasian women "attractive."  Palestine's Raeda Sa'adeh projects a video into a corner, thus effecting a double screen, across which stretches a surreal but lucid event, a young woman navigating the desert dunes with a floor sweeper — the Sisyphean task of living stated in contemporary, but no less timeless, terms.  German Heike Weber's ghostly lace mat, mimicking the patterns of Persian tapestry, lies on the floor of the famous chapel housing the Fra Angelico frescoes, the work's own incompleteness echoing their fragmentation.  Soyeon Cho, a Korean artist working in Toronto and New York, conjures a detailed faux-organism, a hybrid between a deep-sea creature and an eccentric lantern, entirely out of plastic utensils, an almost magical display of formal virtuosity.  Equally virtuosic in its own way, and even more engulfing, is the forest of hair meticulously woven and interwoven by Israel's Belle Shafir.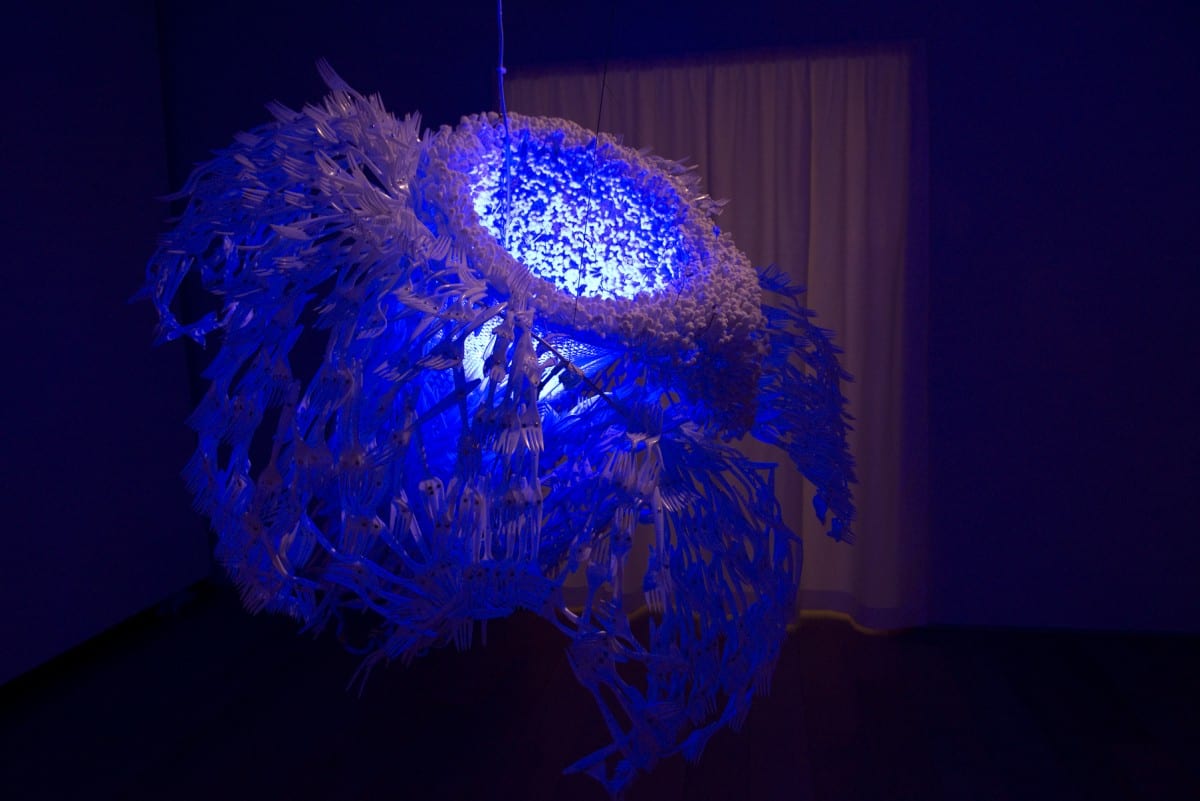 The Shafir, Cho, and Sa'adeh works are housed in Arezzo's Gallery of Contemporary Art, comprising the "heart" of ICASTICA along with a number of other pieces and installations.  The exhibition alone makes for a solid international survey of art by women, but ICASTICA is entirely vitalized by its integration throughout the town.  Whether in pieces almost hidden in its public buildings — such as Hong Kong artist Amy Cheung's video-documentation of her hospital-bound "performance" (about thinking and heroism), tucked into a corner of the Medieval/"Modern" museum — or aggressively taking over their exteriors — as do Venice-based Federica Marangoni's challenging neon slogans in and around the plaza on which stand both contemporary museum and Renaissance chapel — the works comprising ICASTICA invite the visitor on a treasure hunt.  The larger Biennale up in Venice does the same thing in spades, of course; but the myriad diversions in the watery city, so many of which have nothing to do with the Biennale even in spirit, compromise any sense of artistic, much less curatorial, unity.  ICASTICA's more defined effort also provides a more focused experience.  Even during its first few days, when it played host to dynamic, beautifully wrought performances by the likes of Sweden's Anastasia Ax (whose furious gestures with thinned-down ink, ingested as well as applied to yards of white paper, remain at the Urban Center near the edge of town) and Singapore's Andrée Weschler (who pulled apart immense necklaces of handmade stones and littered a church floor with the little round objects), ICASTICA motivated its visitors to trot around a congenial, easily navigated city, one in which artistic inventions like these seem like spiritual graffiti embellishing Arezzo's own charm.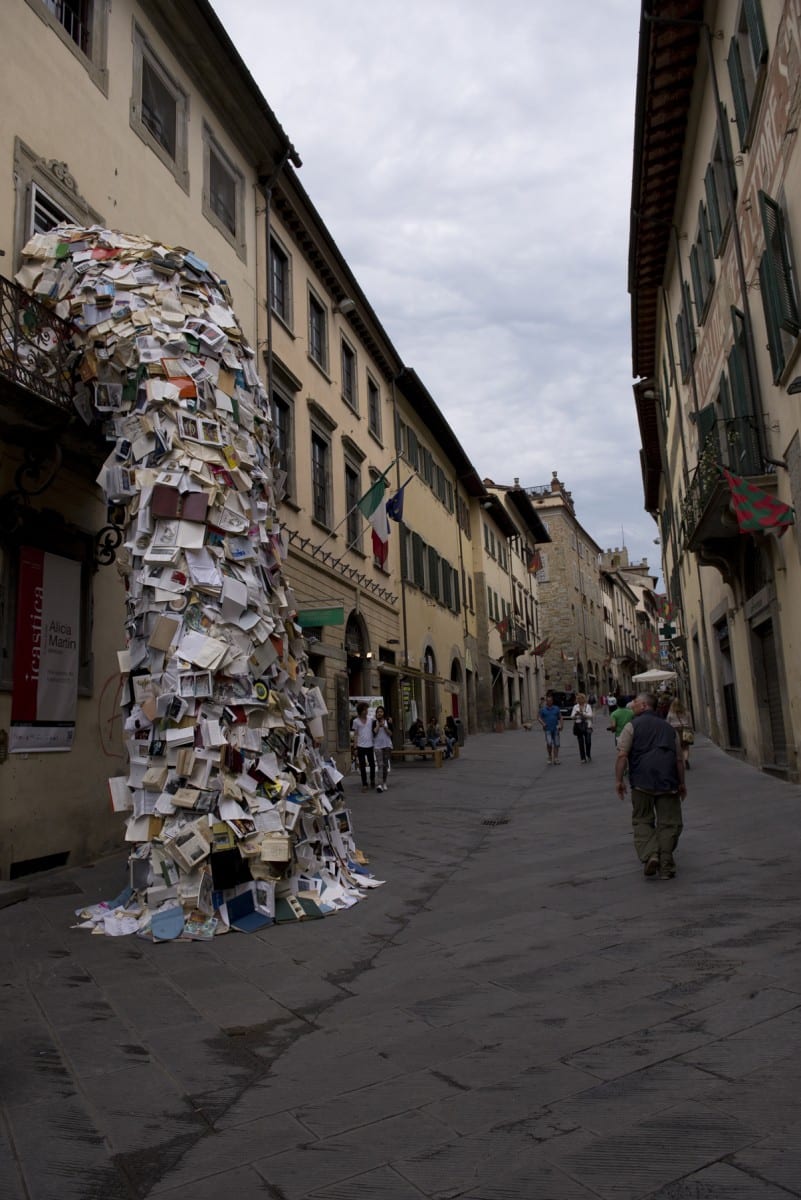 Featured image:  Absence Presence by Vibha Galhotra from India at ICASTICA. © Pierre Melion, Global Women Project 2013