It's Tuesday afternoon and preparation for the WestEdge Design Fair is in full swing next door to Installation Magazine's headquarters.  A palpable energy resonates through the vast expanse of the Barker Hangar where forklifts make donut figurations as they transport wood crates filled with design gems.  The perpetual sound of hammers and power drills work in orchestral precision.  Troy Hanson, Co-founder of the WestEdge Design fair, stands poised in the pulse of the installation.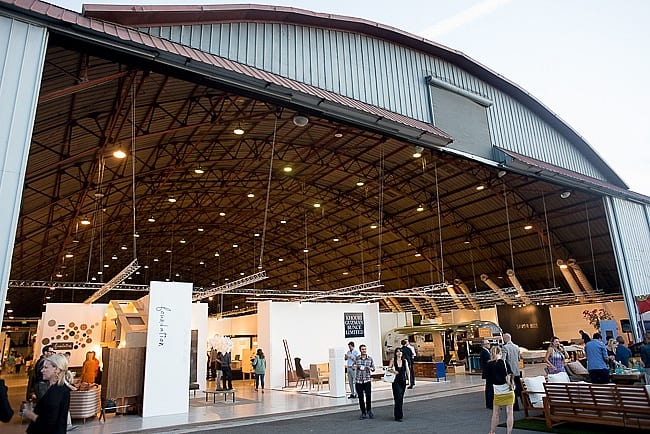 As the WestEdge Design Fair enters its second year, how has it evolved since it was first founded?
What we really loved in the first year was the amount of small, artisanal design brands and we have maintained that element in 2014 but we've also added some of the larger and more corporate brands that people are familiar with.  Last year people said they wanted to see more kitchen and bath products so we have a larger selection of that.  We have still maintained that edgy, cool, Modern artisan products that people responded to so positively last year.
WestEdge does a fantastic job of bridging the gap between consumers and design inspiration.
It bridges that gap but it also makes WestEdge more of a venue.  No matter what you're looking for whether it's a room, a product, an entire whole home or just inspiration you can find everything at the fair.  There is a much more comprehensive shopping environment and offering of products this year, so you're right it can bridge that gap.
What is the criteria when considering exhibitors? How do you find a balance between boutique and larger brands?
It's always evolving.  This year for the reasons I mentioned it's a little bit different than last year.  In 2015 we're also changing our exhibitor approach.  We're expanding our footprint by about 40% next year.  We're dedicating an entire section to small, Contemporary artisans with primarily furniture and lighting and we're also segmenting other categories like kitchen and bath to one section so it's easy for designers to shop.  As far as exhibitors we definitely have criteria.  Product of course is number one- it's got to be a quality product.  WestEdge does not support knock off designs or copies so they go through a vetting process.  There's a lot of criteria but we're in a very fortunate position with our experience to know brands like Apparatus and Kelly Lamb so WestEdge is very much an invitational type show, that will change as we get bigger and more and more people will come to us.  Last year and this year we approached various people that we identified would be a good fit and the process went on from there.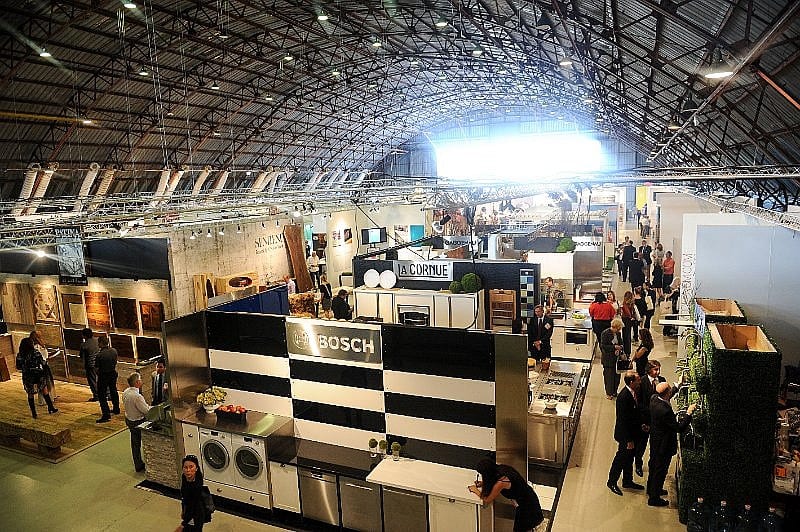 How did you come to be part of the WestEdge DNA?
I launched the Architectural Digest Home Design Show in New York in 2000.  In 2004 I was brought on to the International Contemporary Furniture Fair (ICFF) as the show manager.  Two years later I returned to the Architectural Digest Home Design Show and at that time, about 2006, the frequency of requests from our clients and our prospective clients was to do something on the West Coast.  So for the past two years we couldn't go a week without having three or four conversations about the West Coast.  The improving economy, the extraordinarily positive and creative booming core in LA and all of the incredible makers and designers lead my business partner Megan Reilly and I to launch WestEdge last year.
The West Coast has something to say when it comes to design.  What are your thoughts on the aesthetic differences between the East and West Coasts?
There is certainly a different sophistication level and I am not saying that one is better or broader than the other.  The style on the West Coast especially in Southern California is much more casual and relaxed therefore some people might describe the New York design scene as maybe a little uptight although exceedingly creative.  I think the East Coast is more consciousness about size and scale where we have much greater footprints on the West Coast so we don't have to worry about space saving technology or design, and that's a major difference.  The environments here incorporate more color than they do in New York.  We feel like there is an appeal or design for great taste.  There is a very broad base of people in this community who appreciate quality, style and the unique appeal of an item.  There are distinctive differences but I think overall it's about people wanting to own and invest in high quality pieces they love.
Installation's Must-See Exhibitor Guide to the WestEdge Design Fair 
Blackbody– The French brand are pioneers in the field of Organic LED light technology that appeals to those interested in technology and design paired with an incredible aesthetic.  You won't miss their stunning showpiece in the center of the fair.
Design Milk– Our favorite design site has their own very own booth this year featuring 17 independent product designers working throughout the Pacific Coast of North America from Vancouver down to Mexico.
EIS Studio–  Chill out and have a seat on the outdoor "pebble" furniture.
Concrete Wall by Resource Furniture– Custom printed, washable, non-flammable and UV-resistant wall paper that makes a statement.
Cromatti– Modern design concepts made right here in Los Angeles.
Kelly Lamb Studios– Projects range from fine art and high-end furniture design to home-ware.
La Cornue– Classic, handmade designs that will transform a kitchen into a cuisine haven.
Zia Priven Design– Let there be light! Turn on the inspiration for a design that will brighten any space.
"Jenn-Air Master Class" panels and workshops series for Design 101 and beyond.
Friday, October 17
1:00-2:00 PM presented by Coastal Living – How to Get Published 
Join Coastal Living Editor-in-Chief Antonia van der Meer and Los Angeles-based interior designer Sasha Emerson for a workshop on how to get your work published.
2:30-3:30 PM – Built to Last: Developing a Brand Legacy in the Design World
Your brand identity is the single most important factor in building a distinctive, impactful, timeless business.
4:00-5:00 PM presented by West Hollywood Design District in partnership with DIEM – Rethinking Retail: Does Main Street Matter?
In an era when people can order curation of style online, does a retailer really need Main Street?
5:30-6:30 PM presented by IIDA – Why We Hate Work: Is How We Work Working?
IIDA Southern California and Interior Design Magazine's Edie Cohen welcome 5 leading A+D firms for a lively discussion about how our workspaces can better support the needs of the worker.
Saturday, October 18
11:30-12:30 PM presented by FORM Magazine – Rock Star Architecture:  Creative Design for Recording Artists
Step inside some of California's most elite recording studios, many of which have never been seen by the public, for a rare conversation about high-end design's important role within the music industry.
1:00-2:00 PM – The Bottom Line:  How to Build a Cool Project Without Getting into Hot Water
Hear from leading estate architect William Hefner, AIA; top construction manager Bart Mendel of Stonemark Construction Management; and celebrity designer Monique Lafia of Lafia Arvin as they dive into often-unspoken territory about the tremendous art of keeping cool, and keeping clients calm and confident, during ambitious construction, renovation and design projects.
2:30-3:30 PM presented by Angeleno – Innovations in Kitchen & Bath Design
In honor of Interiors California's first dedicated Kitchen & Bath issue, Editor-in-Chief Amanda Friedman will host a panel of the industry's elite to discuss innovations in kitchen and bath design.
4:00-5:00 PM presented by Fairmont Miramar Hotel & Bungalows and Ocean Home Magazine – Design for Hospitality or Home
Join Ocean Home's Melissa Gillespie for a conversation focused on key elements of hospitality design and how to carry over that luxurious vacation feel when decorating your own home.
11:30-12:30 PM – The Art of Entertaining in California
Join California Home + Design's Southern California Editor-at-Large, Jennifer Mehditash and leading Interior Designer David Dalton, Event Planner & Floral Designers as they share their tips on "The Art of Entertaining in California" so that you too can be at your very best this Holiday season.
1:00-2:00 PM  – Using Color for Maximum Effect 
Learn sure fire ways to effectively reveal personality and style through the use of color.
Purchase your tickets and we'll see you at the fair!
Images © WestEdge Design Fair